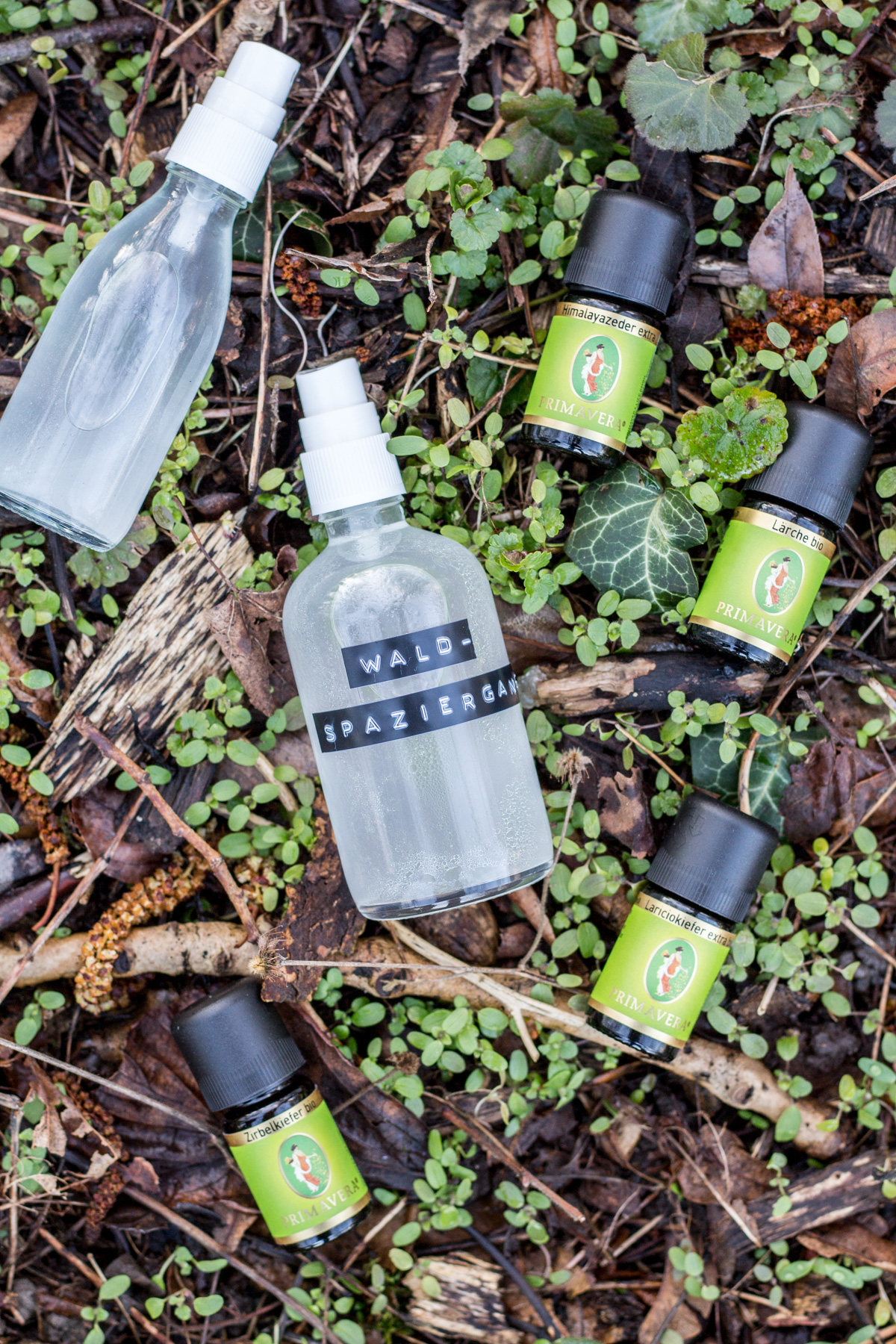 This post is also availble in German. Diesen Beitrag gibt es auch auf deutsch.
Werbung/Ad. Today, there are two recipes for DIY room sprays that bring the fresh forest air into your home with the essential tree oils from PRIMAVERA *.
I have a new hobby. Last year, I began to experiment with making my own natural beauty and household or cleaning products. It is unbelievably meditative and fun to play around with DIY hair masks, face masks, body scrubs or room sprays. In addition, the DIY products are all natural, sustainable and help to significantly reduce waste. All the more reason to give it a try from time to time.
Also, I've been kind of obsessed with playing around with different combinations of essential oils. Even before I dived deeper into aromatherapy, tree oils were among my favorites among the essential oils. My love for tree oils led me to the topic of forest medicine. I'm not sure if this is the right English word, but I think you know what I mean. For me, forest walks are the epitome of calm and serenity. I love the smell of pine trees, wet leaves, or churned earth on my morning jog through the forest.
It all started with the essential oil of Swiss pine, whose fragrance I have been loving for years. I love adding it to my diffuser with some lemon essential oil. Back then I already knew that the oils of the Swiss pine were helpful for the respiratory system, but a book called "Forest Medicine" (only available in German: Waldmedizin) by Anusati Thumm and Maria M. Kettenring got me hooked on other tree oils. Gradually, the essential oils of spruce needle, pine needle, mountain pine or the giant fir were added and now it may happen that my home smells like a forest. Heavenly – in my opinion.
For today's DIY recipes, I've teamed up with one of my favorite companies: PRIMAVERA. I have long been an enthusiastic customer of the traditional German company from the Allgäu and trust the quality of the 100% natural, essential oils. PRIMAVERA has just added three new tree oils: Himalayan Cedar Extra, Black Pine Extra Bio and Larch Bio.
All PRIMAVERA oils are completely genuine, meaning they are natural and unaltered. Also, they contain no synthetic additives and are not stretched with other oils. Of course, all PRIMAVERA oils are not tested on animals and the raw materials come primarily from controlled organic farming. In addition, there is a high level of commitment to organic farming projects worldwide, which not only protect species, but also use chemical-free pest control and fertilizers and do without genetic engineering.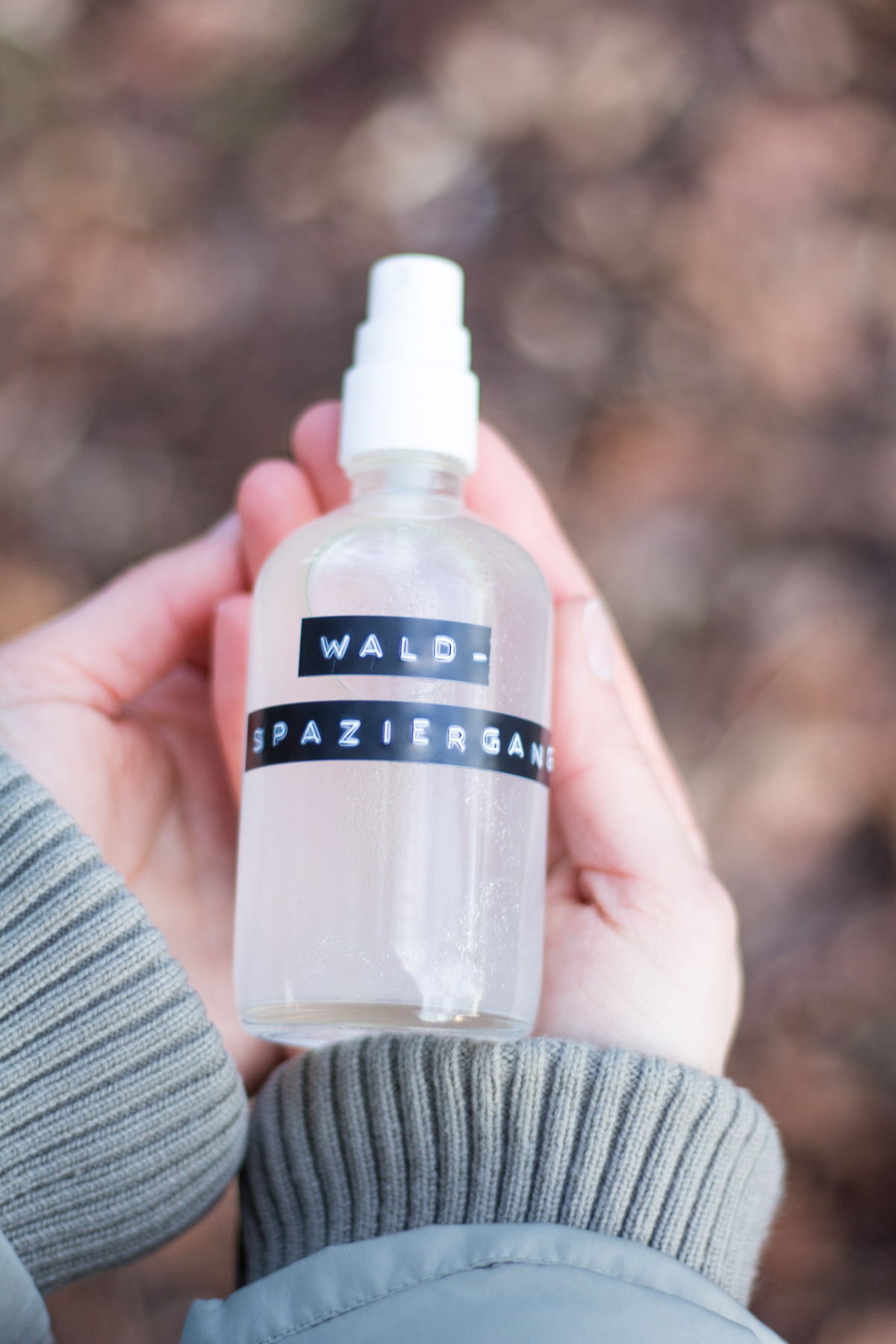 A great first contact with the world of essential oils are home-made room sprays. My mix "forest walk" combines the two oils black pine and Himalayan cedar and brings fresh forest air into the home. The room spray "Breathe" is a bit gentler thanks to the scent of Swiss pine and larch and is used especially in stressful situations. The oils are basically only mixed with water. I like to use distilled water, which we always have in the house anyway. In order for the sprays to last longer, I also addd some alcohol. Not a must, but a good idea when you're planning to use it as a gift or if you're not sure you will use it up right away. As a container, I use empty glass bottles from my natural cosmetics brands. They are perfect for upcycling.
Heavenly for body and soul, because …
… the room sprays with the essential tree oils provide fresh air in the home. Essential tree oils are particularly suitable for cleaning room air, help with respiratory problems, colds or psychological stress.
Himalayan cedar
The essential oil of the Himalayan cedar has a stabilizing and strengthening effect on our psyche. It is therefore often used in stress or burn-out. But the Himalaya cedar oil is a great skin oil. It has an antibacterial, anti-inflammatory and lymphatic stress.-releasing effect. Thus it can be used for cellulite, arteriosclerosis, allergies or skin rashes.
Use:
– For room ventilation in diffuser or room spray.
– All tree oils go perfectly with essential citrus oils such as lemon or grapefruit. Heavenly!
– In homemade deodorant
– Muscle pain associated with almond oil
– As a disinfecting soap

Black pine
The essential oil of the Blac pine is obtained from a dedicated PRIMAVERA cultivation partner in Corsica. Black pine oil is a mild essential oil that has an expectorant effect and is therefore used for colds and respiratory problems. The oil of the Black pine has nerve-strengthening and stimulating effect, which is why it is recommended for stress or anxiety. The scent is pleasantly gentle and can be used by both adults and children.
Use:
– For room ventilation in the diffuser or as room spray
– As a body oil for lymphatic drainage
– In conjunction with almond oil as an expectorant oil for the nostrils
Larch, organic
The essential oil of the larch comes from Austria or South Tyrol. It is extracted from the needles of the larch tree and is highly anti-infective, expectorant and promotes ejection. Therefore, it is often used in bronchial diseases. Like most essential tree oils, larch oil is mood-enhancing and psychologically invigorating and is therefore also recommended for stress, burn-out or depression.
Use:
– For room ventilation in the diffuser or as room spray
– As a body oil for nerve pain
– As an inhalation oil for respiratory diseases such as bronchitis
– In combination with almond oil as a body oil to strengthen the immune system

Swiss pine
This essential oil from PRIMAVERA has long been my favorite. It has been experiencing a real boom for several years and it is used especially for sleep disorders. The essential oil of the Swiss pine reduces stress and generally promotes well-being. Swiss pine oil, like all tree oils, can have a positive effect on the psyche and be particularly encouraging. It is also used when it comes to neutralizing room odors.
Use:
– As a room spray to neutralize bad odors
– A few drops of Swiss pine oil on a stone pine ball can have a sleep-promoting effect.
– As an inhaler pen in case of panic, fears or shocks.

DIY room spray with tree essential oils
Ingredients
For 150 ml Raumspray "Forest walk"
120 ml of distilled water
30 ml of alcohol (at least 40%, from the pharmacy)
25 drops PRIMAVERA Black pine extra bio
10 drops of PRIMAVERA Himalayan Cedar extra
10 g of soda (optional)
For 150 ml room spray "Breathe"
120 ml of distilled water
30 ml of alcohol (at least 40%, from the pharmacy)
25 drops of PRIMAVERA Swiss pine
8 drops of PRIMAVERA Larch bio
10 g of soda (optional)
Also:
One or two glass bottles with spray attachment (I just use my empty natural cosmetic glass bottles - #Upcyling ☺)
Instructions
Mix all ingredients in a glass container and shake well until the soda has dissolved.
Notes
- The alcohol in the recipe ensures a good solution of the fragrances, disinfects and ensures longer shelf life. You do not smell the alcohol either, because its smell basically just fizzles away and the essential oils cover it up anyway.
- The recipe can also be made without alcohol. The alcohol simply promotes the shelf life. Without alcohol, the spray should be prepared with distilled or at least boiled water and used up within about 3 months. With alcohol and distilled water, it basically last months long.
- Instead of the distilled water you can also use simply boiled water.
- Natron neutralizes odors, making it a great addition to normal room spray. Omit it, if you do not have it at hand.
Do not spray the spray directly on textiles, as the alcohol may cause discolouration.
- Do not spray the spray with alcohol directly on the skin.
Essential oils should always be used wisely.
Especially with pregnant women, breastfeeding or infants not all oils are harmless.
For example, peppermint must not be used in children under the age of 6 because it contains ketone.
Tree oils are generally safe here, but please inform you in pregnancy or infants about the effects of essential oils.
Likewise, essential oils can cause allergies as well as food.
If you would like to know more about tree oils, I highly recommend the book "Forest Medicine – The healing power of essential tree oils" by Anusati Thumm and Maria M. Kettenring. I always like to browse through the book because I find the health-promoting effect of essential oils of the forest just fascinating. In addition to the detailed description of ingredients and modes of action of the essential oils, the book contains a variety of recipes and instructions on how the forest oils can be used specifically for the prevention and treatment of various diseases.
*Advertising. This article was created in loving cooperation with PRIMAVERA. All opinions are my own. Thank you for supporting the companies that make me dance daily through my kitchen and develop recipes.