Asparagus is in season again and I could not be happier about this since I love asparagus. It is my favorite spring vegetable and once the season has started you will find me eating asparagus at least 2 – 3 times a week if not more. Germans are almost obsessed with asparagus and we even grow three kinds of asparagus: white, green and purple. This Avocado Hollandaise tastes good with any kind of asparagus that you can get.
Traditionally Germans eat white asparagus with potatoes, ham, and hollandaise sauce. This might sound a little strange to non-Germans, but it is actually really delicious. Unfortunately this dish is not really healthy, which is a petty, because asparagus is one of the healthiest vegetables out there. It is highly anti-inflammatory and good for a healthy heart as it contains lots of vitamin K, which helps blood clots. Asparagus also cleans your body from the inside because it removes excess salt and fluids, which is great for people suffering from high blood pressure.
This avocado hollandaise is really amazing. Even though I have to admit that I love a good traditional hollandaise sauce, this version is my new favorite, and I don't think I'll ever go back. The avocado hollandaise even persuaded my hollandaise-loving family and friends as it is so rich and creamy that you do not even think that it could be healthy. Of course the sauce is high in fat, but only the "good" kind of fat called omega-3. Do not be afraid to eat this good kind of fat, because it does not make you gain weight, but it will actually help your body manage a healthy body weight.
Even though this dish may sound very strange to people outside of Germany, but trust me on this, it is one of the most delicious ways to eat asparagus.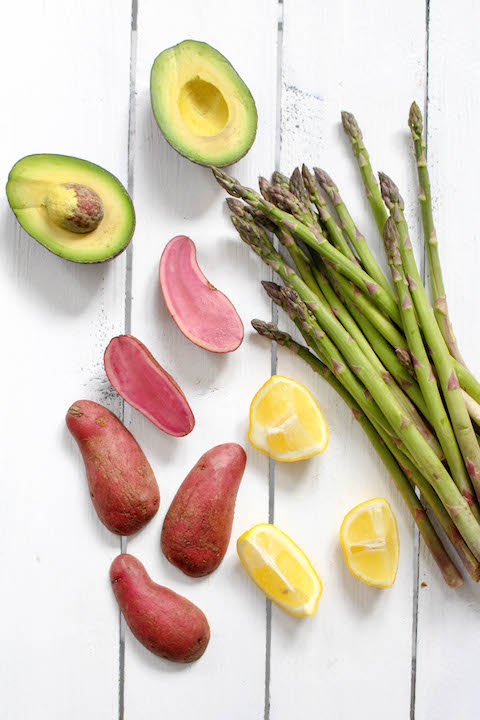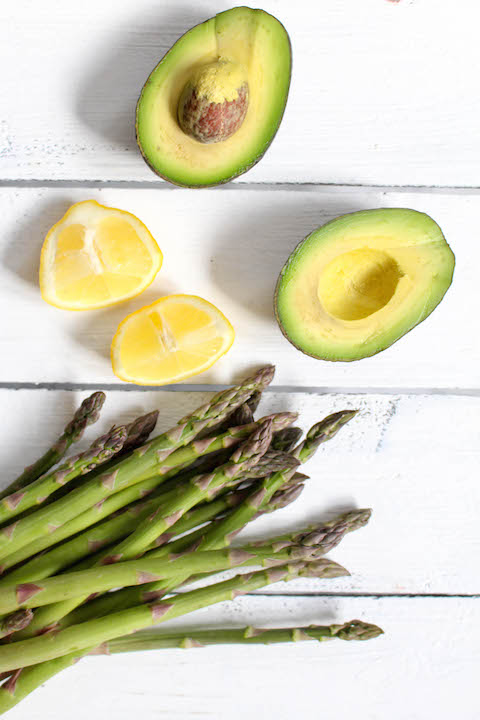 Health benefits in asparagus with avocado hollandaise:
– folic Acid (important for a healthy heart; prevents certain cancers)
– manganese (for nerve health)
– omega-3-fatty-acids (prevents heart disease, lowers cholesterol and blood pressure)
– vitamin C (good for your immune system, tissue health)
– vitamin E (antioxidant against free radicals, prevents skin ageing
– vitamin K (important for blood clotting and healthy bones)
– zinc (important for growth, skin, and a healthy immune system)Ingredients: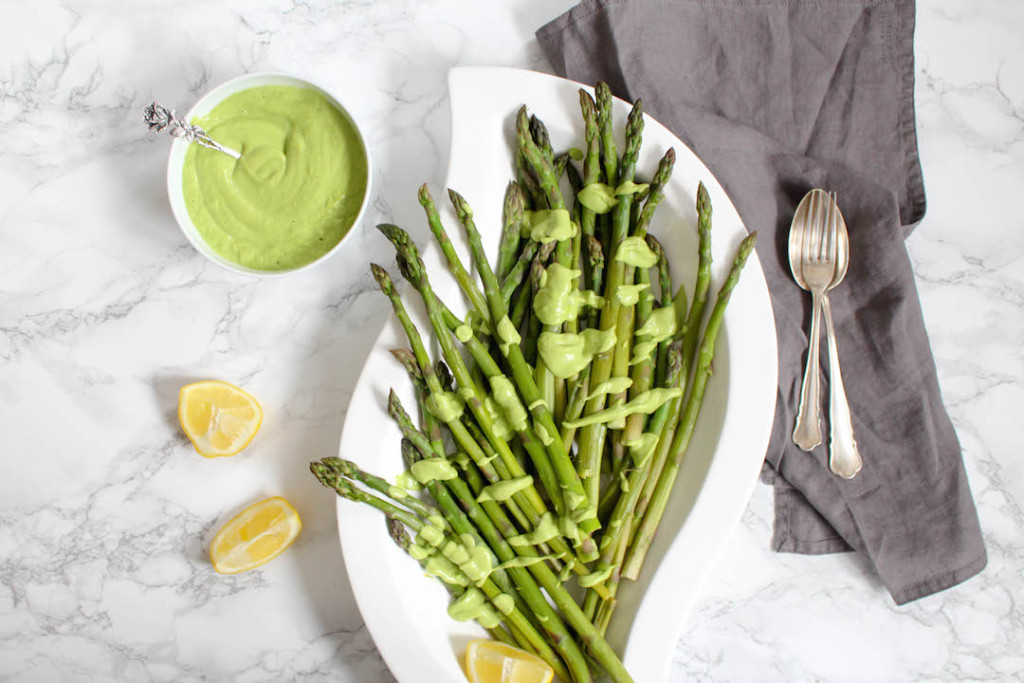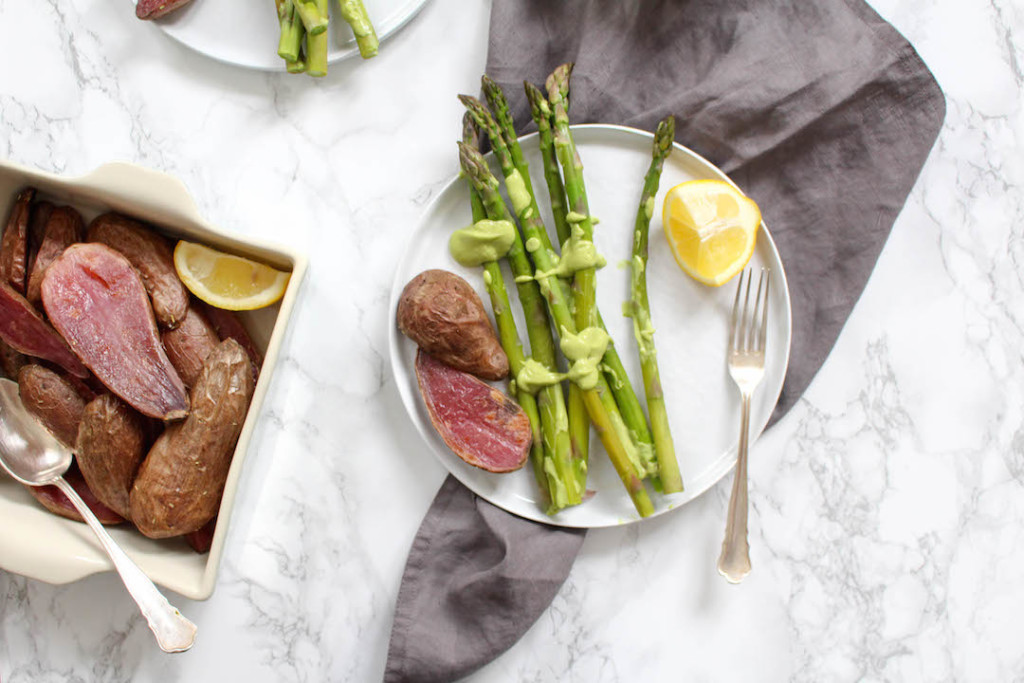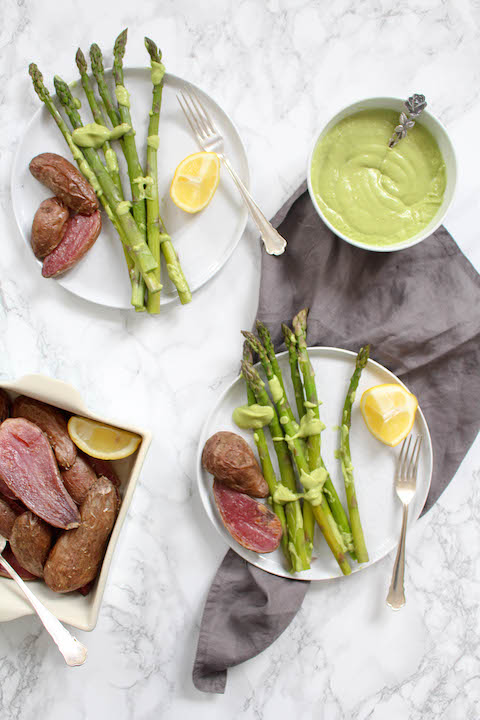 Asparagus with Avocado Hollandaise
Ingredients
For the asparagus
2 kg asparagus
½ tsp maple syrup
1 kg potatoes
For the Avocado-Hollandaise:
1 ripe avocado
250ml hot (boiling) water
the juice of ½ lemon
1 tsp maple syrup
½ tsp salt
¼ tsp pepper
2 tsp vegetable oil
Instructions
For the potatoes:
Wash the potatoes and peel them if desired. Organic potatoes can be eaten with their skin on.
Place the potatoes in a large saucepan or pot. Add enough cold water to cover the tops of the potatoes completely. Bring to a boil, then add ½ - 1 teaspoon salt to the water. Reduce the heat to medium low or low. Cover the pan with a lid and cook the potatoes for about 15-20 minutes.
For the asparagus:
Peel the asparagus and cut off about 1 cm (1/2 inch) of the ends. In a large pot, heat up enough water to cover the asparagus completely. Add a pint of salt and agave, and cook the asparagus for about 15 minutes.
In the meantime, make the avocado hollandaise.
Cut the avocado in half and remove the pit. Add the flesh to a blender together with all ingredients except vegetable oil, and blend for about 1 minute. Add the vegetable oil and blend for another 30 seconds until you have a rich and creamy sauce.
Once the asparagus and potatoes are ready, drain the water and serve immediately with the avocado hollandaise.
Enjoy!