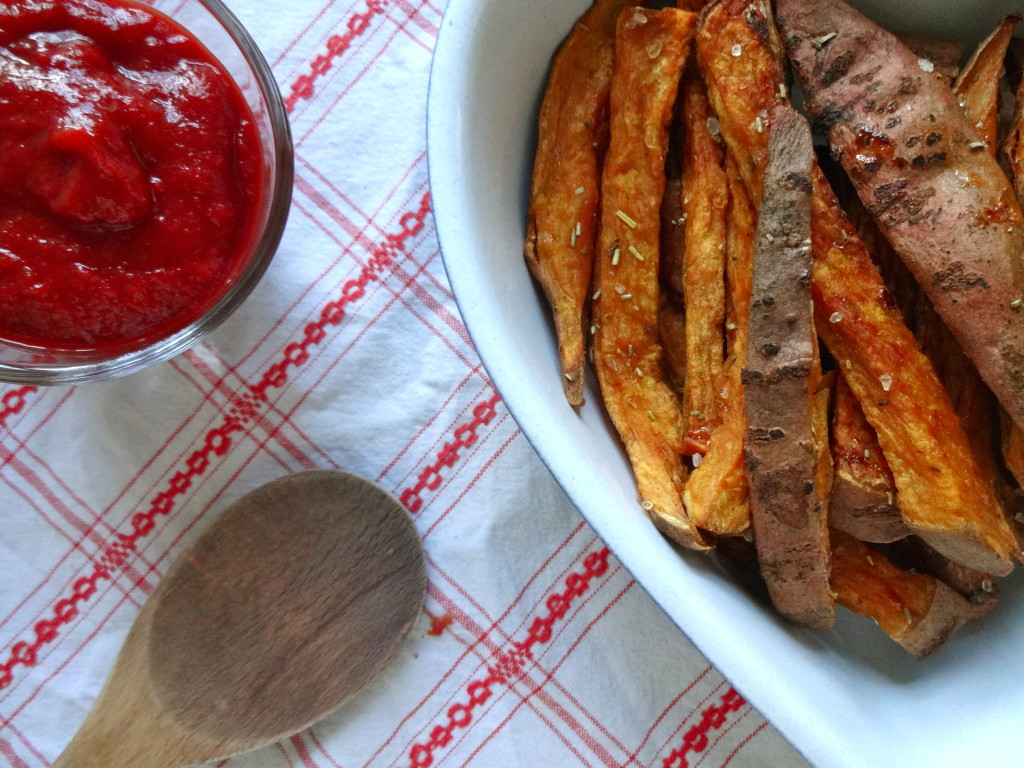 Eating healthy doesn't mean eating lettuce and spinach all the time. A healthy lifestyle is not about depriving yourself from delicious foods, instead it's about consciously watching what you fuel your body with, without sacrificing taste or satisfaction. A common misconception is that comfort foods are never healthy and that you can never eat delicious foods if you want to lead a healthier lifestyle. Fortunately neither of this is true. These delicious sweet potato fries with homemade maple ketchup are just one of many comfort foods that you can enjoy completely guilt-free. Sweet potatoes are one of the healthiest starchy foods out there. They are fat-free, low in sodium and packed with the antioxidant powerhouse vitamin A. Vitamin A is responsible for healthy eyesight, and it is also said to have anti-aging benefits. Although higher in sugar, sweet potatoes contain much more nutritional value and vitamins and minerals than white potatoes. Plus, they are so much more exciting than their little brothers.
Ketchup is probably every Western country's obsession. Since it contains tomatoes, it is also commonly regarded as healthy – a very misleading misconception. In fact, one serving of ketchup contains almost as much sugar as gummy bears or chocolate. Fortunately it is very easy to make your own healthy ketchup. Instead of using processed sugar, this recipe uses maple syrup, which is still high in sugar, but unlike refined sugar it comes with many health benefits. Maple syrup is packed with antioxidants due to its high mineral content, and it supports a healthy heart.
Combined with the ketchup, these sweet potato fries are the easiest and healthiest comfort food you will find. It's the hit on every dinner party, and nobody will believe that it's actually good for you.
Health benefits in this sweet potato fries with maple ketchup:
– calcium (important for bone, teeth, muscle and nerve health)
– iron (important for healthy red blood cells that transport oxygen through your body)
– magnesium (important for a healthy nerve system, muscle health, energy production)
– potassium (lowers cholesterol levels and blood pressure)
– vitamin A (antioxidant powerhouse, anti-aging benefits, maintenance of good eye-sight)
– vitamin B5 (important for energy production; lowers cholesterol and blood pressure)
– zinc (important for growth, skin, and a healthy immune system)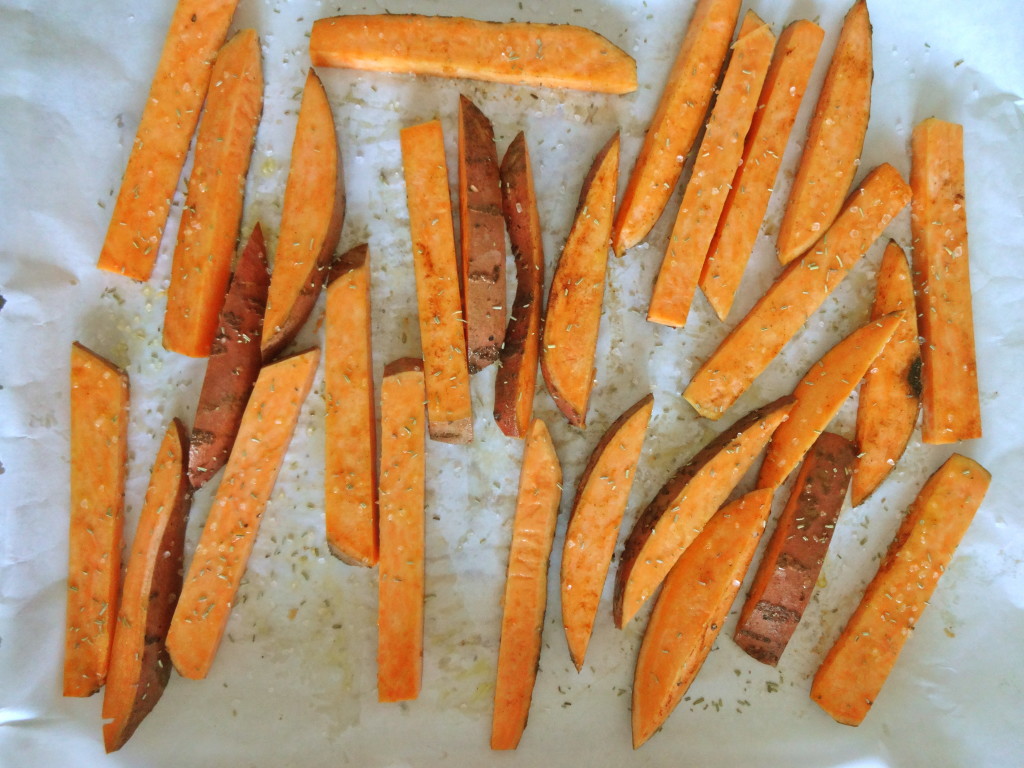 Ingredients:
Serves 2:
– 2 large sweet potatoes
– 2 tbsp of extra-virgin olive oil
– ½ tsp salt
– ½ tsp cumin (optional)
– ½ tsp cinnamon (optional)
– 1 tsp rosemary (optional)
For the ketchup:
– 1 cup (250g) tomato paste
– ¼ cup (60g) maple syrup
– 1/3 cup (80ml) apple cider vinegar
– 1/4 cup (60ml) water
– ½ tsp salt
– ½ tsp garlic powder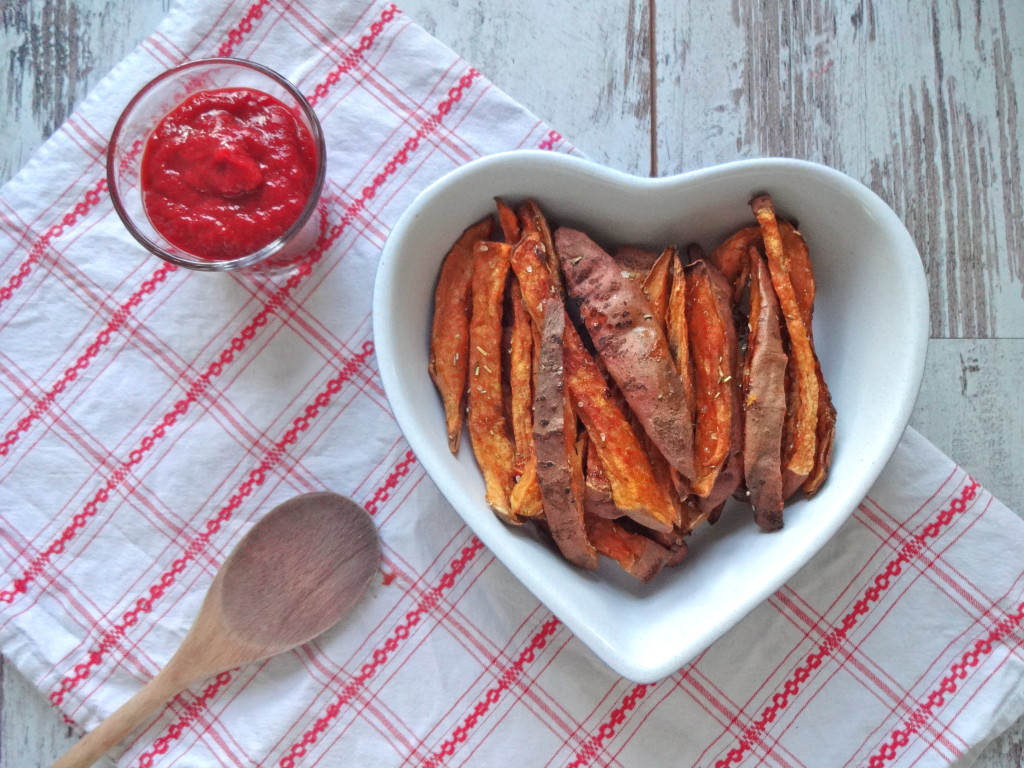 Pre-heat the oven to 180°C.
Start by making the sweet potato fries. Wash the potatoes thoroughly as you will eat them with their skin still on. Dry them with a towel and cut them into thick, even wedges. Place them in a large bowl and drizzle with the olive oil and spices. Using your hands, mix everything well to assure that every piece of the sweet potatoes is covered with some olive oil and spices. Now place the sweet potatoes on a baking tray and bake for about an hour. Turn them every once in a while until they are nicely soft and tender.
For the Ketchup:
Simply place all the ingredients into a food processor and blend until smooth. Serve with the delicious sweet potato fries.
Enjoy!