It was about time. Living in a small city means your restaurant choices are extremely limited. So it may be possible that my fiancé and I take the train to Hamburg every now and then only to eat at our favorite Asian restaurants. Our favorites include anything Vietnamese, Thai and of course Japanese. We love ramen noodle soup and edamame. So it was about time that we tried making edamame ourselves. AND IT WAS AMAZING.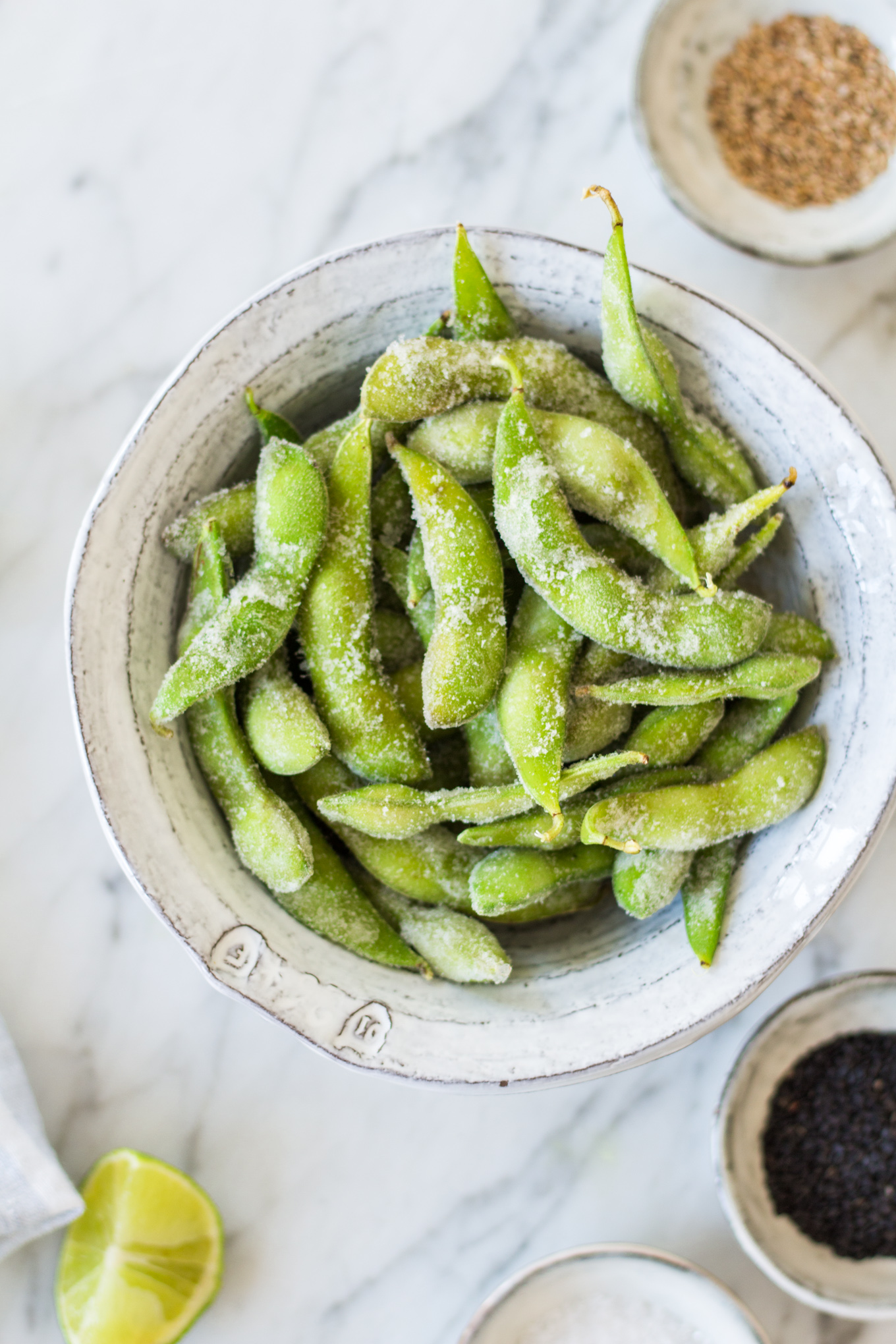 Seriously, this may be the easiest recipe of all times. It literally takes 5 minutes and you have the best snack to impress not only yourself, but also any guests you might invite for a little edamame feast.
Now the hard part about this recipe is finding the edamame. While I'm sure it will be easy for anyone living in a large city with lots of Asian supermarkets, it might be impossible to find edamame in rural areas in all parts of the world. Big cities will have a WholeFoods or a Trader Joes, that's where I would start my edamame search. However if you're not living in a big city, it might be hard to find edamame. And I'm not even going to throw in the word "organic", because forget it. 9 times out of 10 you're lucky to find edamame where you live, so you can't be picky about the ones you find.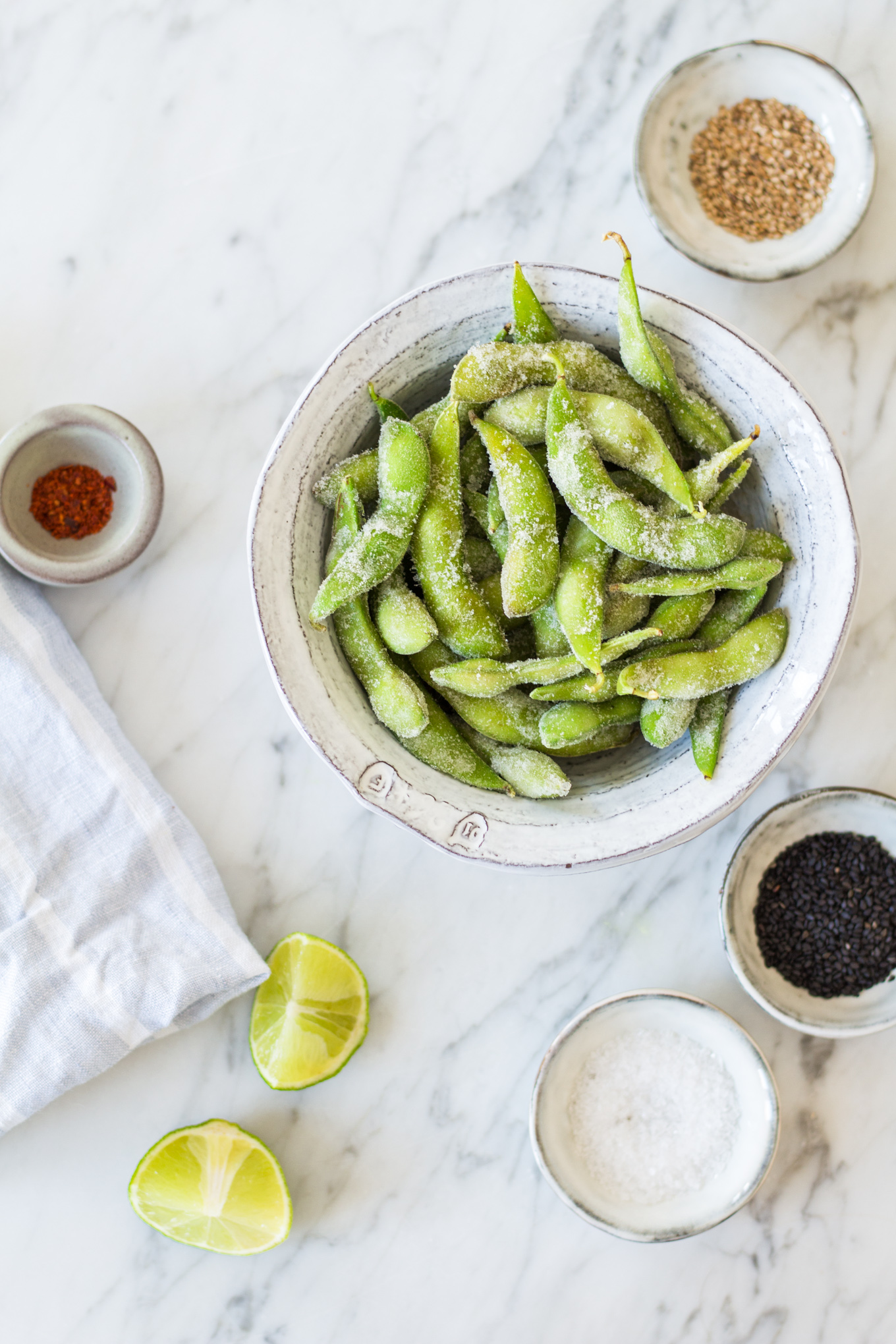 If you happen to live in Germany, your best chances are Alnatura, the organic supermarket chain. Look for a brand called "Bio Inside". To my knowledge they are one of the few European brands that sell organic edamame both shelled and peeled. Non-organic edamame can be found in most Asian supermarkets in Germany.
And if you've read this far and still don't know what I'm talking about. Here's a brief lecture on what edamame actually are. Edamame are young soy beans, and since they are picked when they are young, they are soft and edible. On the contrary, the soy beans used to make soy products such as soy milk or tofu.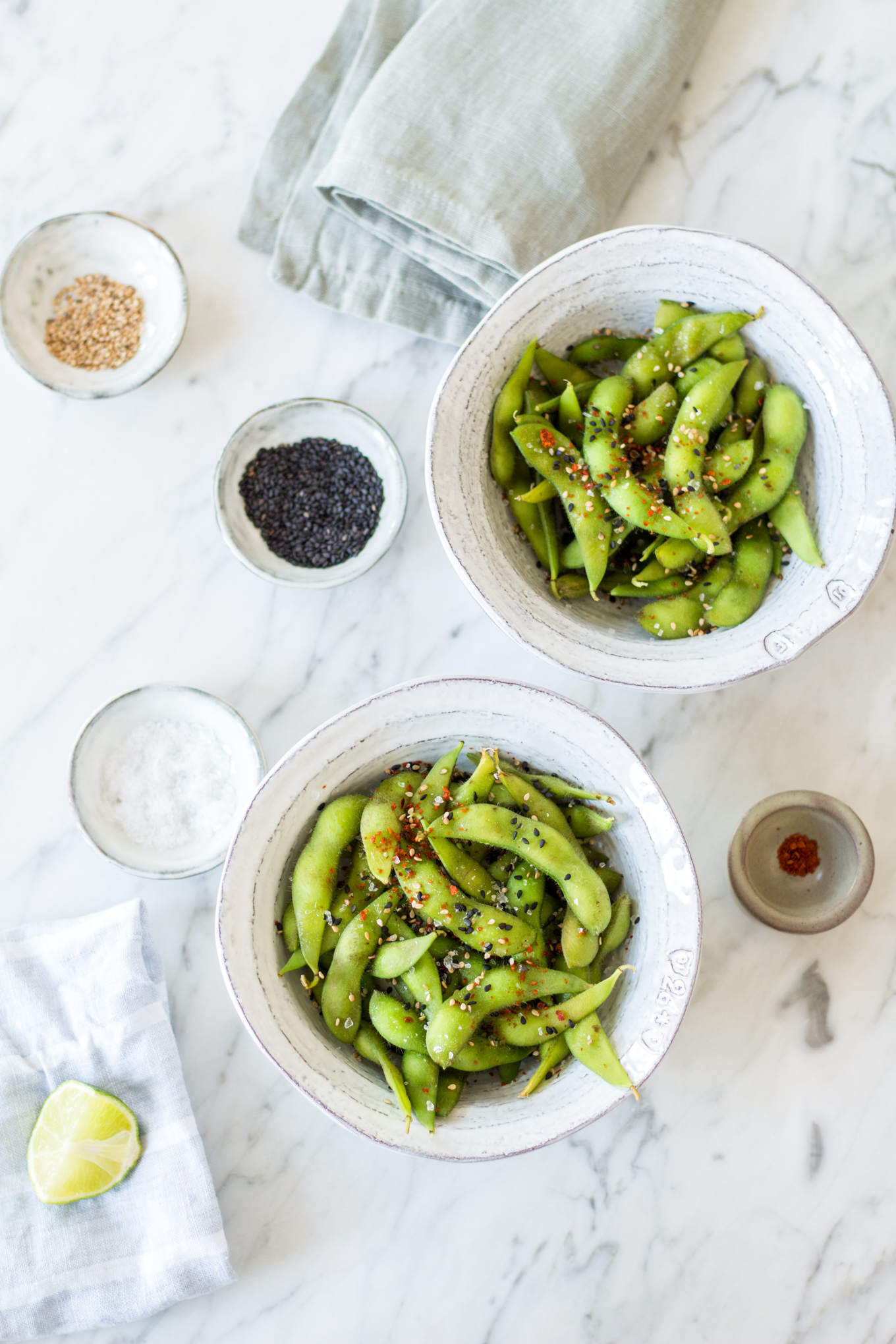 Heavenly for body and soul, because…
…edamame have a great amino acid profile. They contain all nine essential amino acids, making them a complete protein. That's great because, our body cannot produce essential amino acids on its own. 100 g of edamame already contain 12 g of protein, which is approx. 20% of the daily recommended protein requirement of an average woman.
Now I'm curious to hear if you can find edamame where you live. And if you tried the recipe. Let me know in the comments below.

Edamame with sea salt and sesame seeds
Ingredients
500 g (4 cups) of edamame, frozen
1 tablespoon of sea salt + 2 teaspoons for coating
2 teaspoon of white or black sesame seeds
1 teaspoon of fresh lime juice
½ teaspoon of chili flakes
Instructions
Boil the edamame in a pot of boiling water and one tablespoon of sea salt for about five minutes. Drain the water, then add the remaining ingredients to the pot and stir well until the edamame are coated well. Alternatively, you can also mix the edamame with the sea salt in a kitchen towel.
Serve immediately while warm or store in the fridge for later.
Enjoy!