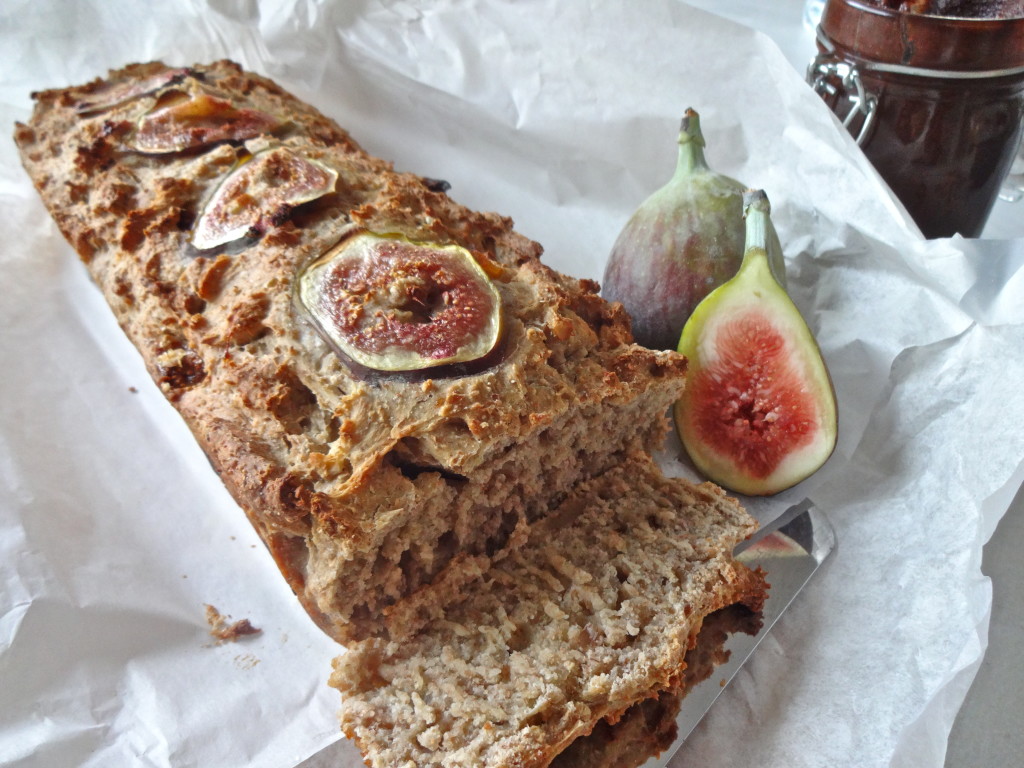 I absolutely love bread. It's my favorite thing in the entire world, and my day just isn't complete without a piece of bread in it. I also love eating plain bread, there is just nothing better than the end-piece of a freshly baked wholegrain bread with lots of seeds in it. Not eating bread, or carbs in general, means not living in my opinion. Bread simply makes life better.
This bread is both hearty and sweet at the same time. It is the perfect bread for a Sunday breakfast or brunch, because it tastes delicious with sweet spreads such as jam or my healthy Nutella but also with savory spreads like cheese. The bread is not a low calorie food, but I am not even going to try to combine bread and low calorie. If you want to enjoy bread, then calorie counting simply isn't allowed. Instead of counting calories, I count nutrients, and this bread gives me plenty of them. For example, the "good" fats from the walnuts keep my heart healthy. The figs are a good source of potassium which is great for high blood pressure patients like me, and fiber which leaves you satisfied for hours. You really need to try this bread as soon as you can, because it is one of the best recipes on the blog so far. It also looks pretty impressive, so why don't you go ahead and give it a try this weekend. I am sure you will be amazed.
Nutrients in this Wholesome Fig and Walnut Bread:
– calcium (important for bone, teeth, muscle and nerve health)
– fiber (important for heart health, lowers cholesterol levels)
– iron (important for healthy red blood cells that transport oxygen through your body)
– magnesium (important for a healthy nerve system, muscle health, energy production)
– omega-3-fatty-acids (prevents heart disease, lowers cholesterol and blood pressure)
– potassium (lowers cholesterol levels and blood pressure)
– protein (important for a healthy metabolism, immune systems, production of enzymes)
– zinc (important for growth, skin, and a healthy immune system)
Ingredients:
– 2 cups (500g) whole wheat flour or brown rice flour
– ¼ cup (60ml) maple syrup
– 1 x 7g (gluten free) dry yeast
– 1 ¼ cup (300g) warm water
– 1 tsp cinnamon
– ½ cup (150g) dried figs
– 1 cup (100g) walnuts
– pinch of salt
Preheat the oven to 200 °C (390 °F) and grease a loaf tin with coconut oil and set aside.
Combine the warm water, the dry yeast and the maple syrup in a medium sized bowl and set it aside for 10 minutes until it is bubbling and frothing.
In a separate larger bowl combine the flour, cinnamon and salt. Add the yeast mixture and mix everything with your hands until you have a sticky dough. Cover the bowl with a towel and allow it to rise for at least an hour.
In the meantime cut the dried figs into small pieces and roughly chop the walnuts.
Once it has hopefully doubled in size, add the chopped figs and walnuts, and knead the dough on a floured surface for 5 minutes. Place it into the baking tin and bake for 10 minutes. Then reduce the temperature to 180 °C (360 °F) and bake for another 30-35 minutes until you can pull a knife out the center of it clean.
Allow it to cool for at least 10-15 minutes. I know, this is the hardest part…
Enjoy!