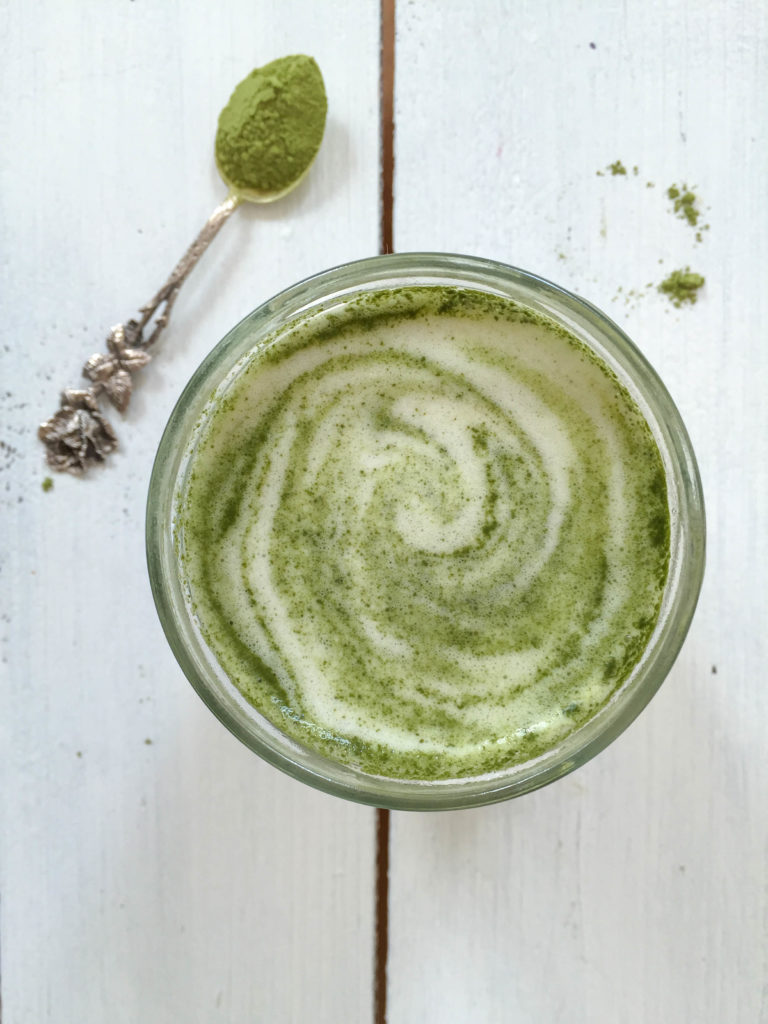 I admit that I have been obsessed with matcha for a couple of weeks now. It's such a great alternative to coffee and different than coffee, I actually really like the taste of it. I have always liked drinking green tea – especially iced in the summer – but since I discovered matcha, it's been my go-to-morning-drink. It is so much better than drinking coffee in the morning. It really gives you an extra kick to get you out of the sleepy mood and into the "you-can-do-anything-today" mood. I really prefer it over coffee because you can really feel that you are treating your body with something great and healthy. 
So why is everybody including me obsessed with matcha these days? First of all, matcha tastes delicious. It tastes like green tea minus the bitterness that you get when soaking green tea too long. Matcha also comes with many health benefits including the following:
Matcha
– Is packed with antioxidants including the powerful EGCg
– Boosts metabolism and burns calories
– Detoxifies effectively and naturally
– Calms and relaxes
– Enhances mood and aids in concentration
– Provides vitamin C, selenium, chromium, zinc and magnesium
– Fights against viruses and bacteria
– Is rich in fiber
– Lowers cholesterol and blood sugar
– Does not raise insulin levels
Source: www.matchasource.com
So what's the difference than drinking regular green tea? The difference is that you ingest the entire leaf, not just the brewed water. This means that if you drink 1 glas of matcha, you get the equivalent nutrients and health benefits of 10 glasses of brewed green tea.
Matcha latte is basically just matcha powder dissolved in hot water topped with steamed milk of your choice. I prefer almond milk, but any other milk is fine. If you're a sweet tooth like me then you can add a little honey or agave to round it up and make it taste even more heavenly.
Matcha Green Tea Latte
Ingredients
¼ cup (60 ml) almond milk, steamed
1 tsp matcha powder
¼ cup (60 ml) hot water
1 tsp honey or agave
Instructions
Simply add the hot water and the matcha powder and wait until it has dissolved. Add the honey and stir well until the honey has disolved as well. Then add the steamed almond milk on top and stir again. Add more sweetener if desired.
Enjoy!
---
DID YOU MAKE THIS RECIPE OR HAVE ANY SUGGESTIONS, QUESTIONS OR COMMENTS?
Feel free to leave a comment below, and don't forget to tag your creations on social media using #heavenlynnhealthy.
I'd love for this blog to be a dialogue.
---