This smoothie has been my go-to-drink for the past couple of weeks. It is a great pick-me-up when you're feeling tired and weary because it's filled with amazing goodness such as mango and avocado, which are natural superfoods. Mangos are my absolute favorite fruit at the moment. They don't just taste amazing, but they are incredibly healthy, too. Research has shown that the high amount of antioxidants in the mango fruit can help protect against several types of cancer such as breast cancer or leukemia. The exotic fruit is also a natural skin beauty booster as it clears clogged pores and eliminates pimples. What a great excuse to eat it every day.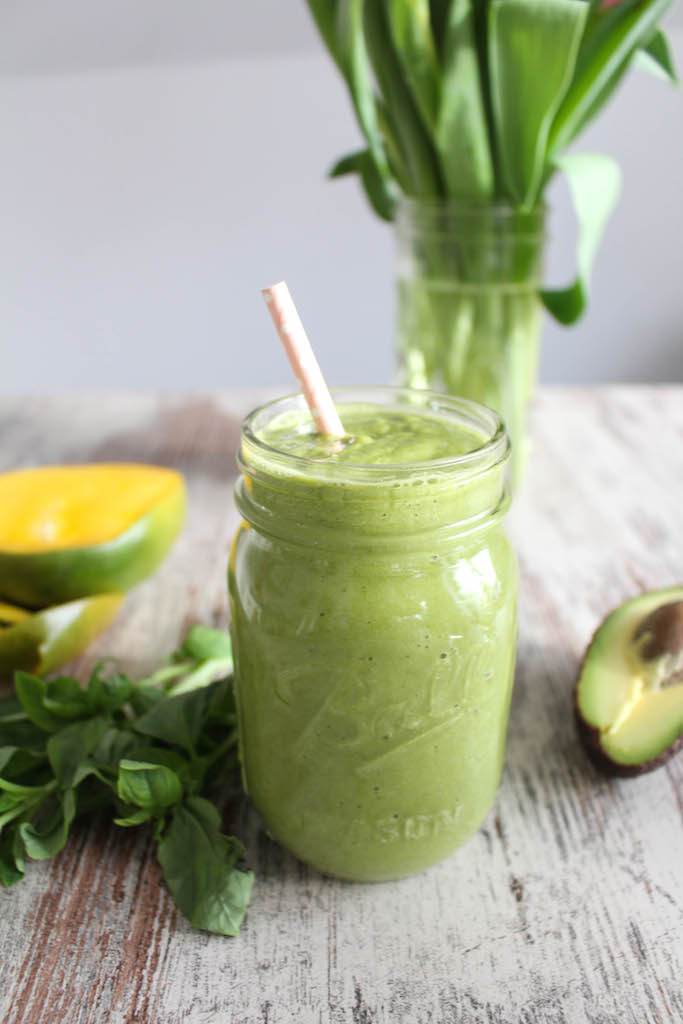 Totally different in taste, but just as amazing and healthy are avocados. I absolutely love avocados and I always have one at home. Avocados are packed with healthy mono-unsaturated fats called omega-3-fats. Don't worry, this healthy kind of fat does not make your belly grow, but instead helps lower cholesterol and keeps your heart healthy. Avocados are also a great source of protein, which is why I love adding them to my smoothies as they make smoothie so much more filling, and help absorb fat-fat-soluable vitamins such as vitamin K.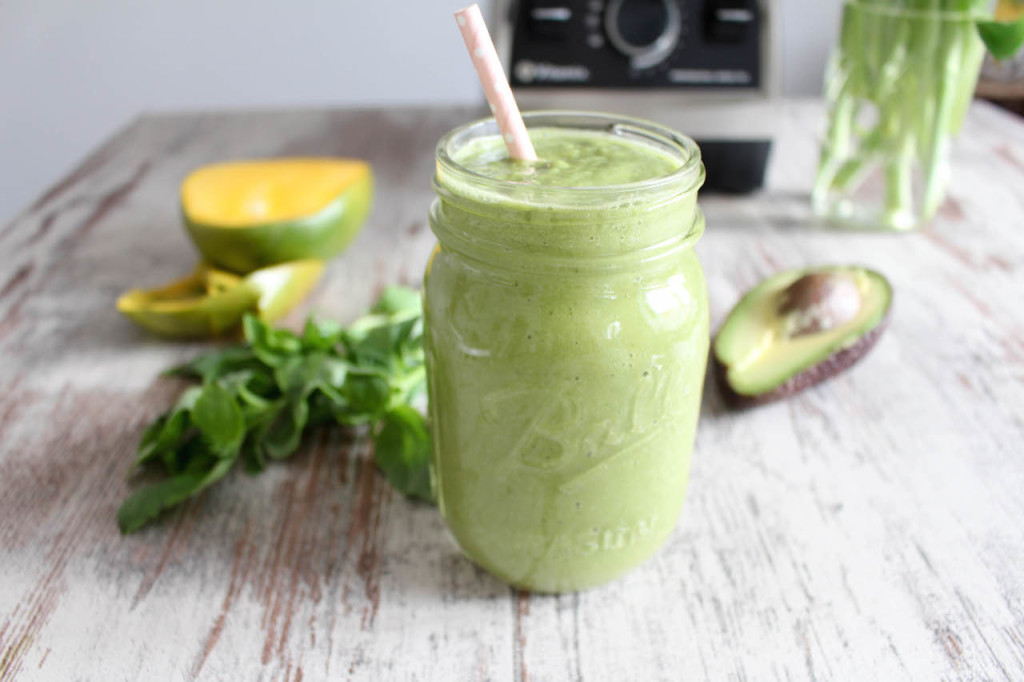 Basil is another one of these everyday superfoods that we eat all the time but don't even bother calling it a superfood. Half a cup of basil leaves provide 98% of the recommended daily vitamin K intake – the vitamin which is mainly responsible for healthy bones and blood clotting.
As you can see, this smoothie is basically medicine in a glas, so I highly recommend you try it out as soon as possible. Let me know what you think in the comment function below.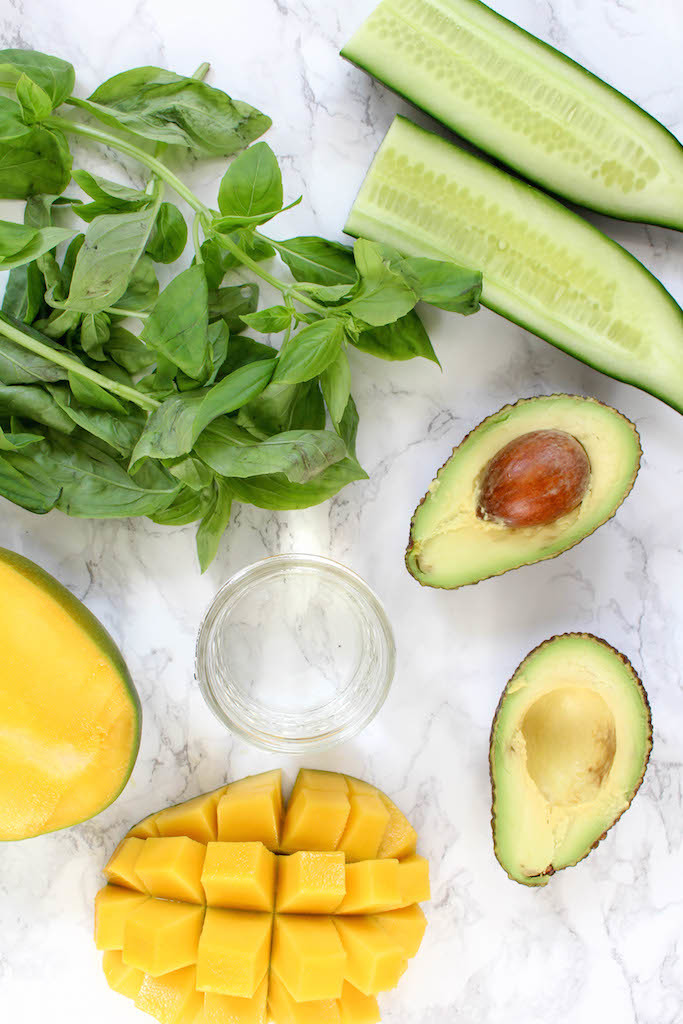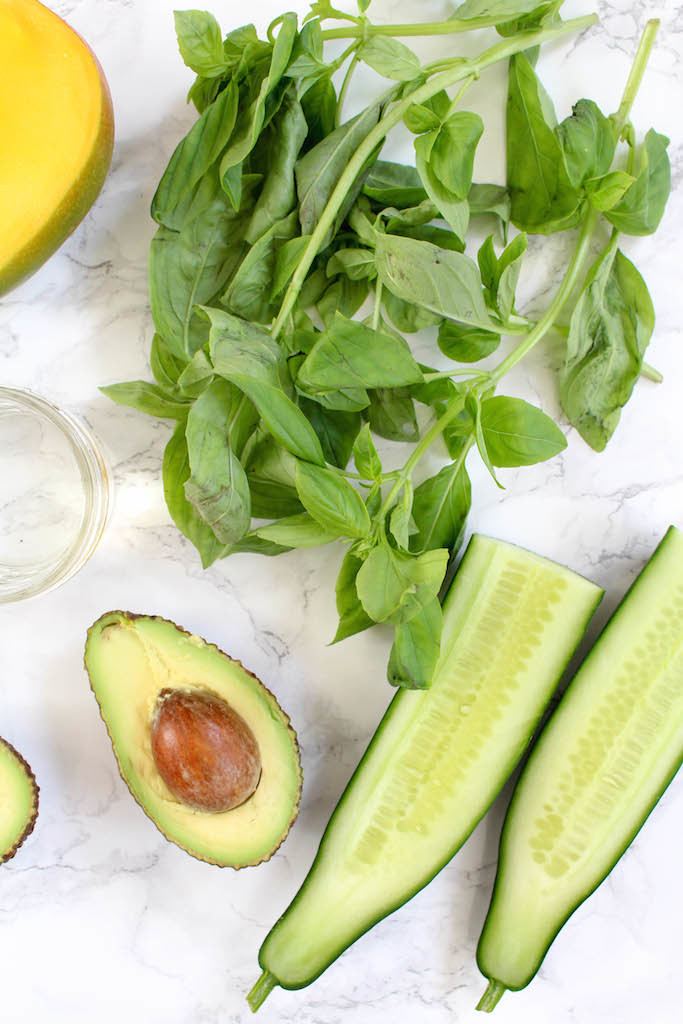 Health benefits in this Green Mango Basil Smoothie:
– fiber (important for heart health, lowers cholesterol levels)
– iron (important for healthy red blood cells that transport oxygen through your body)
– magnesium (important for a healthy nerve system, muscle health, energy production)
– omega-3-fatty-acids (prevents heart disease, lowers cholesterol and blood pressure)
– potassium (lowers cholesterol levels and blood pressure)
– vitamin A (antioxidant powerhouse, anti-aging benefits, maintenance of good eye-sight)
– vitamin B5 (important for energy production; lowers cholesterol and blood pressure)
– vitamin C (good for your immune system, tissue health)
– vitamin K (important for blood clotting and healthy bones)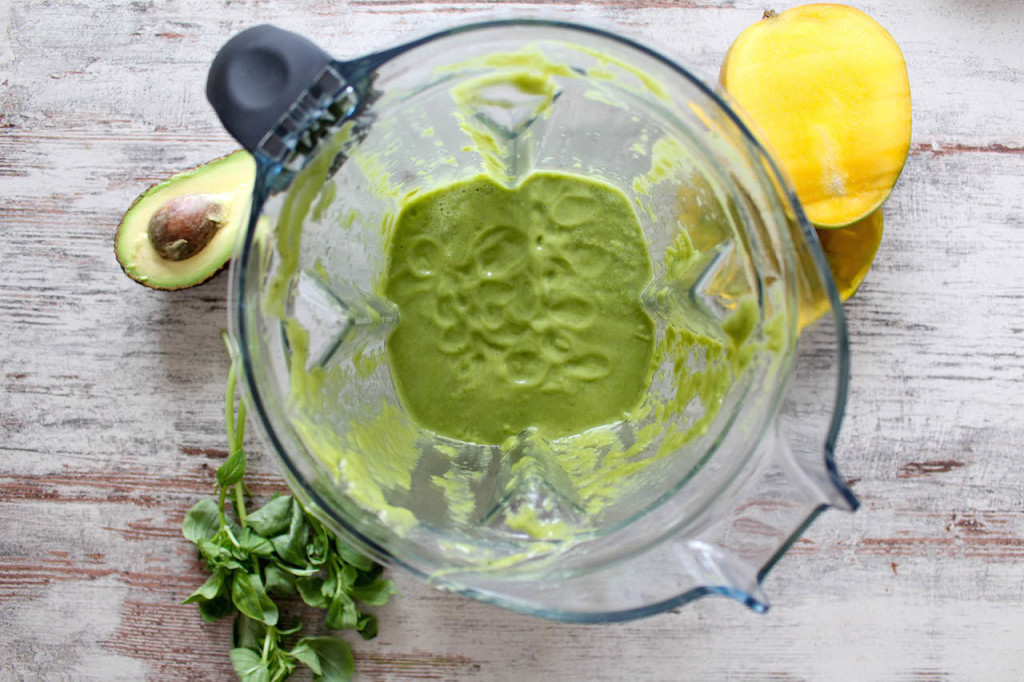 Green Mango Basil Smoothie
Ingredients
½ mango
¼ avocado
¼ cucumber
¼ cup (60ml) water or coconut water
a handful fresh basil leaves
½ tsp matcha powder (optional)
½ tsp kale powder (optional)
Instructions
Simply wash or peel all ingredients and put them into a blender and blend until smooth. Serve immediately.
Enjoy!