I recently heard someone say that asparagus season is making Germans go totally crazy. I think this is hilarious, and completely true. No other vegetable is having such a huge impact on people's lives and behavior as asparagus has. But why is that? For once I think that eating asparagus is a very social thing in my country. Eating asparagus the traditional way is an event for the entire family, it almost feels like a holiday feast if you will. Every family has its own unique way of "celebrating" asparagus, and whenever you're invited to a friend's house where asparagus is served differently than at your house, something doesn't feel quite right.
I have to admit that I am 100% German when it comes to asparagus, and I also go totally crazy with the healthy veggie. This past week I think I have literally had it every single day: the traditional way with my family (and my avocado-hollandaise sauce), as a totally delicious vegan asparagus cream soup (recipe coming soon!), and probably three or four times in a salad like this one.
If you don't like asparagus, then I am really sorry, but you will have to stay away from my blog until the end of May, because I still have lots of delicious asparagus recipes waiting to be posted; starting today with this extremely delicious and healthy asparagus summer salad with strawberries and an over-the-moon mango-vinaigrette. It's been my go-to-salad these past couple of weeks, and I could truly eat it every day. The salad is anything but boring, because it's so colorful and sweet and I'm sure you will love it just as much as I do.
Of course it's also extremely good for you as it is packed with lots of nutrients and vitamins such as vitamin C from the strawberries and mango, which is great to strengthen your immune system. Asparagus is high in anti-inflammatory and detoxifying nutrients, so it may even help protect from or fight various kinds of cancers.
As you can tell, the salad is perfect to welcome summer and to fill your body with amazing goodness.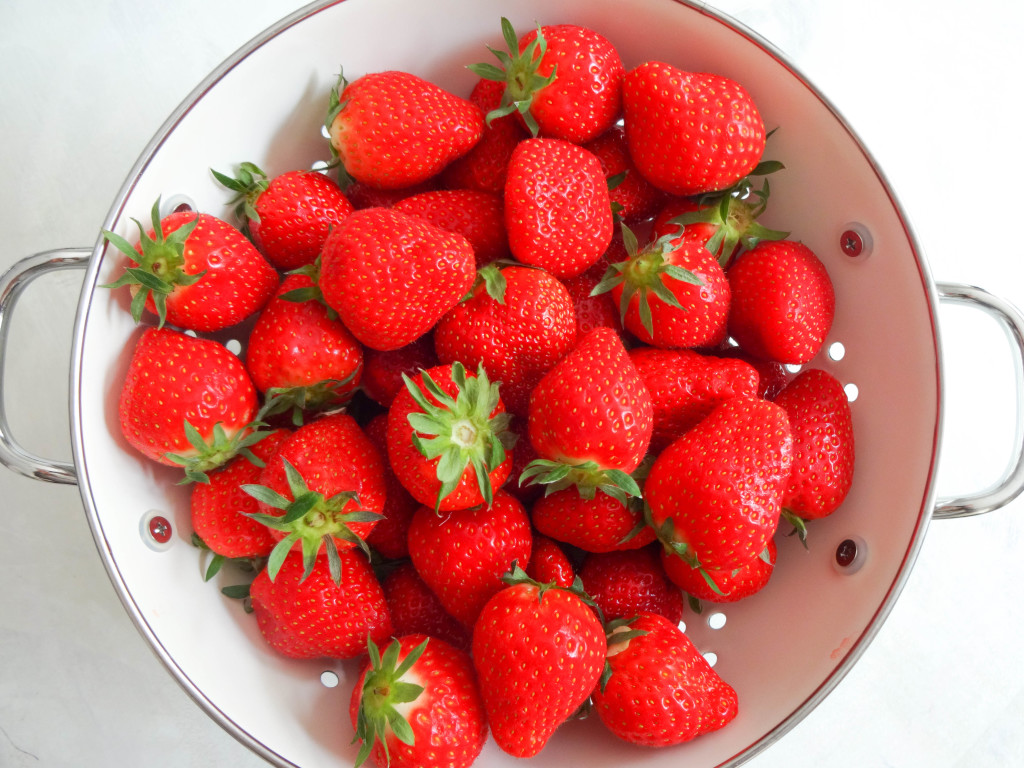 Health benefits in this asparagus salad:
– manganese (for nerve health)
– vitamin A (antioxidant powerhouse, anti-aging benefits, healthy eye-sight)
– vitamin C (good for your immune system, tissue health)
– vitamin E (antioxidant against free radicals, prevents skin ageing
– zinc (important for growth, skin, and a healthy immune system)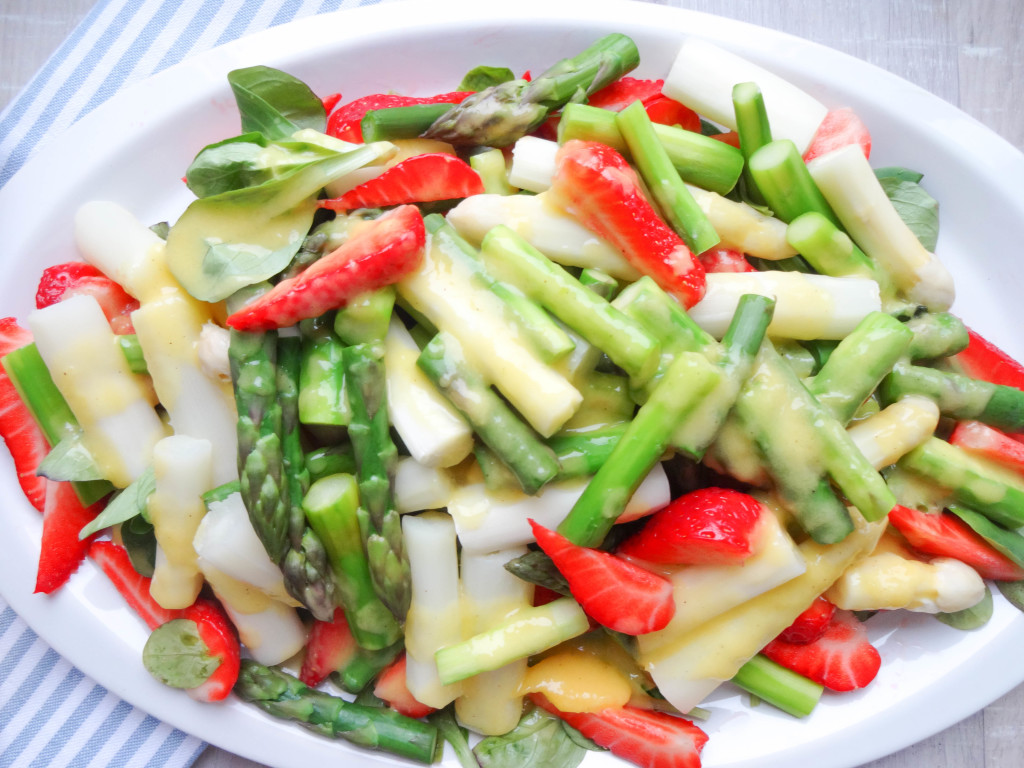 Ingredients:
Serves 2:
For the salad:
– 500g asparagus (white or green, or mixed)
– 250g (about 10-12) fresh strawberries
– 3 handful green leaves of your choice
For the mango-vinaigrette:
– ½ mango
– 2 tbsp white balsamic vinegar
– 1 tbsp extra-virgin olive oil
– ½ tsp salt
– ¼ tsp pepper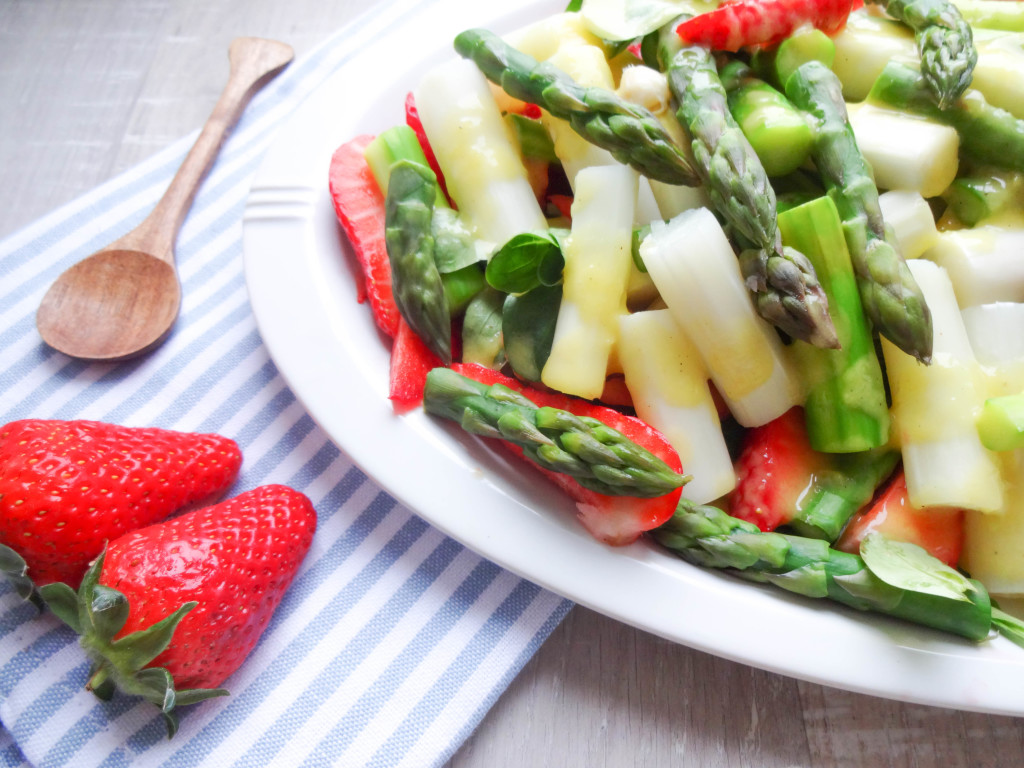 For the asparagus:
Peel the asparagus and cut off about 1cm of the ends. Cut the asparagus into bite-sized pieces. In a large saucepan, heat enough water to cover the asparagus entirely. Bring to a boil, add a pint of salt and agave, and cook it for about 15 minutes.
While the asparagus cooks, wash the salad greens, and strawberries. Dry the salad and place it into a salad bowl or on a big plate. Cut the strawberries into your desired size and add them to the greens.
For the mango-vinaigrette:
Cut the mango in half and remove the flesh from the skin. Place half the mango into a food processor or strong blender, add the remaining ingredients and blend until you have a creamy salad vinaigrette.
Once the asparagus is tender, drain the water and add it to the salad. Finally, pour the mango vinaigrette over the salad and serve immediately.
Enjoy!