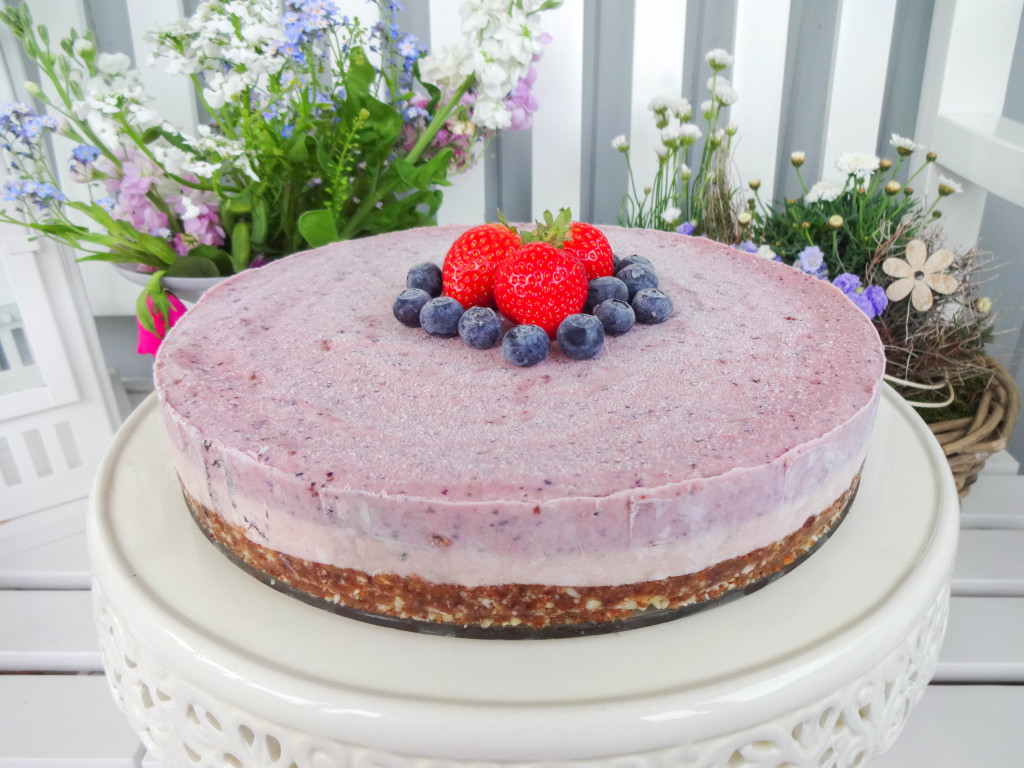 Note: This recipe is adapted from the glorious cookbook Deliciously Ella: Awesome Ingredients, Incredible Food That You and Your Body Will Love. Copyright 2015 by Eleanor Woodward. Published by Yellow Kite.
This raw cheesecake is the best healthy cake you will ever try. I almost couldn't believe how good it is. Even my family (aunt, uncle, cousins, cousin's boyfriend) who had the honor of being my guinea pigs last weekend, was amazed by it's taste. Of course everybody loved the base layer – medjool dates and nuts are just the perfect healthy cake base. The middle layer is an amazing composition of frozen bananas and cashew nuts and the top layer is a symphony of fresh and frozen berries, which makes this vegan cake the perfect cake for a warm summer day. It's also more of a frozen treat since it needs to go into the freezer for a couple of hours before you can enjoy it. So if you're a big fan of ice cream cake, then this recipe is for you.
Unlike most sugar and fat loaded cakes, this cake is filled with lots of goodness that your body will actually benefit from. Using nuts instead of butter is a great way to substitute saturated fats with healthy unsaturated fats. These monounsaturated fatty acids help lower cholesterol and increase overall cardiovascular health. Of all nuts, almonds contain the highest amounts of vitamin E, which is essential for beautiful nails, hair, and skin. Cashews are a great source of magnesium, which helps with building muscles in your body, and helps protect against high blood pressure.
This berry cheesecake is also only sweetened with natural sweeteners like dates, bananas and a little bit of maple syrup. It's still high in sugar, but with every bite of this cake, you fuel your body with amazing vitamins and minerals that are found in these alternative sweeteners. The main source of goodness in this cake, however, are berries. Berries are basically antioxidant power houses. Strawberries, for example, regulate the blood sugar and decrease the risk of diabetes type 2. They also have a high amount of vitamin C, which strengthens the immune system and protects us from harmful radicals. Blueberries are literally "happy berries" as they enhance the mood, improve vision, and help fight various diseases as they contain the highest antioxidant amount of all berries. They truly deserve the title "super foods" since they improve overall health and well-being. With so much packed goodness, there is no reason not to try this healthy cake immediately.
Health benefits in this raw berry cheesecake:
– biotin (important for blood sugar balance and skin health, necessary to build healthy fats that keep the skin moist and soft)
– fiber (important for heart health, lowers cholesterol levels)
– magnesium (important for a healthy nerve system, muscle health, energy production)- manganese (for nerve health)
– mono-unsaturated fats (decreases risks for breast cancer, important for heart health)
– potassium (lowers cholesterol levels and blood pressure)
– protein (important for a healthy metabolism, immune
systems, production of enzymes)
– vitamin C (good for your immune system, tissue health)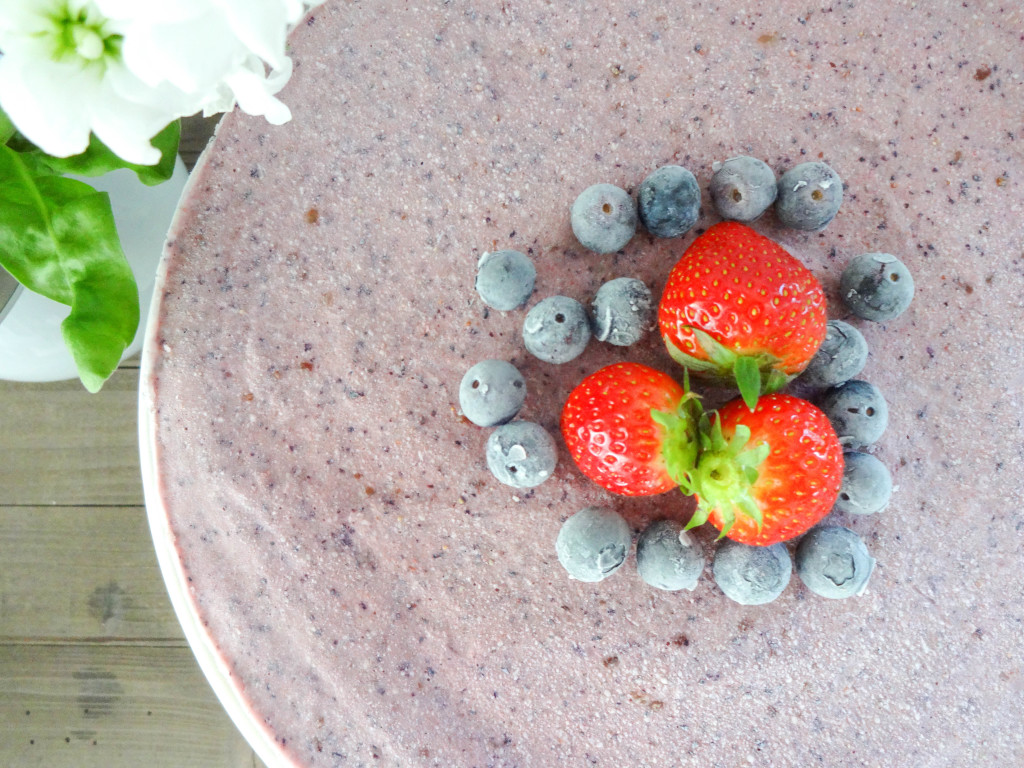 Ingredients:
For the the base:
– 18 Medjool-Dates (350g)
– 1 cup (100g) almonds
– 1 cup (100g) pecans
– a pinch of salt
For the middle layer:
– 2 bananas
– 1 cup (100g) cashews
– 1 cup (100g) strawberries
– 1/3 cup (100g) maple syrup
– ¼ cup (50ml) fresh orange juice
– 1/2 tsp lemon zest
For the top layer:
– 1 banana
– 3 medjool dates
– 1 cup (100g) cashews
– 1 cup (150g) blueberries
– 1 cup (100g) strawberries
– ¼ cup (50ml) fresh orange juice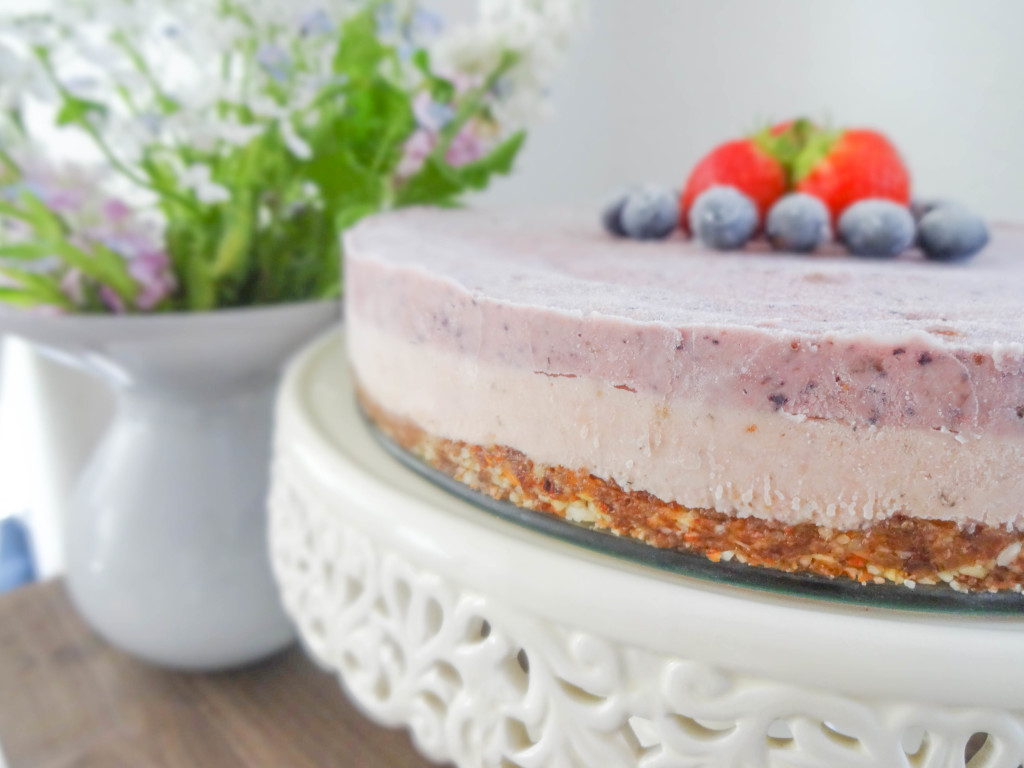 The night before you want to make this cake, you need to do some preparations. Peel and slice the bananas and freeze them in a ziplock over night. Wash the blueberries and freeze them as well. Pour the 2 cups (200g) cashews into a bowl and cover them with water completely and oak them overnight.
You can use frozen blueberries instead of fresh ones, however, they can change the cake's consitency. If you use store-bought frozen blueberries, then you won't need the orange juice in the top layer.
For the base:
Start by placing the nuts into a food processor and pulse a few times until they are nicely broken down. Pit the dates, and cut them into little pieces. If you habe a strong food processor, then you can mix the dates and nuts and blend them into a nice sticky dough. This sould only take a few seconds.
If your food processor isn't strong enough, you can totally use your hands instead. Simply sqeeze the date pieces with your hands until the dates become nice and soft and you could potentially form little balls with it. Then gradually add the nuts and knead them into the date paste. Do this until you have evenly combined the two ingredients (nuts and dates).
Once you have a nice date-nut-dough, press it into the base of a cake tin and place it in the freezer for 15-20 minutes.
For the middle layer:
Drain the soaked cashews, and place half of it into the food processor. Add all other ingredients and blend until smooth. Take the cake tin out of the freezer and pour the cashew mix on top of the base layer. Place the tin back into the freezer for at least 30 minutes.
For the top layer:
Place the rest of the cashews into the food processor and add all remaining ingredients. Be sure to pit the three dates, and cut them into small pieces before adding them to the machine. Take the cake tin out of the freezer once again, and pour the berry layer on top of the middle layer. Put the cake tin back into the freezer for at least 4 hours before serving.
Before you can serve this cake, you'll need to take it out of the freezer and allow it to warm up for 15 minutes. Otherwise you won't be able to cut it and your guests will probably get a brain freeze.
Enjoy!