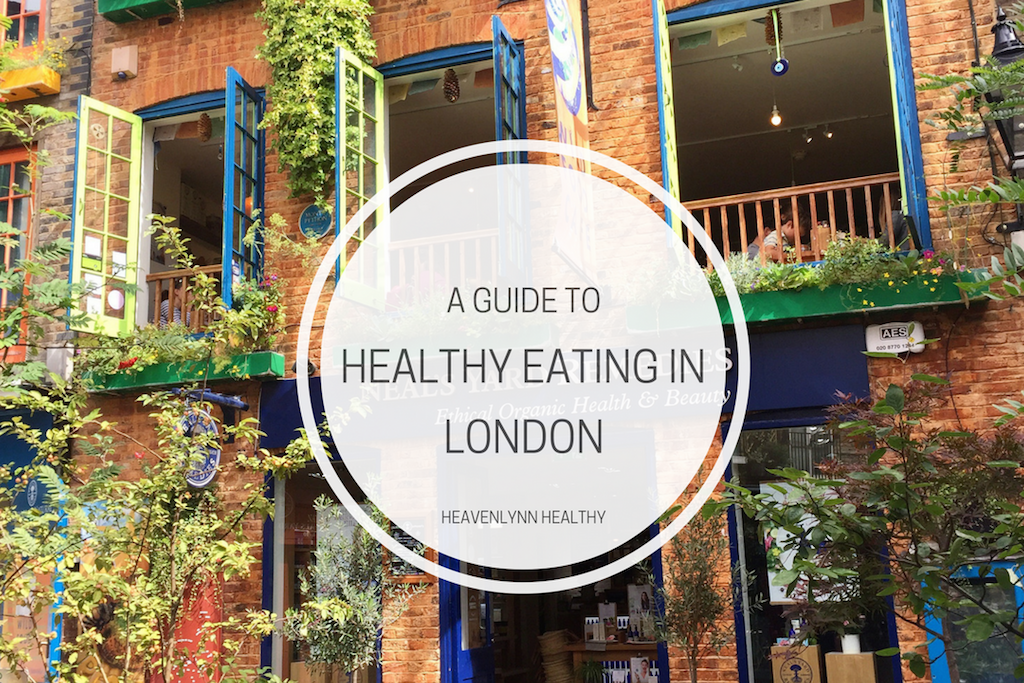 Last weekend my sisters and I went on a Healthy Eating in London journey. We hadn't spent a sister vacation in forever, so since my sister studied in the UK, we thought we'd pay London another visit, since it had been a while since we'd last been there. Healthy eating in London is definitely not hard, because as you'll see in this post, there's a healthy food place on every corner. Of course food was not our number one priority, but with me running this blog and being a serious healthy foodie, of course it ended up being quite a healthy food trip anyways. But we also went shopping, biked through the entire city, went to a musical and even spent two days with my sister's flatmate's family outside of London in the most idyllic countryside I've ever seen. All in all, it was a wonderful trip, and I am glad we took the time to do something like this together. As we all live away from each other, we don't get to spend quality time together that often, so this was much needed sister-bonding.

The Mae Deli by Deliciously Ella – 21 Seymour Pl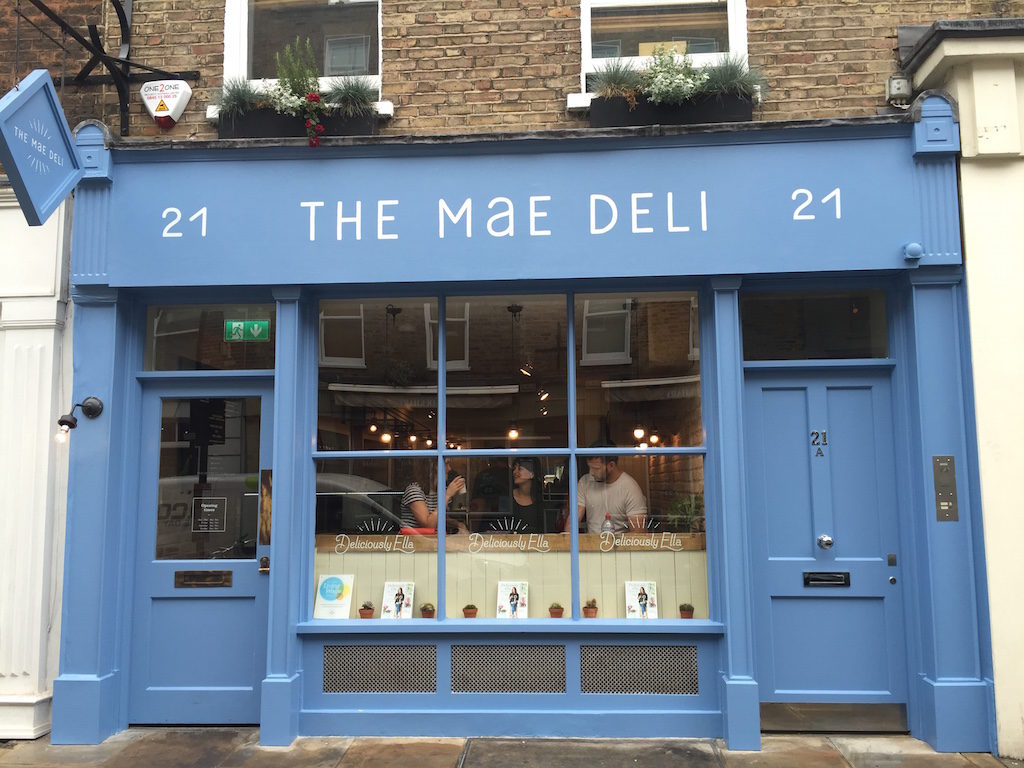 A healthy eating in London guide would not be complete without the Mae Deli, which is run by the one and only Ella Woodward aka Deliciously Ella. It was the first healthy deli we visited after our early morning arrival in London, and we were not disappointed. The deli is located in a cute neighborhood, and welcomes its guest with a friendly blue door. The food was beyond delicious, and overall the atmosphere was relaxed and cozy. We arrived at a perfect time between 11 and 12, but I can imagine it gets pretty full around lunch hours, so try to avoid those when you're going there. The only small bummer was the price for its juices, which were a bit too high for my taste, but the food was very reasonably prized in my opinion. I can definitely recommend this place to anyone who's into plant based, refined sugar free and wheat free healthy food.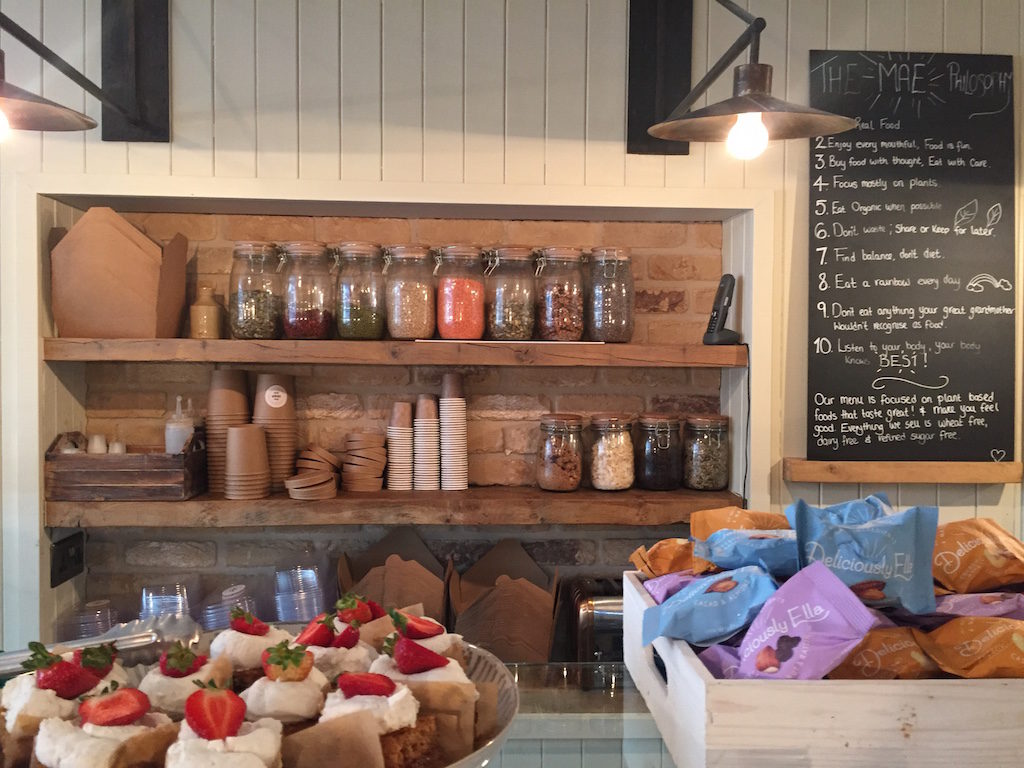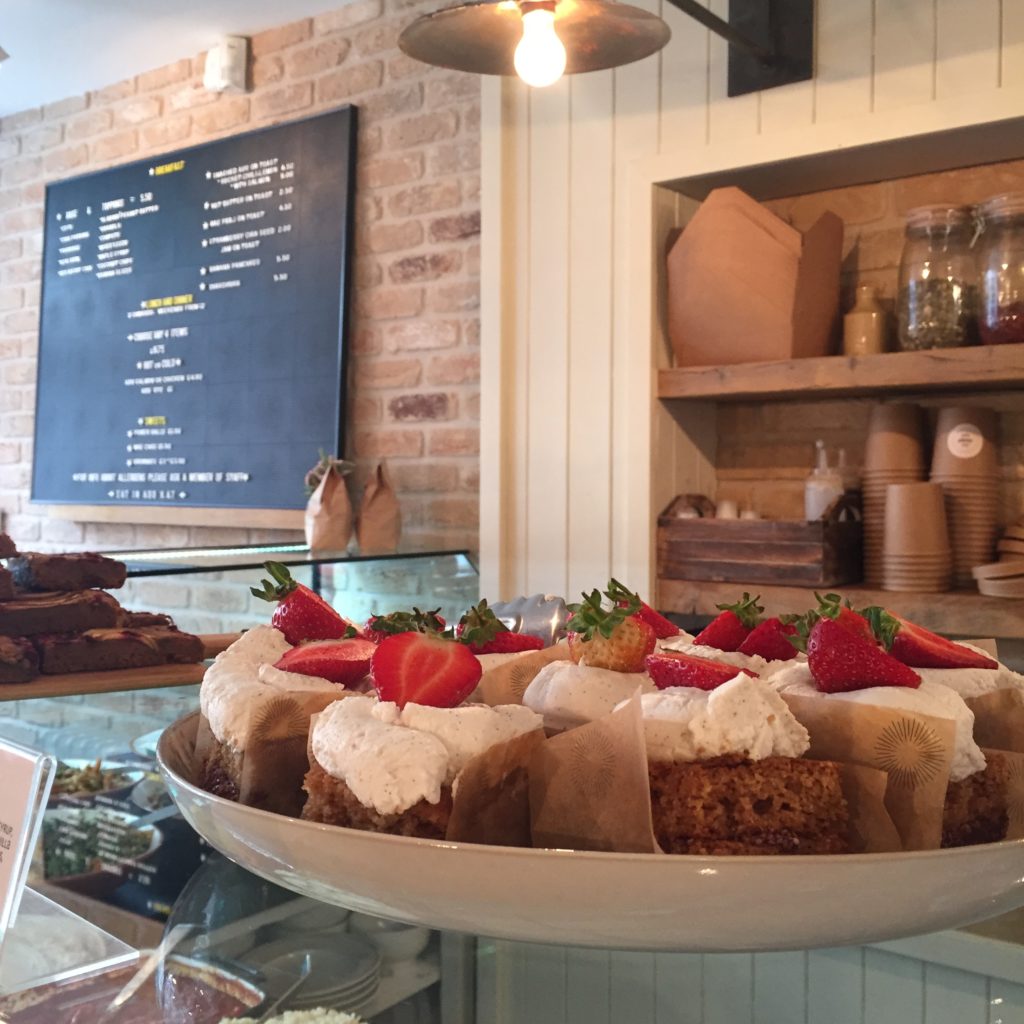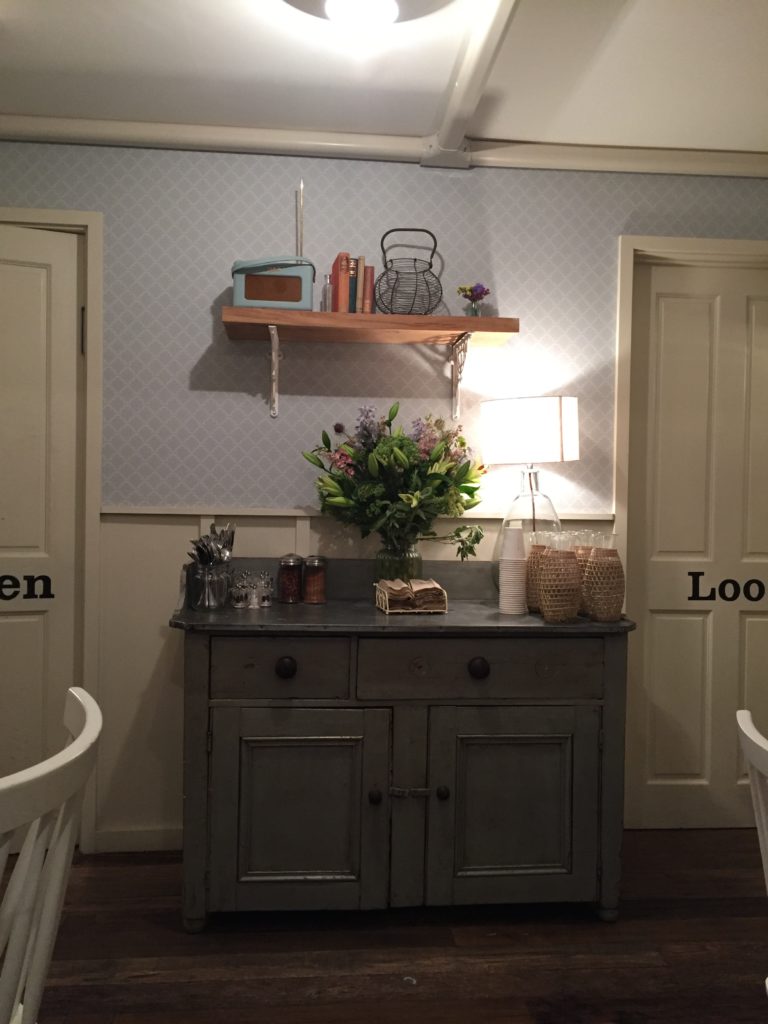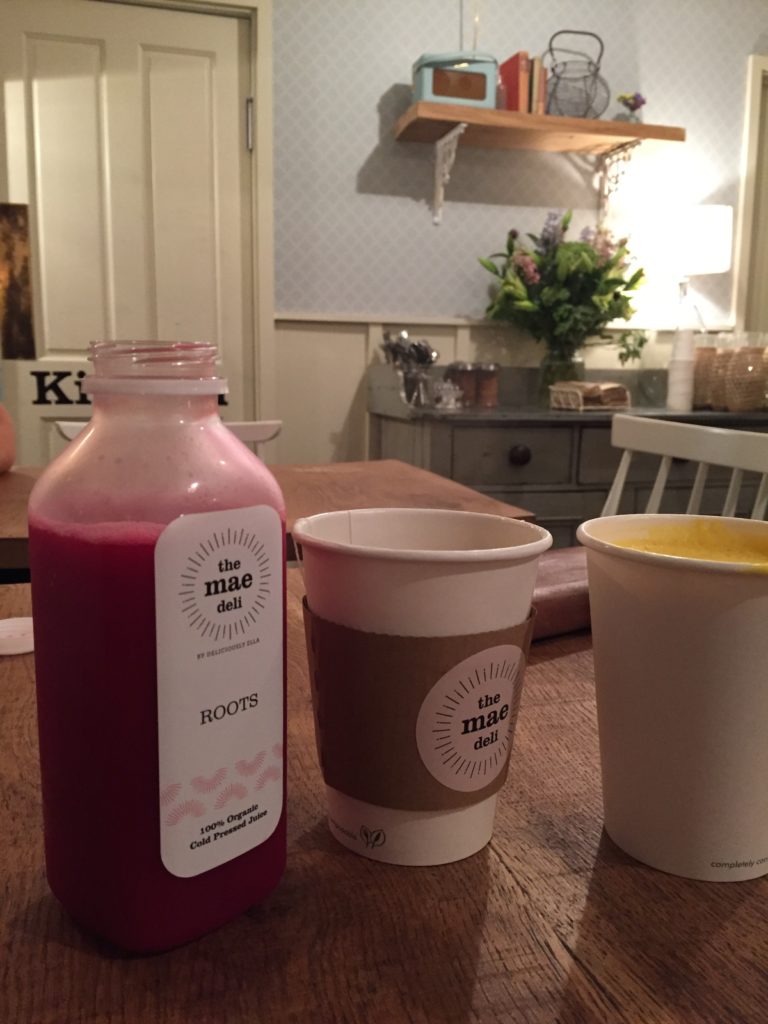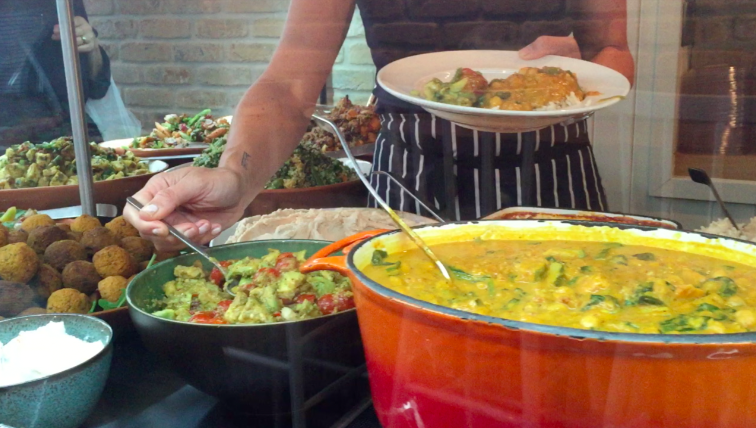 Borough Market – 8 Southwark St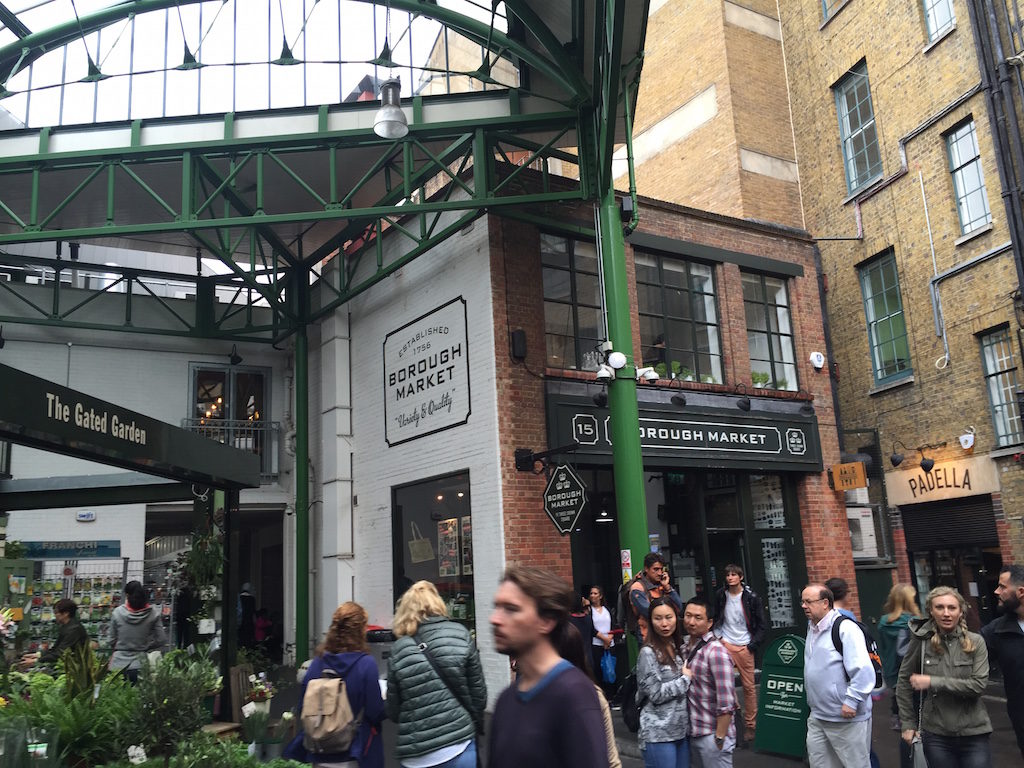 Next Stop on our London tour was Borough Market, probably the biggest food market I have ever seen. Borough Market is full of food stands, flower shops, homemade treats and foreign spices that you don't even know where to look at first. There are plenty of allergy-friendly food stands, freshly cooked food from all over the world, juice and smoothie stands and posh coffee booths with expensive coffee beans. Borough Market offers something interesting for everybody, so a visit to this fascinating place should definitely be on your list next time you visit London.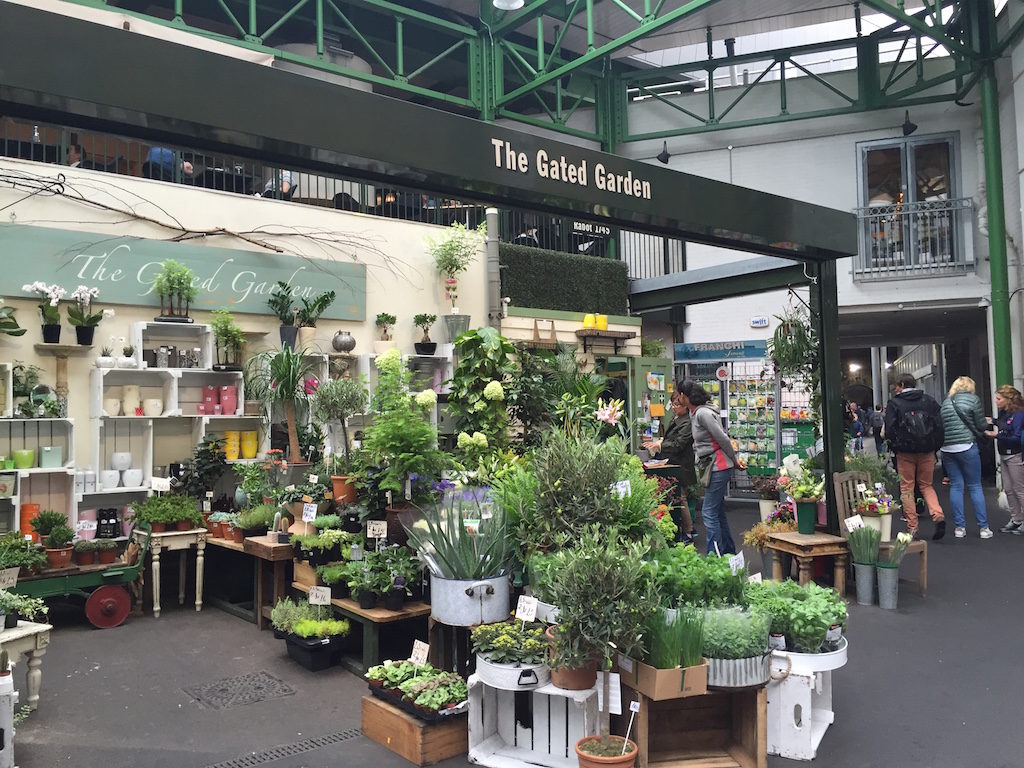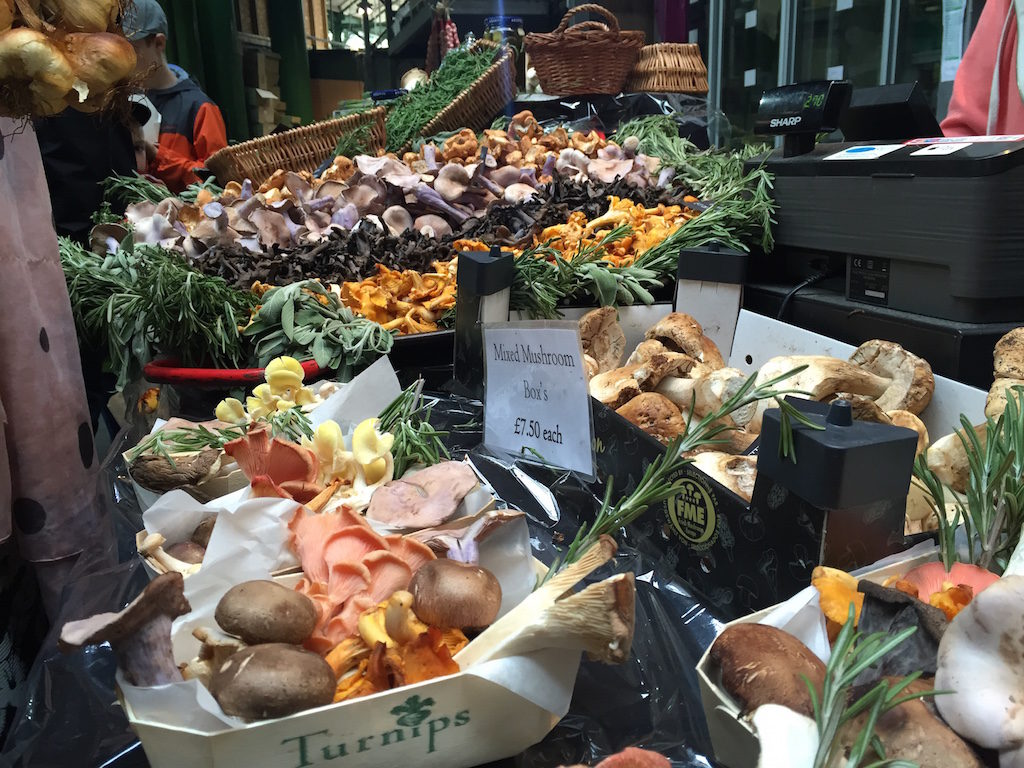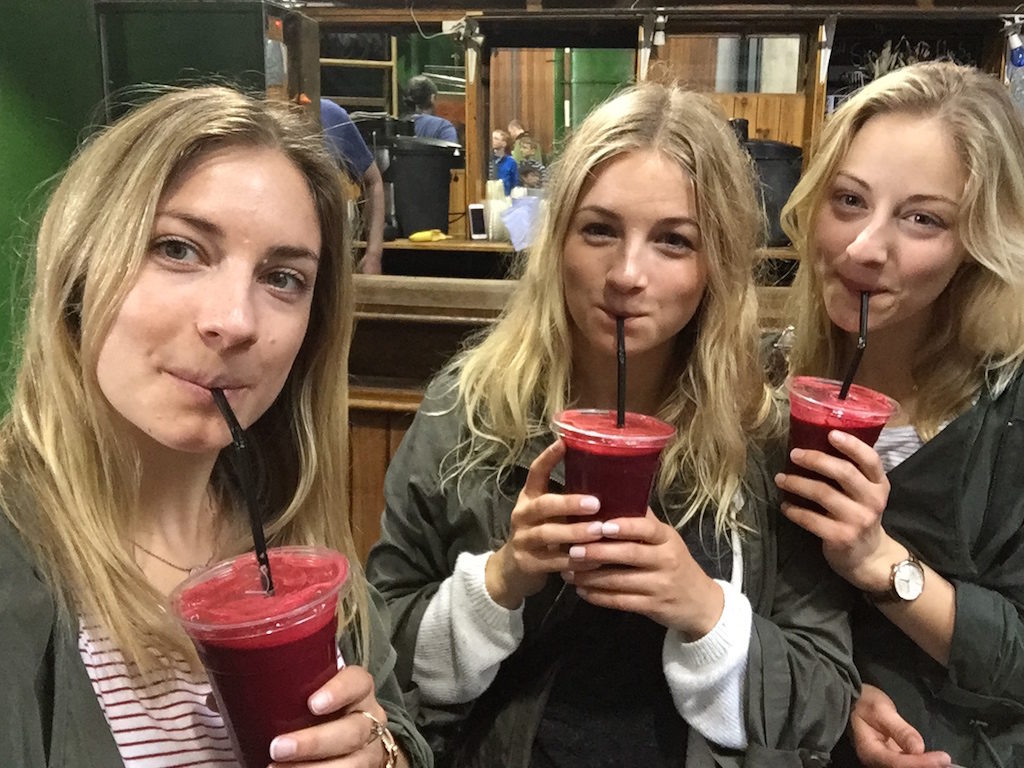 Wok It – 3 Stoney St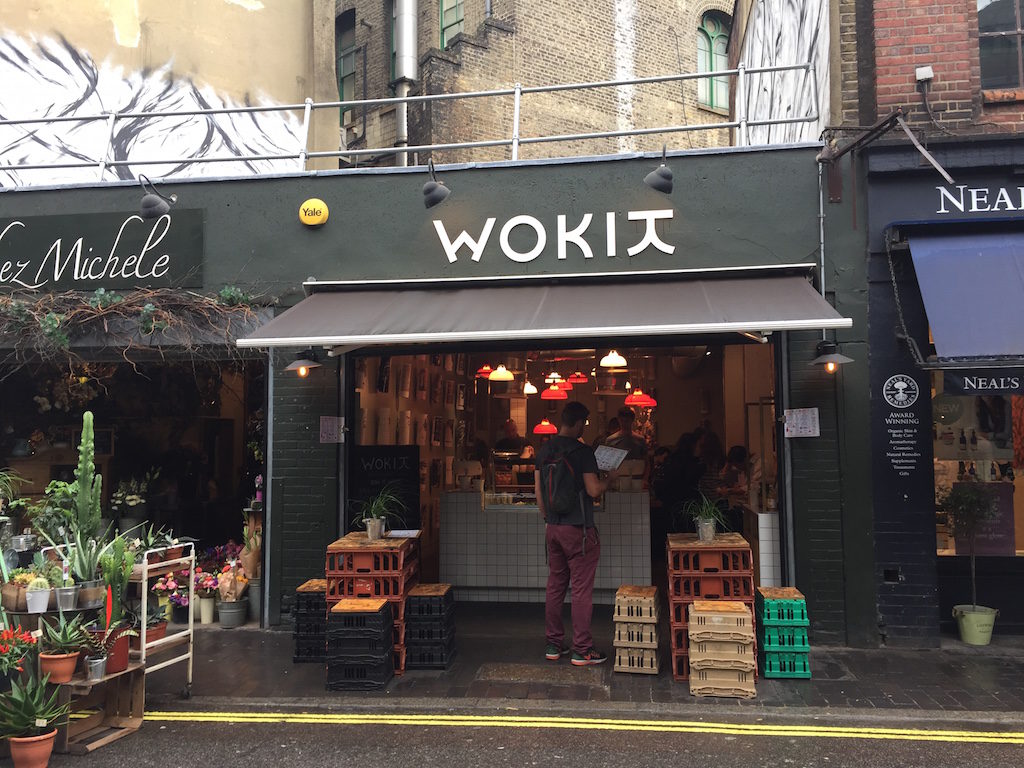 We did not actually eat at Wok It, but I thought it was the cutest place just outside of Borough Market, which allows you to sit down, have lunch, and watch the craziness happening around you. Wok It uses only fresh ingredients from Borough Market for its stir-fries and dishes, and vegans and celiacs alike will find something suitable on the menu, too.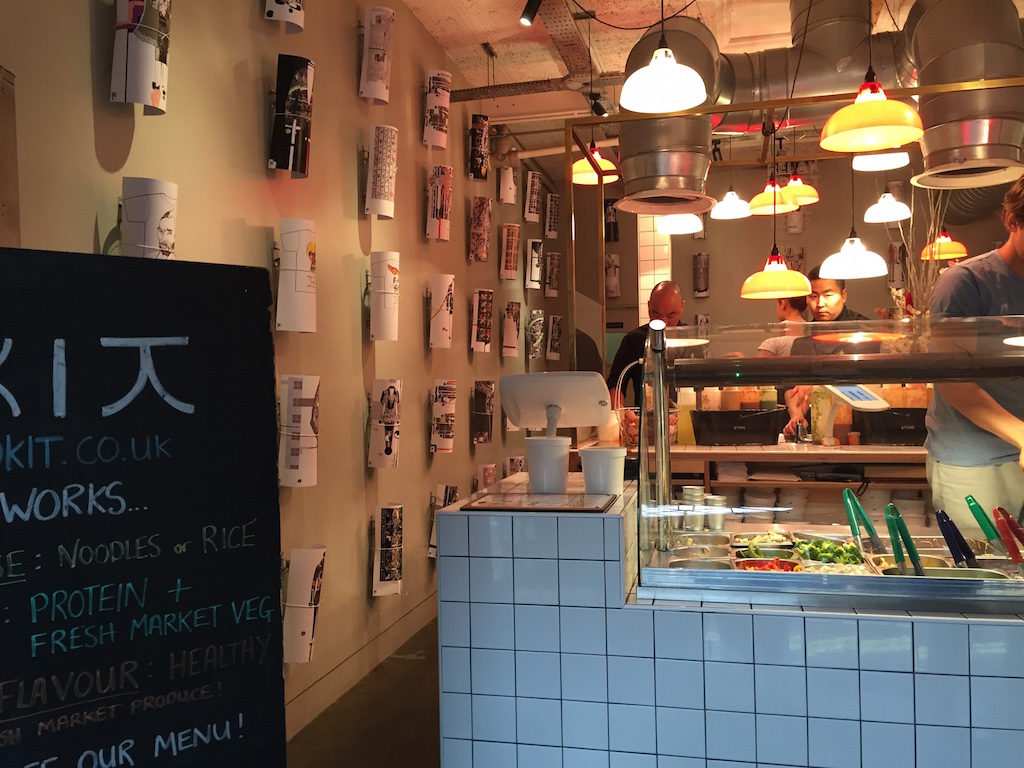 Wild Food Cafe – 14 Neal's Yard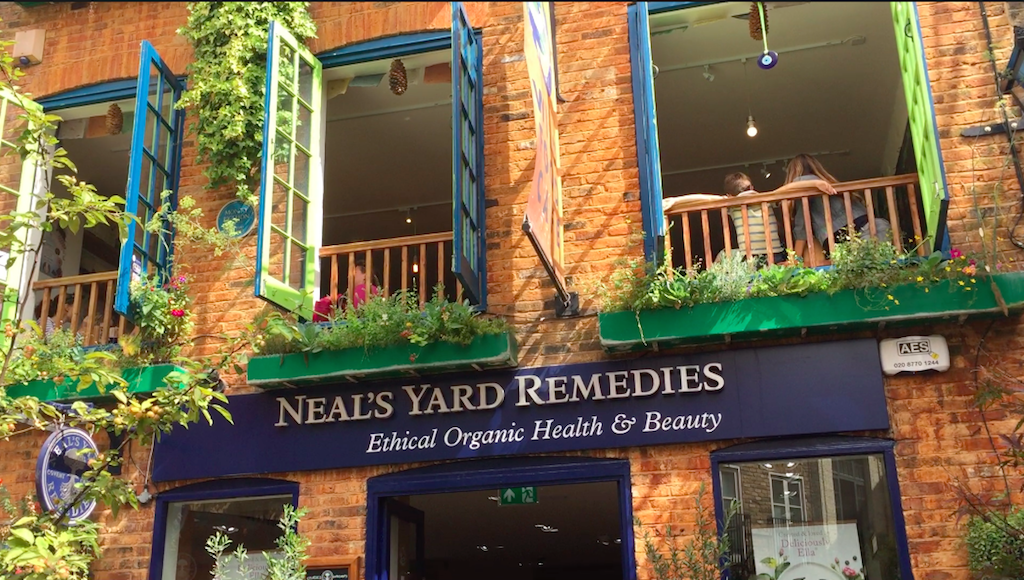 Wild Food Cafe is one of the most laid-back, Yogi vibed, relaxed kitchens I have been to in a big city. It makes you feel like you're not in London, but at some beach hut in Southern Cali or Bali. The food is mostly raw, but there are some cooked choices as well. Since we are three sisters who are often called triplets, all of us ordered the banana bread (try ordering three different choices with three sisters, it does not work due to food envy), but we did not regret this decision, because it was one of the best plant based banana breads we have ever had.
Neal's Yard is a magical place located in the heart of London in Covent Garden. It's magical because the second you enter this secluded yard, you leave all the crazy big city life behind, and find yourself in a relaxed tranquility with a special atmosphere. Most stores within Neal's Yard are health focused, and everything evolves around Neal's Yard Remedies, the organic beauty store pictured on the photo above.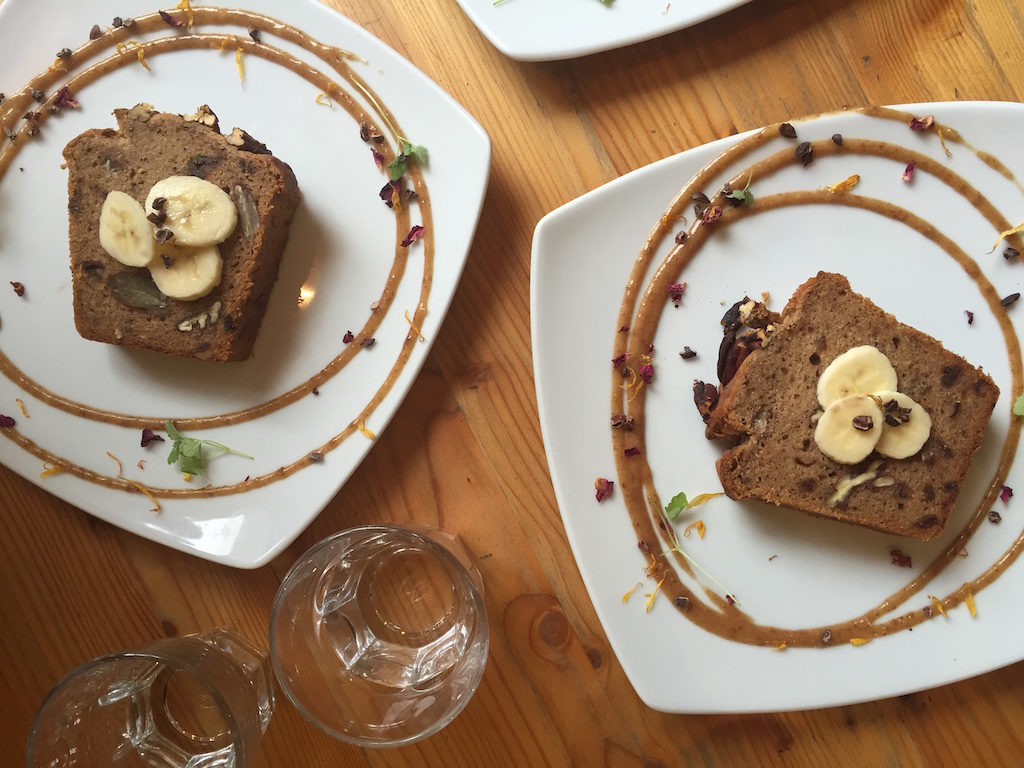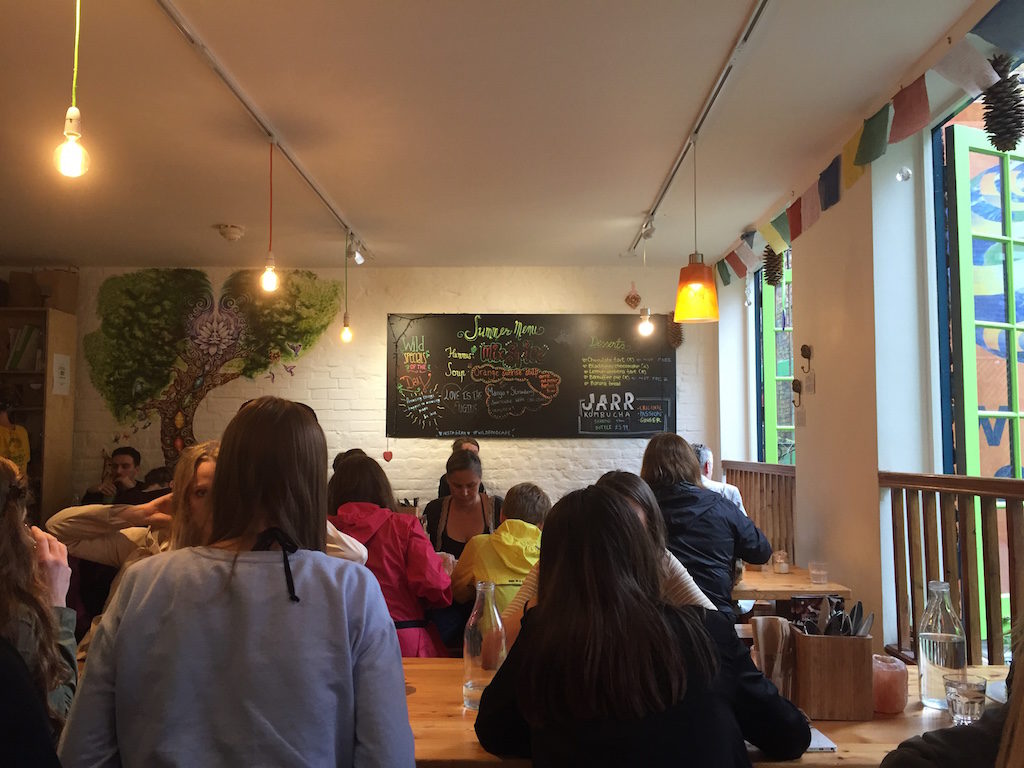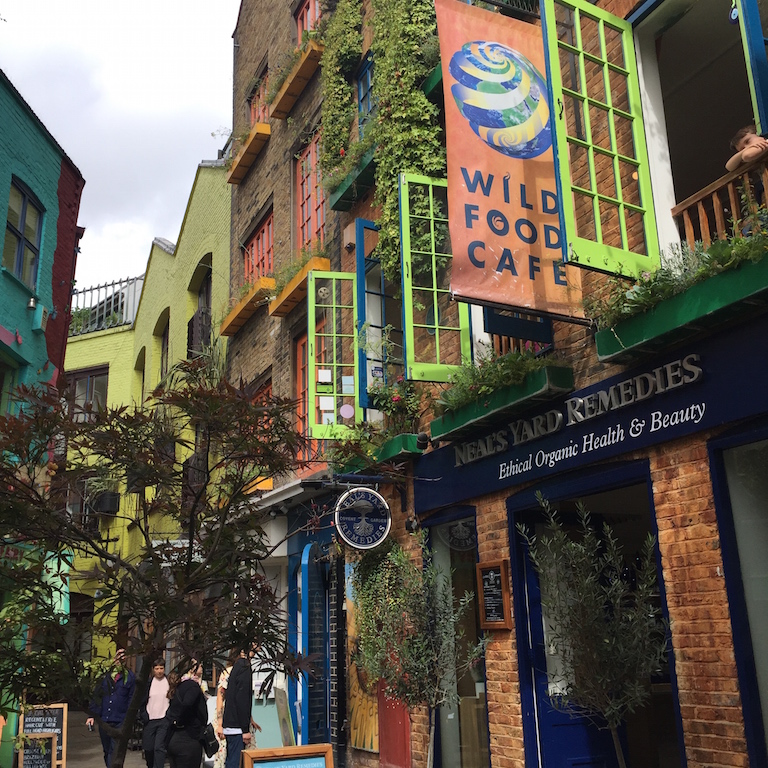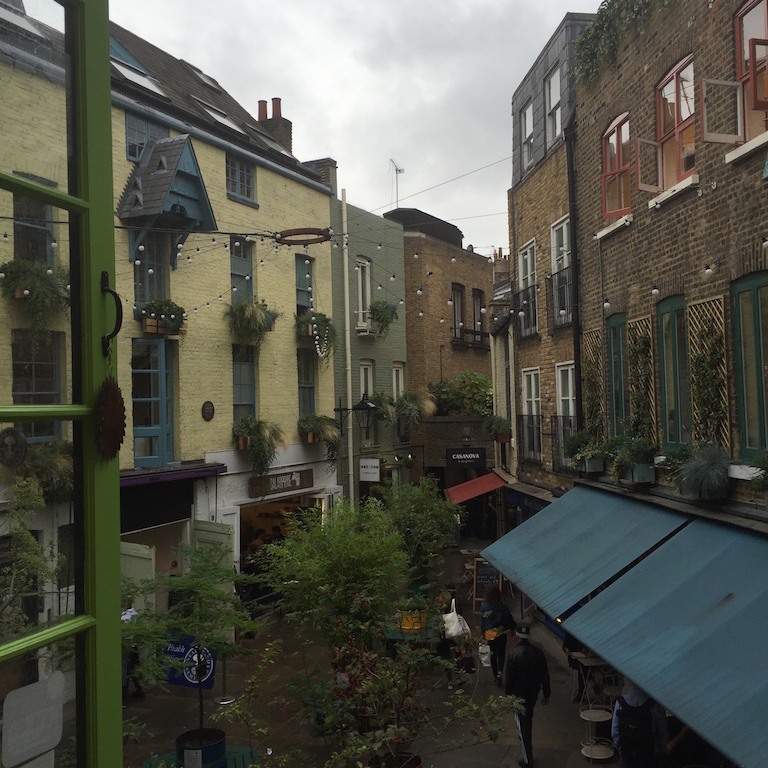 Le Pain Quotidien – several places around London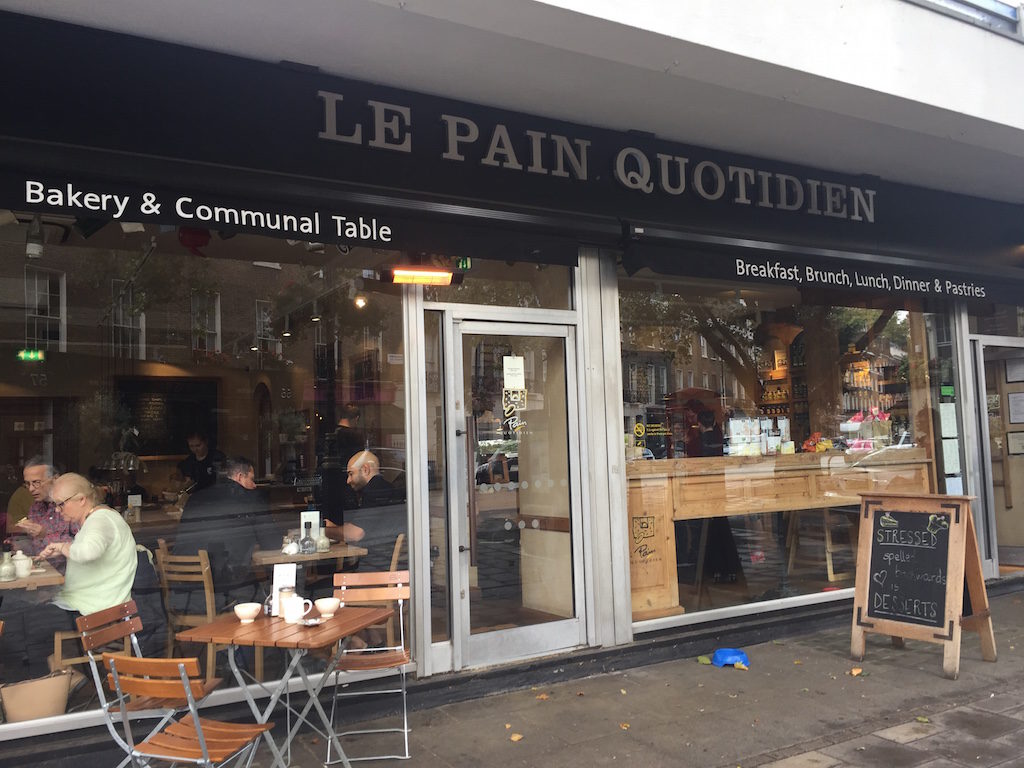 I am usually not a fan of chain restaurants, but Le Pain Quotidien is different. You'll find this all organic restaurant and deli all over London, which is great if it's raining cats and dogs and you need to find shelter quickly. This happened to us, so we were grateful to pass a cute Le Pain Quotidiene close to our hotel the second morning. They have a huge organic bread section in the takeaway part of the restaurant, and the restaurant itself has a cozy and natural atmosphere. We tried the gluten free coconut crunola (raw Granola), the gluten free bircher muesli, a juice, and coffee with almond milk. LPQ is perfect if you need to find something to eat quickly without sacrifizing on health. The cutest restaurant is located right next to Borough Market, by the way.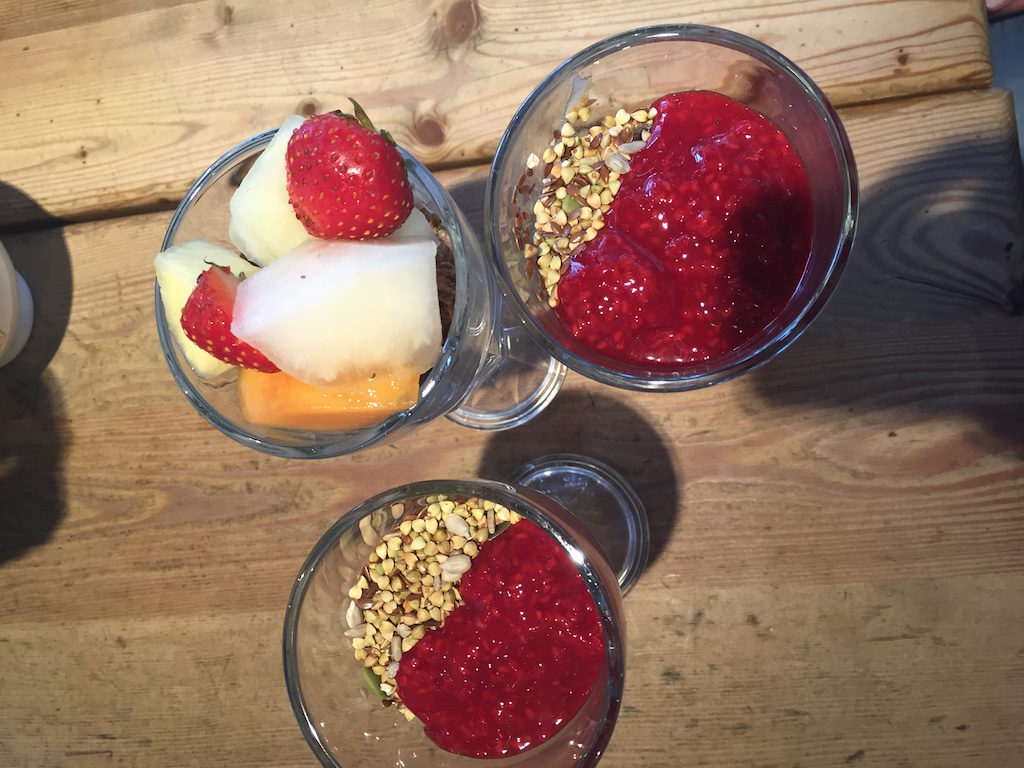 Camden Market – Camden Lock Pl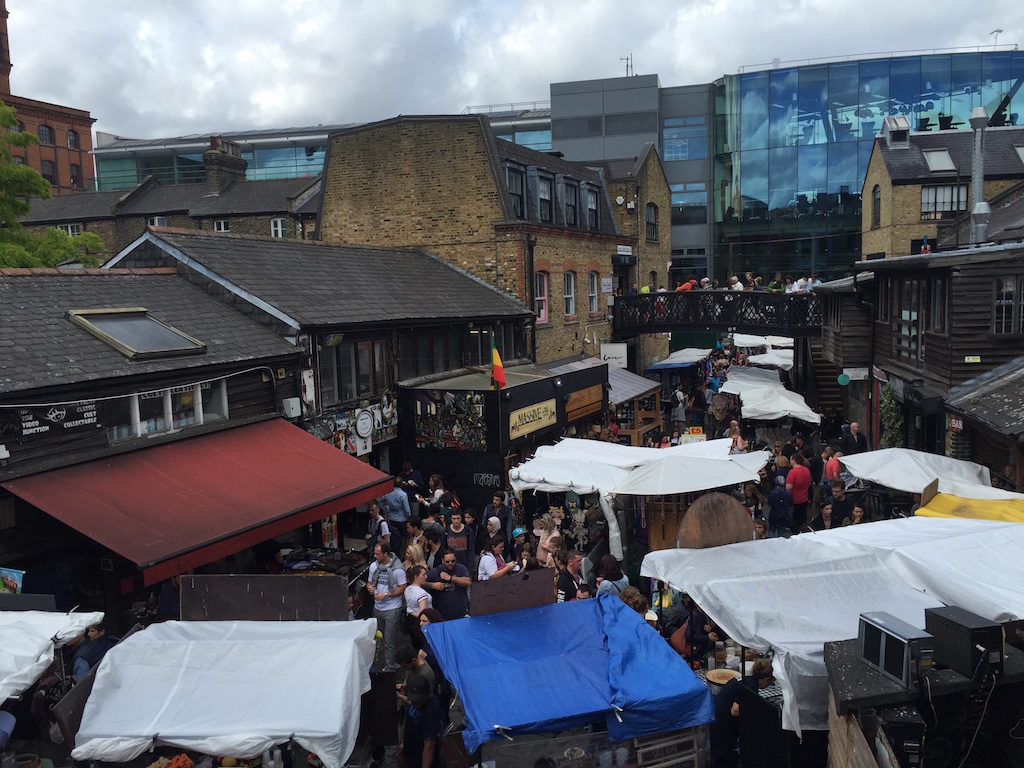 Camden Market is one of the biggest and most fascinating food markets I have ever been to. We didn't plan to visit it in the beginning, but we followed one of the city bikes tour on Sunday, and it lead us straight into crazy Camden town, with its odd shopping streets. My sister had been there before, so I am glad she remembered the market at Camden Lock. I know it sounds cliché, but it really was like taking a food tour around the world. There were Indonesian, Sri Lankan, and Korean food trucks and I even found an American Mac&Cheese booth. My sister still talks about the Indonesian dish she had, which was apparently one of the best dishes she had ever tasted. Camden Market is great for a Sunday stroll if you are into international cuisine.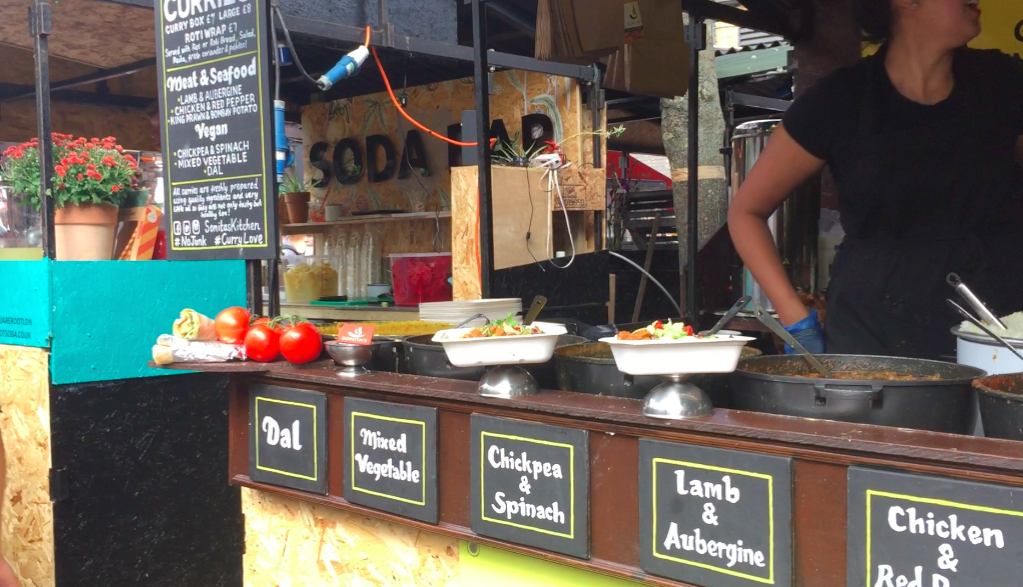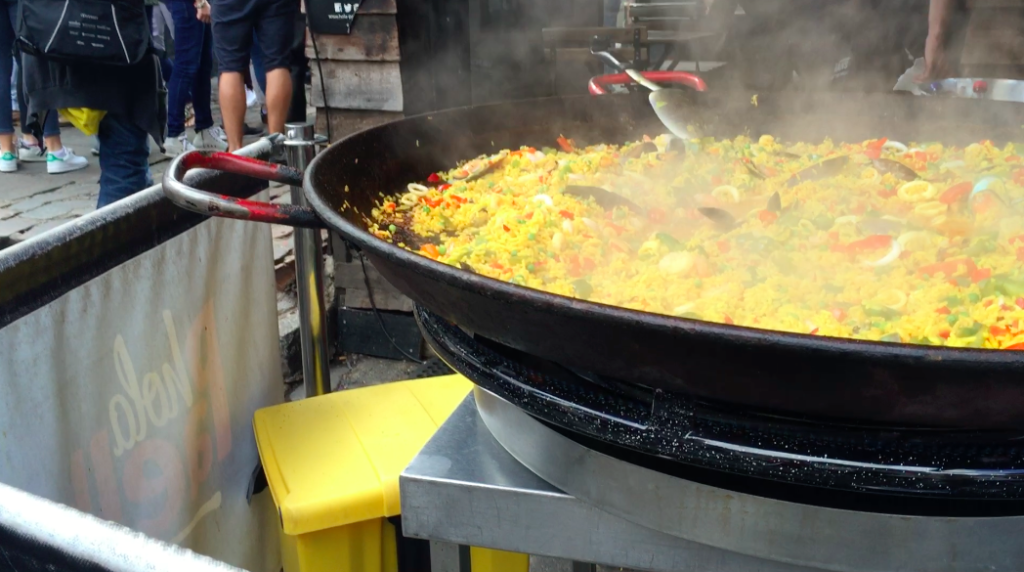 Mildred's – 45 Lexington St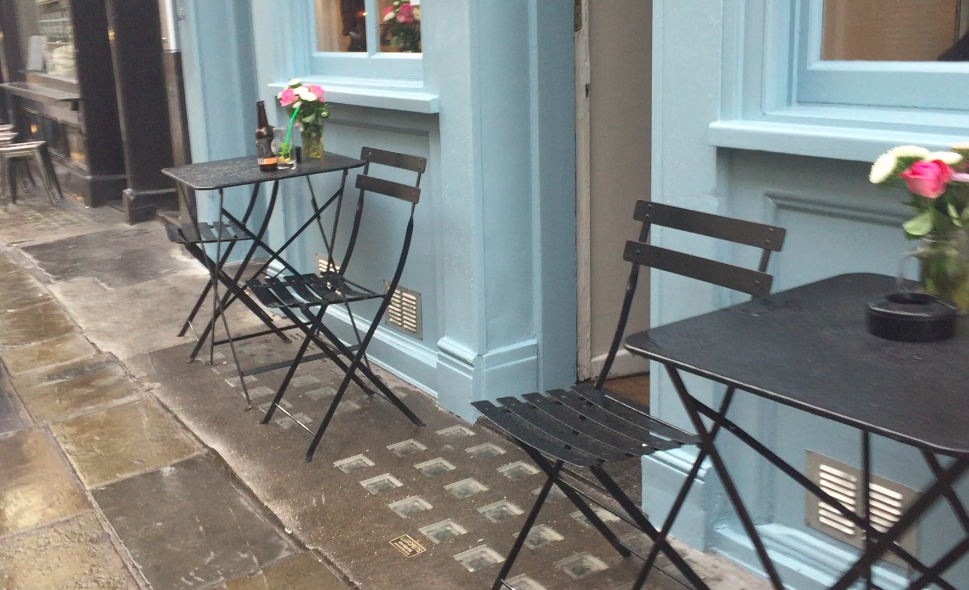 A place that has been recommended to me by several of my Instagram readers, as well as my blogger friends, is Mildred's. Mildred's is one of the first all vegetarian restaurants in London, which valued clean eating long before it became a global eating trend. Obviously a healthy eating in London guide needs to include Mildred's. You'll recognize the place at its baby blue front, and the line of people waiting for a table. The hour long wait was definitely worth it, though, because the food was terrific and the company at our table (three hilarious Indonesians) was special. I had the Sri Lankan Curry, my sister went for the burrito and my sister tried the Asian stir-fry. The definite winner was my curry, followed by the burrito.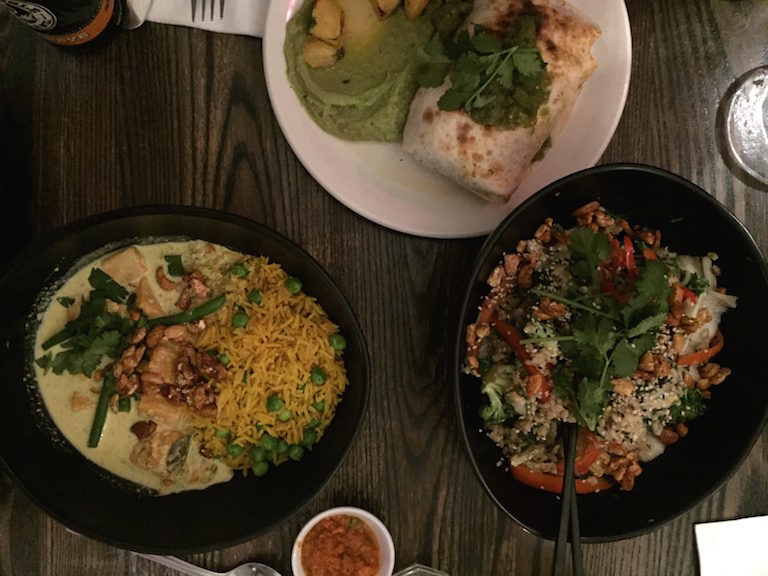 Daylesford Notting Hill – 208-212 Westbourne Grove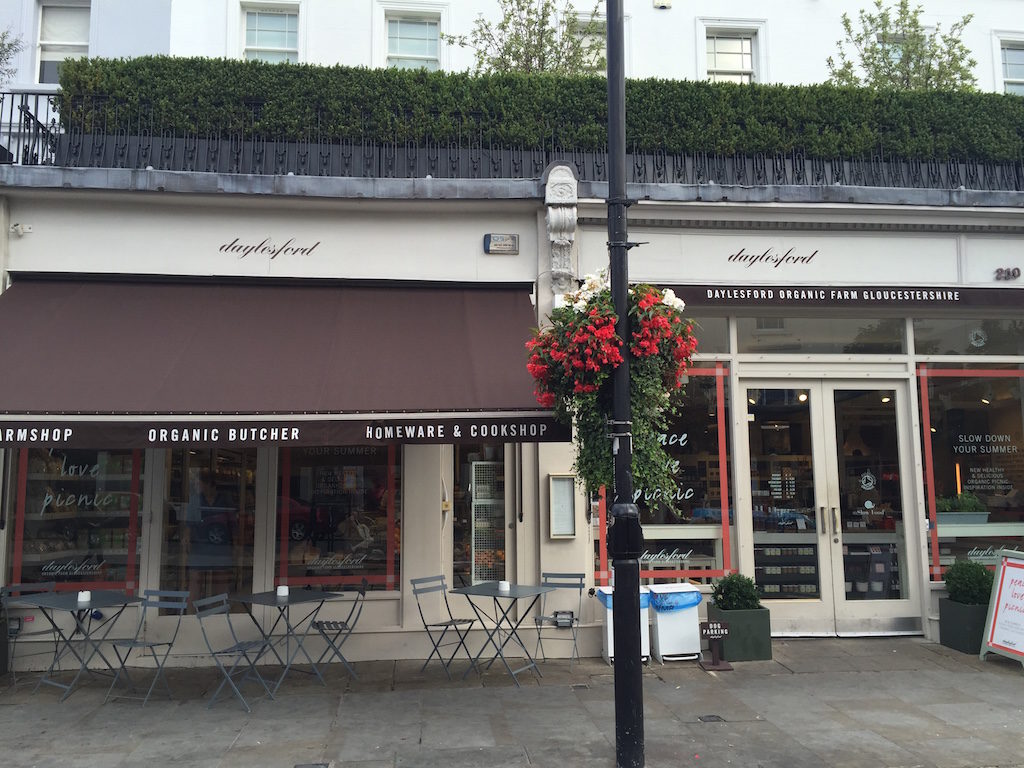 We started Sunday morning with a visit to Daylesford Notthing Hill, which was recommended to me by many of you. Daylesford is a special place that grows all of its produce on its own farm, Daylesford Farm. Everything in the grocery store and restaurant is organic, and their cattle and chicken are raised according to ethical standards. As soon as you enter Daylesford, you can already smell the quality produce and foods of the store and the restaurant.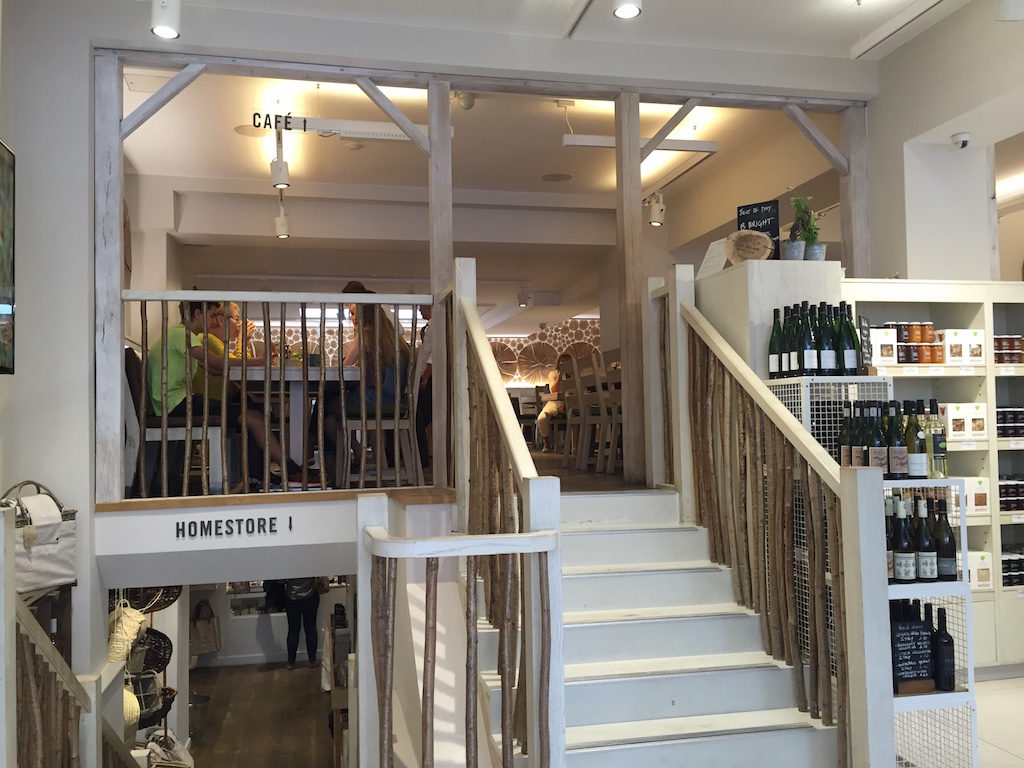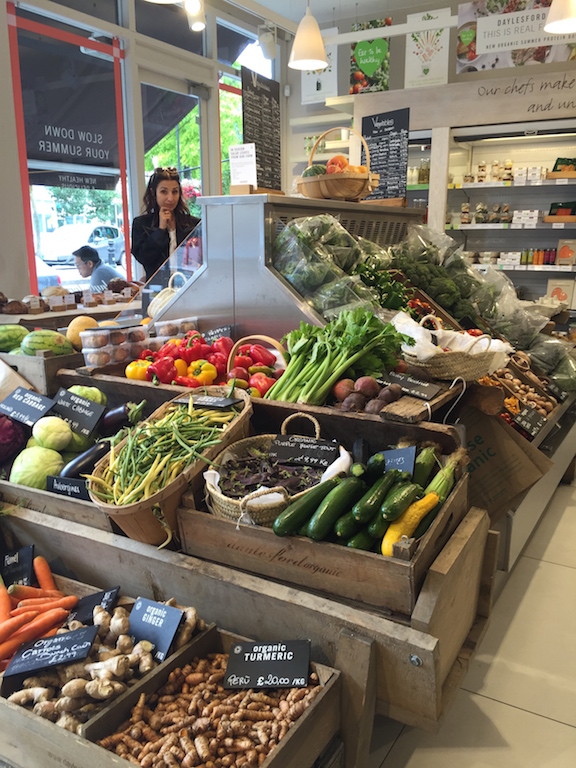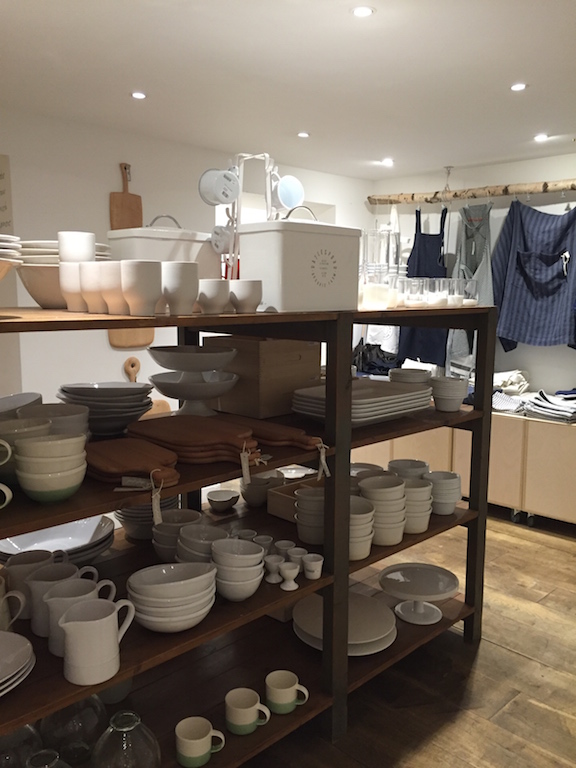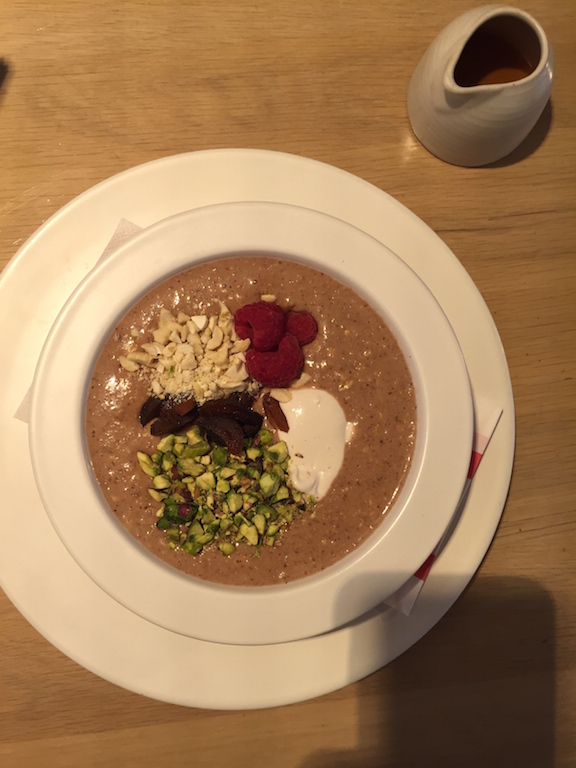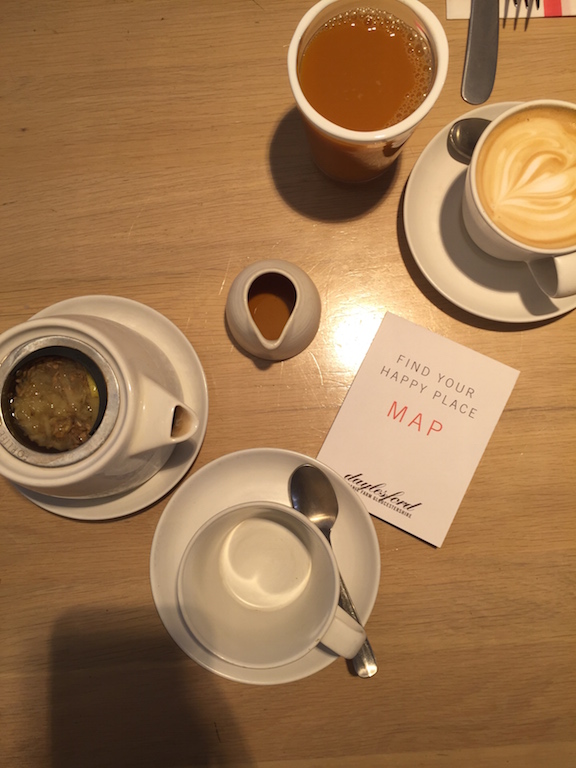 We treated ourselves to a quinoa protein porrdige, a bircher muesli and gluten free coconut granola.
The Good Life Eatery – 59 Sloane Ave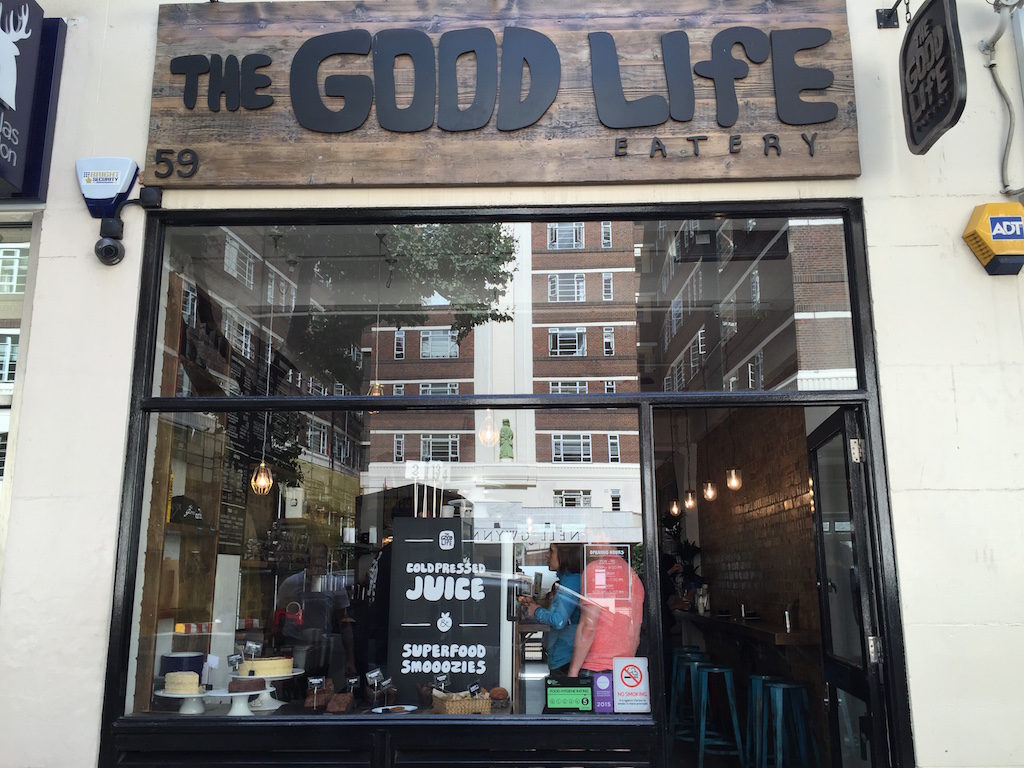 For lunch we stopped at The Good Life Eatery, which is probably one of my favorite places on this list. The Good Life Eatery is one of the best healthy eating in London stops that you should definitely visit on your next trip. It's a tiny place in Chelsea, filled with lots of healthy and delicious choices. The portions of the salads are huge, so don't mind sharing a dish with your friends if you are there for lunch except your boyfriend is two meters tall. It is pretty small, so don't expect to find a table waiting for you. We were lucky to have gotten one during lunch hours, but regretted not taking one of the amazing bowls as we were not super hungry at the time of our order. The zoodles looked to die for, as did the quinoa salad.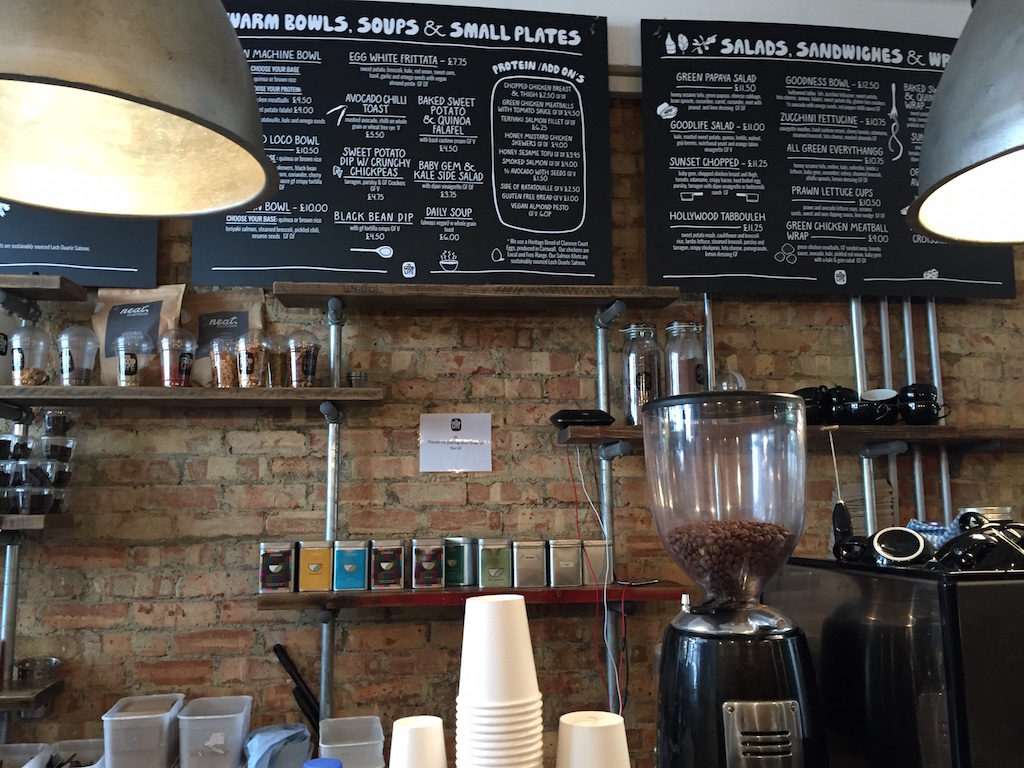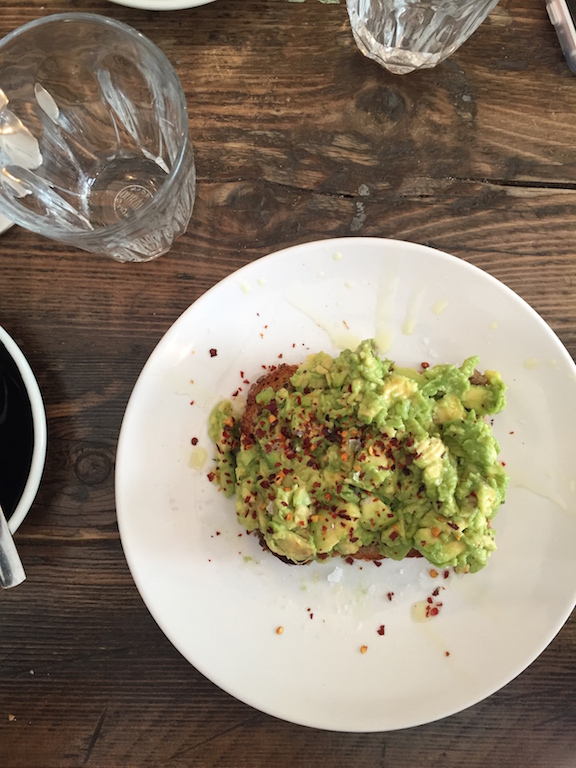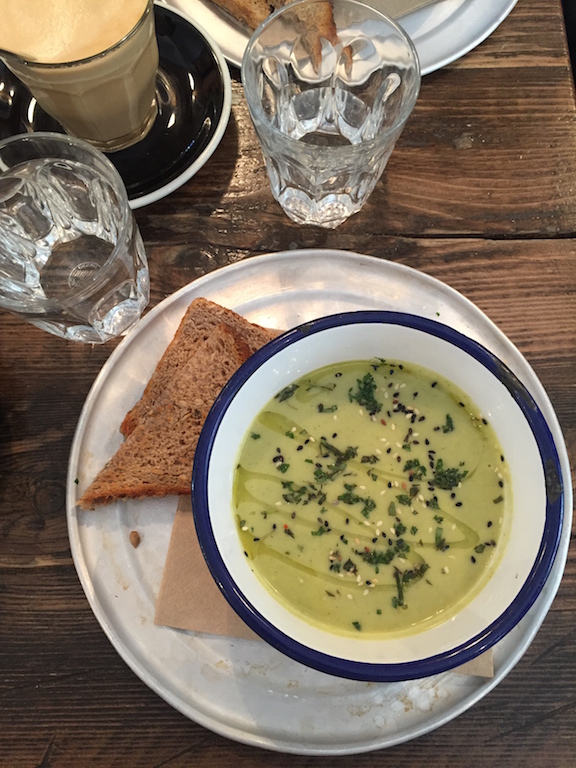 Botanique Workshop – 31 Exmouth Market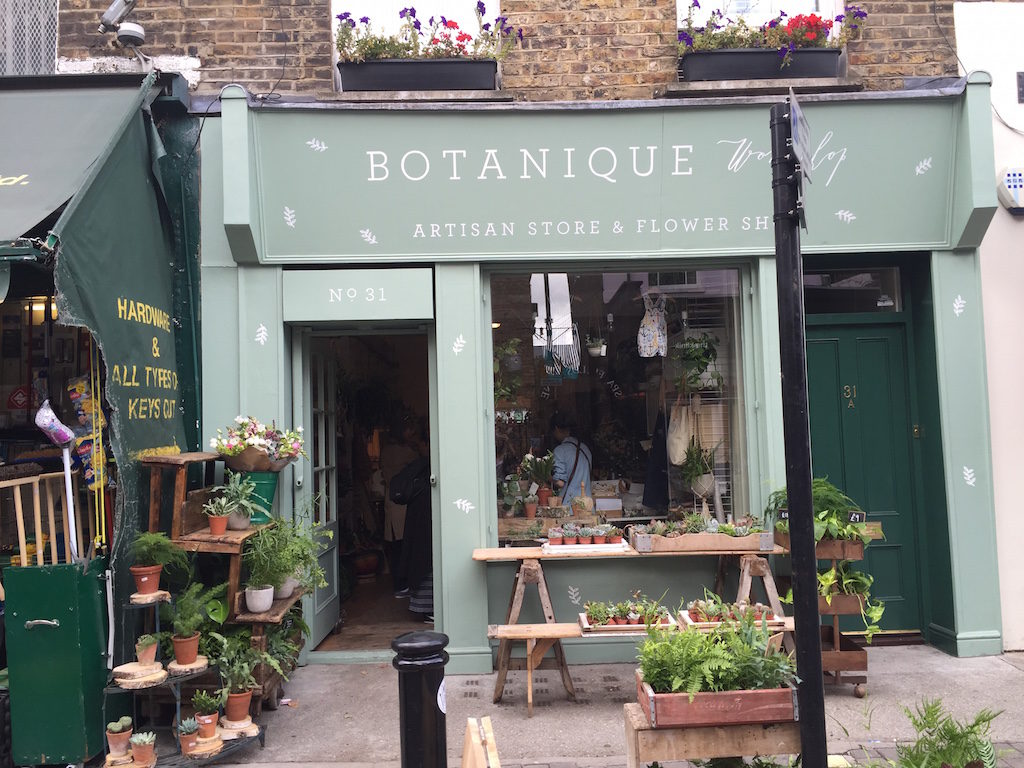 Botanique Workshop is a cute little shop on Exmouth Market was my favorite non-food related place that we visited. They had the cutest little interior ideas, gifts, and the most beautiful flowers I had ever seen. Exmouth Market was recommended to me by my friend Niki from Rebel Recipes, so thank you, Niki, for telling me about this great place.
Other places that were recommended to me, but we did not have the time to visit:
Overall, healthy eating in London is super easy. London is one of the best cities to visit if you are into healthy food, Yoga and an overall healthy lifestyle. I will definitely come back to visit the other restaurants I listed above. Unfortunately, London is an expensive city, so not all of the places on this list are affordable for everyone. If you're on a budget then you can always stop at one of the hundreds of Pret a Manger stores, which sells healthy, fresh and affordable food.
---
What are your favorite healthy food places in London?
Is there anything I missed or you would like to add to this list?
---