This granola is probably my friends' and family's all time favorite. Everybody loves it, and I am sure you will, too. If I had to recommend any recipe on this blog to try first, it would be this one. It is so easy to make, it tastes amazing, it is packed with great nutrients and minerals and it will leave your kitchen smell absolutely superb. It is the perfect breakfast, and an even better healthy on-the-go snack. I always carry some with me when I'm not at home. It also already has a place in the family kitchen – we all love it. There have been so many occasions already when us 4 girls were laughing and chatting while eating the granola straight from the box. Such great memories!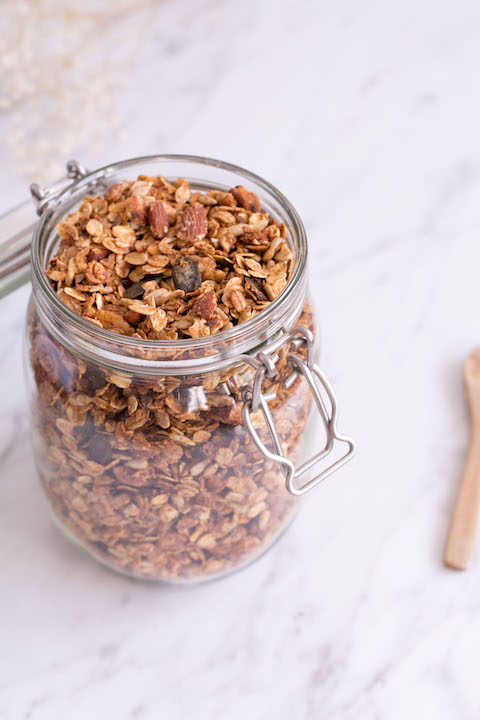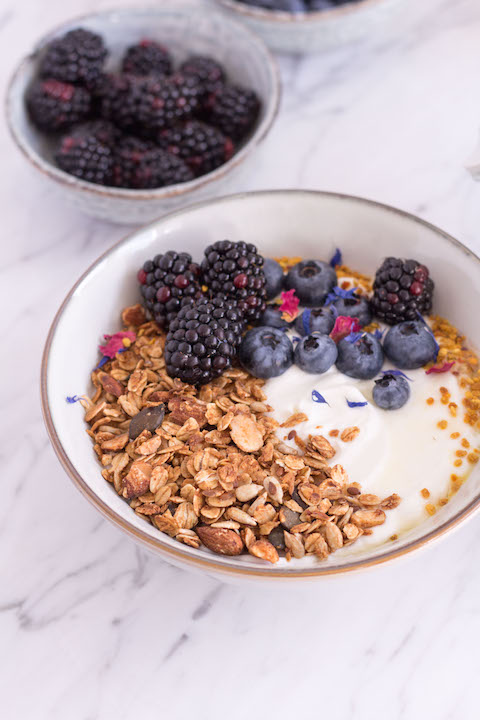 I have been making my own granola for about a year now, and I have not bought a processed cereal box ever since. Unfortunately store-bought cereal or granola often contain tons of refined sugar and other nasty preservatives. As a total granola-lover this was the hardest truth I had to face since trying to eat less processed sugar. Fortunately, however, homemade granola is so easily made and incredibly healthy.  This almond coconut granola receives its unique flavor from the nuts and the cinnamon with only a hint of coconut. It is simply divine and I know you will love it just as much as I do. Trust me, if you want to impress someone with your awesome baking skills, this one is your recipe.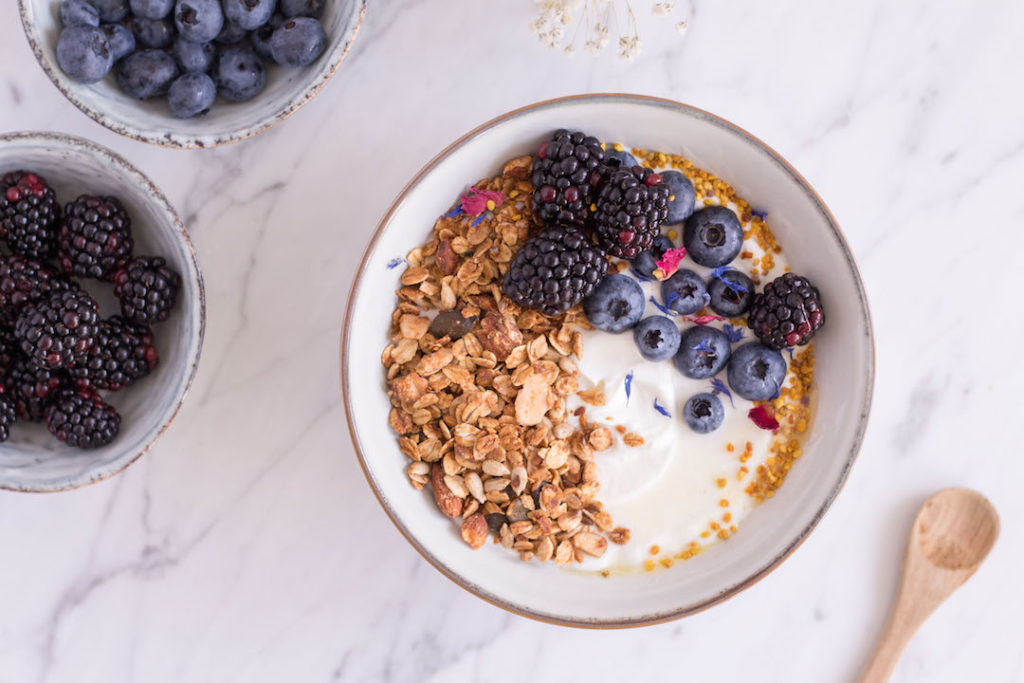 Besides from almonds, this almond coconut granola contains pecans, which are my favorite nuts besides almonds. They are so heavenly sweet and tasty. I much prefer them over walnuts in my breakfast granola.
The almond coconut granola granola gives you everything you need to start your busy day. The pumpkin seeds are a great source of zinc, the nuts provide healthy mono-unsaturated fatty acids which are considered the "good" kind of fats that help lower cholesterol. There is a debate about the health benefits of coconut oil as it is rich in saturated fats, which are actually considered "bad" for the body. Others argue however, that coconut is actually very beneficial for the heart because it contains 50% of lauric acid which is thought to prevent heart diseases and lower blood pressure. Since I indulge in anything that can help lower my blood-pressure I definitely prefer coconut oil over butter or vegetable oils.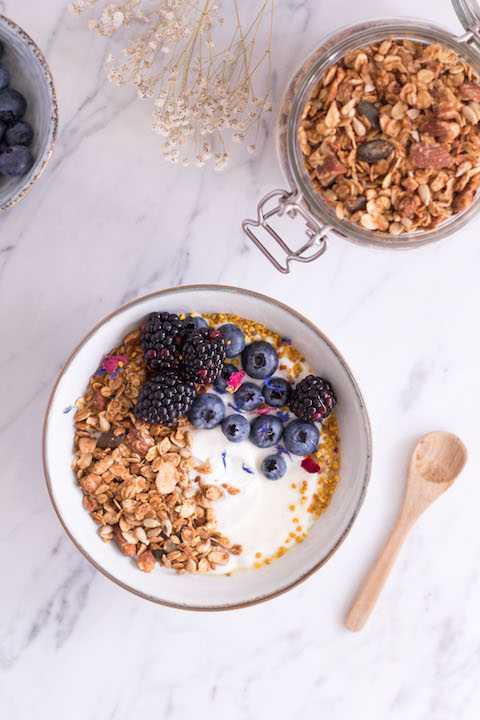 Health benefits:
– iron (important for healthy red blood cells that transport oxygen through your body)
– lauric acid (prevents heart diseases and lowers blood pressure)
– mono-unsaturated fats (decreases risks for breast cancer, important for heart health)
– magnesium (important for a healthy nerve system, muscle health, energy production)
– potassium (lowers cholesterol levels and blood pressure)
– vitamin B1 (important for nerve health)
– vitamin B2 (needed to extract energy from carbohydrates, protein and fats)
– vitamin B3 (important for energy production and antioxidant protection)
– vitamin B5 (important for energy production; lowers cholesterol and blood pressure)
– zinc (important for growth, skin and a functioning immune system)

Almond Coconut Granola
Ingredients
2 cups (160g) of rolled oats, use certified gluten free if allergic
1 cup (120g) of sunflower seeds
½ cup (60g) of pumpkin seeds
½ cup (75g) of raw unpeeled almonds
½ cup (50g) of pecans
½ cup (60g) of flax seeds
2 tablespoons of shredded coconut
2 tablespoons of virgin coconut oil
3 tablespoons of maple syrup
2 teaspoons of cinnamon
Instructions
Preheat the oven to 180°C (360 °F).
Start by putting the almonds and pecans into a food processor and crush for 2-3 pulses until they are broken into pieces. They should not be completely crushed, you still want to be able to identify them as nut pieces. Place the crushed nuts into a large bowl. Add all the dry ingredients except cinnamon, and stir well until the ingredients are combined.
Next, melt the coconut oil in a small sauce pan. Add the agave and cinnamon, and stir well until everything is dissolved.
Now pour the sweet coconut cinnamon mix over the dry ingredients and mix well until everything is slightly sticky.
Pour the granola on a baking sheet which you have aligned with parchment paper, and bake for about 20 - 25 minutes. After 10 minutes or so, take the pan out and stir well so the outer edges do not get burned. Repeat this every 5 minutes for the rest of the time.
Take out the tray and leave it to cool for about 20 minutes. By this time the granola should be nicely crunchy but not burned and your kitchen should smell divine.
Serve with non-dairy milk, greek or non-dairy yogurt, and top with fruits. Stored in an air-tight container it should taste amazing for up to 6 weeks.
Enjoy!
---
DID YOU MAKE THIS RECIPE OR HAVE ANY SUGGESTIONS, QUESTIONS OR COMMENTS?
Feel free to leave a comment below, and don't forget to tag your creations on social media using #heavenlynnhealthy.
I'd love for this blog to be a dialogue.
---