I'm sorry that I've been so quiet on the recipe side on the blog lately. There had just been some things that needed my full attention these past weeks. I spontaneously flew out to Paris for a still secret project that I will tell you all about soon, and then it seems like everyone around me got sick (excpet for me ha!), and there were some family issues that required my full attention. I guess you could call it life. So I decided to take a week off and go on vacation with my mom. It was the best decision ever, and I cannot tell you how good the sun felt on my skin after such a long winter.
Now I am back with lots of new recipes, some interesting topics and these sweet potato quinoa falafel. I created this recipe for the book "how we cook" – a book featuring 25 of the best food bloggers in Germany. And I was part of it. It still feels surreal, and I am very grateful that Julia included me in this book of amazing people like Our Food Stories, Theresas Küche or Eat This!.
I have to admit that I had kind of forgotten what this recipe tasted like, because I created it more than a year ago. But testing it once again, I have to say that it tastes incredible. And it's really easy to make – don't be scared of the long list of ingredients. They are mostly spices or condiments.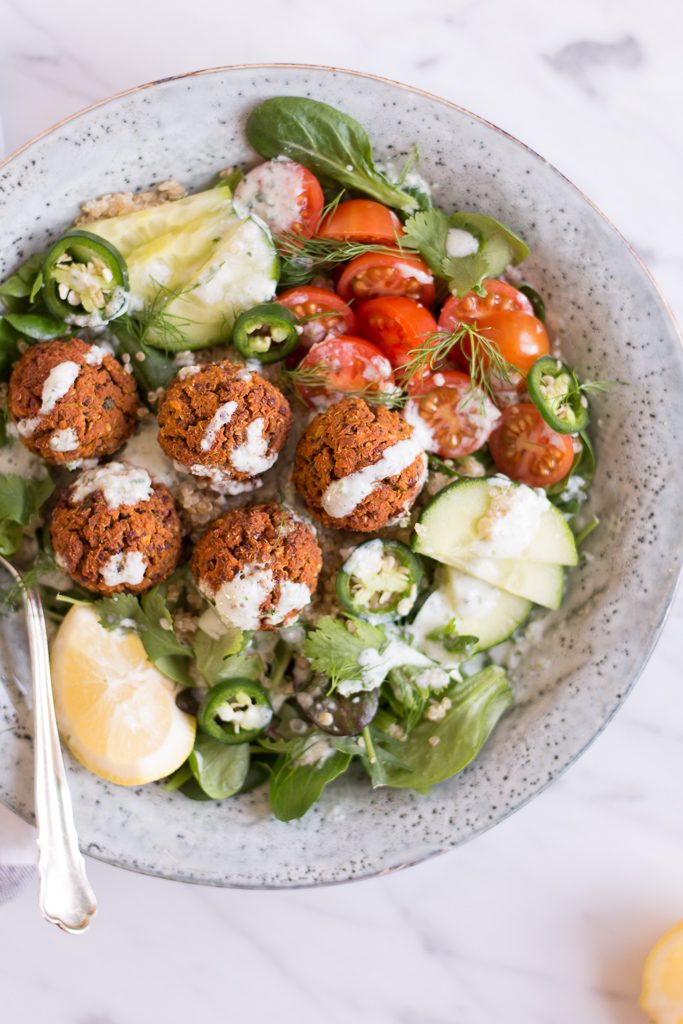 As you know, I am always interested in how a recipe helps nourish my body. These falafel balls are made with sweet potato and quinoa, two of the best foods for your health. Sweet potatoes are rich in beta-carotene, which is transformed into Vitamin A in the body. I bet you already knew this, but did you also know that Vitamin A is not only vital for eye health, but also crucial for a functioning immune system. A lack of Vitamin A can have fatal results. So we all better add more carrots, sweet potatoes and leafy greens to our diet. Quinoa is still my all-time favorite plant-based source of protein. It's so easy to cook as it takes less than 15 minutes, and it keeps in the fridge for about a week, so I make sure to cook some at the beginning of the week, to always have some great protein during the week.
Even if this dish may not be all Easter-y, it's still worth a try.
Wishing you a great Easter Holiday, everyone!
xx
Lynn

Sweet Potato Quinoa Falafel with Coconut Cilantro Tzatziki
Ingredients
1 large sweet potato, or two small ones (about 900 - 1000g)
200g quinoa
100g cooked chickpeas
1 garlic clove, finely chopped
½ bunch of parsely, roughly chopped
2 strangs of dill, finely chopped
1 teaspoon of ground turmeric
1 teaspoon of ground coriander
1 teaspoon of ground cumin
¼ teaspoon of both sea salt and black pepper
some buckwheat flour, or flour of your choice, for the baking tray
For the bowl
2 handful of mache salad
2 handful of baby spinach
100g of cherry tomatoes
For the tzatziki
100g of cucumber, grated
250g of coconut joghurt
2 teaspoons of maple syrup
½ bunch of cilantro, finely chopped
4 fresh mint leaves, finely chopped
1 jalapeno, de-seeded and finely chopped
the juice of ½ lemon
1 clove of garlic, finely chopped
¼ teaspoon of both sea salt and black pepper
Instructions
Peel and cube the sweet potato and either steam it in a steamer until soft or roast it in the pre-heated oven at 180 °C for about 30 minutes.
Cook the quinoa with 600ml of water for about 15 minutes. Fluff with fork, and measure 150g for the falafels. Set the rest aside for the bows.
In a food processor, mix the soft sweet potato, quinoa chickpeas, and all of the other ingredients except for the flour and mix into a paste. Take out about 2 tablespoons of batter and form little balls with it in your hands. Place the balls on a baking tray covered with a bit of buckwheat flour and roast them in the pre-heated oven (180 °C) for about 30 - 40 minutes. They should be crunchy on the outside, but soft in the inside.
Mix all of the ingredients for the tzatziki in a small bowl.
For the bowl, mix the salad, the baby spinach, and tomatoes and spread evenly over two bowls. Add about 4 - 5 falafel balls to each bowl and sprinkle with the tzatziki, some dill and cilantro.
The remaining falafel last about 3 - 4 days in the fridge and can be frozen, too.
Enjoy!