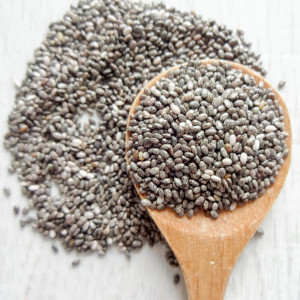 Chia Seeds are practically superfood royalty – if there is any food that deserves to be called super-superfood it's chia. It would take forever to explain every single health benefit that the little super seeds provide, but I've summarized the main points below. Chia Seeds are very easy to plant into your diet: simply sprinkle a tablespoon to your overnight oats or porridge in the morning or add them to your smoothie for an extra health boost. They are also great binding agents in jams, breads, or baked goods like pancakes, waffles or brownies.
---
HEALTH BENEFITS OF CHIA SEEDS:
Chia Seeds are the world's richest source of omega-3-fatty acids. The healthy fats are needed to keep your blood pressure in a healthy range, and aid in blood clotting. Omega-3 is also very anti-inflammatory, and are shown to let your skin glow from the inside out.
To give you an understanding of the great health benefits, these are some ratios that show how rich chia seeds are in nutrients, vitamins and minerals: Chia Seeds have:

10 times more omega-3 fatty acids than salmon
4 times more iron than spinach
5 times more calcium than whole milk
15 times more magnesium than broccoli

They are also bursting with fiber, which keeps you energized and satisfied for hours. Athletes from South and Middle America, especially medium and long distance runner have been using it for ages to boost their performance.
Chia Seeds are also a great source of plant-protein, which is vital for all sorts of body functions, such as the building of muscle tissue. Besides from protein, chia seeds also contain a variety of essential minerals such as iron, magnesium, potassium or zinc, which are vital for a healthy heart, metabolism, the production of energy, the transport of oxygen and clear and glowing skin.
CHIA SEEDS – RECIPES
---