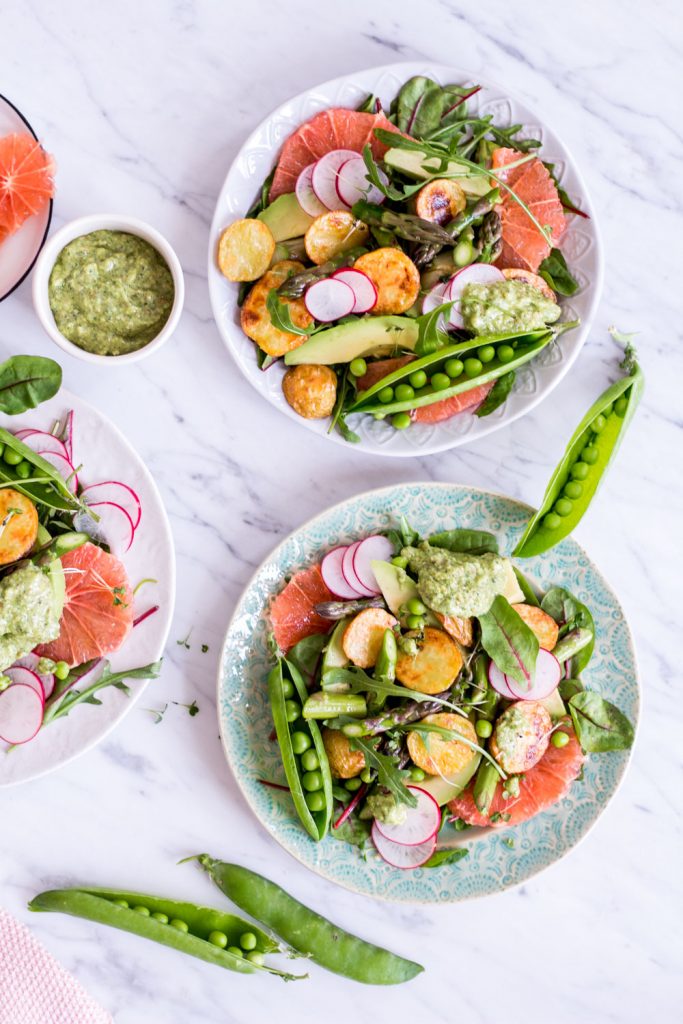 With the increasingly warm temperatures, spring has finally returned to Germany. Gone is my craving for warming comfort food. I am done with warming stews and soups – I just want beautiful, colorful and nutrient-rich salads. Of course today I brought you exactly this kind of salad. So get out that summer dress, turn on the BBQ, grill some veggies and serve this salad as an eye catcher on your BBQ buffet.But there is a tiny problem. The summer dress may be perfect for these summer-like temperatures, but our skin isn't. I don't know about you, but my skin is not ready for a sudden start of the summer. No, before we can get out there, we need an extra wellness boost for our skin. So it can wake up from hibernation. That's why today's salad is the perfect beautifying salad for glowing, vibrant-looking skin. No crèmes or lotions needed. All we need is to eat the rainbow to get the glow.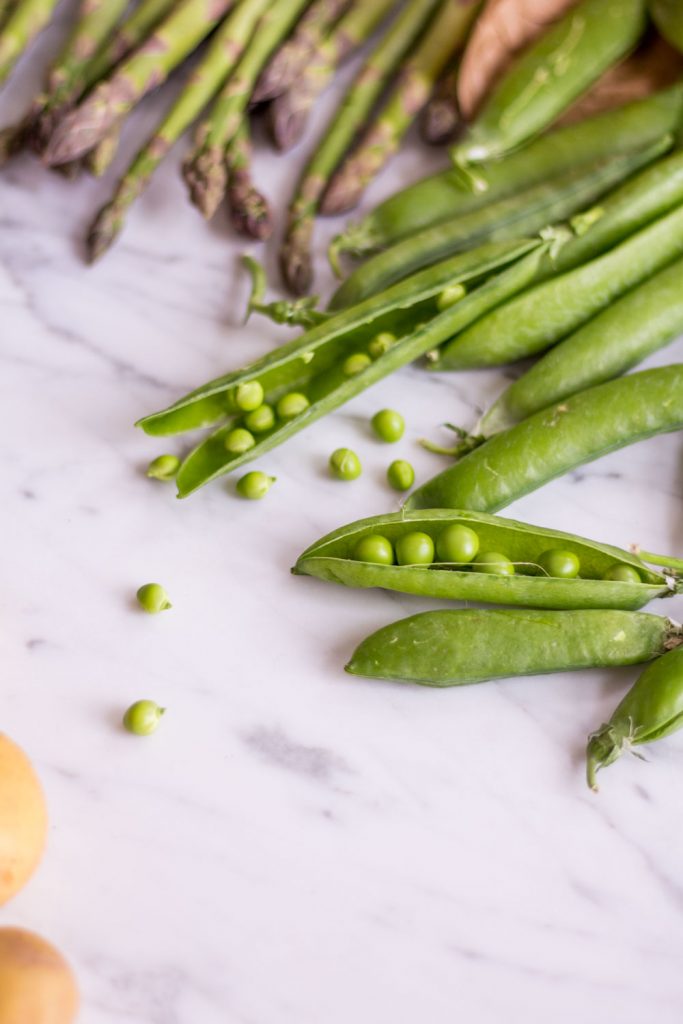 So let's look at what we have here: arugula, asparagus, fresh peas, grapefruit, radishes, avocado, fresh herbs and baked new potatoes. Bahm! This salad is colorful, rich in nutrients and looks beautiful, too. Don't worry, you won't need to buy all of the produce listed below. I just want you to get a feeling of how amazing colorful food is for your health and beauty. The highlight of this salad is the avocado dressing, which makes any vegetable taste amazing.
Beautifying vegetables in this salad:
Rocket is rich in bitter compounds, which aid digestion. It also contains plant-compounds that protect our cells from DNA and UV damage.
Asparagus is rich in glutathione, a powerful antioxidant that protects our mitochondria, which are also called "power house" of our body as they produce our energy.
Fresh peas are rich in b-vitamins, which protect our nervous system. They are also important for collagen-production in the skin.
The antioxidative compound allicin found in garlic protects the cells from damage, hence it prevents early signs of aging.
Grapefruits may not be in season anymore, but they are rich in the carotenoid lycopene, which also protects the cells from UV damage.
Radishes are especially good for radiant skin as they are an amazing source of vitamin C, the best-known antioxidant. They also contain an abundance of vitamin K, which is important for bone formation and healthy blood vessels.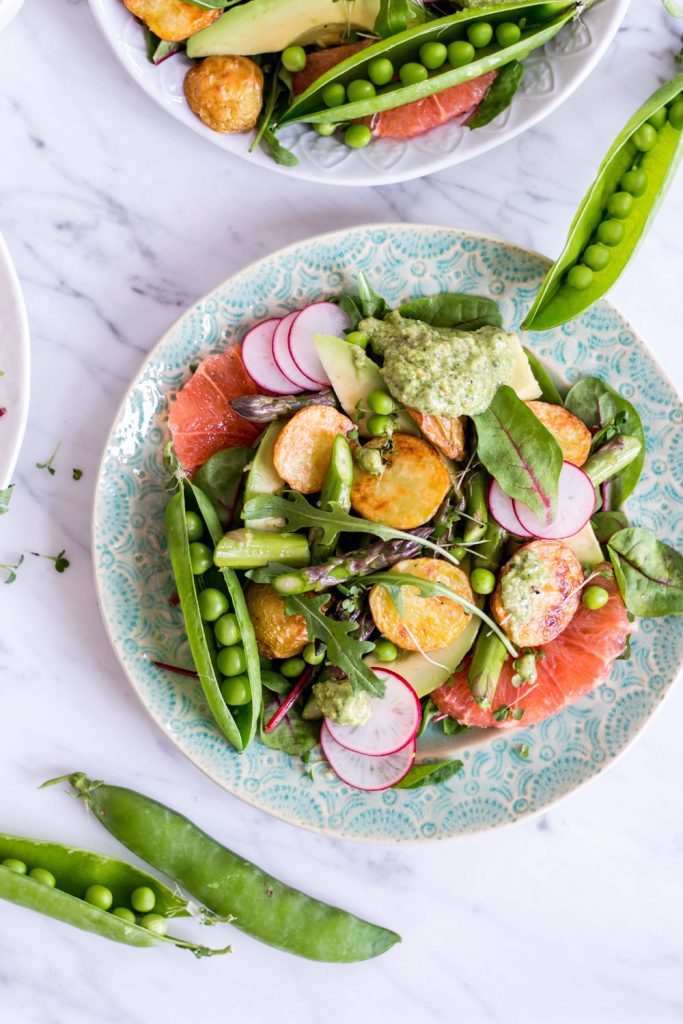 Of course we could spin this game further and further with the avocado, almonds, herbs and sprouts, but I think you get the picture. Of course no vegetable provides a "quick fix", meaning you won't get beautiful skin over night if you munch on radishes. There are many things that play a role when it comes to healthy skin, a healthy gut microbiome for one. But I have found that you can already feel and see a difference in how you feel after eating a wholesome diet rich in plants for about a week.
Enjoy this salad and enjoy the warm spring / summer weather.
xx
Lynn

Spring Awakening Glow Salad
Ingredients
For the salad:
500g new potatoes
2 tablespoons of extra virgin olive oil
500g of asparagus
1 garlic clove
100g of rocket, red chard or whatever green you like
200g of fresh peas
one bunch of radishes
1 grapefruit or orange (or strawberries)
fresh sprouts to decorate
salt and pepper to taste
For the dressing:
30g of almonds
1 avocado
the juice of one lemon
⅓ cup (80ml) of extra-virgin olive oil
¼ cup (60ml) of water, more if needed
1 - 2 cloves of garlic
a good handful of fresh herbs such as parsley, coriander, dill, mint. Be careful with the mint as too much will make it taste too bitter.
sea salt and pepper to taste
Instructions
Pre-heat the oven to 180°C.
Wash and cut the potatoes in half. Place them on a baking sheet, drizzle with one tablespoon of olive oil and some salt and pepper to taste and roast them for about 30 minutes.
Cut off the hard ends of the asparagus and cut the rest into bite-sized pieces. Finely chop the garlic and place it in a bowl with the asparagus and the other tablespoon of olive oil. Mix well and cover with a cloth to let it soak for a few minutes.
Wash the leafy greens and radishes and slice the radishes. Peel the fresh peas. Remove the skin from the grapefruit and cut it into bite-sized pieces. If you are too lazy to peel grapefruit, use strawberries instead.
For the dressing, add the almonds to a food processor and break them down until a few pieces remain. Add the rest of the ingredients and mix into a smooth sauce. Add more water or olive oil if needed. Season with sea salt and pepper.
Heat a bit of olive oil in a pan and add the asparagus. Sauté the garlicky asparagus for about 4 – 5 minutes.
Arrange the leafy greens, peas, radishes, warm potatoes and asparagus on four plates, drizzle with the dressing and garnish with sprouts.
Enjoy!