Beetroot Latte – because we all need more coffee alternatives in our lives.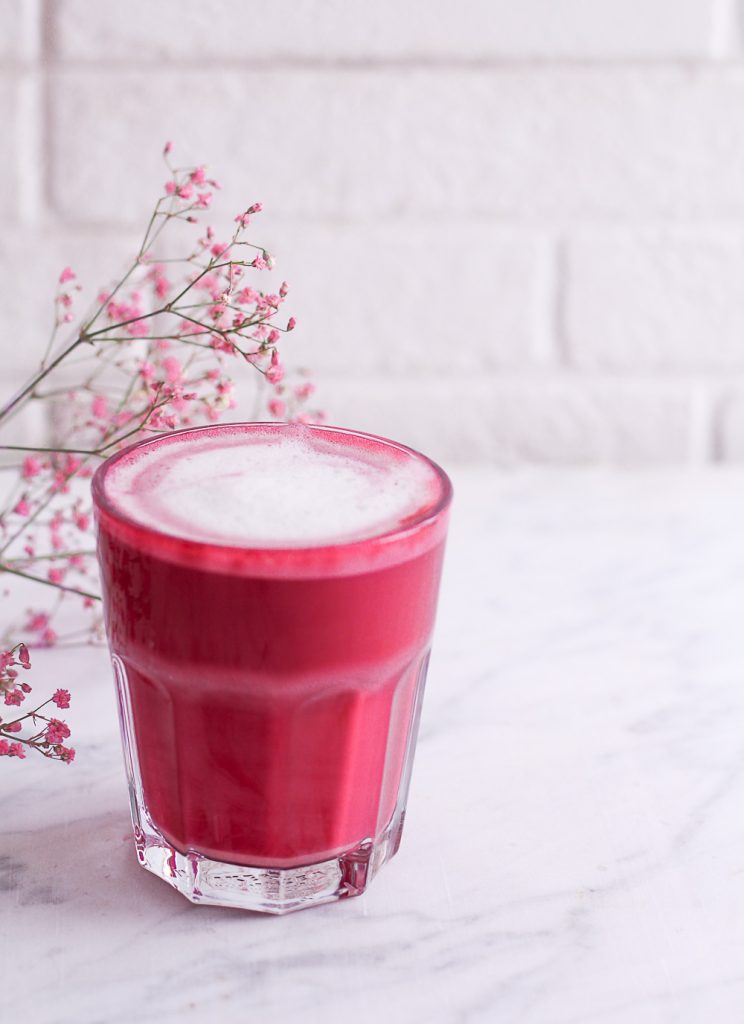 Before I'll share the recipe for this post with you all, I just wanted to take a quick moment to thank you for your incredible support. Without you, this blog would simply not exist. You really make this blog what it is, whether you're living in Germany, the U.K, in the U.S. or in Brasil – your support means the world to me, and I thank you from the bottom of my heart for cooking my recipes, for commenting on my posts, and for sending me so many personal emails, and simply for being there.I read every single comment on my last giveaway and it seems very clear that quick and easy packable lunches are the clear winners of my small survey. Therefore, I will try and come up with more "to-Go" recipes in the future.
Now on to this beetroot latte. I am always searching for coffee alternatives, because frankly I do not like coffee. I have to admit that I still drink it, because I like this morning routine where you get up, make a coffee, and take some time to read the newspaper or simply watch the sunset. Very strange for someone, who talks so much about eating and living healthy, right? Well, I never drink more than two cups a day (not even cups, more like tea pots) so I do not worry about it too much. Yet, I know that coffee is bad for people with blood pressure issues, so I try to cut back as often as I can.
This beetroot latte combines all the best ingredients and even helps regulate my blood pressure – how amazing is that? It's also ridiculously easy to prepare – just take a shot of beetroot juice, combine it with frothed milk and some sweetener of your choice and you're good to go.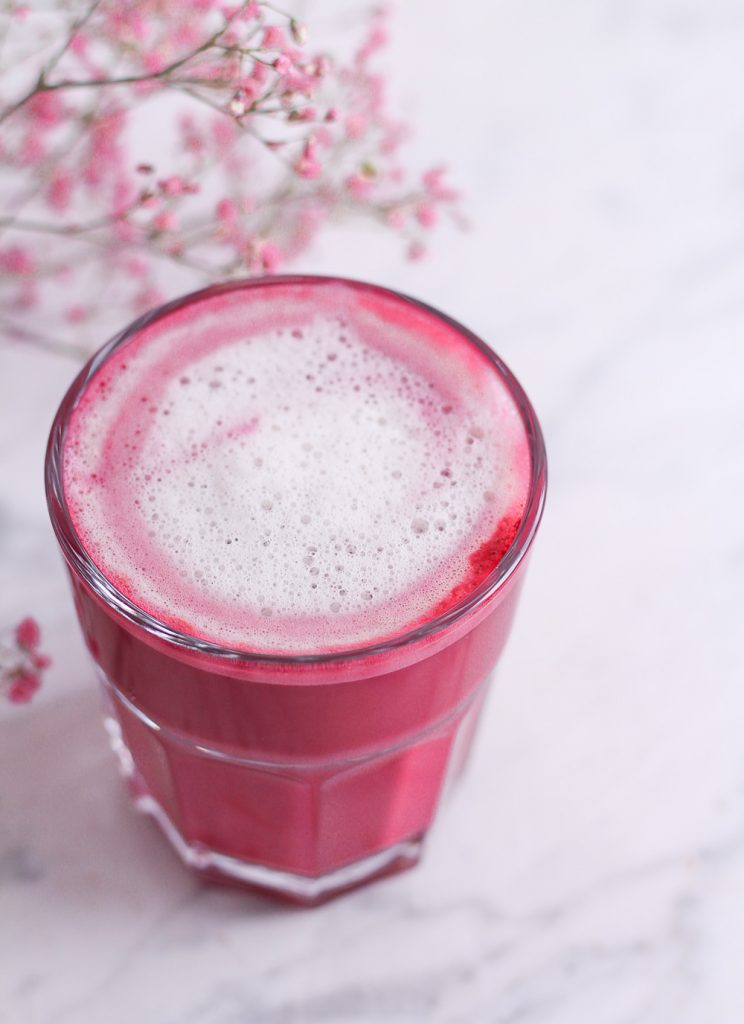 I do not buy the juice, but make it at home with my juicer – so of course I do not just turn this thing on for a shot of beet juice. I always make a carrot, beetroot, apple, ginger, lime juice, so that's another bright side of this beetroot latte.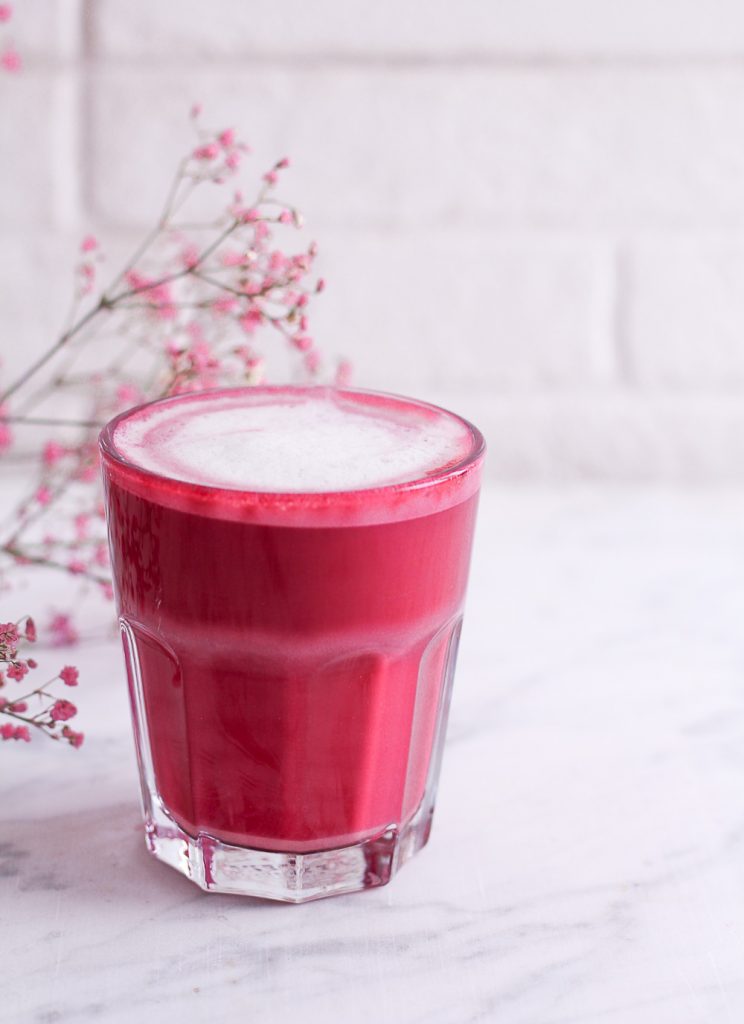 To be fair, just like my turmeric latte, I know that this beetroot latte will not appeal to everyone. Don't beat yourself up if you don't like it or if you do not even want to give it a try. Beetroot does have a slightly earthy taste, and to be honest, you have to love beetroot juice if you want to like this latte. I don't want to fool you – this latte does not taste like coffee. I think it tastes much better, much more exciting and yes – it does taste healthy.
But healthy, isn't a bad thing now, is it?
Beetroot Latte Video
Give it a try and let me know what you think.

Healthy Beetroot Latte
Ingredients
1 shot of fresh beetroot juice
1 teaspoon of honey
1 cup of almond milk
a sprinkle of cinnamon (optional)
a sprinkle of orange juice (optional, for vitamin C)
Instructions
Warm the milk and the honey in a saucepan. (Do not boil!). Froth if desired.
Combine 1 shot of beetroot juice with the frothed milk and sprinkle with a dash of cinnamon if desired.
Enjoy immediately.
Enjoy!
---
DID YOU MAKE THIS RECIPE OR HAVE ANY SUGGESTIONS, QUESTIONS OR COMMENTS?
Feel free to leave a comment below, and don't forget to tag your creations on social media using #heavenlynnhealthy.
I'd love for this blog to be a dialogue.
---