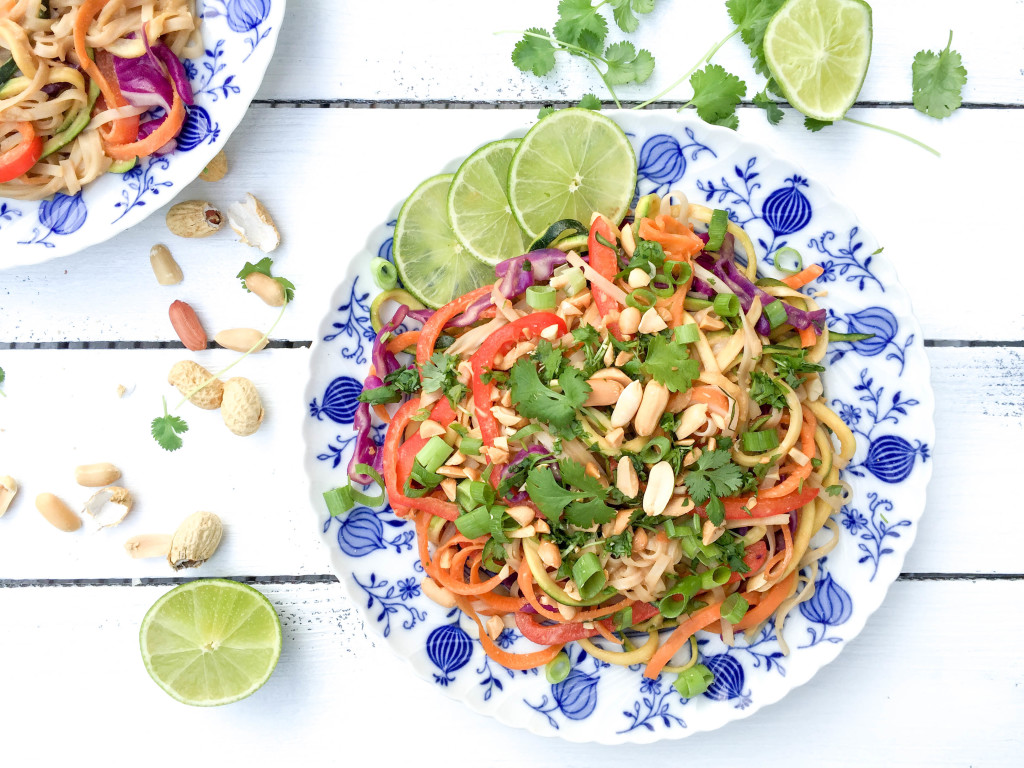 While seemingly everyone is spending the summer somewhere in Asia, I am loving the hot summer sun in my little flat in Germany. The sad thing is that even my favorite Asian fusion restaurant around the corner is closed for the summer vacation, which forced me to make lots of my favorite thai summer rolls and healthy pad thai myself the last couple of days. I wasn't sure if healthy pad thai even exists, but honestly this version is so much better than the original. It is completely egg-free and also doesn't use fish sauce, so it's technically not traditional pad thai, but it nevertheless tastes amazing. There are also so many veggies in this dish, which give you so much goodness in terms of vitamins and minerals. I spiralized the veggies because I love veggie noodles and because this enabled me to add more veggies and reduce the amount of noodles at the same time. More nutrients, less carbs! You can use whatever vegetables you still have in the fridge of course, but I used zucchini squash and carrots because I find them the easiest to spiralize.
My recipe calls for peanut butter, because I just love the taste of peanuts in the Thai kitchen, but you could of course use almond butter instead. If you're allergic to nuts, then the recipe will still work without any nut butter at all. I recommend using something creamy like tahini instead to add the desired creaminess.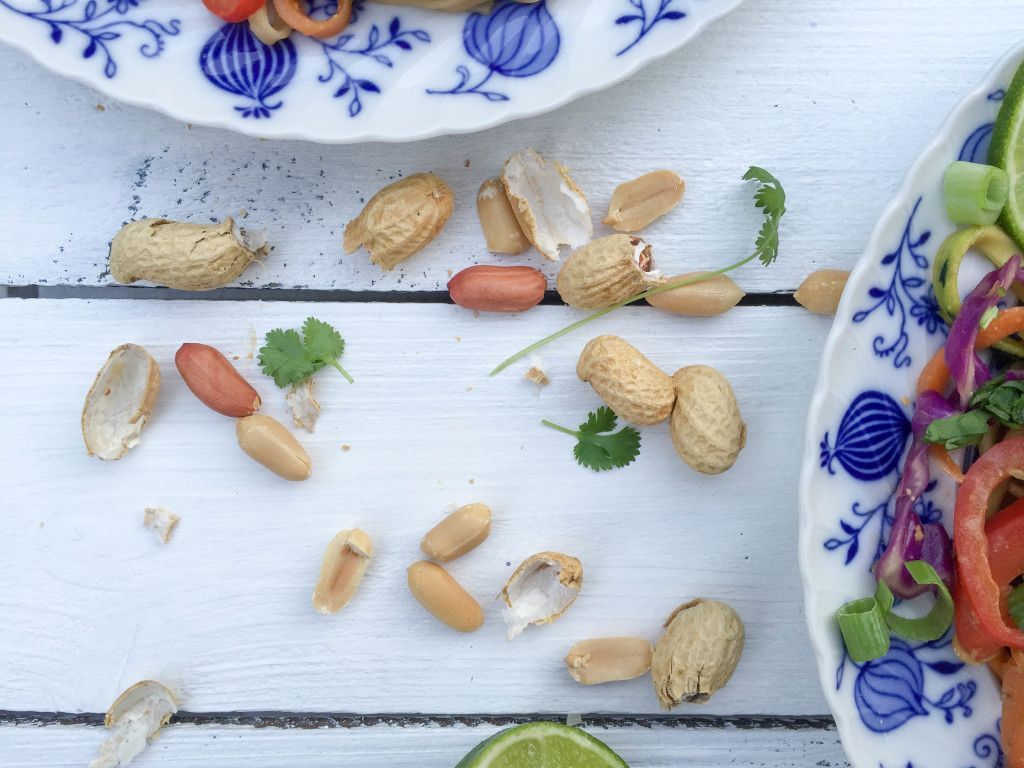 Healthy Pad Thai with Peanuts and Coriander
Ingredients
about 2 packages of rice noodles
1 zucchini squash
2 carrots
1 red pepper
½ cup of sliced red cabbage (optional, but adds a nice color)
1 tablespoon of coconut oil
½ cup plain peanuts
1 handful fresh cilantro or thai basil
For the peanut sauce:
1 garlic cloves
1 thumb-sized piece of ginger
3 tablespoons of soy sauce or tamari
the juice of 1 lime (or only ½ if you prefer)
3 tablespoons of maple syrup or agave
⅓ cup (80g) of peanut butter
1 tablespoon of rice vinegar (optional)
Instructions
Start by boiling water and pour it into a large bowl. Add the uncooked rice noodles at let them soak for about 5 to 10 minutes.
In the meantime, spiralize the zucchini squash and carrots, and slice the red bell pepper. Crush the peanuts, and wash, dry and roughly chop the cilantro or thai basil, or both.
To make the sauce, simply place all the ingredients into a food processor or strong blender and blend until smooth. If you don't have a food processor, crush the garlic with a garlic press, grate the ginger, add all the ingredients for the sauce to a bowl and stir it around well.
Now heat the oil in a large pan or wok over medium heat. Add the veggies and stir fry them for about 3 minutes until tender. Do not overcook them or they can get soggy.
Then add the sauce and the rice noodles and stir for another minute or two until the noodles have fully absorbed the sauce. Add more tamari if desired.
Add the crushed peanut and chopped cilantro or basil and serve immediately.
Enjoy!