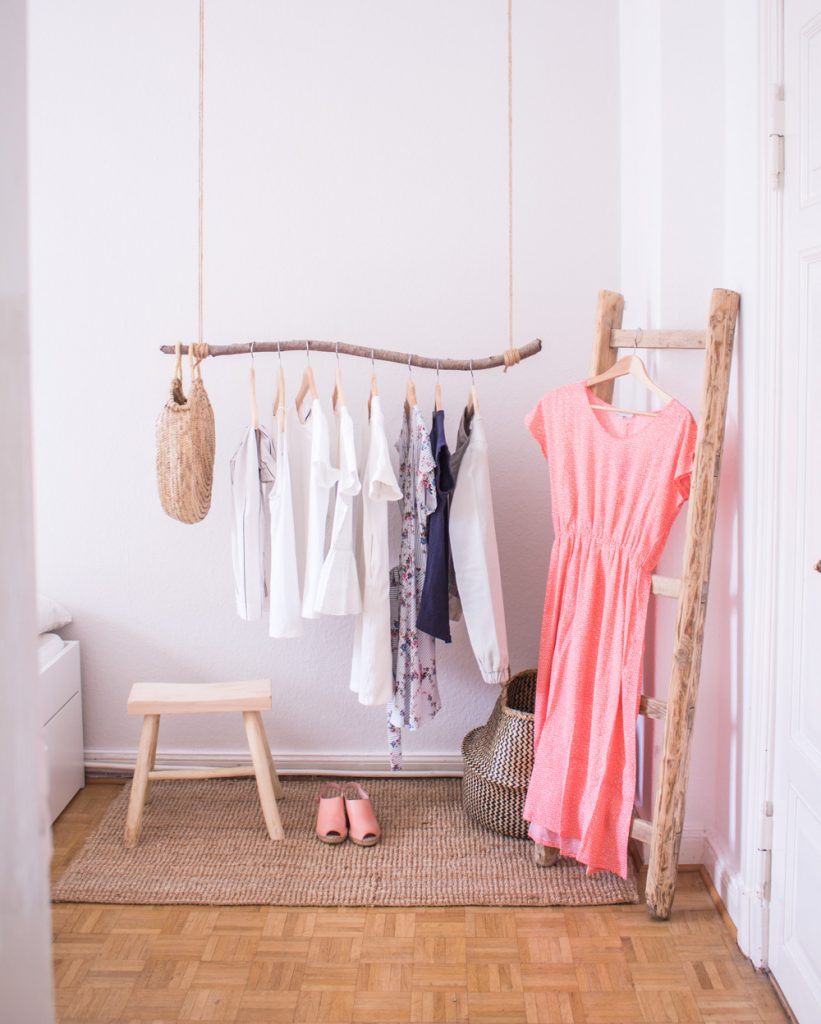 *Advertisment. This blogpost is not sponsored, but it includes PR-Samples.
If you're thinking you've come to the wrong blog today – no, this is still Heavenlynn Healthy, the healthy food and lifestyle blog. While I love talking and writing about food, I do have other interests, too. And since this blog has a health-focus, I thought it would be interesting to write about other health-related topics from time to time. If you've read my last blogpost in 2017, you'll already know that 2017 was the year where I have made a huge transformation. My mindset, which had been very focused on food and movement until then, shifted to a broader perspective.
When I started this blog, my sole focus was food and nutrition. It's still my main focus, but a healthy lifestyle quickly leads you to question other things: what ingredients are in my cosmetics? In my detergent? How can I reduce my plastic waste? The journey quickly leads you to organic cotton in your bed linen and clothes. Of course, I am still at the veeeeeery beginning of this journey. I'm not even close to buying all organic, not even close to changing my wardrobe to fair and organic. However, I've come to realize that slow fashion is a lot more beautiful than fast fashion, simply because it's made under fair circumstances.
The good thing: slow and fair fashion is absolutely not un-stylish anymore. Not even remotely. Fair fashion is fun, beautiful, modern, trendy and cool! One reason is definitely that in the past couple of years, new small brands have been established by young people with a vision AND a sense of style. They bring both ethics and style into their clothes, which makes them so hip and wearable.
A quick note:
Obviously, the most sustainable way of shopping is not to shop at all. Wearing your clothes as long as possible, repairing them, taking care of them and only buy new clothes when absolutely necessary. At this point I need to say this load and clear: I am a girl who loves beautiful things, new clothes and the feeling that new clothes give me. I do not like second hand. It's just not my thing. However, ever since I started blogging, I naturally reduced my monthly spending for clothes to zero. Most of my money goes into food, so I do not have that much money left at the end of the month for clothes. That's my way of sustainable fashion – buying less and buying new clothes with an educated view.
The following lables are my current favorite fashion labels
Jan 'N June
If you have not yet heard of Jan'n June, then you're in for a treat. The two girls Jula and Anna founded their fair fashion brand during their fashion studies when they were just about 20 years old. They do not soley use organic cotton, but also recycled plastic for their pieces. The two girls quickly reallized that hopping on the fast fashion train was not what they were meant to do. With a vision to change the fast fashion industry, they founded their company, and definitely hit the nerve of time. Jan'N June is one of the most well-known brands in the German and European fair fashion world, and one of the first that I connected with. Last summer, I never stopped wearing this organic linen top organic triangle top, and this summer, the culotte and this cotton dress Iris are my favorite basic wardrobe pieces.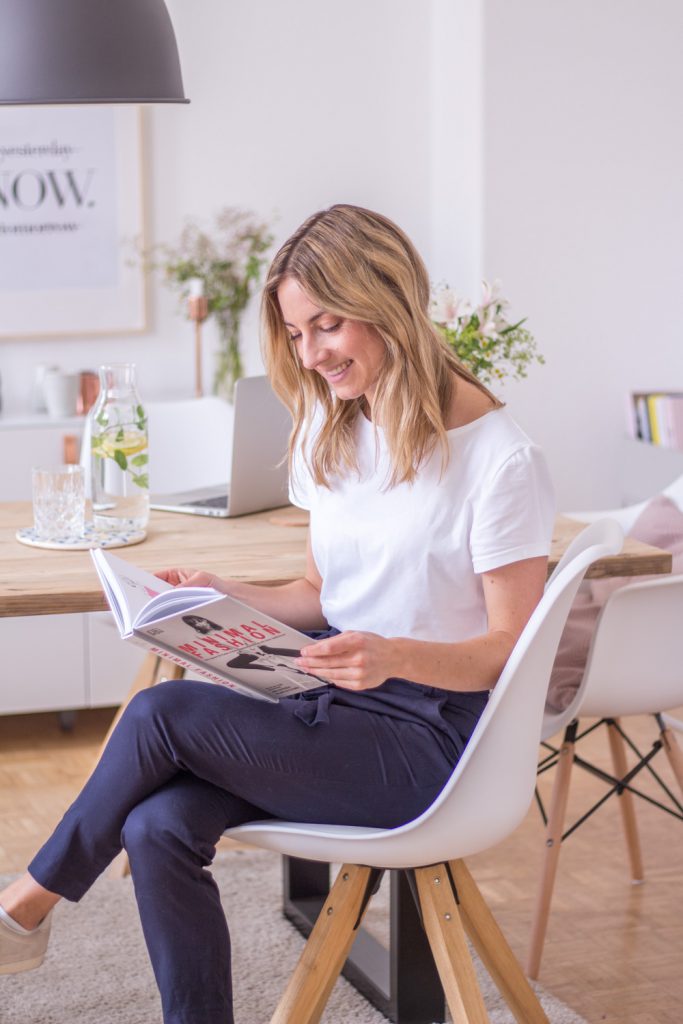 Wearing one of my favorite basic T-Shirts from Jan 'n June and navy-blue trousers made out of tencel (self-bought) from Armedangels.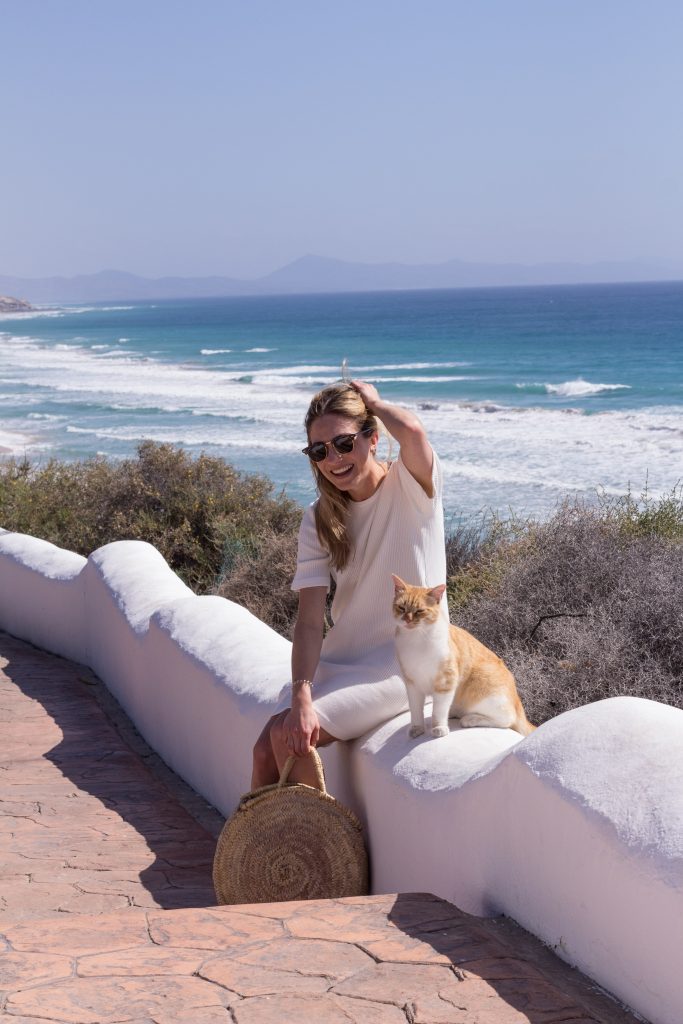 Cat and I (not in Mallorca, but Fuerteventura) wearing my favorite cotton dress Iris from Jan' n June.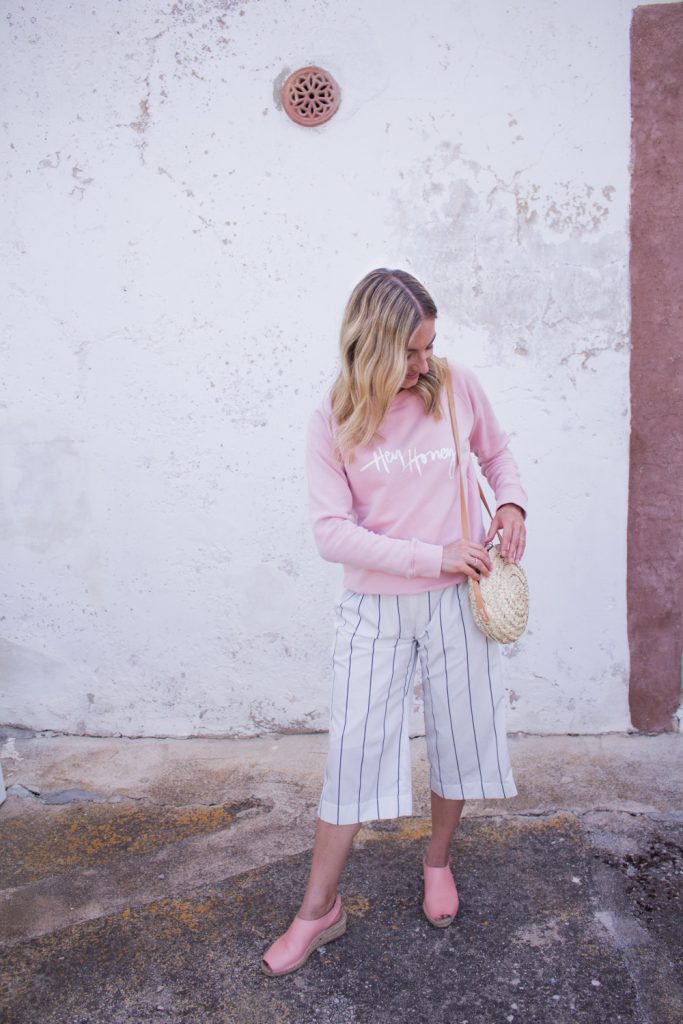 Wearign a summer culotte von Jan'n June (sold out, similar skirt here hier) and an old sweater from HeyHoney, and espadrilles from Lanius.
L'Amour est Bleu
Thien N'Guyen founded L'Amour est Bleu in June 2016, so the label really is still quite a newbie. Like many women who used to work in the fast fashion business, Thien started her company out of a vision to revolutionize the fashion industry. Before L'Amour est Bleu, she worked as a consultant for big brands in the industry, so she definitely knows what needs to change in this area. One oft he reasons that caught my attention with the label is that L'amour est bleu still produces in one of the only remaining factories in Germany called U&N. All of her clothes are chemical-free and many even PETA certified vegan! This organic cotton GOTS-certified blouse is one of my favorite pieces, as is this striped dress striped jersey dress, which will never go out of style (in my opinion).
For heavenlynn Healthy readers, Thien gave us an exclusive promo code. With the code "heavenlynnhealthy", you get 10% off your entire order and free shipping is already included anyways.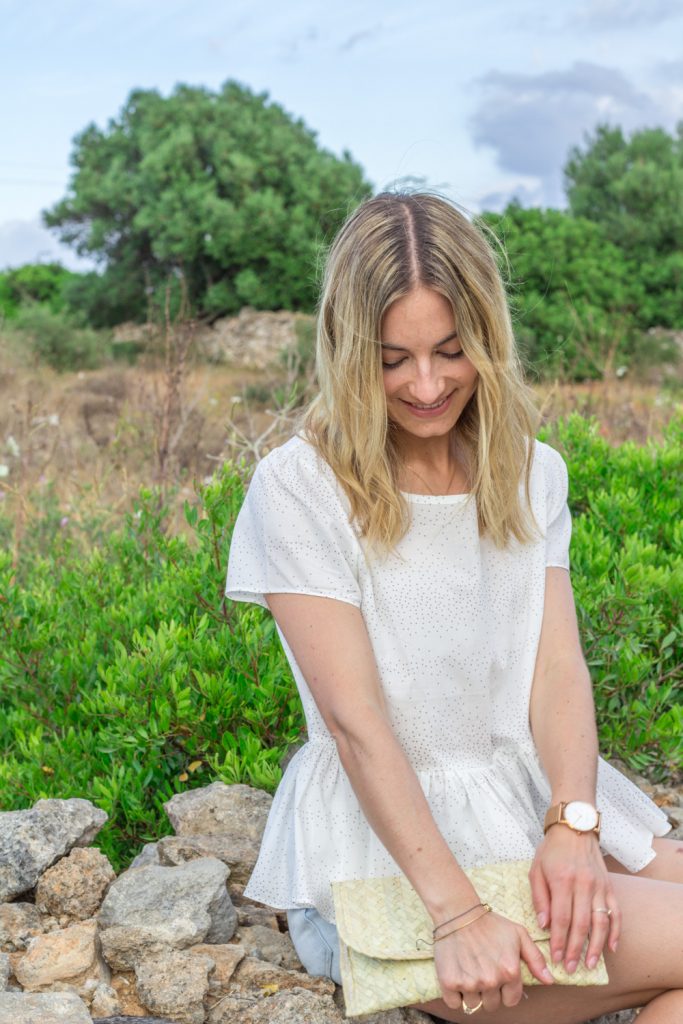 Wearing the vegan blouse "Poesie" from L'Amour est Bleu.
Me & May
"We want to produce fashion that makes you happy". This is how Me & May founder Melissa Knorr decribes her still small Munich-based fair fashion label. When she and her co-founder Mathilde founded Me & May 8 years ago, they would have never thought they would end up with an online shop and two brick & mortar stores in Munich. The two women have witnessed the change in the fashion industry from the inside, and have experienced a change in generations in their suppliers, too, which has made their production a lot easier. Me & May only produces two collections per year, they produce completely in Poland and sometimes France, which is where they get most of their inspiration from. That's why Me & May has this French touch, with pretty dresses, feminine lines and beautiful fabrics. Their summer dress Floride has been my go-to dress this summer. I love the color – totally my style!
In order for you to get to know Me & May, they gave me a promo code for 10% off sing the code "fairfashion" from today until July 15th 2018. You can use the code in their online shop or visit them directly in their store in Munich. Just tell them you heard about them from my blog and the promo code is yours!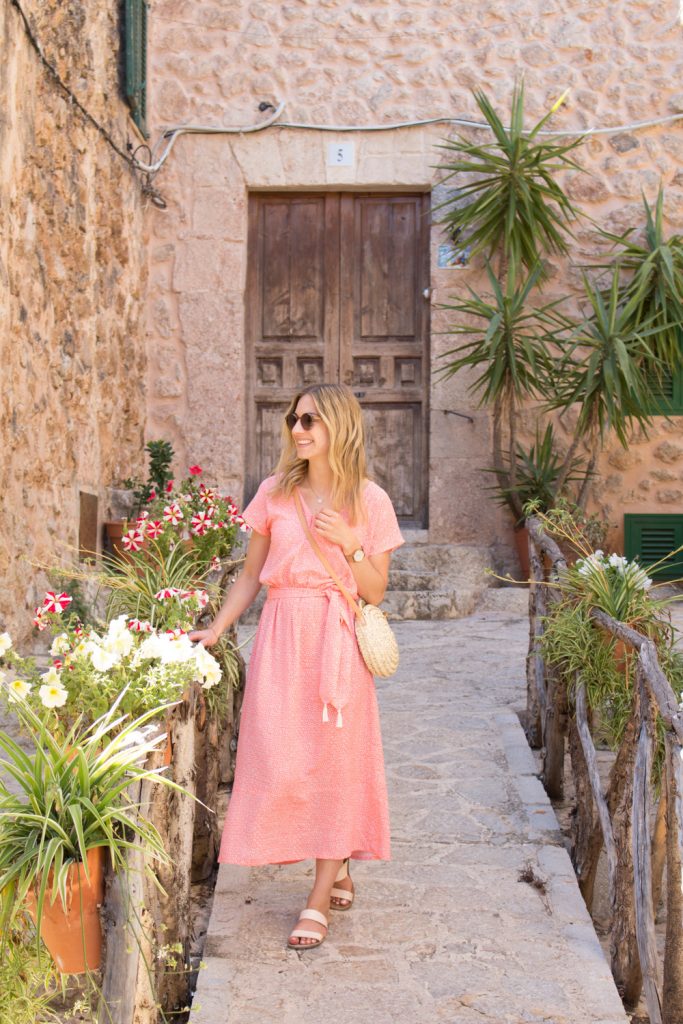 I'm wearing the summer dress Floride from Me & May in Mallorca.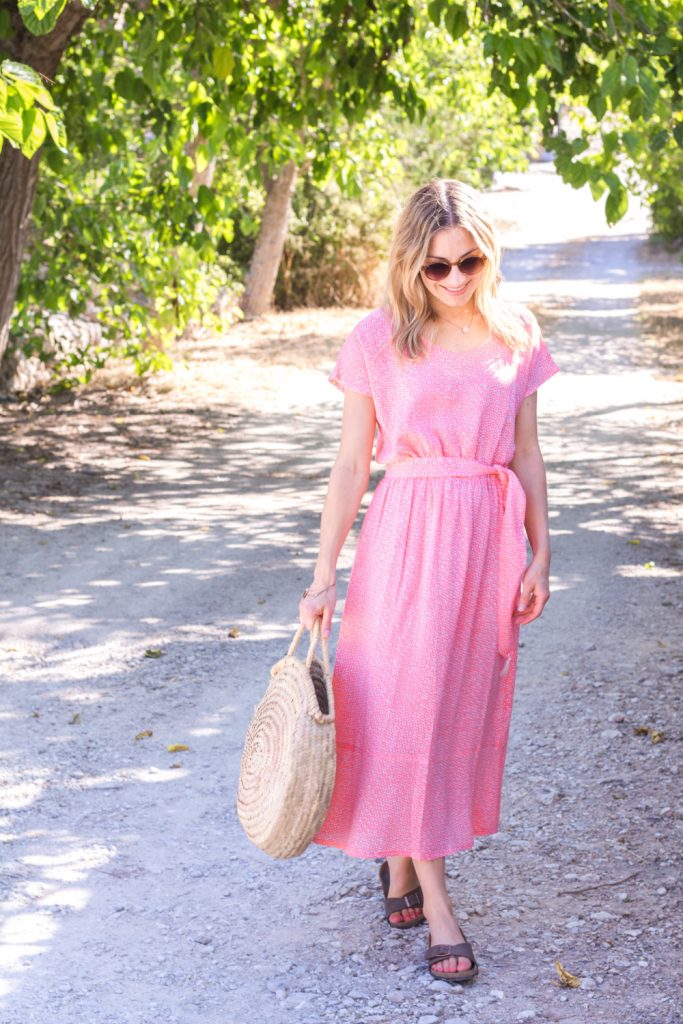 ManduTrap
A few months ago, I discovered the Berlin based label ManduTrap, and instantly fell in love with their style. When I saw their summer dress with flower prints, I knew I needed to be wearing it. For Mandutrap founder Win-Wha, it is important that fair fashion is not just a thing of price tags, so she wants to make it as affordable as possible while still focusing on design and sustainability criteria. When Min-Wha founded the label in 2007, there was close to no young label combining the above mentioned criteria. I especially love the following quote from the founder: I want to make something that is supposed to be beautiful actually beautiful." Amazing woman. Beautiful clothes. Important message. You can shop ManduTrap's new collection here.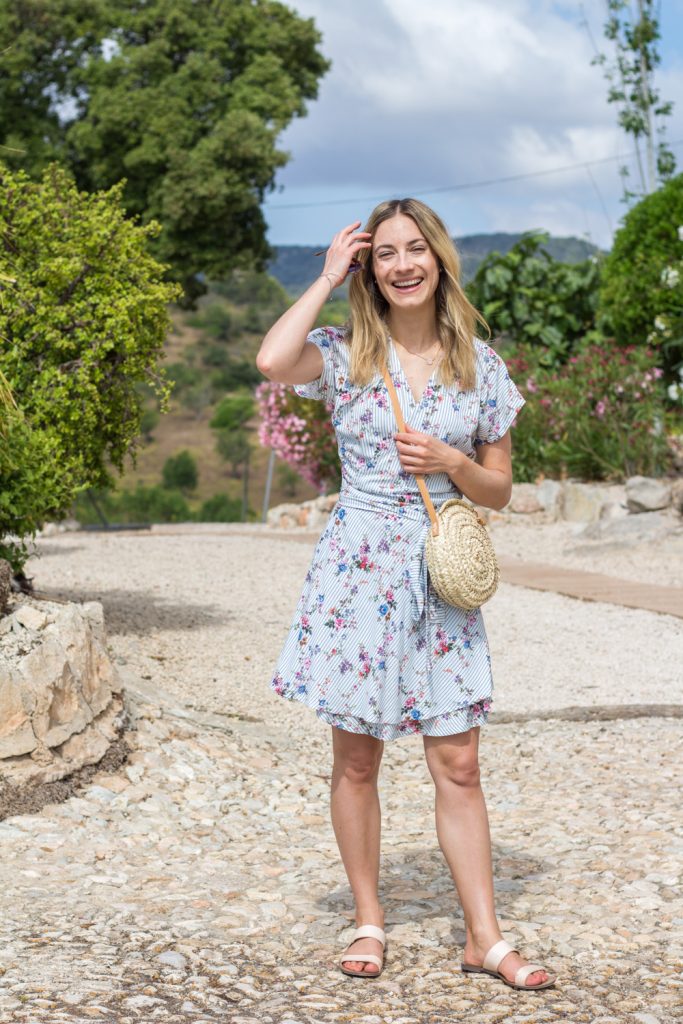 I am wearing the Wickelkleid Maya in a size XS – but be aware that you should order a size larger than usual, because ManduTrap is a brand for small girls like me.
Lanius Fair Fashion
Claudia Lanius is probably the fair fashion pioneer in Germany. She founded her label Lanius back in 1999! No wonder that Lanius is one of the leading labels here in Germany, and chances are that you already know Lanius. One glimpse into their online shop, and you'll quickly see that Lanius is a pioneer when it comes to sustainable resources, and the combination of sustainable and fair fashion with trends. I am in love with the blush-colored espadrilles blush-colored espadrilles, and the summer blouson made out of hemp!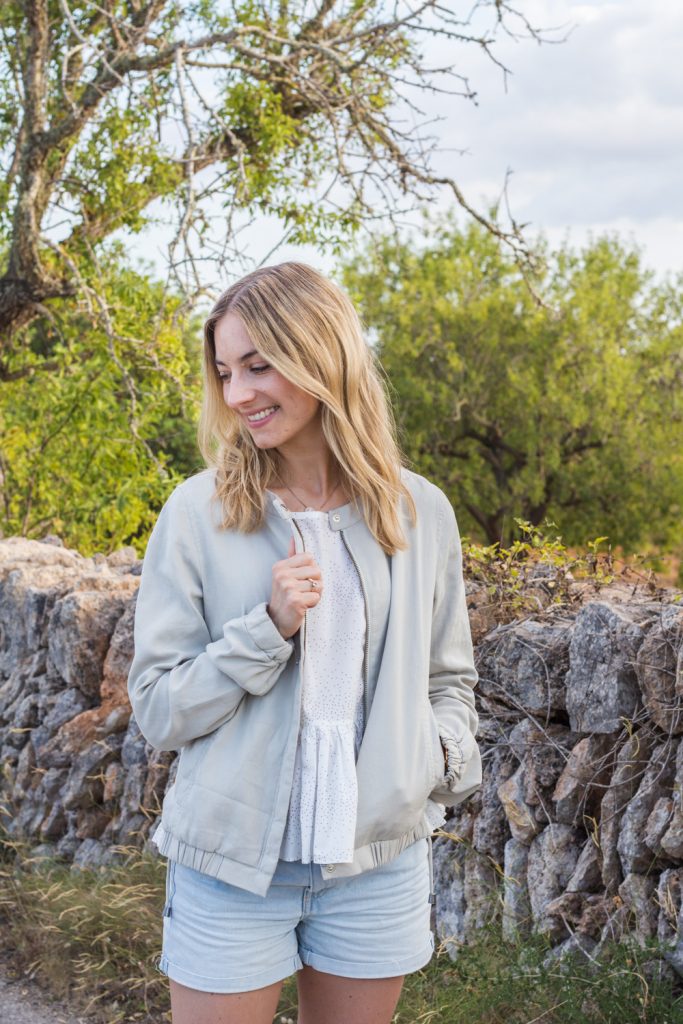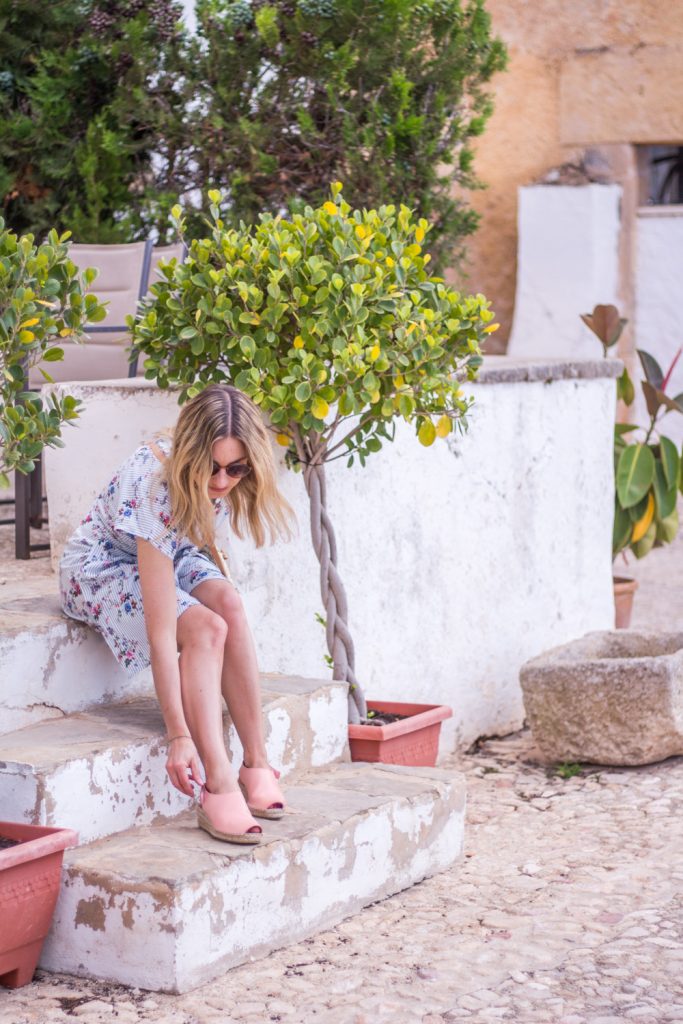 Both the espadrilles as well as the summer blouson are on sale right now!
Armedangels
If you're into fair fashion then I probably do not need to tell you about Armedangels. The German brand is one of the first ethical and fair producing companies in Germany. They produce in Turkey and source their resources sustainably in India. Their past collections have become increasingly stylish, and I guess it's safe to say that Armedangels is becoming one of Germany's most stylish fashion brands. I love their basic pieces, but this year, I've increased my spending on this long black summer dress and these navy blue tencel trousers. The best part is that Armedangels also has a big selection of men's clothing, and I actually learned about Armedangels through my boyfriend who has been wearing them for years!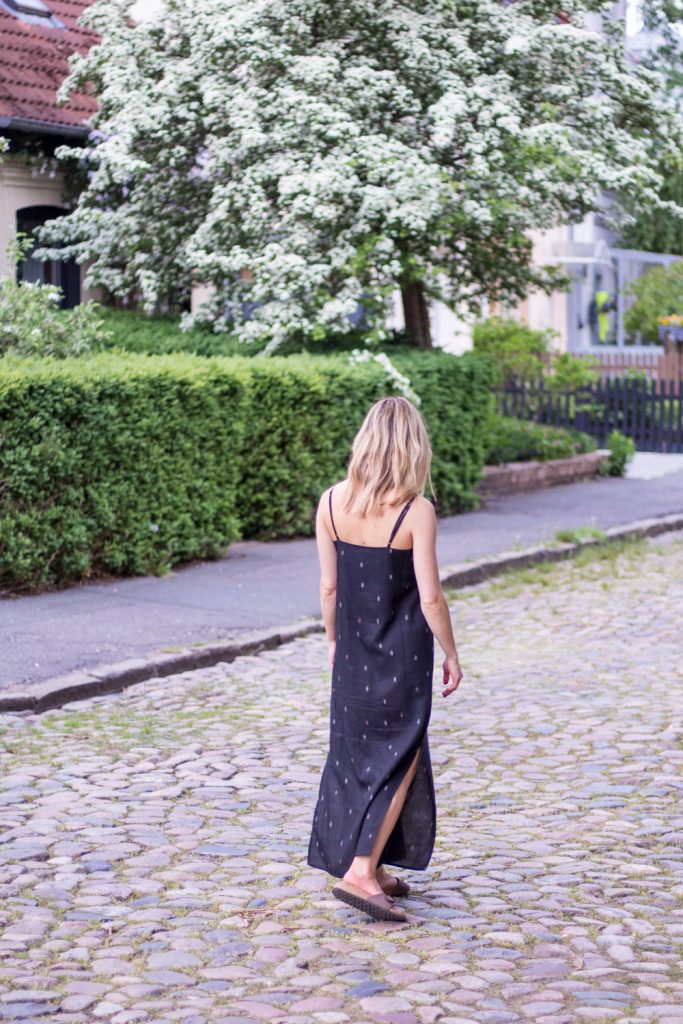 Back in Lüneburg I am wearing the maxi dress made out of tencel (self-bought) from Armedangels
Melawear
This young label was founded at my university! Melawear have had their main office on campus for quite some time and just moved away to expand their business, which makes me so happy! Melawear is more of a skater-style kind of company, with amazing backpacks and basic shirts and sweaters, and they just released the first 100% GOTS certified sneaker this spring.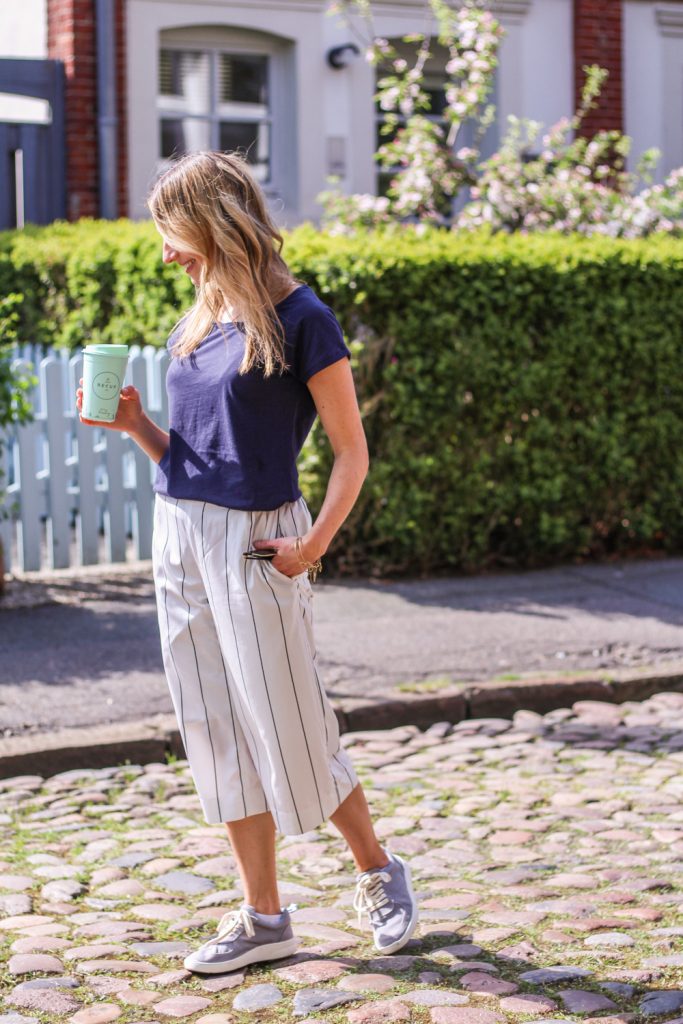 Wearing my Re-Cup and pretending to be a fashion blogger wearing an Armedangels T-shirt, Jan 'n June culotte and grey sneakers from Melawear.
MyMarini
I have been following MyMarini's journey for quite a long time now and it's amazing to see how far fair fashion already reaches. Founded in Hamburg, MyMarini has expanded to one of the leading fair and sustainable swimwear brands in Europe – and their bikinis and swimsuits are even seen in the United States! I met Mareen at the Ethical Showroom this week, and it makes me so proud to see how far she's come! From this season on, her classic collection will be made from 100% recycled plastic from the ocean, which is an amazing achievement! I have never stopped wearing my MyMarini swimsuit last year – my color is unfortunately sold out, but I would absolutely recommend the basic navy color swimsuit if you want to treat yourself to a timeless piece. Yes, I know, almost 200 euros for a swimsuit is a lot of money, who are we kidding. But if you're like me and you've bought a new bikini or swimsuit every season because the old ones only lasted for one summer, you'll see that it's money worth investing.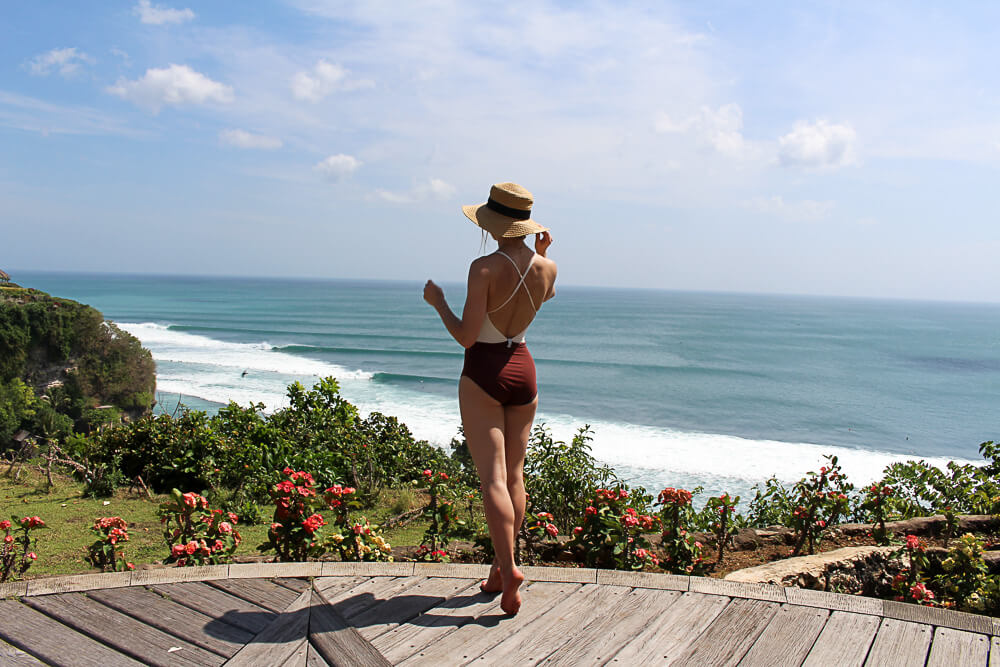 Hey Honey
I've been telling everyone around me about Hey Honey ever since I discovered them two years ago. They've been my constant companion during my yoga sessions, and I have never gotten so many questions about a pair of yoga pants before. Hey Honey is the best example that fair fashion does not have to be boring and not stylish. It can be colorful, happy, trendy and cool! Hey Honey produces in Turkey and Portugal and they were recently certified as PETA approved vegan. Their cool pants are all currently on sale, so get them while you can!

Other cool fair fashion brands that I love:
Hessnatur
Jungle Folk
People Tree
Maas-Natur
Fair Fashion Inspirations:
Since I do not want to raise my finger and give you a speech about why fair fashion and sustainable fashion is important, I will let some people, who really know this industry, do the talking. If you want to learn more about this topic, I suggest you check out the following people:
Peppermynta
Peppermynta is one of the leading German online magazines with a focus on sustainability. In their magazine, you'll find inspiration ranging from fair fashion, to eco travel, to natural cosmetics and food. Peppermynta shows, that an eco-friendly lifestyle does not mean contradict with trend and style.
Mia von HeyLilaHey
Mia and I have known each other for almost two years now. Back then, she was just about to go on her worldtrip, which I have been following closely and which inspired me to travel much more. Mia is now a full-time fair fashion blogger, but she also blogs about an eco-lifestyle in general, has a cool YouTube channel with macrame tutorials, recipes and natural cosmetics finds.
Justine von Justine Kept Calm and Went Vegan
Justine and I also know each other from way back. She is now one oft he leading fair fashion blogger in the German-speaking countries. I love her style especially because she's my size, and sometimes I think it's hard to dress when you're under 1,60cm. Justine blogs about all things sustainability, and she's not afraid to ask and talk about tabu topics such as periods or acne. Also, her boyfriend Alex is always with her, which is why her blog is also interesting for men's fair fashion.
Bina von StryleTZ
Bina is a Hamburg-based fair fashion blogger, and also one of the leading fair fashion bloggers in the German-speaking countries. On her blog she obviously talks about fair and sustainable fashion, but also about travel, vegan recipes and natural cosmetics. Bina has her very own style, which differentiates her from other bloggers – that's why I love following her on Instagram and reading her blog regularly.
Madeleine Adazeh von DariaDaria
If you're new in this whole sustainability world, then Madeleine from Dariadaria should be your first follow. If you're not new in this world, then Maddy is your big idol. I have the deepest respect for what Madeleine does – she recently quit blogging and is now focusing on her podcast "A Mindful Mess" – where she talks about all things sustainability (mindfulness, yoga, spirituality, etc.). She also launched her own fair fashion label called Dariadeh, which has been extremely successful. Madeleine is a huge inspiration form e and many other girls out there, which is amazing because I think that we need more people like Maddy who function as role-models for younger generations.
Anina von Aniahimsa
Anina started out as an Instagrammer and recently launched her own blog where she publishes vegan recipes, articles about a sustainable lifestyle and her deepest thoughts. We have known each other for quite some time but never met in real life (I hope this will change soon). Anina also travels a lot, so be sure to check out her travel diaries on her blog, too.
Charlotte Weise
Model und #Selflove-activist Charlotte Weise is only in her mid-twenties, but talks like she's been on this earth for way longer. It makes me happy that there are influencers like Charlotte that young girls can follow. I wish I had been able to follow her back when I was 14 or 15. Charlotte talks about things such as body positivity, about loving yourself, about sex, about the pill and about FKK. Charlotte is different than others, dances it out regularly, which may seem strange in the beginning, but totally natural once you've followed her for quite some time. Go follow her to see it for yourselves.
Marie Nasemann from Fairknallt
Marie used to be a candidate on Heidi Klum's Germany's Next Topmodel, and has now become one of the most prominent fair fashion advocates in the German fashion industry. She launched her blog Fairknallt only last year, but it has quickly become one of the Go-To places for people interested in fair fashion. On Marie's blog you can find a pretty good guide with sustainable and fair fashion brands, which I check out regularly.