So apparently there seems to be some kind of rule that every food blog needs to have its own version of a banana bread recipe. However, it took me a while to make a healthy banana bread that actually tasted like a proper banana bread, and not like a healthy one. This version is probably my third or fourth try, but I am really excited to finally share the recipe with with you because this bread is simply amazing. I know I say this about all of my recipes, but trust me, this banana bread is so close to perfect, that you just have to make it asap. 
One trick I found to be very helpful was that the coconut oil needs to be slightly melted before you add it to the other ingredients. This little trick makes all the difference, and even though this banana bread is pretty moist in the inside, it is not quite as dense as other healthy banana breads. To add an extra touch of goodness, I used one grated carrot in the recipe, because besides from banana bread, carrot cake is my favorite cake. So I thought what's better than combining my two favorite cakes in a new recipe?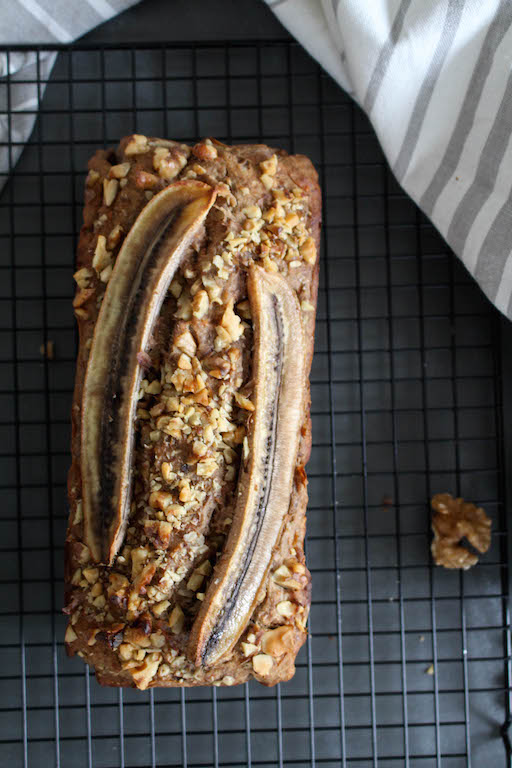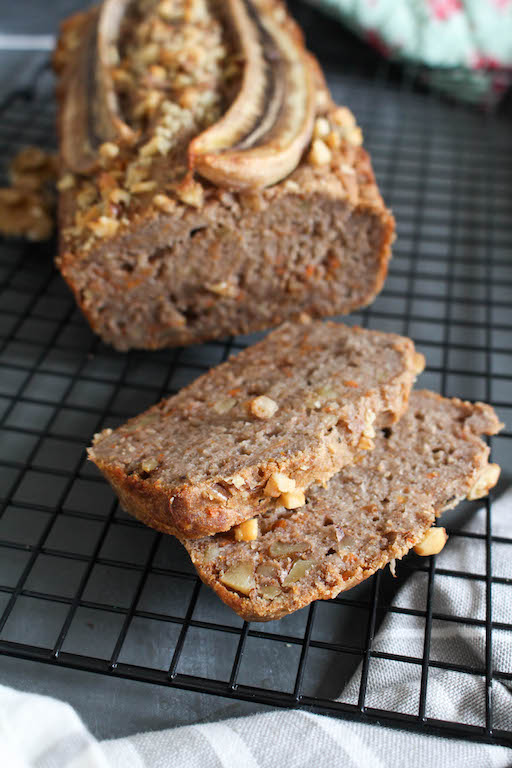 Besides from bananas and carrots, this bread also contains buckwheat flour, maple syrup and chia seeds, and no refined sugars, no refined flour or unhealthy fats. It is also not overly sweet, so you can even enjoy a slice or two of this bread for breakfast. I love it with a generous amount of almond butter and a sprinkle of extra cinnamon on top. What's your favorite way to enjoy a slice of banana bread?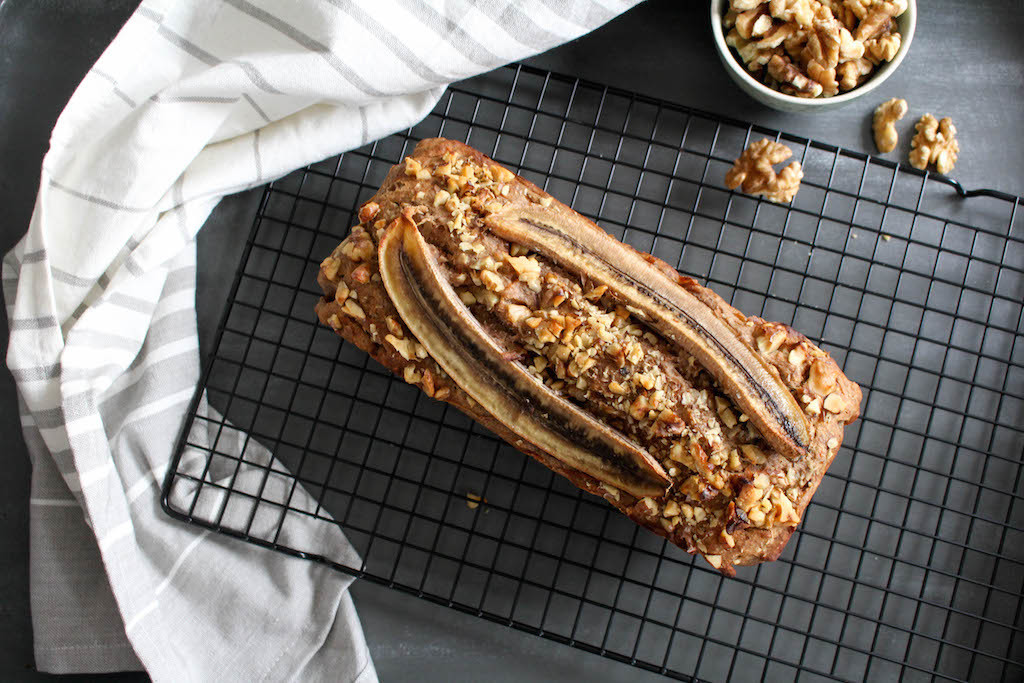 Healthy Banana Carrot Bread
Ingredients
⅓ cup (80ml) native coconut oil
6 - 8 tablespoons (90 - 120ml) of maple syrup, rice malt syrup or honey (depending on your sweet tooth)
1 tablespoon of chia seeds + 3 tablespoons of water
1 carrot (about 90g)
2 large, very ripe bananas
1½ cups (200g) of buckwheat flour
1 teaspoon of aluminum-free baking powder
¼ cup (60ml) of unsweetened almond milk
about 1 cup (100g) of walnuts
1 teaspoon of cinnamon
½ teaspoon of vanilla powder or 1 vanilla bean
a pinch of salt
Instructions
Pre-heat the oven to 170°C. Start by prepping your ingredients: mix the chia seeds and water in a small bowl and let thicken for at least 10 minutes. Grate the carrot, chop the walnuts, mash the bananas with a fork.
Heat the coconut oil in a small pot on low heat until it starts to melt. Mix the coconut oil and maple syrup with a hand mixer or in your food processor. Add the chia mix, banana mash and spices and mix well. Gradually add the buckwheat flour and baking powder. Then gradually add the almond milk . Finally, add ¾ of the chopped walnuts and grated carrot and carefully stir everything together.
Pour the mix into a loaf tin aligned with baking paper. Sprinkle the leftover walnuts on top, slice one banana in half, and gently press it into the dough like I did on the photos.
Bake the banana carrot bread for 50 - 55 minutes. Cover the bread with aluminum foil after 30 minutes to avoid the top from burning.
The banana bread is ready when you can pull out a knife out of the center of it clear. Let it cool for at least 15 minutes before slicing.
Store it in an air tight container in the fridge for 2 days.
Enjoy!