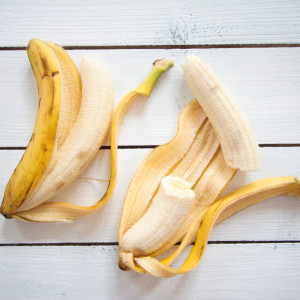 Bananas are probably everyone's favorite food from little kids to grown-ups. I always have a bunch of bananas on my kitchen counter, and there's raley a day when I don't eat one. Bananas are also a great addition to all sorts of foods. They work wonders as an egg substitution in baked goods as they are fantastic binding agents. Bananas also make the best one-ingredient ice-cream as they are heavenly sweet and taste amazing when frozen. Needless to say, bananas are the best on-the-go snack too, and you'll find them everywhere – from grocery stores to starbucks – bananas are sold everywhere.
---
Health benefits of bananas:
Bananas are the best source of potassium, which is vital for maintaining a healthy blood pressure and heart function.
Bananas are an essential nutrient for a healthy muscle function. The high potatssium content prevents muscle cramps and injuries.
They are also a great energy source, as one banana gives you enough energy for about a two hour workout.
Bananas have a high fiber content, which aids digestion and has also been shown to decrease the risk of heart disease.
They also contain the fiber pectin, which is a unique form of fiber. Pectin helps the digestive system and moderate the impact that bananas have on blood sugar.
Tip: Freeze them to always have a perfect smoothie base in the house or to make delicious banana icecream. Simply blend the frozen bananas with whatever else you like: peanut or almond butter, fresh berries or even pumpkin puree and enjoy a healthy and delicious treat.
Banana-Recipes:
---
These red currant and banana muffins are truly heavenly. You won't believe that they are 100% healthy when you take your first bite. Every single ingredient melts in your mouth and they are all so good for you and have amazing health benefits.
---
Spring has finally arrived in Germany and that means you see people wandering around with ice cream scones in their hands everywhere. Ice cream reminds me of summer, warm weather, vacation, ice cream dates, and barbeque with friends. Since the temperatures have been gradually increasing these past few weeks, I have been craving ice cream myself, which is why I went back to my favorite snack last summer: frozen bananas.
---
There's probably no better season to enjoy green smoothies than summer. Don't get me wrong, I love green smoothies all year around, but I just love them especially in the summer, when everything is green and bright anyways. I also love to start my day with a big green smoothie bowl more in the summer than winter because it's such a nice and light breakfast opposite to a rather heavy warming winter porridge bowl.