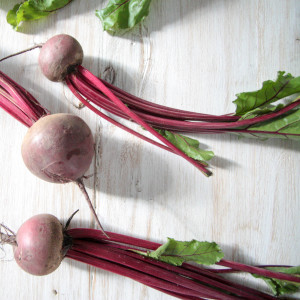 Beetroots are probably one of the foods that I can't live without. I know that may sound really sad and geeky, but trust me, there's nothing more deliciozs than a delicious beetroot and carrot juice or a sweet and decadent beetroot cake. My obsession started as a kid, when my mom made the most delicious beetroot sauce that we enjoyed with pasta or brown rice. A sneaky but fun way to get us to eat non-kid-friendly vegetables. Today I love beets in salads, soups and I even went as far as turning it into a granola recipe.
---
Health benefits of beetroots:
Beets are packed with vitamins and minerals such as vitamin A & C, and the minerals potassium, iron, and folic acid.
They are also a great source of fiber, which helps regulate blood sugar levels and keeps us satisfied longer.
Beetroots are also one of the best foods to lower blood pressure, which is why I love them so much. They literally make our blood chill out. The blood pressure reducing properties derive from the nitrate that is transferred into nitric oxide in the body. This helps our vessels relax and dilate, resulting in an improved blood pressure.
Beets also have natural detoxifying properties, which is why they have been used to aid the liver for centuries.
The phytonutrients, called betalains, give the beetroot their distinct purple color, and provide antioxidants, and anti-inflammatory and detoxifying properties.
Winter-tip: Enjoy beetroot juice heated up with some winter spices like cinnamon, ginger and nutmeg – absolutely divine!
Beetroot-Recipes:
---
Vegetables in a cake? Doesn't that go a little bit too far? Definitely not. The beetroot makes this bread extremely moist, and adds the little special touch to the recipe. And trust me, you won't taste the "earthy" beets at all. The bread is also extremely healthy because the buckwheat provides healthy fiber, the beetroot gives you a great amount of iron, and the coconut oil has a high amount of lycopene which is an antioxidant that helps fight various diseases. Doesn't that sound like a great excuse to make this bread immediately?
---
I've probably already mentioned a couple of times how beneficial beetroot is for everyone, and especially high blood pressure patients. Drinking a glass of beetroot juice a day has been shown to drastically lower blood pressure. Naturally, I enjoy some beetroot juice a couple of times a week. This delicious combiniation of beetroot, apple, oranges, carrot and ginger is simply amazing. If you like it a little sweeter you can even add half a banana and trust me, you won't be able to tell that you're drinking beetroots at all.
---
This is an amazing variation of my Best Hummus recipe. The taste of the roasted beets combined with the amazing flavor of chickpeas and tahini is simply divine. It is also really great on the eyes because it has this pretty pinkish color. My aunt told me that kids love to eat anything red so I'm sure that even kids would like their veggies with this hummus.