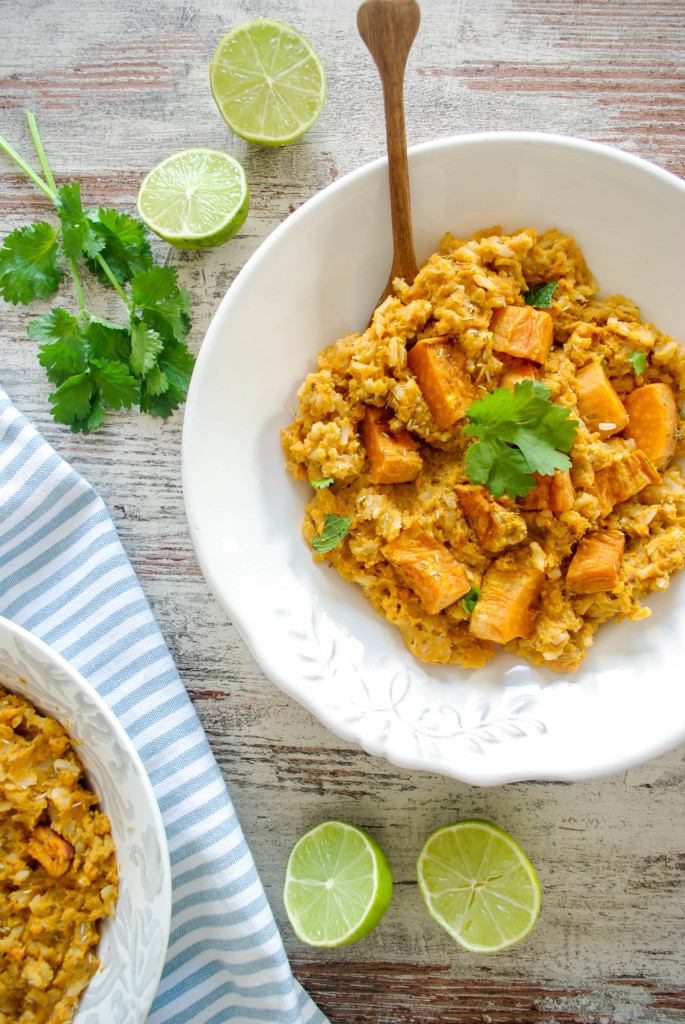 You are going to love this risotto. I promise. It's so incredibly good as it combines all my favorite ingredients and it's so heavenly creamy. I've always had a thing for risottos, I love their creaminess, the cheesy flavor and the different vegetables that you can put in it. Unfortunately I am never able to eat it all because they are just way too heavy. Whenever I have cheese-stuffed risottos it feels like I carry a stone in my stomach afterwards. That may partially be due to the large amounts of risotto that you get in German restaurants, but of course it's also due to the amounts of cheese. That's why this sweet potato risotto is completely free of cheese but still tastes incredible. Its creaminess comes from the sweet potatoes and avocado which turn into a heavenly cream when pureed. The lime juice and apple cider vinegar (or white balsamic vinegar – whatever you have in stock) add a bit of tanginess and sort of break the sweetness of the other ingredients – making it the perfect risotto ever.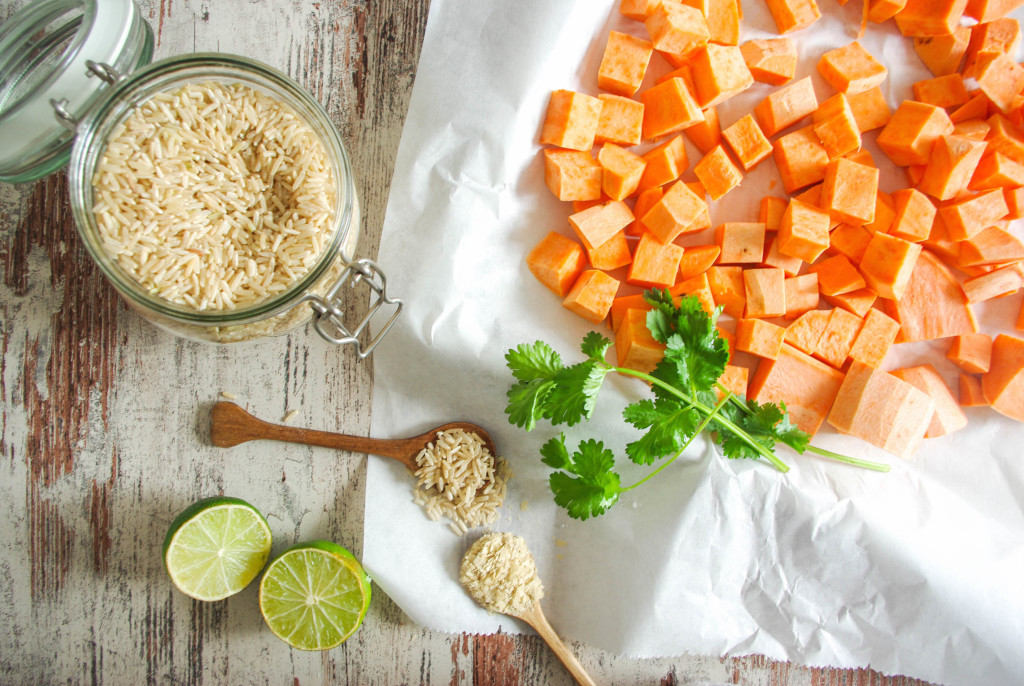 Every single ingredient in this dish is incredibly good for you. While traditional risottos are made with sticky white rice, this one uses brown rice instead. Brown rice is much more healthy than the refined white version, because it still contains all the nutrients which have been stripped away from his white brother. It contains much more fiber which keep you satisfied for ours. Fiber also stabilizes your blood sugar balance, which means that it will release its carbohydrates over a longer period of time, thus preventing you to fall into those nasty sugar lows. The sweet potatoes add healthy vitamins and minerals to the risotto such as vitamin A, which is vital for a healthy vision. They are also bursting with antioxidants, that protect our body from harmful free radicals, thus preventing chronic diseases such as certain types of cancer.  Risotto is usually quite a heavy meal due to mountains of cheese it contains, which fill you up pretty quick but leave you full and sometimes even uncomfortable. In this risotto, it's the healthy fiber that fills you up and keeps you satisfied four hours. So you'll have lots of energy after eating this delicious meal.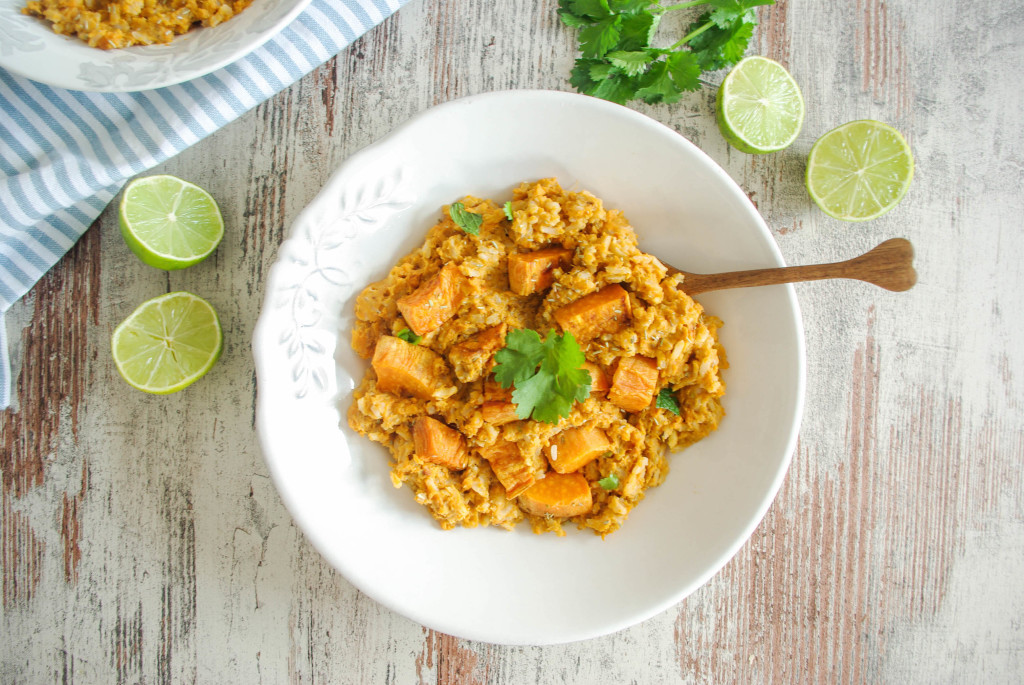 Ingredients:
– 1kg sweet potatoes (about 2 large ones)
– 1 cup (180g) brown rice
– 1 tbsp paprika powder
– 1 tbsp rosemary
– 1 tsp cinnamon
– 1 tbsp olive oil
– 3 tbsp apple cider vinegar or white balsamic
– 2 tbsp nutritional yeast
– 1/2 avocado
– 1 lime
– 2 tbsp coconut milk (full fat)
– a handful of fresh coriander (cilantro)
– salt and pepper
METHOD
Pre-heat the oven to 200°C. Start by cooking the brown rice according to the package. This should take between 25 and 45 minutes, depending on your kind of rice.
Start by peeling the sweet potatoes. Cut them roughly into cubes and place them on a baking tray. Sprinkle them with the olive oil, the paprika powder, rosemary, cinnamon and a sprinkle of salt. Roast them for about 20 – 25 minutes until they are heavenly soft.
Put about two handful of sweet potato cubes aside and place the remaining ones into food processor or high power blender. Add the avocado, coconut milk, apple cider vinegar, nutritional yeast, salt and pepper and the juice of the lime and blend until you have a creamy potato mash.
Now drain the rice and pour it into a large bowl. Combine it with the sweet potato mash and mix everything until the rice is completely covered.
Sprinkle with some chopped coriander and enjoy.