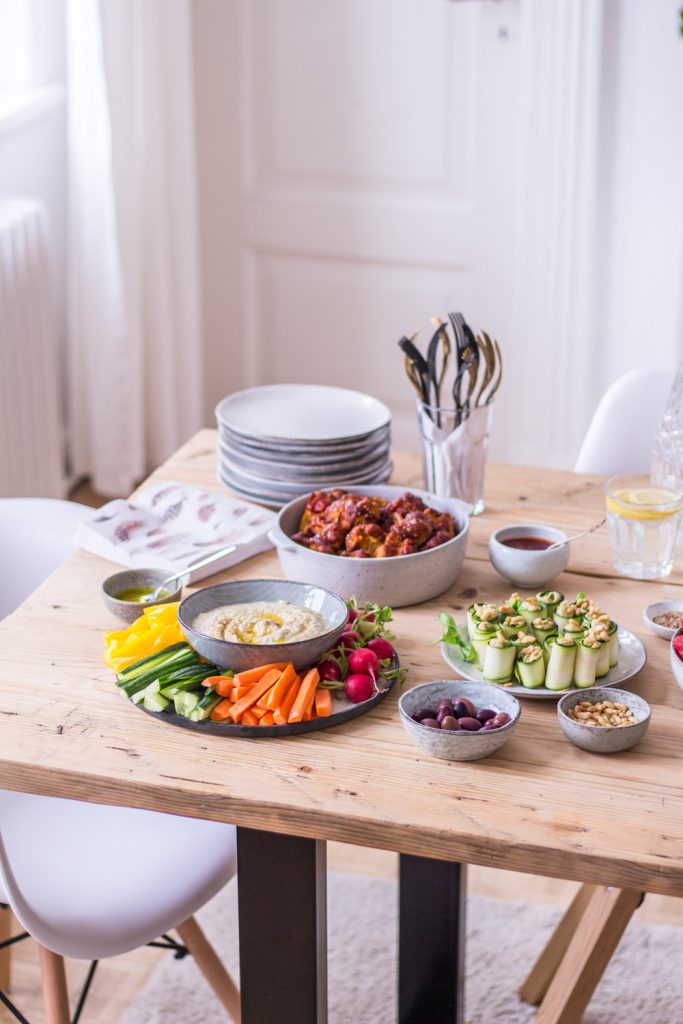 So I love hummus, but sometimes I think it's great to change things up a bit. As you know, I'm all about exploring new things, creating new recipes, and so I thought, why not attempt a totally new hummus experience. Now, I know that you can technically not call this hummus at all. If you live in Israel or anywhere else, where hummus is more than just a chickpea / tahini spread, I apologize in advance for altering this sacred recipe. This recipe is another finger food that is perfect for parties!
But I was actually inspired by another middle eastern recipe called Baba Ganoush, which is a baked aubergine spread. If you have not tried it yet, you should! It's insanely good and totally plant-based, too! In fact, I think I will publish a Baba Ganoush recipe soon because everyone needs to know about it.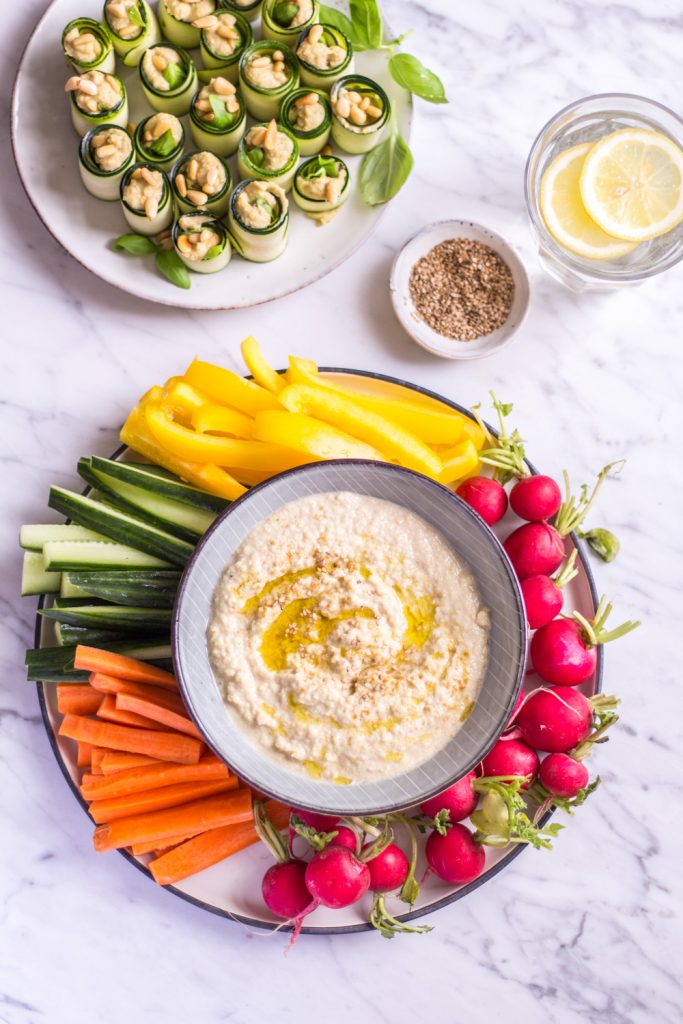 If you've been a loyal blog reader or Instagram follower, then you might know that I am not into food trends. Raw, clean, low-carb, high-fat, low Fodmap – these are terms that I rarely ever use on the blog. Actually, never use, to be exact. I want to highlight that I am not posting this recipe, because I am all of the sudden following a raw diet or a low-carb diet. Not at all. And I don't mean this in a judgy way. This recipe is here to purely bring to you the joys of trying and experimenting with different kinds of foods. I have tried simply using raw zucchini as the main base of this recipe, but had to realize that this wasn't for me. It was just much too bitter for my taste.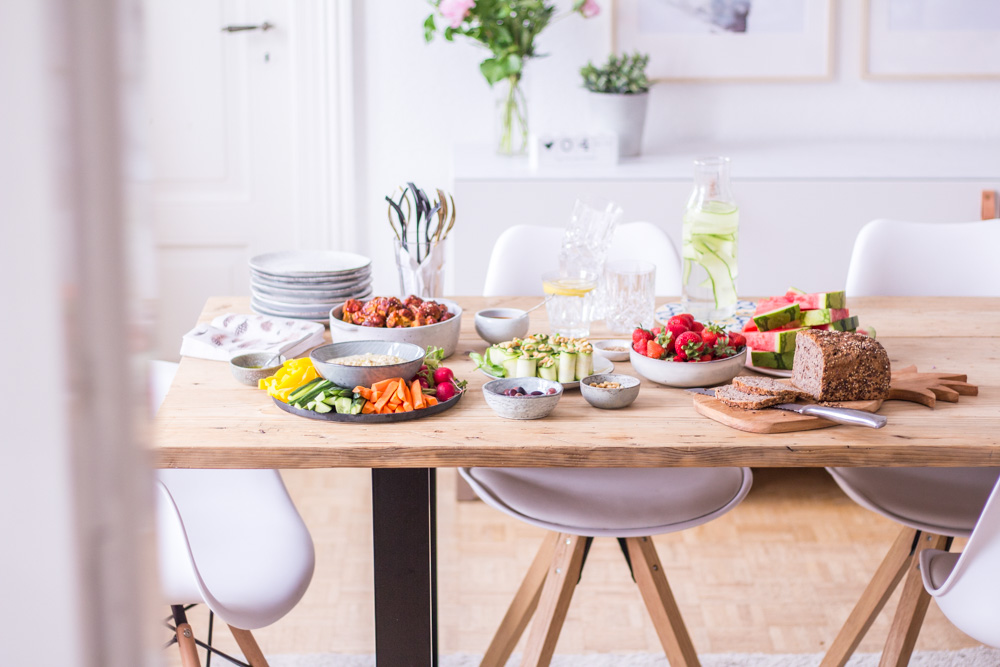 So this version uses chickpeas AND zucchini. Why? Because we all eat too few vegetables per day, and it's never wrong to sneak in a few vegetables here and there. If you do not tolerate chickpeas, then you can make this hummus completely chickpea-free. However, you'll need to go easy on the tahini, because it can easily make this hummus too bitter. That's why I prefer the hulled tahini in this version. If you don't know what that means. Usually, in any health store, you'll find two kinds of tahini: hulled and unhulled tahini. The differnce is that the unhulled contains the whole sesame seeds with the outer layer, and the other one is the "peeled" sesame, which has a milder taste. As with most food, the goodness is in the peel of the sesame, so I usually buy the unhulled one due to its richer nutrient content. The dominating mineral in sesame is calcium, so the unhulled version has a significantly higher calcium content than the hulled version.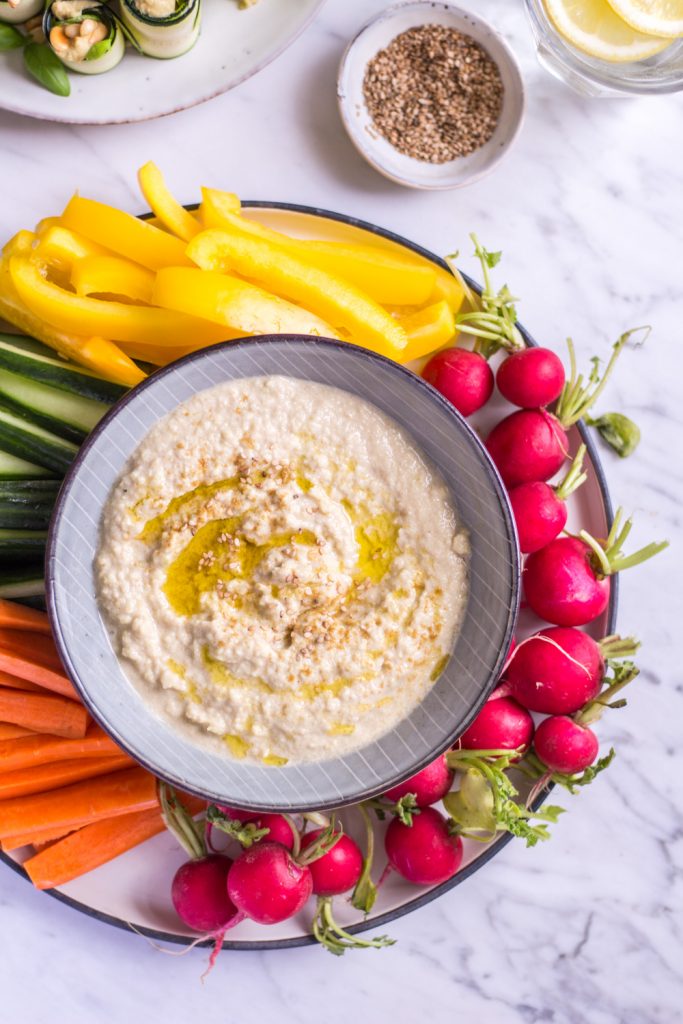 Calcium is needed especially for stronger bones, and teeth, but did you know that it's also important for a healty muscle function? Bet you didn't know that! It is also a very important mineral for our acid-base balance. If our body doesn't get enough basic foods (such as vegetables, greens, potatoes) but too many acidic foods (processed foods, grains), generally speaking, then our body uses the minerals stored in our body to neutralize our blood, so it does not become too acidic. This process is so important, because the quality of our blood determines the transportation of oxygen throughout the whole body aka LIFE. Don't you just love how freakin' genious our body is? I still cannot get over the fact how amazing it is!
So let's just make one thing clear. If you make the zucchini hummus without the chickpeas, this recipe will be raw. If you use chickpeas (tinned or canned or home cooked) you will not have a raw recipe. I suggest you give this recipe a try without the chicpeas first, then add them to it, if you are not completely satisfied yet. Sounds like a plan? Well then let's get cooking.

Zucchini Hummus
Serves:
1 medium container
Ingredients
2 small zucchini / courgettes (about 200 g)
2 tablespoons of tahini, I prefer the peeled one in this case
1 clove of garlic, roasted in the oven at 200 °C for 10 minutes
1 teaspoon of cumin
½ teaspoon of paprika powder
2 tablespoons of of fresh lemon juice
½ teaspoon of salt
2 tablespoons of extra-virgin olive oil
2 - 3 tablespoons of water
1 glas / tin of chickpeas
Instructions
Peel the zucchini, so you only have the beige inner part to work with. Do not through the peel away, use it in a stir-fry or as zucchini noodles.
Place all ingredients into a food processor except for the water and start blending. Add water until you reach the desired, creamy texture, one tablespoon of water at a time, so it won't become too runny.
Enjoy with vegetable sticks, tortilla chips or whatever else you like to dip.
Notes
Zucchini hummus can be a bit bitter because of the tahini. However, tahini is needed for the "hummus-like" taste. Use hulled tahini for best results.
Enjoy!