I normally don't post on Mondays, but today is different because tomorrow is the first December, and I wanted you to have a healthy Christmas cookie recipe in case you wanted to bake some this week. In Germany we have a wonderful Christmas tradition called "Christmas calendars" where you open a door every day from December 1st until December 24th. Christmas calendars are traditionally filled with chocolate, but over time, people have made a very big deal out of them, so now they are usually stuffed with little gifts, baked goods, pictures or whatever else comes to your mind. It's a wonderful tradition and I wanted to share a nice Christmas calendar filling idea for the very late ones of you: Healthy Almond and Cinnamon Christmas Stars. These traditional German Christmas cookies not only make your kitchen smell incredibly Christmassy, they are also really good for you! I've conducted my usual healthy kitchen swaps: I used coconut sugar for normal, white sugar, chia eggs instead of eggs, and powdered them with a little xylit instead of powdered sugar.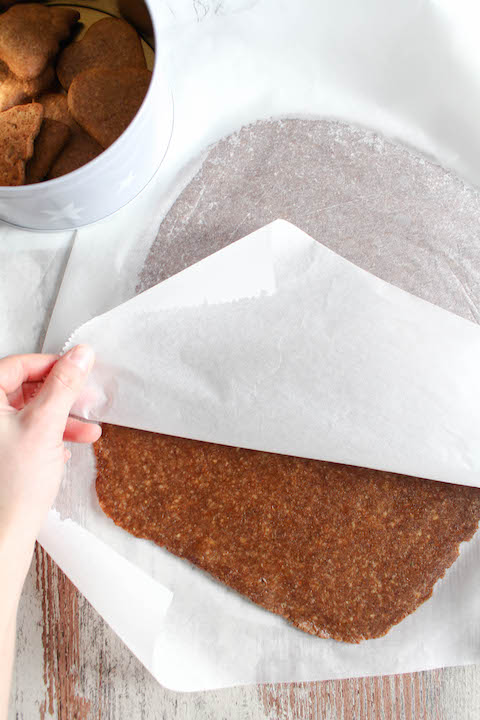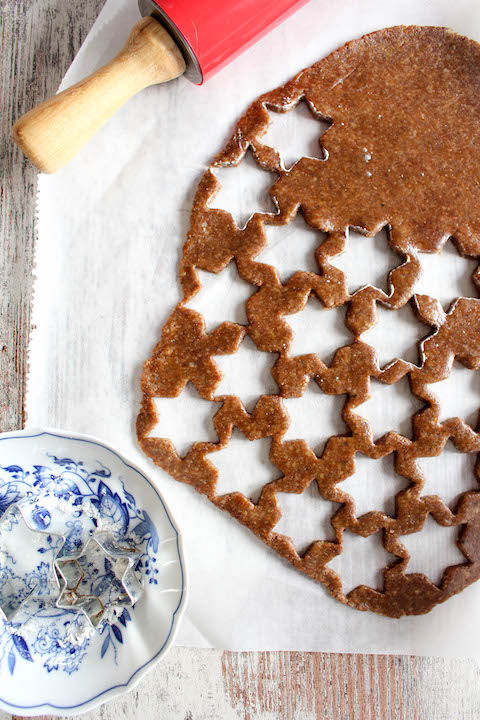 Coconut sugar has gotten a lot of attention lately, and I have become more and more of a fan. Coconut sugar is proven to be a lot healthier than white sugar, because it has a very low glycemic index, which prevents the blood sugar level from spiking. Thus, its energy is released slowly and steadily into our blood, allowing us to feel satisfied and energized for a longer period of time. Therefore coconut sugar is a great sugar alternative especially for diabetics, because it prevents sugar spikes and lows. Coconut sugar is are also filled with many minerals such as potassium, iron, magnesium or zinc, that you won't find in normal white sugar.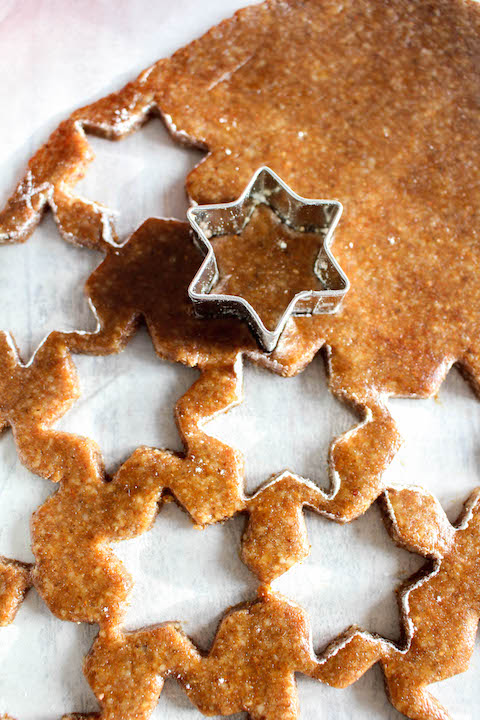 The combination of freshly ground almonds, Chia seeds, coconut sugar, maple syrup, cinnamon and vanilla is simply divine! Your going to love these cookies this Christmas, I promise!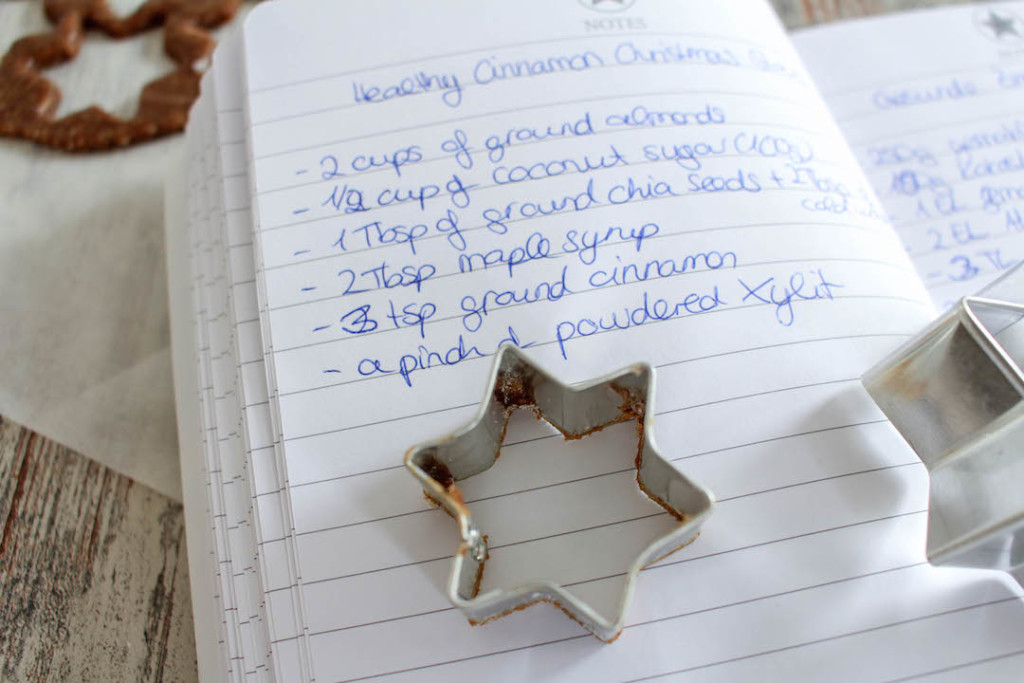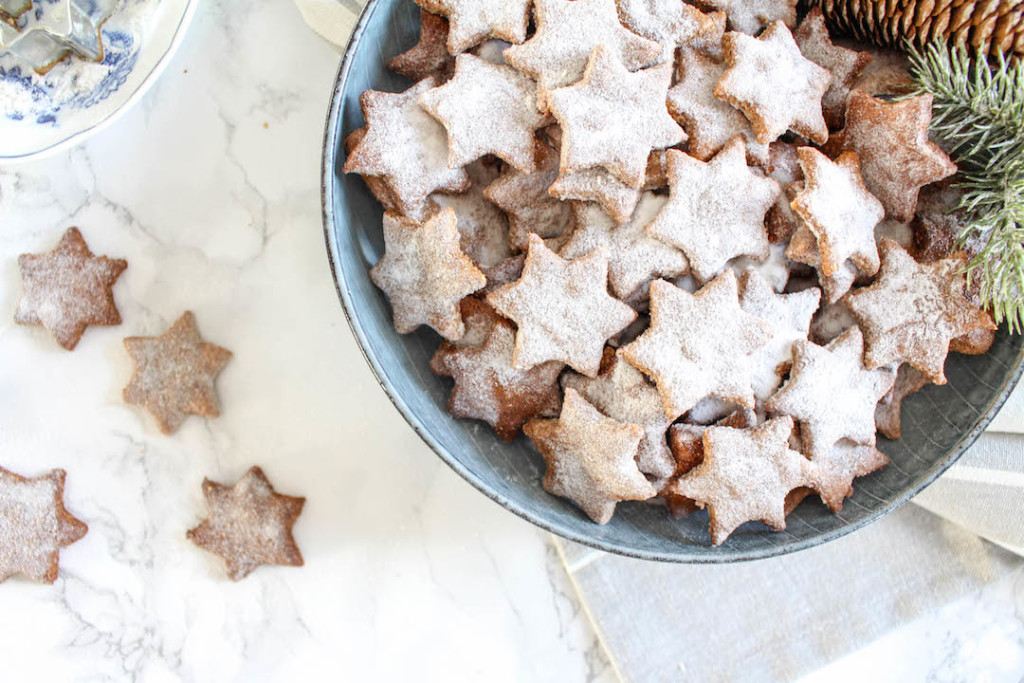 Healthy Almond and Cinnamon Christmas Stars
Ingredients
1¾ cups of freshly ground almonds (250g)
¾ cup of coconut sugar (100g)
1 tablespoon of ground chia seeds
2 tablespoons of cold water
2 tablespoons of maple syrup
3 teaspoons of ground cinnamon
a pinch of vanilla powder
a pinch of powered xylit for decoration
Instructions
Start by grinding the almonds into a flour if you are using whole almonds.
Place the ground chia seeds and the water into a small bowl. Whisk together with a fork and set aside to thicken for about 10 minutes.
Place the coconut sugar, ground almonds, cinnamon and vanilla powder into a food processor or big bowl. If you are using a food processor, then mix it shortly. If you are using a hand mixer, just quickly mix everything.
Add the chia-mix and maple syrup and combine everything for about 30 seconds until a sticky dough forms. If the dough is crumbly, and not sticky, add a teaspoon of cold water.
Pre-heat the oven to 160°C (320°F).
Roll the dough out between two pieces of baking paper. Make sure not to roll it out too thin - it should be around 5 mm thick. Using star shaped cutters, cut out about 30 stars.
Place the cinnamon stars on a baking tray lined with baking paper and bake for 8-10 minutes until golden brown. Let the cookies cool for a few minutes until transferring them to a cooling rack.
Tip: Store the Almond and Cinnamon Christmas Cookies in an airtight container at room temperature for the best result.
Notes
I've updated the measurements, as some of you reported a crumbly dough. If your dough is not sticky, add some water, one teaspoon at a time, so make it more sticky.
If you don't have ground chia seeds, you can grind them in your food processor or use whole chia seeds.
If you don't have a food processor you can use store-bought ground almonds.
Enjoy!