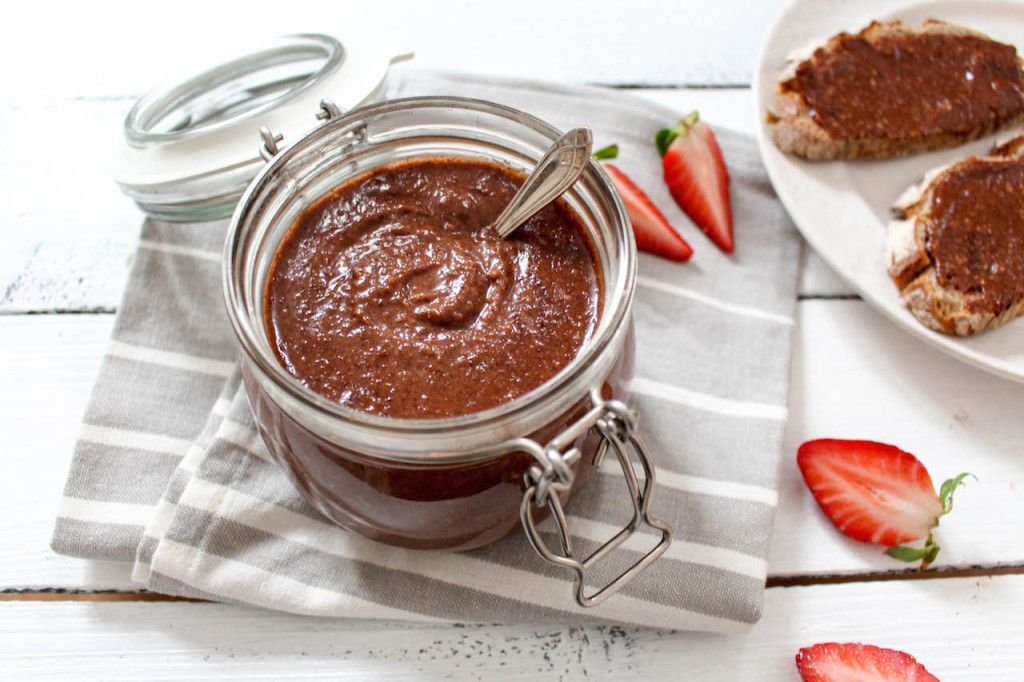 Nutella is probably my favorite food on a cheat day. I love it on bread, crêpes, pretzels, on everything. Even though my family has always led a healthy life, Nutella was always part of our breakfast. We all love it. No hazelnut spread can compete with it, nothing tastes like it, there is simply nothing like Nutella. As we all know, Nutella cannot really be considered healthy, but that's ok because nobody is perfect and we can allow ourselves to eat it from time to time. If you're such a big Nutella junkie like my family or my boyfriend, however, I am talking about going through one jar a week, then this healthy version of Nutella is perfect for you.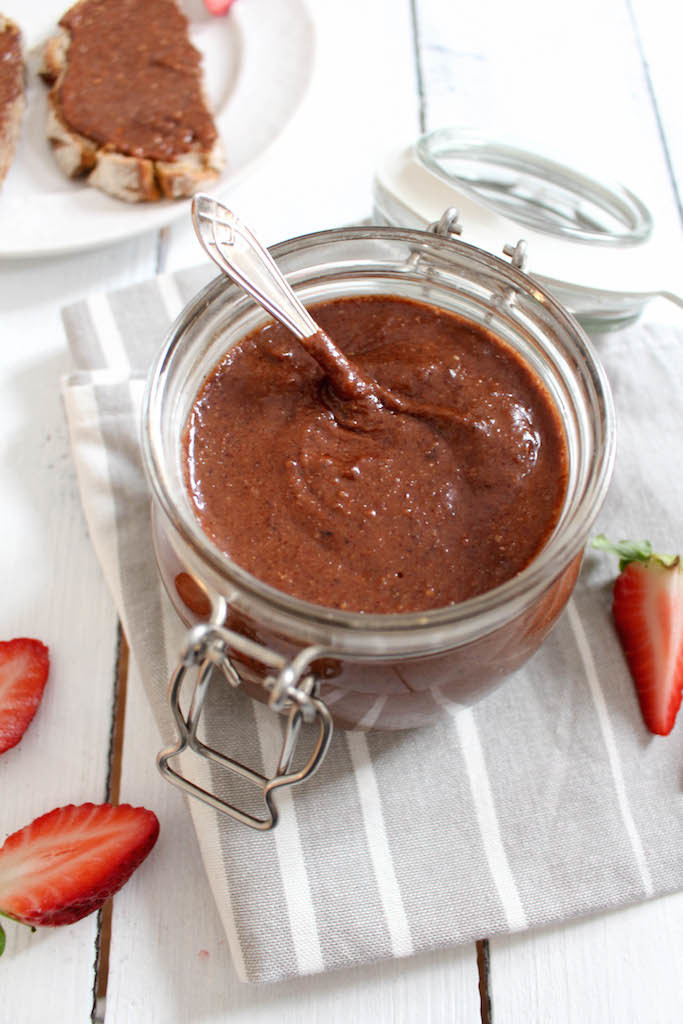 It is so creamy and sweet, nutty and chocolaty, and it even convinced the most sceptical Nutella lovers in my family. It is the best Nutella substitute you will find, and the best thing is that you can easily make it yourselves. All you need is a good food processor, hazelnuts, almond milk, maple syrup and a touch of vanilla. My favorite part is that it is also really good for you as it contains many important nutrients and minerals such as calcium, iron, magnesium, potassium, and zinc which actually make it an antioxidant power spread. The hazelnuts also contain the important vitamin E which is important for healthy skin, hair and nais. The tiny nuts also regulate the blood pressure, which is my excuse to indulge in my healthy nutella all the time. It's really the perfect healthy guilt-free version of Nutella you will ever find.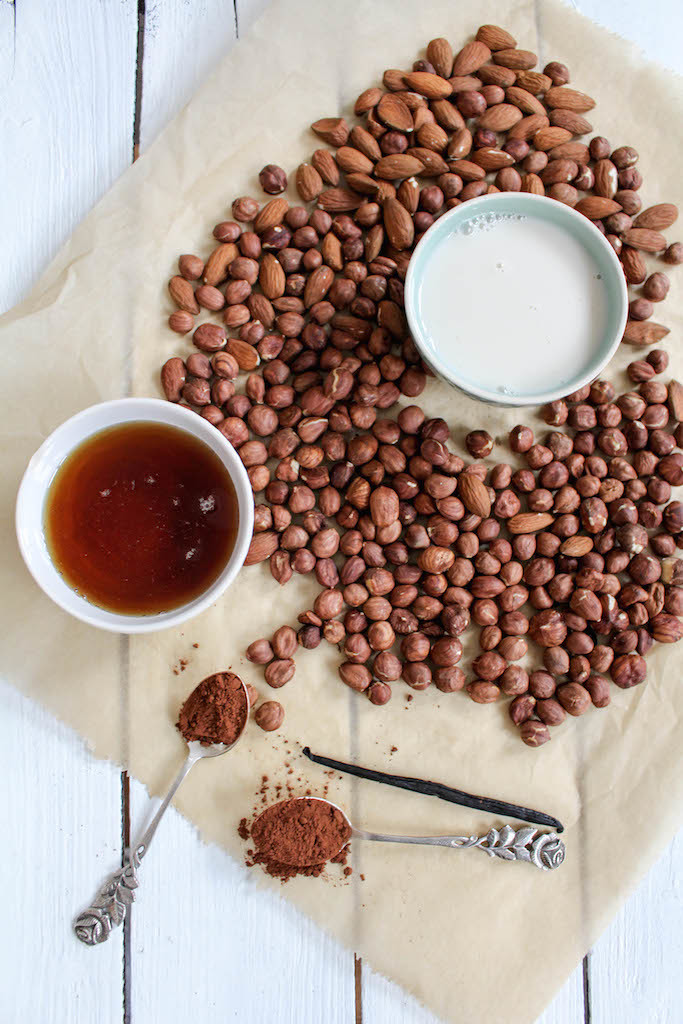 Health benefits in this heavenly healthy Nutella:
– calcium (important for bone, teeth, muscle and nerve health)
– iron (important for healthy red blood cells that transport oxygen through your body)
– magnesium (important to maintain bone integrity, manages blood pressure and cholesterol levels)
– mono-unsaturated fats (decreases risks for breast cancer, important for heart health)
– potassium (lowers cholesterol levels and blood pressure)
– vitamin B (lowers blood pressure, important for healthy nerves, and energy production)
– vitamin E (antioxidant against free radicals, prevents skin ageing
– zinc (important for growth, skin, and a healthy immune system)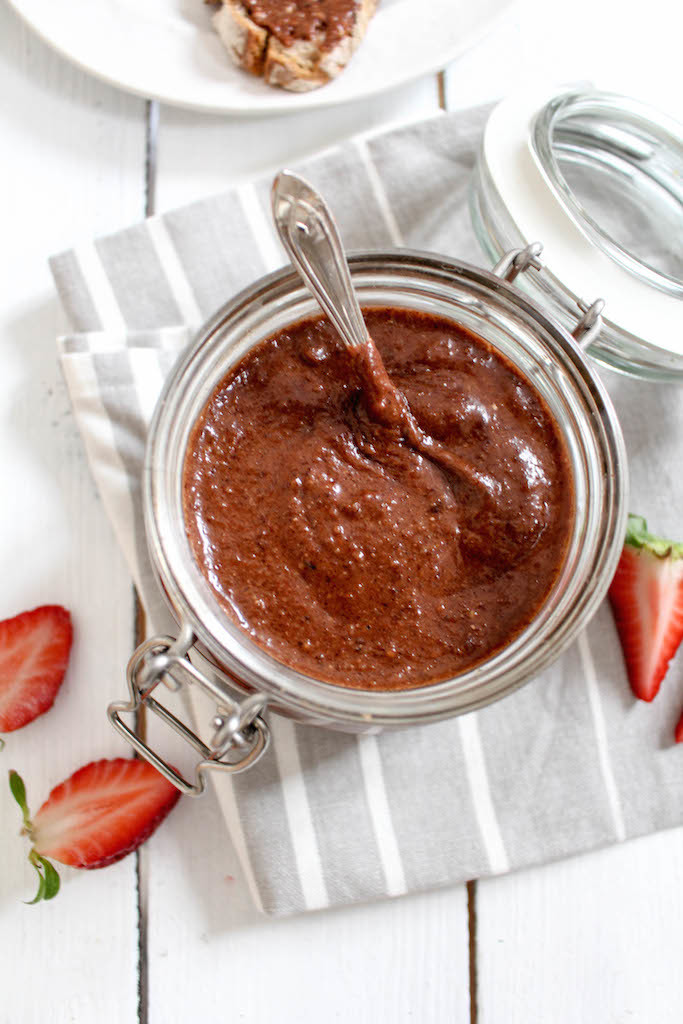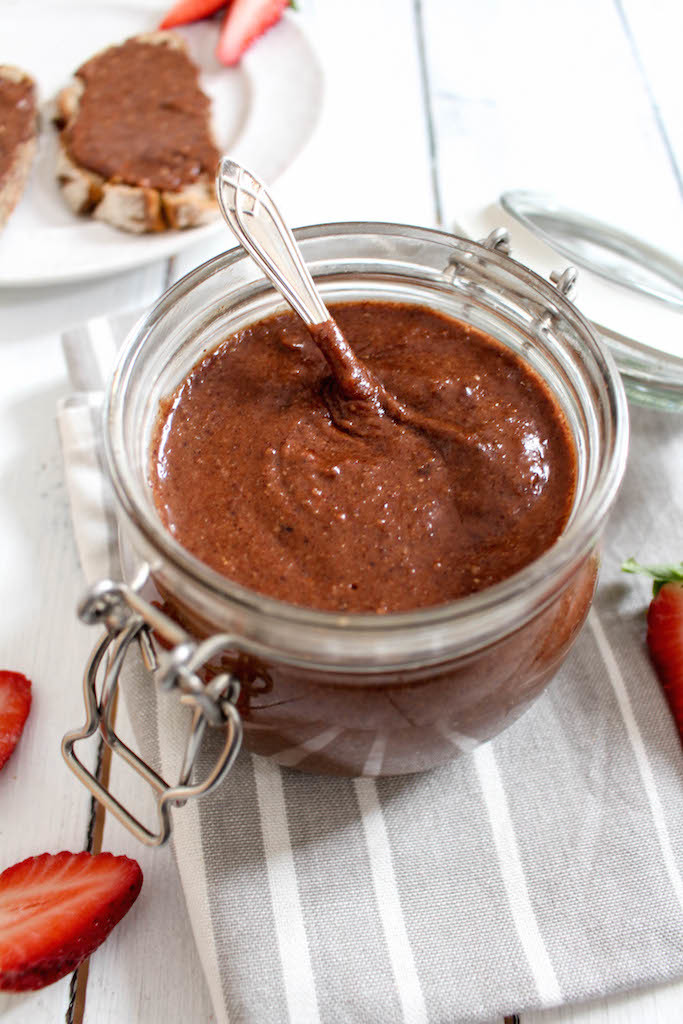 Heavenly Healthy Nutella
Ingredients
2 cups (270g) hazelnuts
½ cup (120ml) maple syrup
½ cup (120ml) hazelnut or almond milk
3 tbsp raw cacao
the insides of a vanilla pod
Instructions
Start by preheating the oven to 180°C (360°F).
Pour the hazelnuts into a baking sheet and bake them for 10 minutes so they can develop their unique nutty flavor. Remove from the oven and let them cool for another 10 minutes.
Once they have cooled down, add the hazelnuts to a food processor and blend them for about 5 minutes until they are broken down nicely. This may take longer or less time depending on the strength or your food processor.
Now add the maple syrup, the cacao and the vanilla and blend for another one or two minutes.
Then gradually add the almond milk and blend again until the nutella is nicely smooth. Add more maple syrup or almond milk if desired.
Stored in an air tight container and in the fridge it should last for about 1 week.
Enjoy!