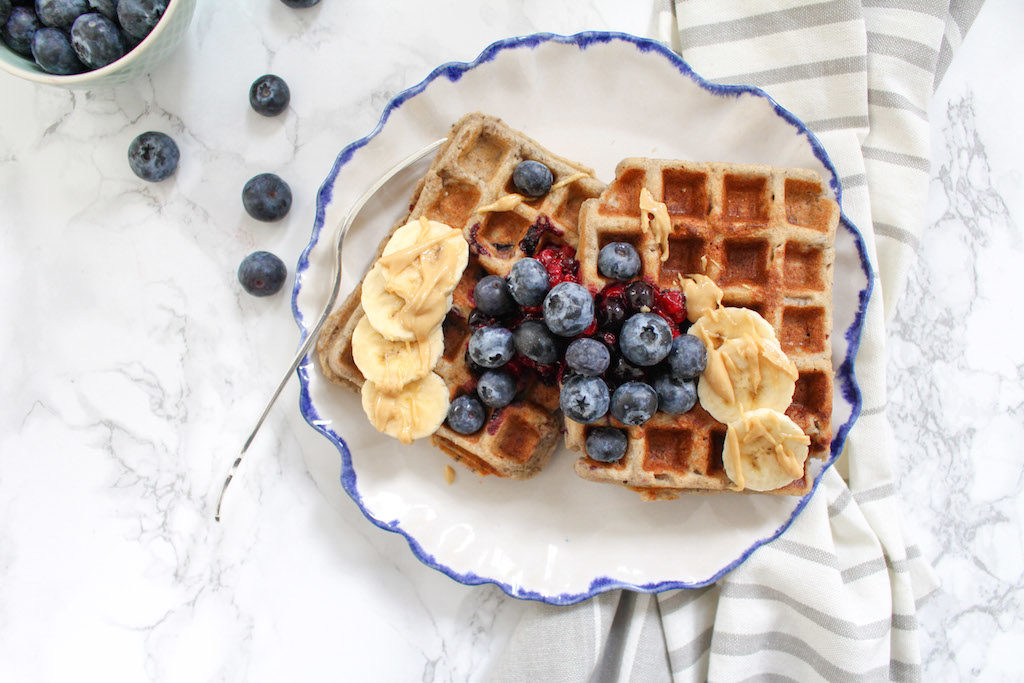 I realized the other day that my blog lacks a good waffle recipe. Which is crazy, given that I love all sorts of waffles. Being German, I normally don't have waffles for breakfast, but rather for dessert, but as I have lived in the United States for a decent amount of time, I've come to appreciate hot and delicious blueberry waffles in the morning as well. I've recently developed this recipe for SodaStream*, and I thought that it would definitely be a great fit for the blog as well. 
Now, what does SodaStream* have to do with waffles, you may think. Let me tell you: a lot! Have you ever baked with sparkling water before? If you haven't then you've definitely been missing out. Sparkling water makes every batter better. Ok, enough with the word games. But seriously, sparkling water adds a nice "fluff" to baked goods such as pancakes or waffles. In the plant based kitchen, it can even substitute eggs as a fluffy-making ingredient. The carbonation vanishes while the goods are baked, leaving a fluffy, and light dough. I use my SodaStream* mainly for baked goods as I prefer to drink still water, but for baking, it's one of my best friends.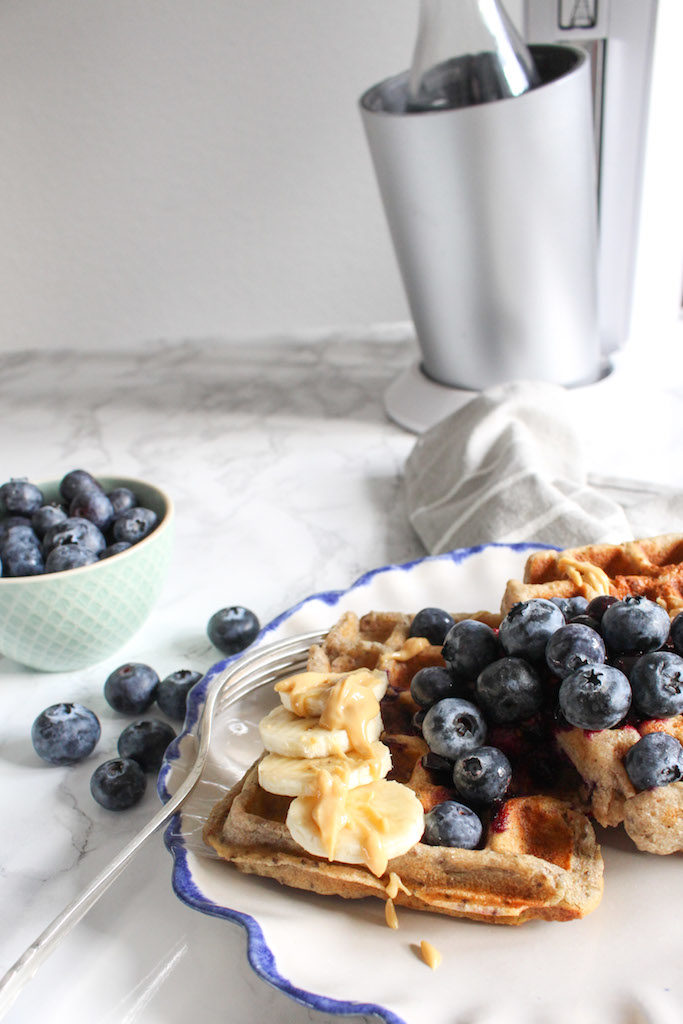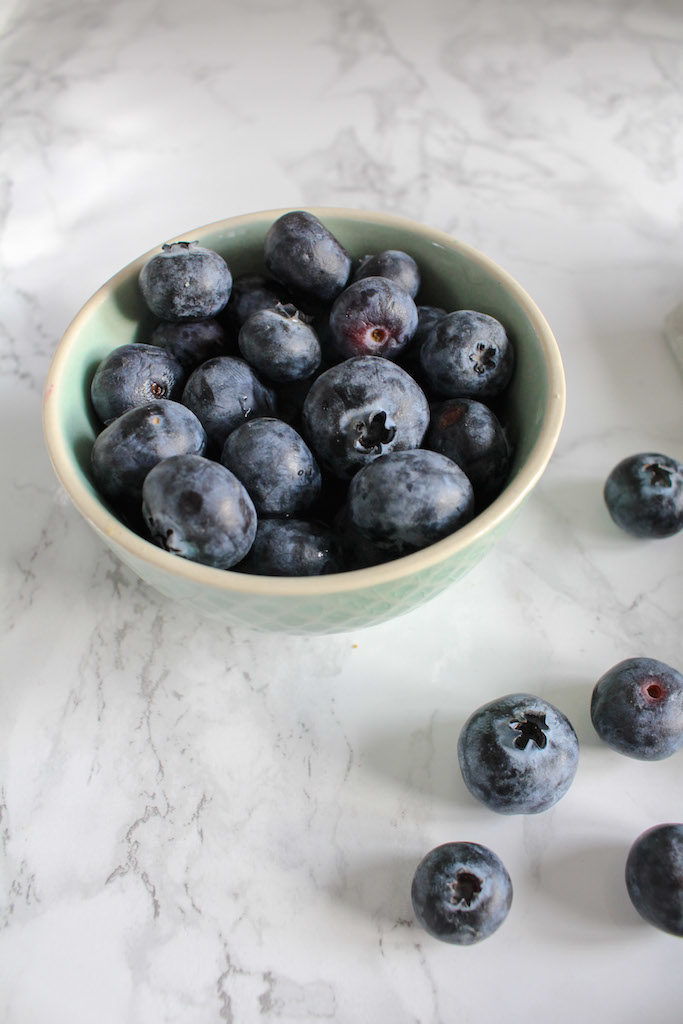 These healthy blueberry buckwheat waffles are obviously made from clean, natural ingredients only. I love the mix of oat and buckwheat flour, as it is a naturally gluten free flour mix, but does not make the waffles as crumbly as your typical gluten free versions. Buckwheat and oats are also a very good source of plant based protein and fiber, which help to keep us full for longer, and prevent our blood sugar levels from spiking. Instead of butter, these waffles contain almond butter, which adds a good amount of healthy fats that protect our hearts from cardiovascular disease. The blueberries then add a welcome touch of sweetness in these otherwise not overly sweetened waffles. Therefore, it is fine to have not one but even two of them for breakfast.
What makes these waffles even better is the berry chia sauce that goes so well with it. Please do not skip the sauce as it is not only a really affordable sauce (if you use a frozen berry mix), but also a really quick one that can easily be prepared while the waffle batter has to sit. The berry chia sauce complements the blueberry waffles so well as it gives it a delicious sweet and sour taste.
I can't wait for you to try them, because they really are a favorite of mine.

Healthy Blueberry Buckwheat Waffles with Berry Chia Sauce
Ingredients
For the waffles:
1¼ cup (150g) of buckwheat flour
1 cup (100g) of oats, use gluten-free for the GF version
½ cup (120ml) of sparkling water
2 teaspoons of aluminum-free baking powder
2 tablespoons of extra virgin coconut oil, more for frying
2 tablespoons of almond butter, or any other nut butter
2 tablespoons of maple syrup, rice syrup or honey
2 tablespoons of chia seeds + 6 tablespoons of cold water
2 tablespoons of oat or almond milk, or any other plant-based milk
1 handful (ca. 50g) of fresh blueberries
½ teaspoon of apple cider vinegar
½ teaspoon of cinnamon (optional)
a pinch of salt
For the berry chia sauce:
2 cups (500g) of fresh or frozen berries (blueberries, raspberries, blackberries, red currants)
2 tablespoons of chia seedsEL Chia-Samen
2 tablespoons of maple syrup, rice syrup or honey
Instructions
Add the oats to a food processor and blend until a flour forms.
Combine oat flour, buckwheat flour, aluminum-free baking powder, cinnamon and salt in a bowl and mix well with a wooden spoon.
In a separate small bowl, combine the chia seeds and water, and let it sit for at least 10 minutes to thicken. Stir frequently.
Combine the plant based milk and apple cider vinegar in a third bowl, and let sit for 10 minutes as well.
Add the coconut oil, almond butter, maple syrup (or sweetener of your choice), chia mix, and plant based milk mix to a food processor and mix well until a wet mixture forms. Alternatively you can use a hand mixer or a spoon to mix the batter.
Now add the dry ingredients to the wet ingredients and mix well. Finally, add the sparkling water one tablespoon at a time. Cut the blueberries in half, and carefully mix it into the batter using a spoon.
Let the batter sit for at least thirty minutes.
In the meantime, prepare the berry chia sauce.
Combine the fresh or frozen berries with the maple syrup (or sweetener of your choice) in a saucepan. Heat them at medium to high temperature while stirring frequently. Reduce the heat and let simmer for 5 minutes, while breaking down the berries with a spoon. Leave some for texture.
Now add the chia seeds and let it thicken on low heat while stirring frequently. Set the sauce aside to thicken even more.
To make the waffles, grease a waffle maker und use about three tablespoons of batter per waffle. Bake them at low heat, never on high heat, because the batter needs a while longer than regular waffle batter.
Serve them with the berry chia sauce, fresh blueberries, banana slices or almond butter.
Enjoy!
*This post is brought to you by SodaStream. Thank you for supporting the brands that make hour-long recipe testing sessions in the Heavenlynn Healthy kitchen possible. 
---
Did you make this recipe or have any suggestions, questions or comments?
Feel free to leave a comment below, and don't forget to tag your creations on social media using #heavenlynnhealthy.
I'd love for this blog to be a dialogue.
---