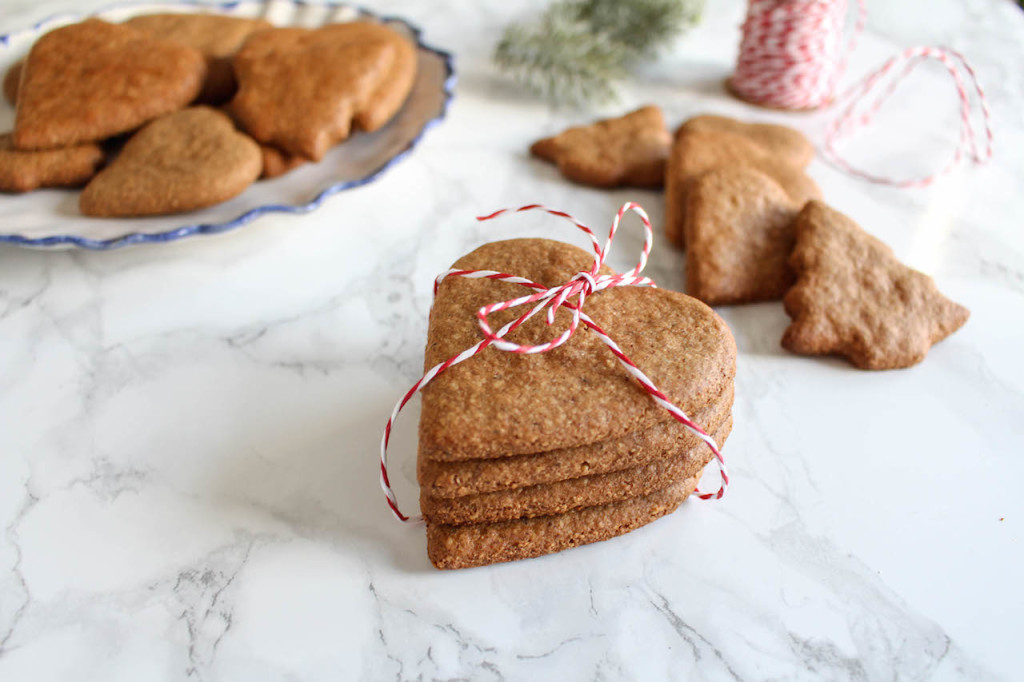 These cookies were my first attempt to "healthify" Christmas cookies, and they are by far my favorite one. Although they are completely gluten free, plant based and refined sugar free, they taste just like regular Gingerbread cookies. A mixture of buckwheat and oat flour prevents them from being crumbly like most gluten free cookies and the mixture of spices makes them taste just like traditional Gingerbread cookies.
Making gingerbread cookies is so festive and brings back so many wonderful childhood memories that I was in such a good mood all day when I made these. I am also very happy that all of my friends love baking Christmas cookies, and none of them thinks that doing so is childish. We need to cherish the memories that we made as kids, and making Christmas cookies is a way to remember those carefree and happy times, don't you agree?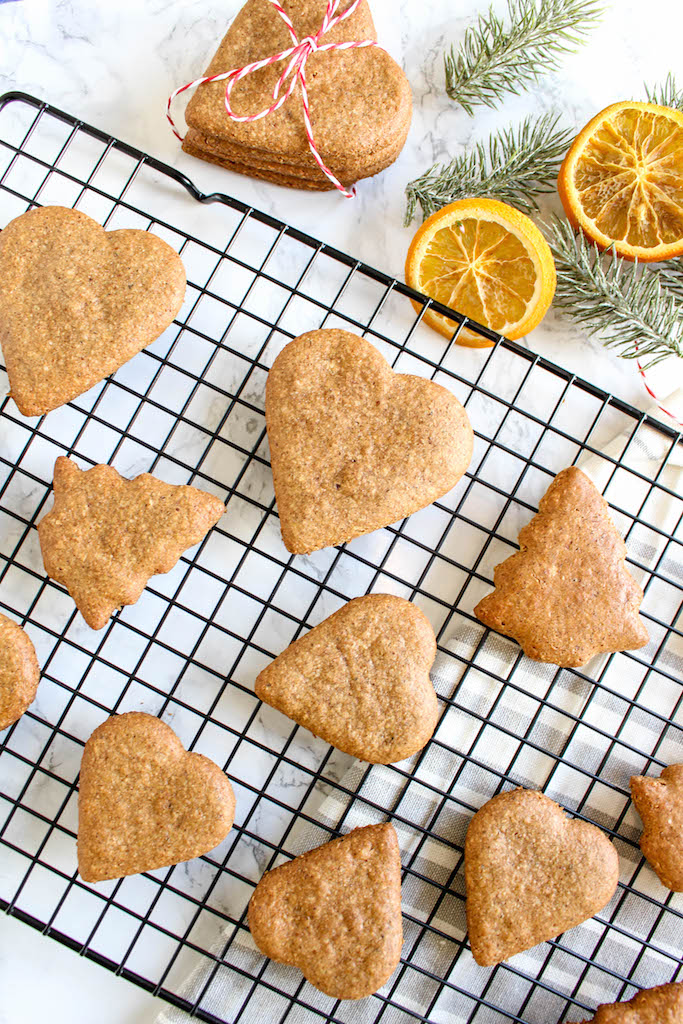 The cookies are made only with natural ingredients such as almonds, buckwheat and oat flour, almond butter, coconut sugar, maple syrup and a variety of different spices. None of these ingredients are refined, which means that most of the vitamins and minerals are still present. For example, buckwheat flour contains so many more healthy nutrients than refined white flour, which contains literally no vitamins or minerals at all. Buckwheat has amazing blood pressure and cholesterol lowering properties, which is mainly due to its high magnesium content. Magnesium relaxes our blood vessels, allowing the blood to flow through our vains easier, which in turn decreases blood pressure. Buckwhat is also a great source of healthy fiber, which fills us up more quickly and keeps us satisfied longer.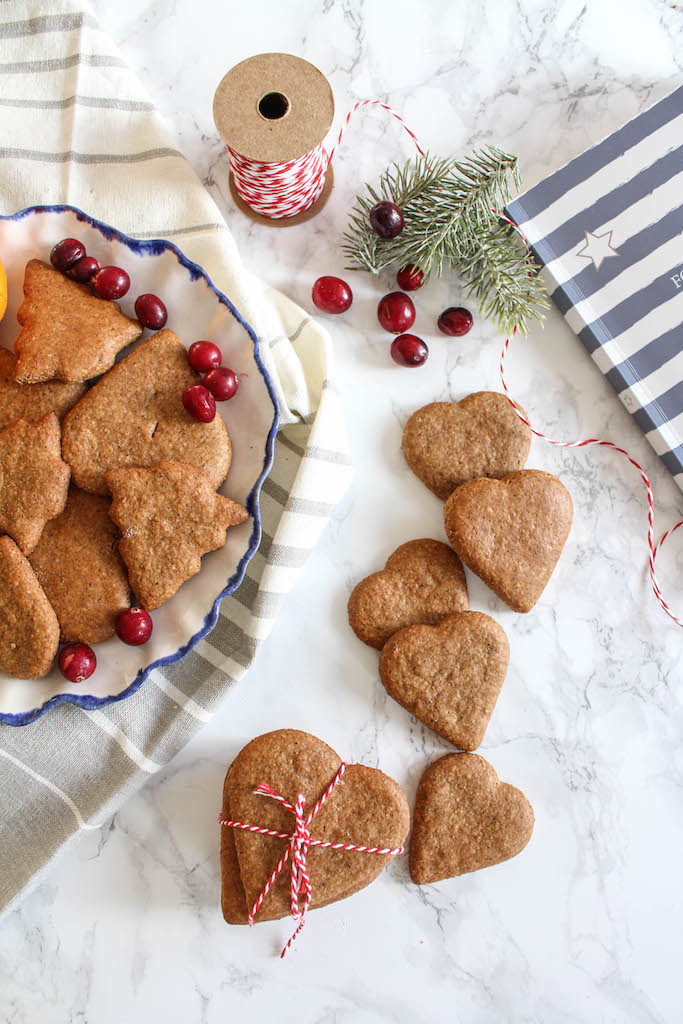 These cookies are also completely free of refined sugar, which is found in literally every packaged food and lacks any beneficial nutrients. Instead I used coconut sugar ,which comes with a broad array of minerals such as potassium, magnesium, iron or zinc. Coconut sugar is proven to be a lot healthier than white sugar, because it has a very low glycemic index, which prevents the blood sugar level from spiking. Thus, its energy is released slowly and steadily into our blood, allowing us to feel satisfied and energized for a longer period of time. Therefore coconut sugar is a great sugar alternative especially for diabetics, because it prevents sugar spikes and lows. Coconut sugar is are also filled with many minerals such as potassium, iron, magnesium or zinc, that you won't find in normal white sugar.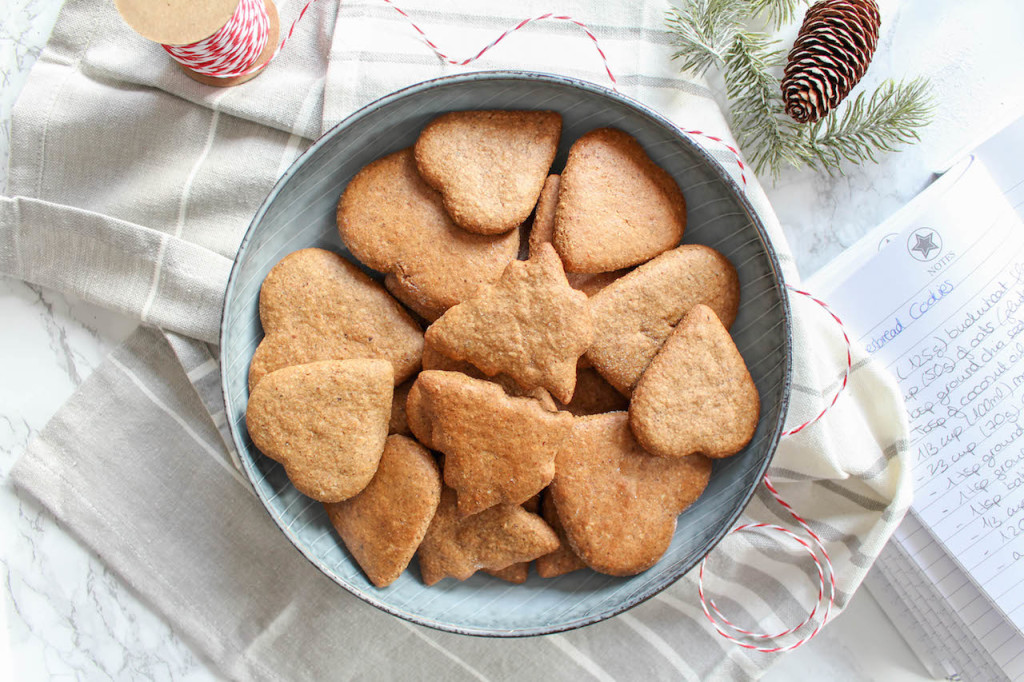 Healthy Gingerbread Cookies
Ingredients
1 cup (125g) of buckwheat flour
½ cup (50g) of oats
⅓ cup (50g) of almonds
1 tablespoon of chia seeds
2 tablespoons of cold water
2 tablespoons of extra virgin coconut oil
½ cup (120g) of almond butter
⅓ cup (80ml) of maple syrup
⅔ cup (70g) of coconut sugar
1 teaspoon of ground ginger
1 teaspoon of cinnamon
1 teaspoon of baking soda
a pinch of salt
Instructions
Start by placing the chia seeds and the water into a small bowl and whisk together. Place the chia egg into the fridge for about 10 minutes to thicken.
Then grind the almonds into a fine flour in your food processor. If you don't have a food processor then you can use already ground almonds. Set aside.
Place the coconut oil and almond butter, coconut sugar and chia egg into a big bowl or food processor and mix well. Add all remaining ingredients and whisk together until a nice thick dough forms. You might have to add a teaspoon or two of almond milk, depending on the consistency of your dough.
Wrap the dough into plastic wrap and place it into the fridge for at least 30 minutes.
Pre-heat the oven to 180°C (356 F°)
Roll the mixture out between two sheets of baking paper until its perfectly smooth and about 0.5 cm thin. You could also cover the top of a counter and the rolling pin with buckwheat flour and roll out the dough on the counter. I prefer the method with baking paper because it is a lot less messy.
Using your favorite shaped cutters, cut out your gingerbread cookies and place them on a baking tray that you aligned with baking paper. Once you have used the first batch of dough, re-roll the remaining dough to make even more cookies. Repeat this procedure until you have transformed all of your dough into gingerbread cookies.
Bake the cookies for 20 - 25 minutes until golden brown. The exact baking time will vary depending on your oven.
Leave them to cool before eating.
Notes
If you prefer your cookies to be less sweet, then feel free to reduce the amount of maple syrup in this recipe.
Healthy Gingerbread Cookies:
Have fun in your Christmas bakery!
---
DID YOU MAKE THIS RECIPE OR HAVE ANY SUGGESTIONS, QUESTIONS OR COMMENTS?
Feel free to leave a comment below, and don't forget to tag your creations on social media using #heavenlynnhealthy.
I'd love for this blog to be a dialogue.
---