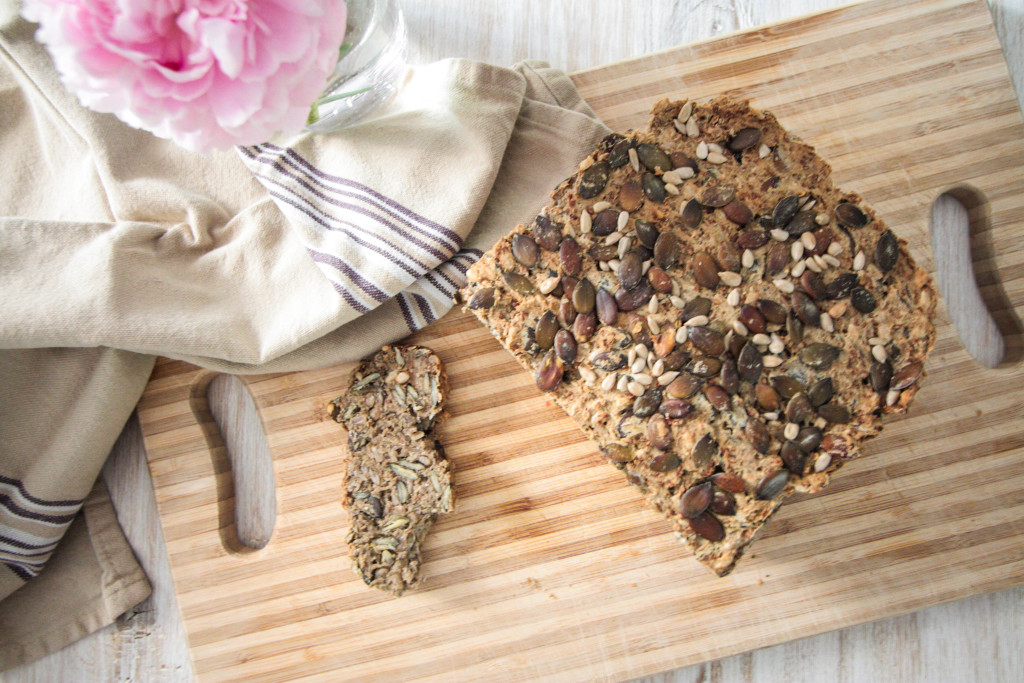 This bread was the first thing I made when I turned completely dairy-free, gluten-free, and refined sugar-free two years ago. As I started researching for a blood pressure friendly diet, I came across different superfood breads from my four favorite health bloggers such as from my heroine Oh She Glows, the Swedish Health Gurus The Green Kitchen Stories, My New Roots, or the amazing Deliciously Ella.  They all have their own superfood bread, and you will find that they are all pretty similar, and almost all of them use something called "psyllium husk seeds or powder" in their recipes. Psyllium husk is a fiber that is commonly associated with helping increase digestion movement in your bowel. However, this recipe uses only a small amount, and in combination with the amount of flour and other ingredients, it barely has the known bathroom effect. In fact, psyllium husk is shown to have a positive effect on heart health and cholesterol levels.
Contrary to many superfood breads, this one is completely nut-free, because I have had several readers message me that they cannot cook many of my recipes, because they all contain nuts. So, my nut-allergic readers: this one's for you.
The best thing about this bread is that every single ingredient comes with at least one amazing health benefit. There are no empty carbs or blood pressure increasing ingredients in this superfood bread. I promise:

Health benefits in this buckwheat superfood bread:
Chia Seeds: There are about a million amazing health benefits from chia seeds. They are packed with healthy fatty acids called omega-3, which lower blood pressure and cholesterol levels.
Buckwheat: Gluten-free grain, that is full of protein and lowers the risk of heart disease.
Oats: Oats are extremely high in fiber, which aids digestion and stabilizes your blood sugar level. They are also known to lower the risk of heart disease and high blood pressure.
Pumpkin Seeds: High in antioxidants which fight cell-harming free radicals in your body. This way, pumpkin seeds help to prevent chronic diseases caused by cell damage.
Sunflower Seeds: Vitamin E is the most abundant vitamin in sunflower seeds, which is amazing because vitamin E is very important for healthy skin, nails and hair.
Psyllium Husk: The fiber has a positive effect on heart health and lowers cholesterol.
Sparkling Water: Water is the most important resource in the world and it is vital for humans to be healthy and alive. In this bread, however, the baking evaporates the water, but I just wanted to point out once more how important fluids are.
Honey: Since I am not strictly vegan, I use honey for its amazing health benefits. It is highly anti-bacterial and raw honey comes with a long list of vitamins and nutrients such as iron, copper or magnesium which are all important for a healthy and functioning body.
Apple Cider Vinegar: The plant-based cider is shown to lower blood sugar levels, which is great for type 2 diabetics.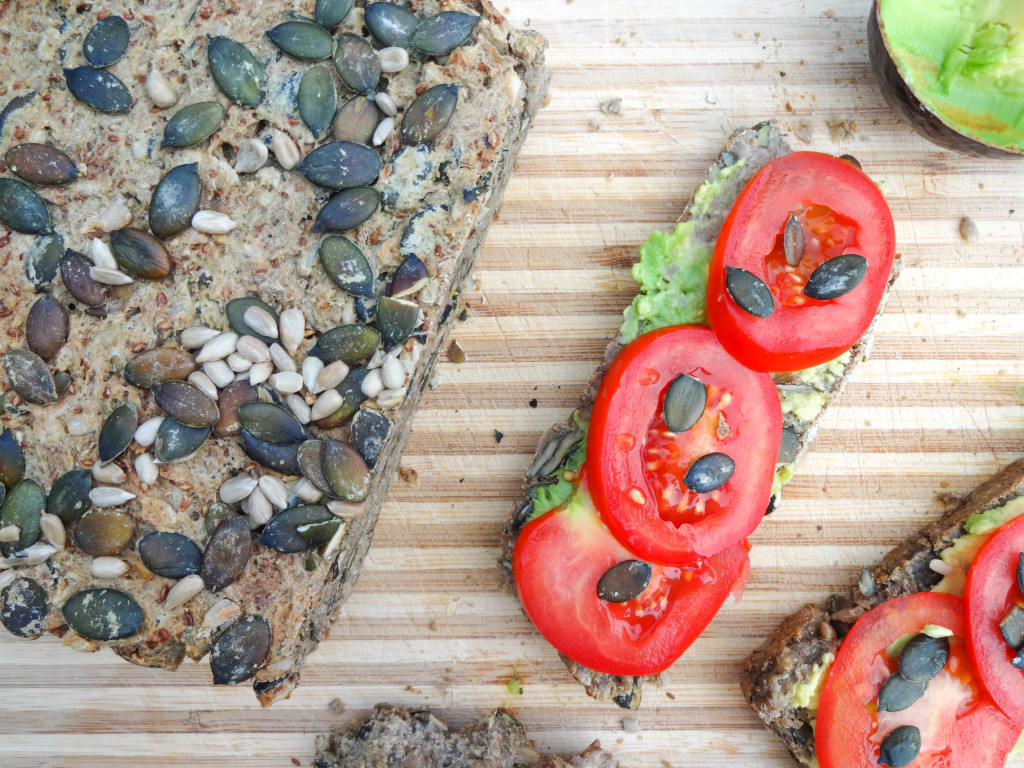 Besides from being amazing for your health and well-being, the bread also tastes so good. I almost could not believe that it actually tasted like "real whole-wheat bread" when I tried it for the first time. It made switching to a plant-based diet so much easier. I actually did not even want to eat boring American wheat bread anymore, because this buckwheat superfood bread gave me so much energy. It also filled me up quickly, and a slice or two was enough to get me going for hours. I love the bread with some mashed avocado, tomatoes and a pinch of Sal d'Ibiza (or any sea salt) and a squeeze of lime or lemon juice. It also tastes delicious with almond or any kind of nut butter and bananas. That's my favorite breakfast besides overnight oats. I hope you'll love this bread just as much as I do.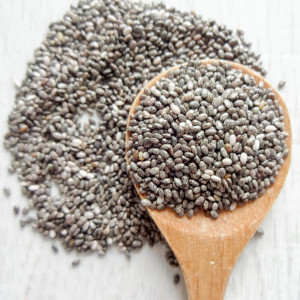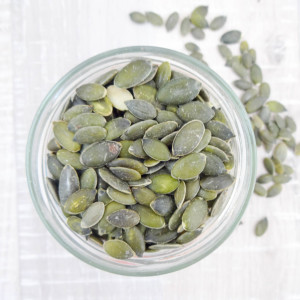 Chia Superfood Bread
Author:
Heavenlynn Healthy
Ingredients
3 cups (400g) buckwheat flour
1 cup (100g) rolled oats (celiacs use gluten-free oats)
1½ cups (180g) pumpkin seeds
1½ cups (210g) sunflower seeds
3 tbsp chia seeds
4 tbsp psyllium husk seeds (or 3 tbsp powder)
2½ cups (625ml) sparkling water
1 tsp honey or agave
1 tbsp apple cider vinegar
1 tsp salt
Instructions
Start by pouring the oats into your food processor and blend it until a smooth flour forms. Add this to a big bowl and stir in all the dry ingredients. Mix well with a big spoon or use your hands.
Now add the sparkling water, honey or agave, apple cider vinegar and salt, and mix again until everything is evenly covered like a wet dough.
Then cover it up with a kitchen towel and let it stand for at least 1 hour to allow it to soak in the water and firm up. Once the dough has completely soaked in all water (it really should not be runny anymore. If it is, then add some more psyllium husk seeds).
Pre-heat the oven to 180°C. Grease a loaf tin with coconut oil or olive oil and press the superfood dough into the tin with a spoon. Bake the bread for 50 to 60 minutes until you can pull a knife out of the center of it clean.
Once it's ready, take it out of the oven and let it stand for 15 to 20 minutes before enjoying it plain or with your favorite bread toppings or spreads.
Even though you shouldn't store bread in the fridge, I do, because it simply lasts longer that way. Since the bread is very moist, it won't dry out as quickly as other breads do. I also like to slice it and freeze the slices separately so I can warm them up one by one as I go.
Enjoy!