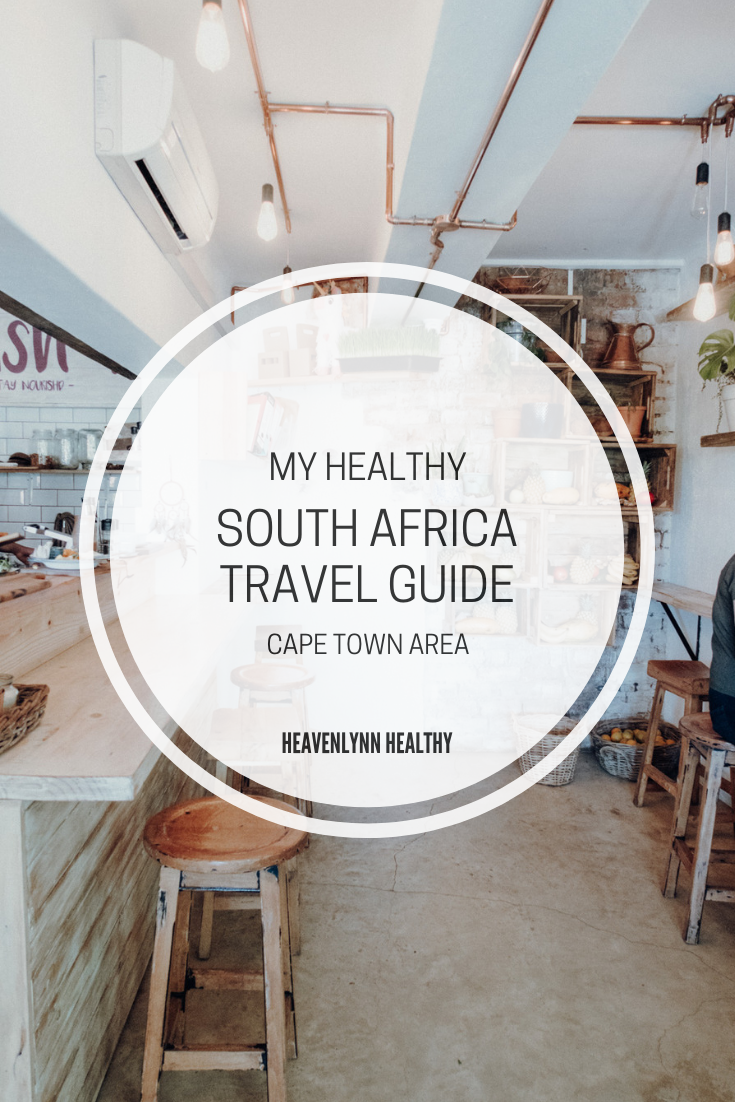 Although our trip to South Africa was already four months ago, I have finally managed to capture our impressions and tips of this dream trip. Part 1 is all

about Cape Town and its surroundings and Part 2 will include our route through South Africa.

Also, get ready for a delicious South African dish this week, which will follow this week.

So it's going to be a real South Africa theme week.
Somehow, I missed the cape town trend.

Friends of mine have been telling me how great Cape Town and South Africa is for years, but so far South Africa just wasn't on my radar when it comes to (healthy) travel.

A big mistake, as I realized.

Oh, why have not I discovered South Africa as a travel destination before?

I guess fate allowed my sister to spend semester abroad and we have used the opportunity as a family to visit her there.

First family vacation since I don't know when.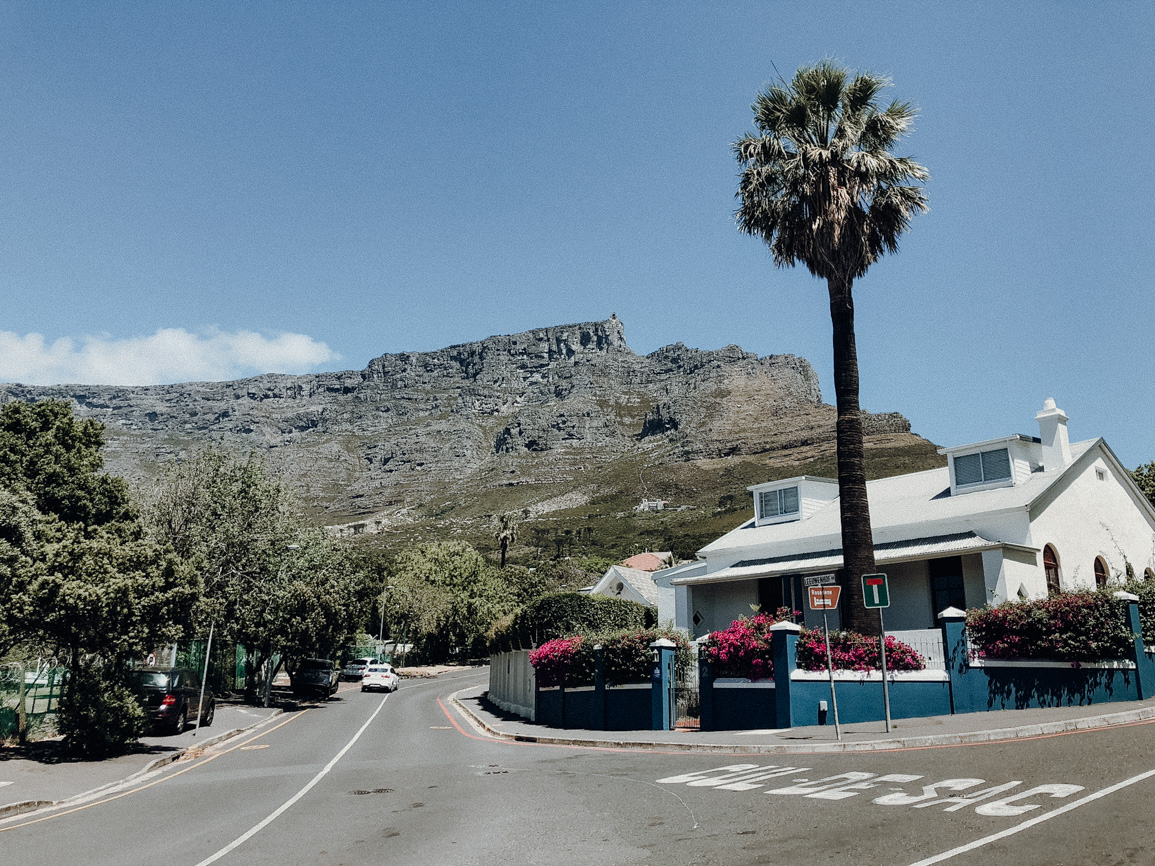 Cape Town is a fascinating city.

The diversity that awaits you here is hard to describe.

The c

ulinary Cape Town, according to a South African friend of my sister, has changed a lot in the last 10 years.

Today it is a mecca for all culinary enthusiasts and especially for health freaks like me.

Never have I eaten as well as in Cape Town.

I have collected so many new ideas for the blog, I enjoyed ordering everything from the menu, without having to worry about the price.

Cape Town and South Africa are relatively cheap, which is why

f

or students like my sister it is actually cheaper to go out for dinner than to cook for themselves.
Getting around
We had a rental car, which we only used on the Garden Route and only a few times in Cape Town itself. Our main mode of transport was Uber.
Especially in terms of security and transparency, Uber is the best choice that locals only use.
However, you need data for the app or you buy a local SIM card with data.
Safety
I can only assess the safety in Cape Town subjectively.
We have never felt insecure, but according to the locals and the German Foreign Office, Cape Town and South Africa can be dangerous.
You just have to stick to the rules, leave absolutely nothing in the car, always keep the car locked while driving and pay with credit cards rather than cash.
You should exercise normal caution and not be alone in the dark, but that is basically true of any city in the world.
Accommodation
We had a really nice AirBnB in Sea Point with views of the ocean from the two rooms.
The best residential areas are Sea Point and Green Point, the other areas I can not assess.
The only thing that was not so ideal in our accommodation, were the steep stairs, which were a bit dark in the evening.
A security company guards it 24/7.
In retrospect, I would probably rather choose a place with pool in Cape Town.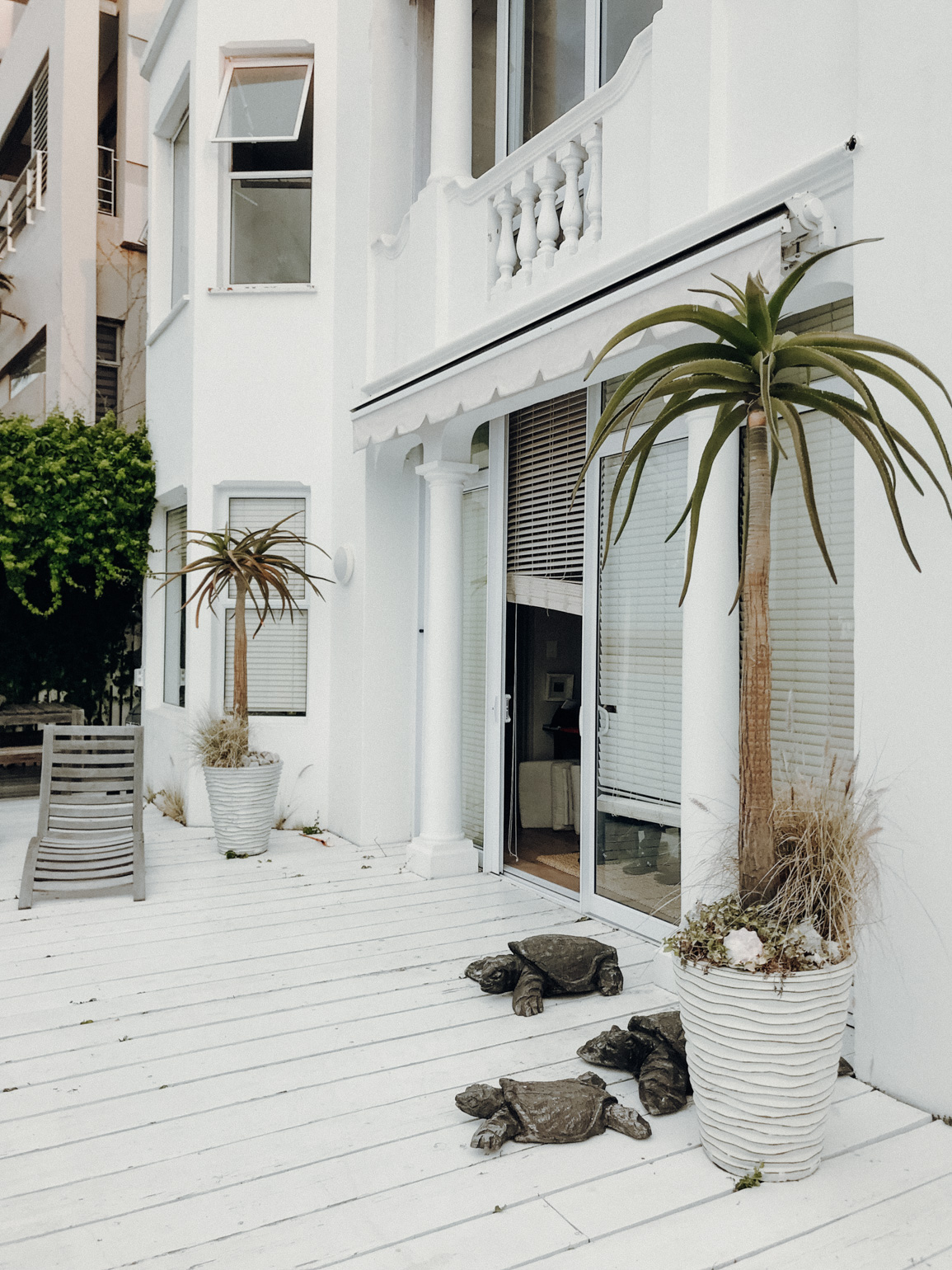 Healthy restaurants in Cape Town and the surrounding area
For information only: we traveled as a family through South Africa, i. we were a group of different eaters. Two men who like to eat meat sometimes, my sister who has to eat gluten-free and of course me who likes plant-based and sugar-free food. That's why the restaurants and cafes in this post are not all total "healthy places", but rather restaurants with healthy options. A vegan Cape Town guide has the love of Mia Hey Lila Hey on her blog.
Nourish'd
By far one of the best healthy places in Cape Town. Nourish'd is tiny, but the menu is fantastic! The juices are highly recommended, as are all the avocado breads and, oh well, everything!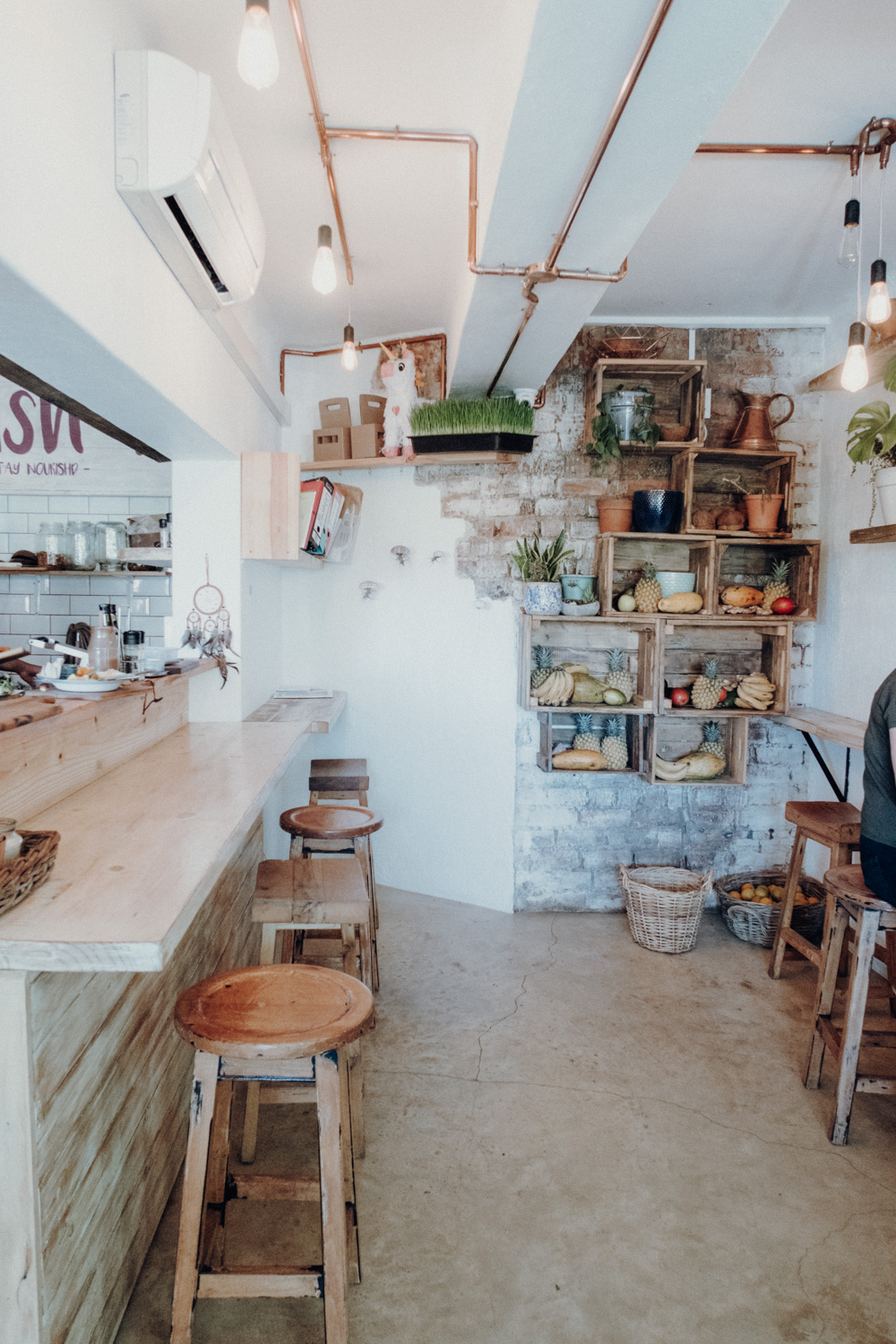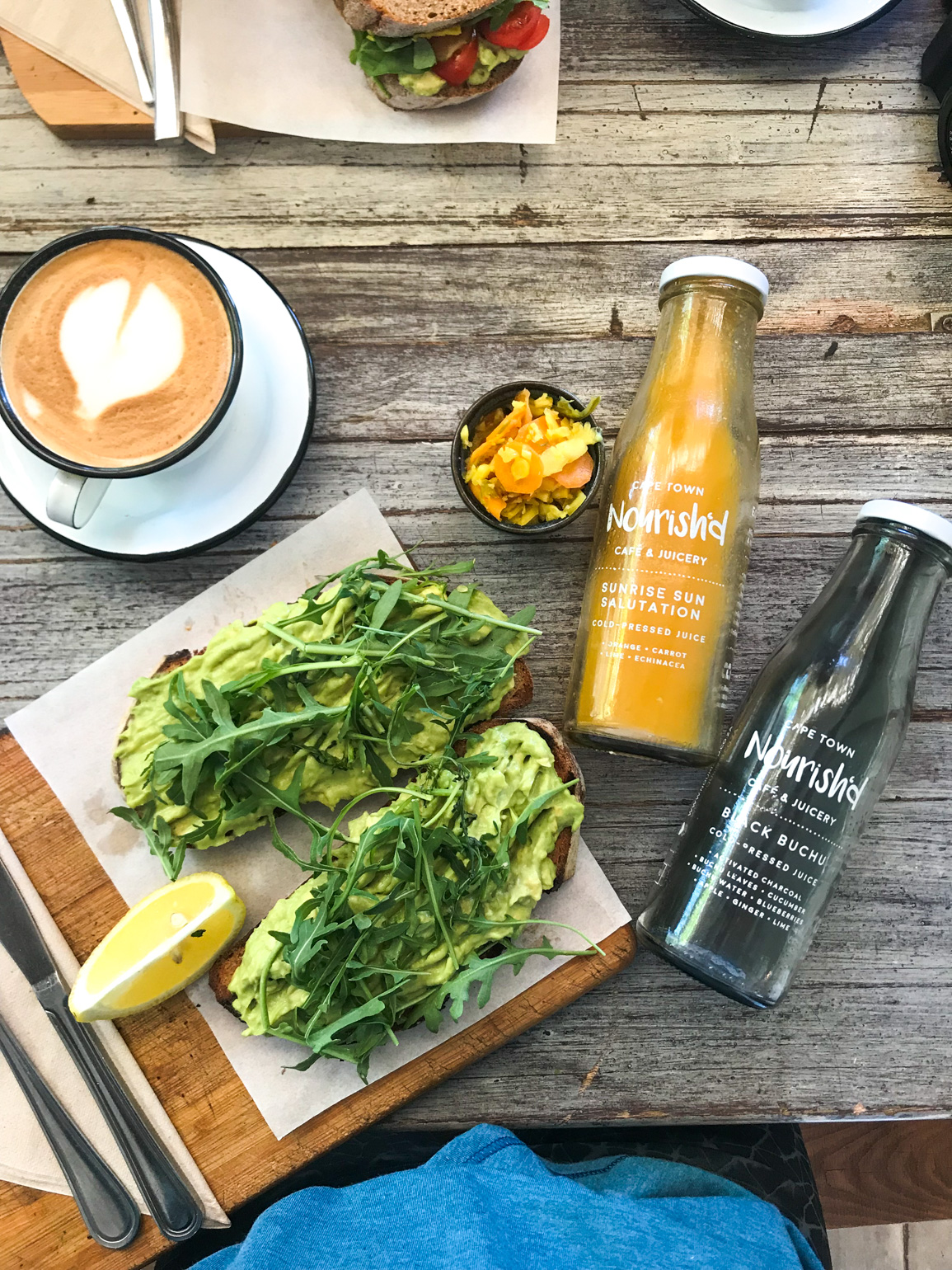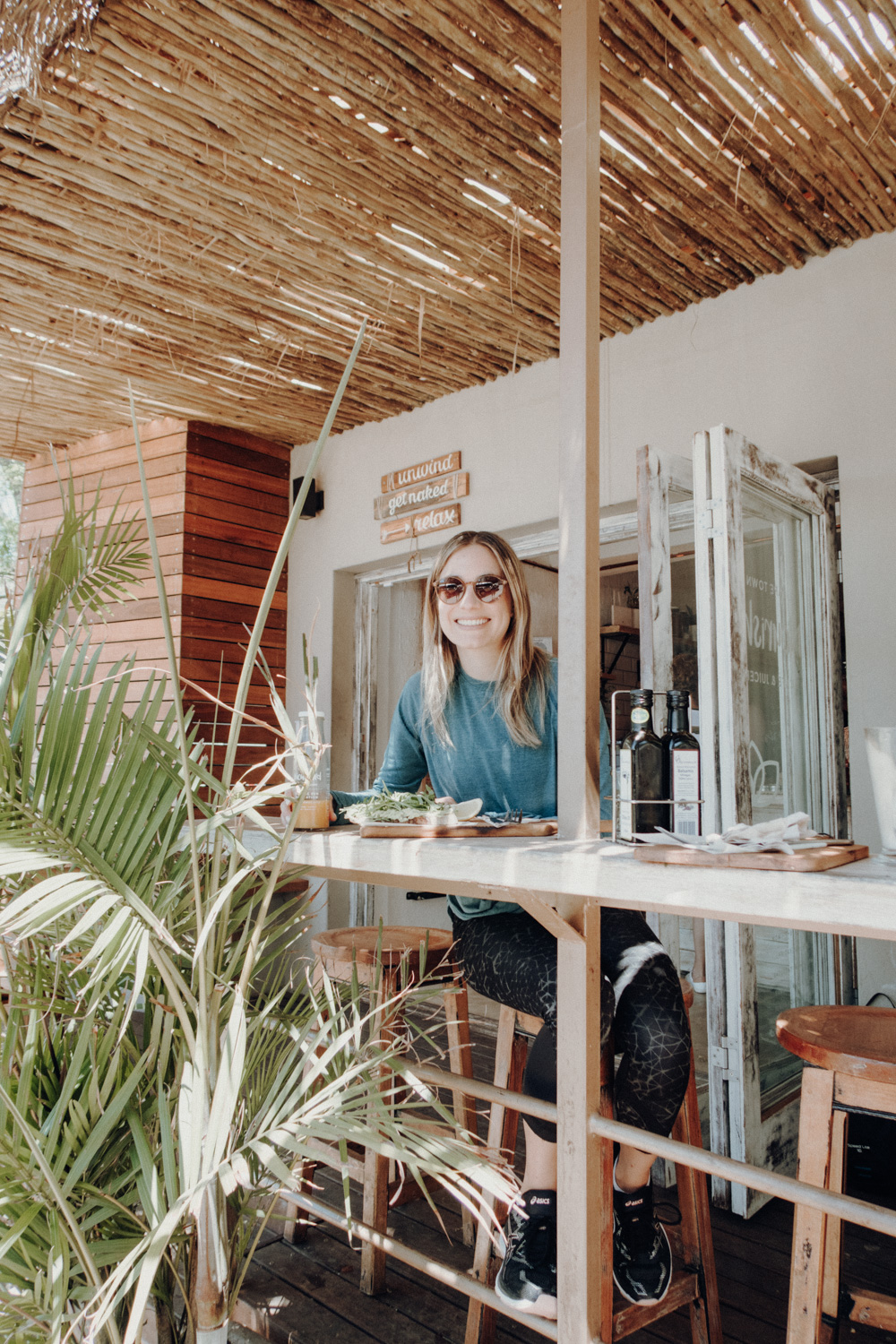 Harvest Cafe
Located directly on the Bo-Kaap is the Harvest Cafe. Here we had a great breakfast of avocado bread, smoothie bowls and chai porridge. For Halloween, they even made us latte art with ghosts. Must visit!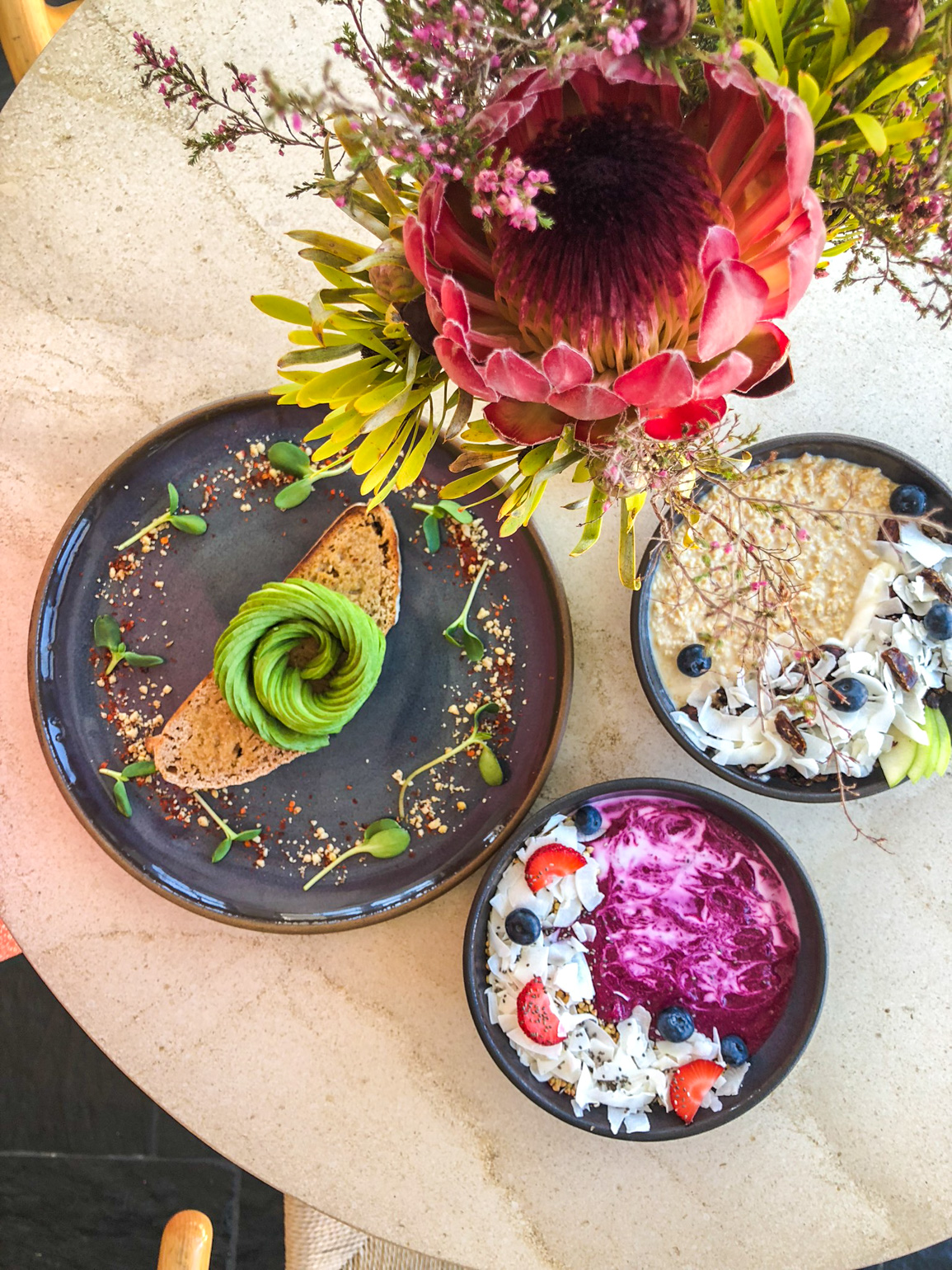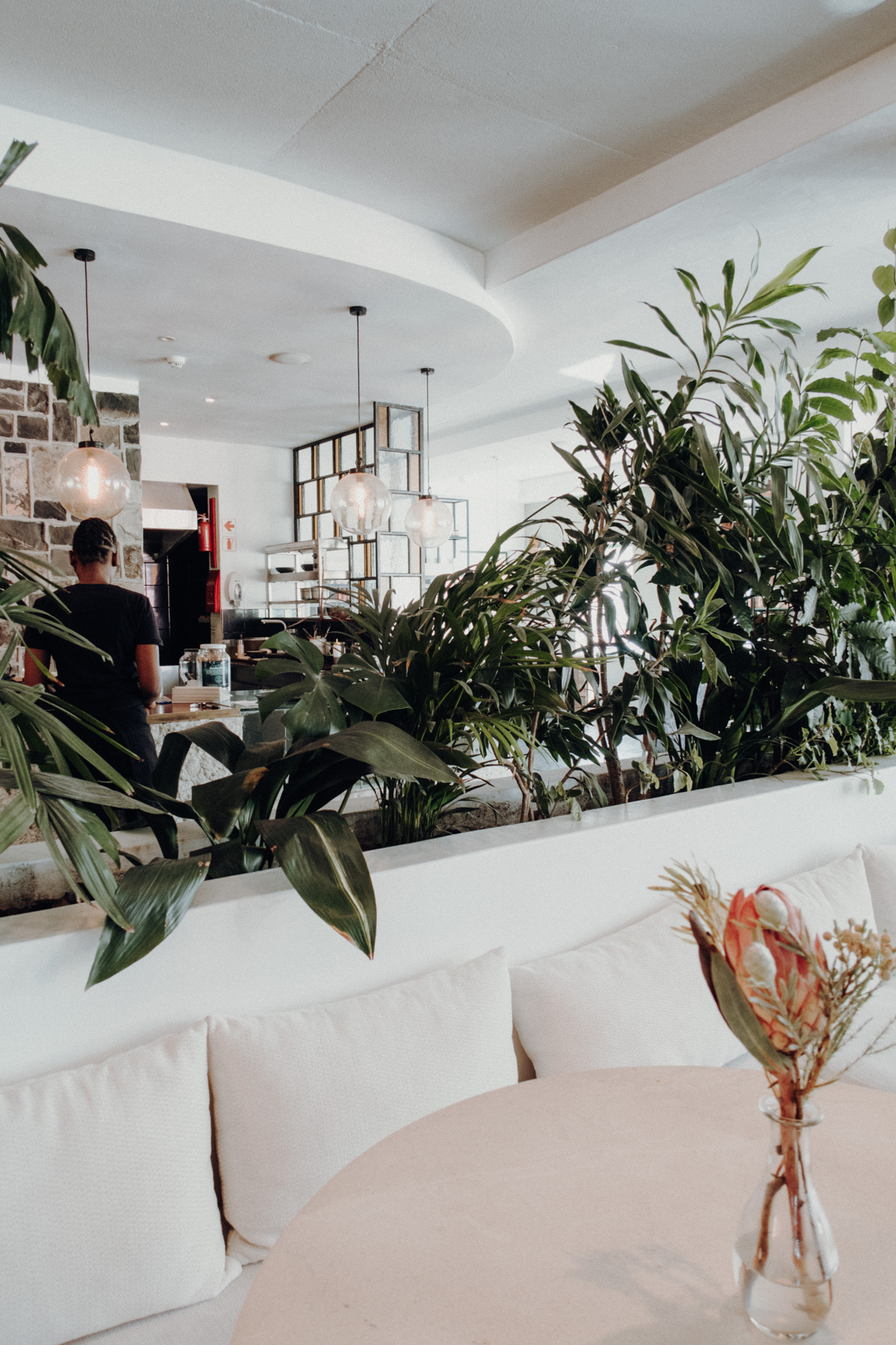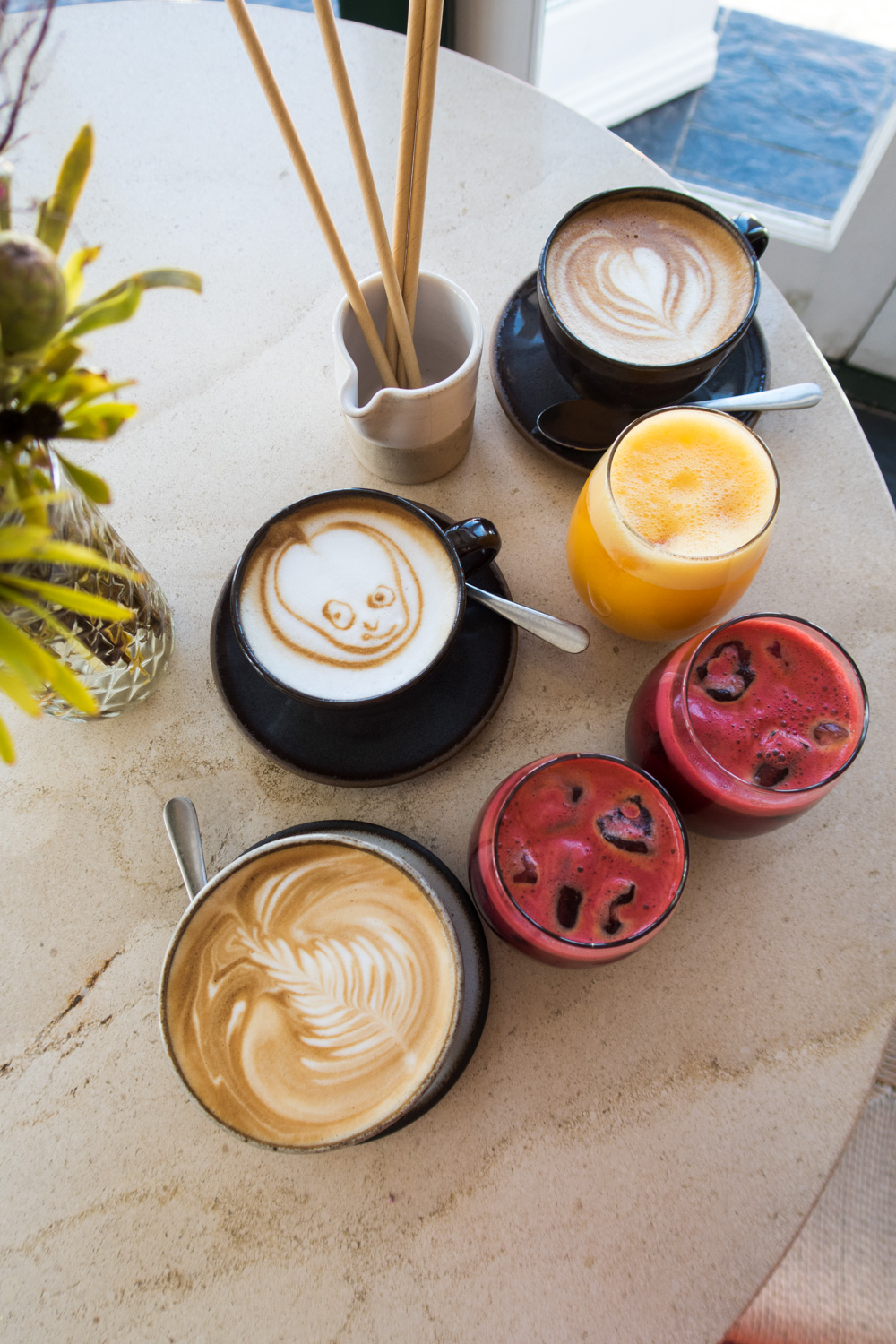 Janse & Co
Janse & Co is an haute cuisine restaurant and relatively expensive for Cape Town. Haute cuisine is not really my cup of tea because I like big portions, but Jansen's was really delicious! Next time I would take four courses instead of three, just because the portions are rather small.
Oranjezicht Market
My absolute highlight in Cape Town! Through my sister, we got to know the designer behind the Oranjezicht Market, which was totally inspiring for me. The Oranjezicht market runs through a complete concept: the ground is covered in bark mulch, all signs follow a uniform design, the decoration is uniform and everything is just so beautiful! The market is open on Saturdays and Sundays and an absolute must for every foodie!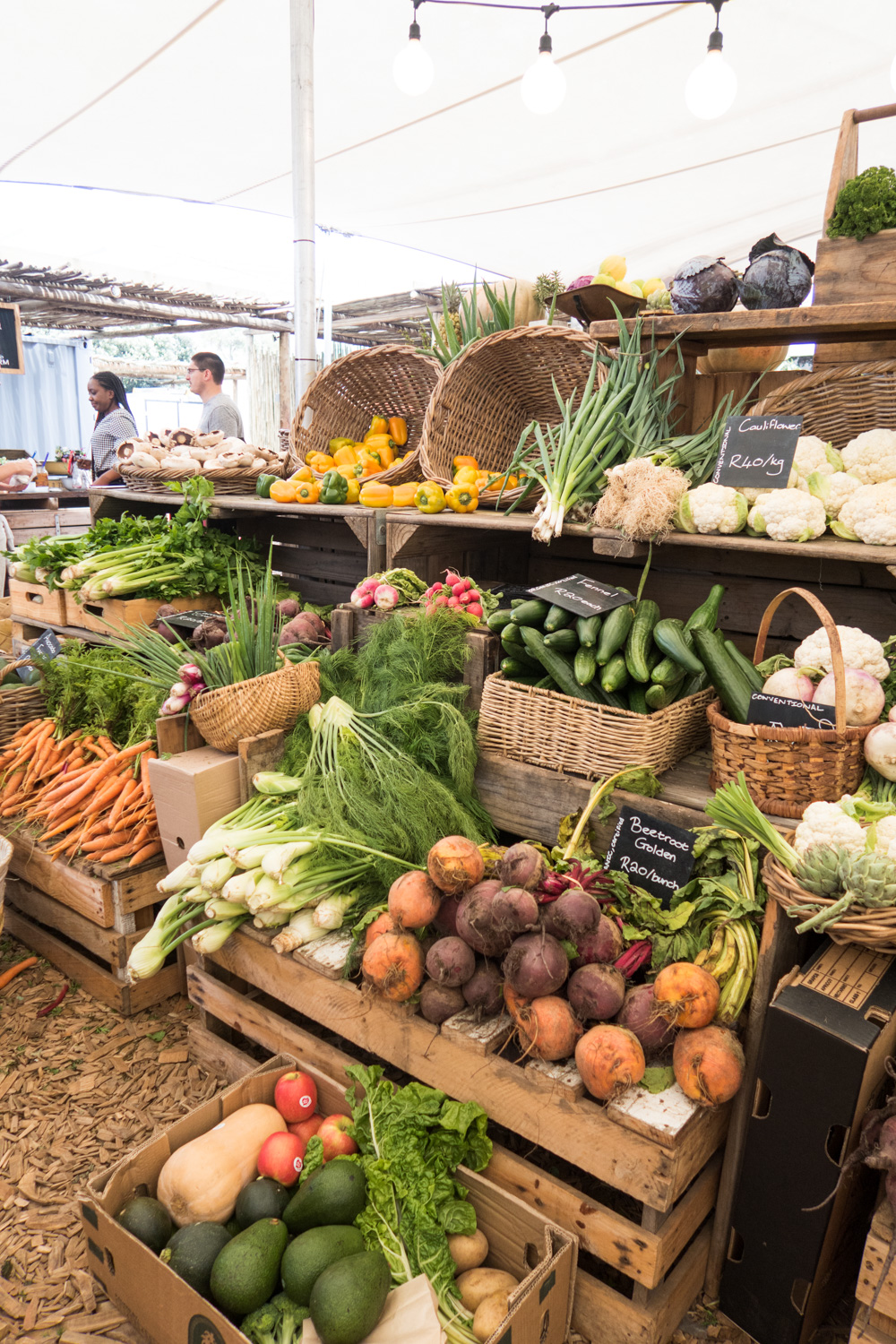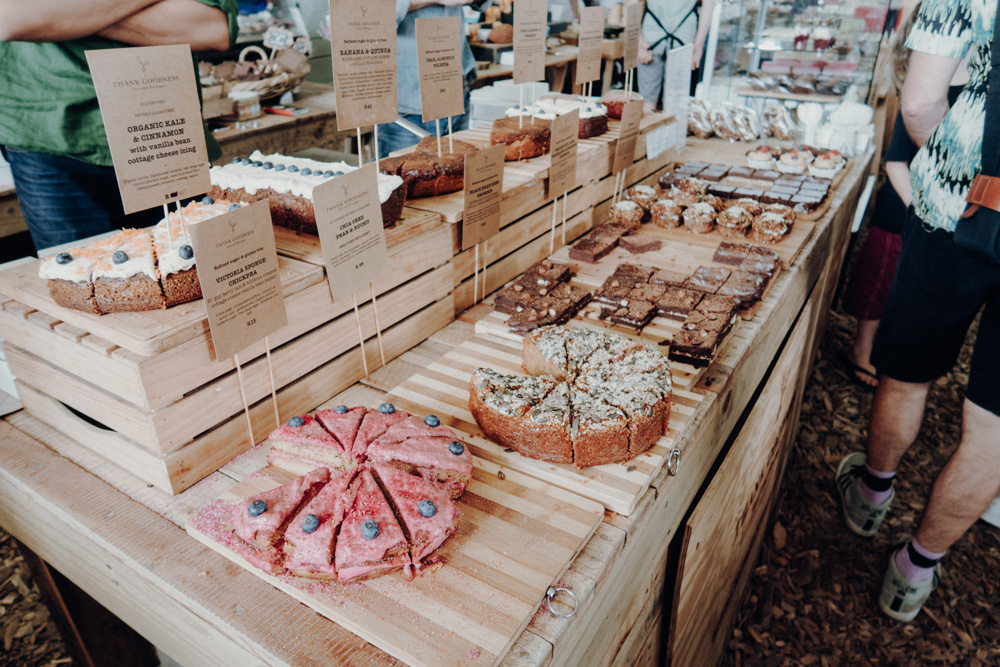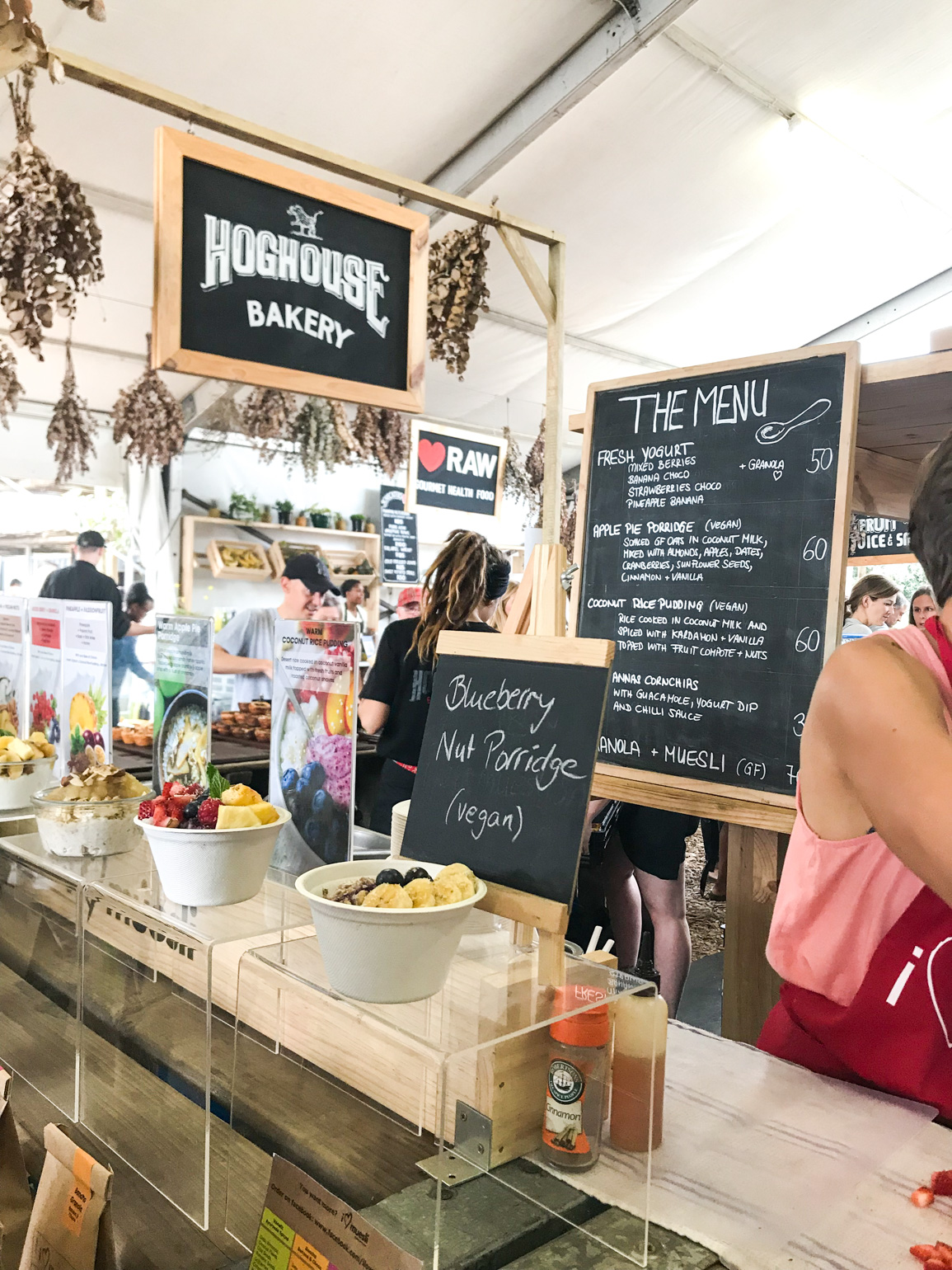 Biscuit Mill Market
The Old Biscuit Mill Market is very different to Oranjezicht and more of a market for shopping and strolling. But again, the food court is fantastic. Our highlight was the "Edos" – quasi sushi burritos and a small great bakery with gluten-free, vegan and sugar-free desserts.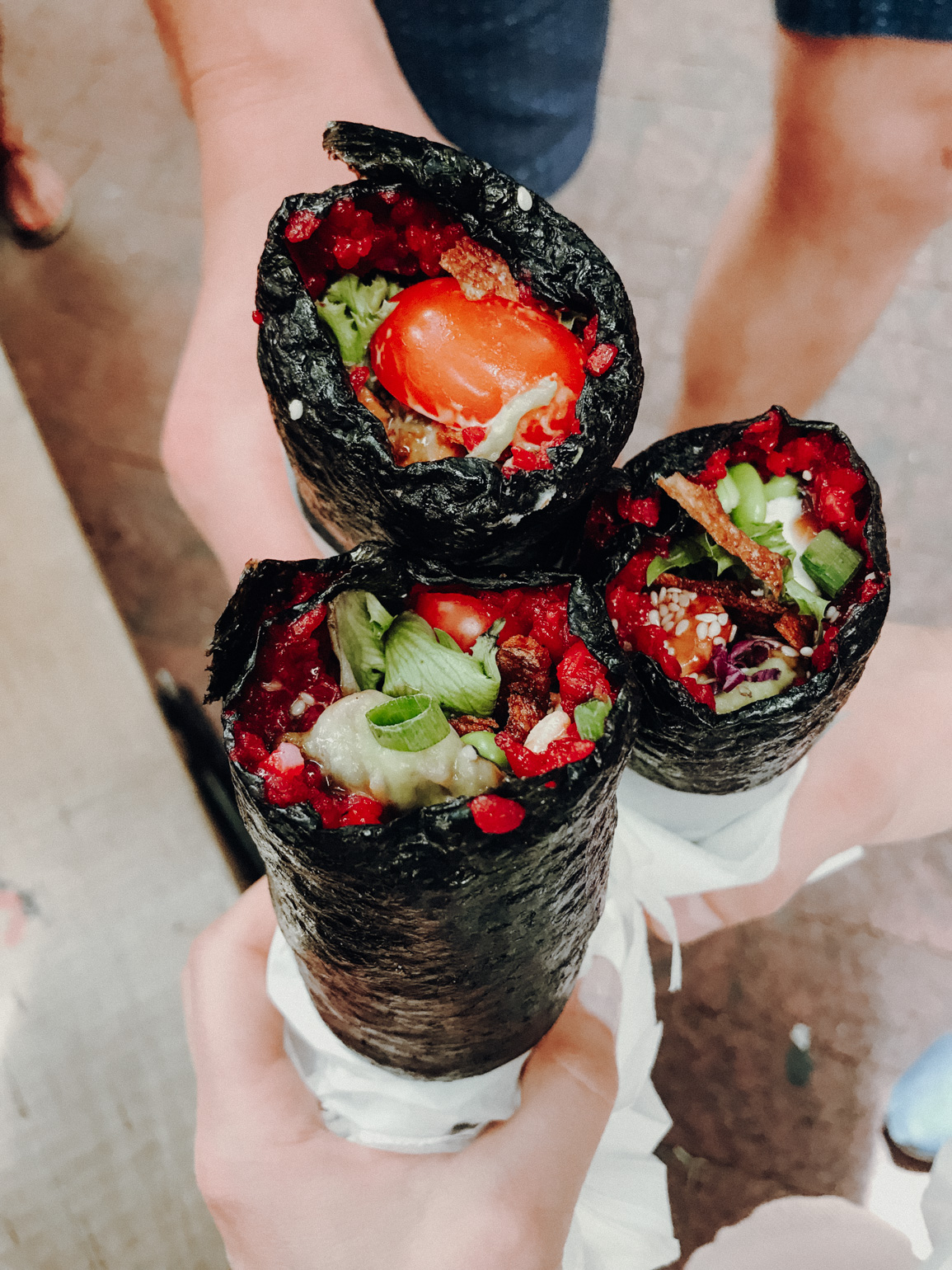 Hout Bay Harbor Market
You should visit Hout Bay Harbor Market especially on Friday evenings because there is always live music. The Hout Bay Harbor Market has a completely different flair again than the two aforementioned markets. But there are also many local designers, healthy food stalls and the typical African souvenirs.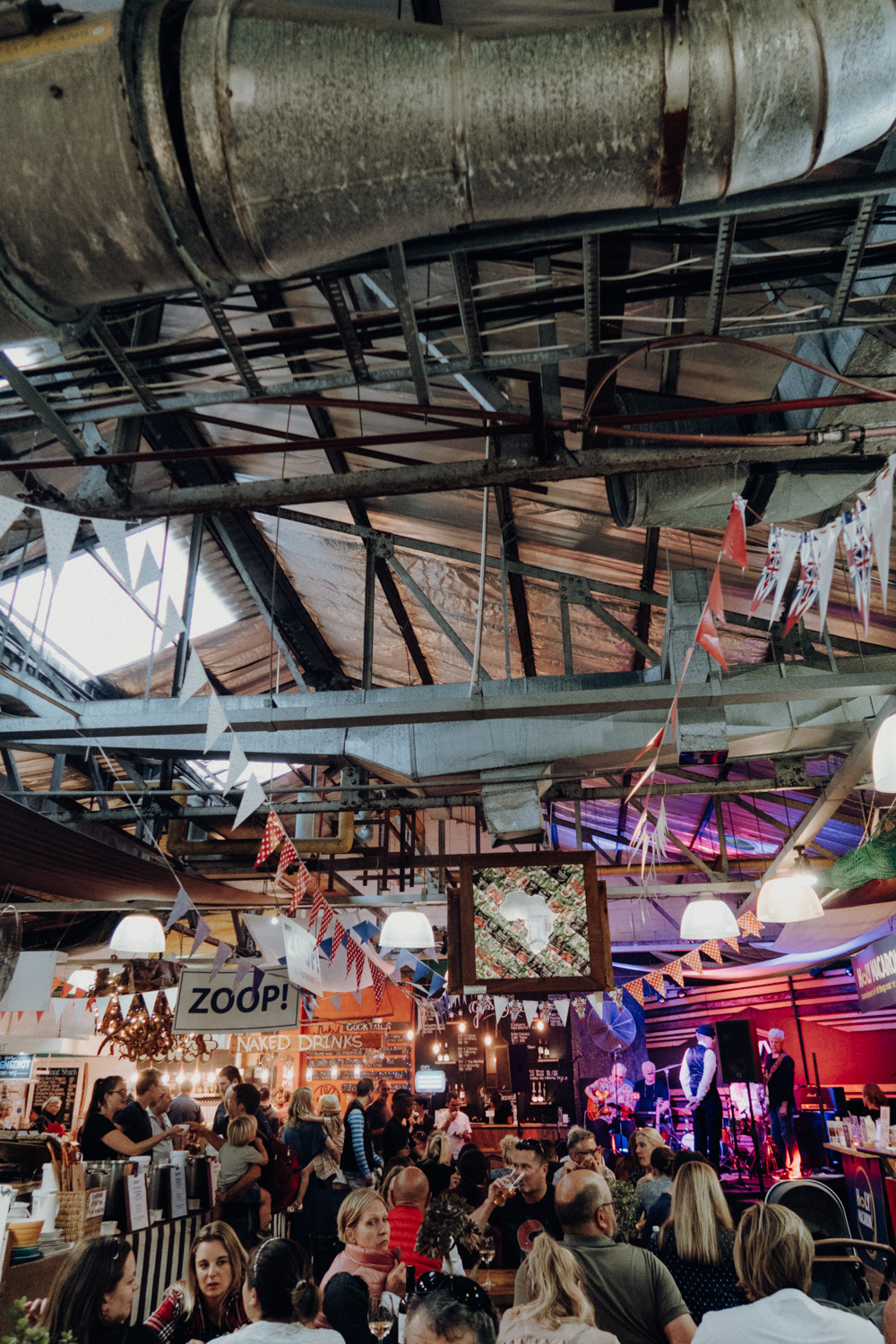 Woodlands Eatery
If you would like to try cauliflower pizza (cauliflower pizza), I would recommend the Italian Woodlands Eatery. It was not the best restaurant in Cape Town, but a good restaurant for groups with different eaters. I really loved the Cauliflower pizza and would go back for it!
Kalk Bay
The Courtyard Café
After a great day in Kalk Bay and Boulder's Beach we went to the Courtyard Café. The chef personally guided us through all the cakes and cookies of the day, explained how the vegan cakes were made and what was used instead of gluten-containing flour. Not all cakes here were vegan or gluten free or sugar free, but at least they're on it.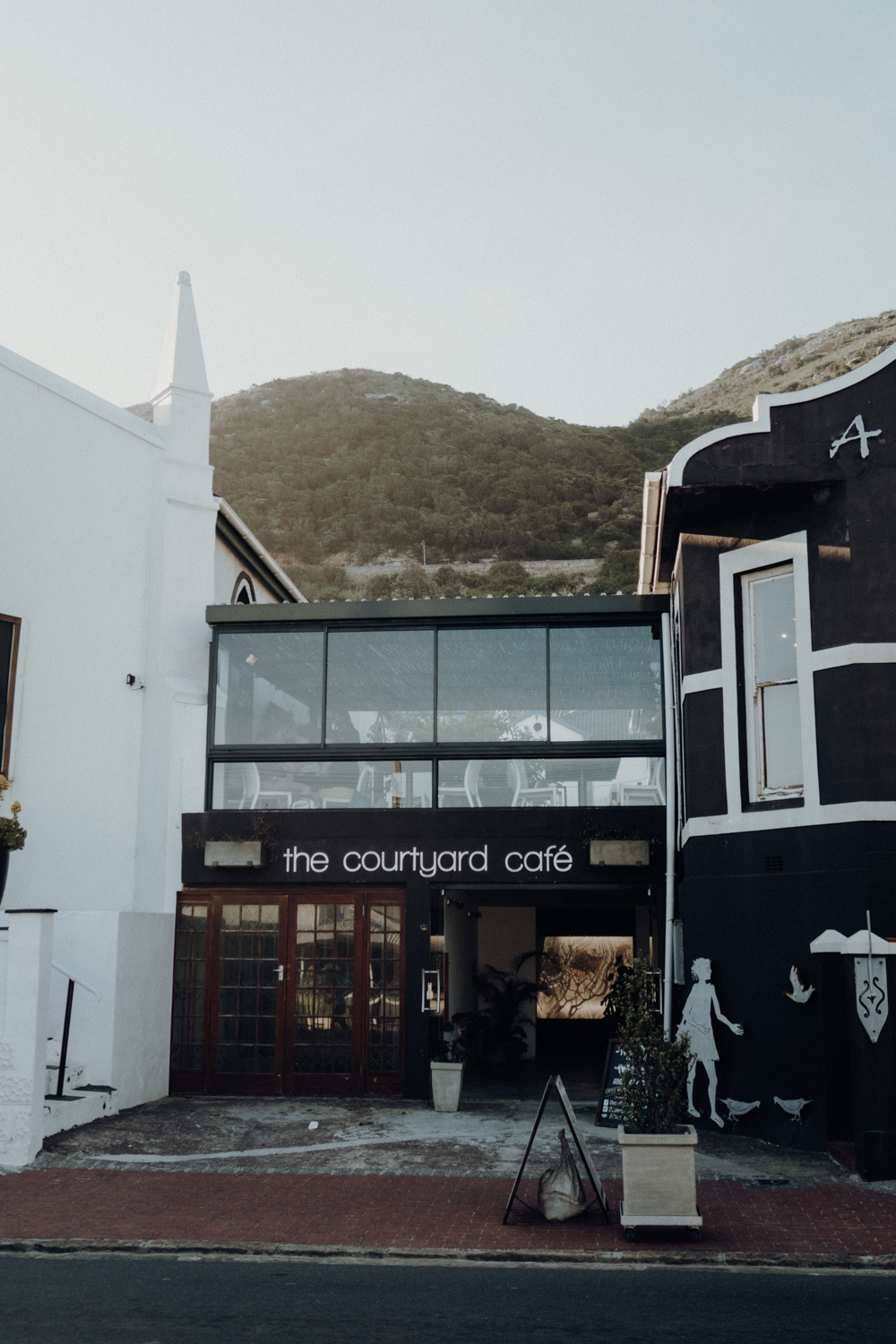 Franschhoek
We stayed in Franschhoek for four nights and this was also where our South Africa holiday ended. Between mountains and vinyards. Partly we ate at the wineries, but I can also recommend these three restaurants or delis.
Good food
We went to Good Food after a shopping trip in Stellenbosch. The food was delicious and great for lunch. Good food has many vegan options (I think it was just veggie and vegan) so we even got an Iced Almond Milk Latte there. Yum!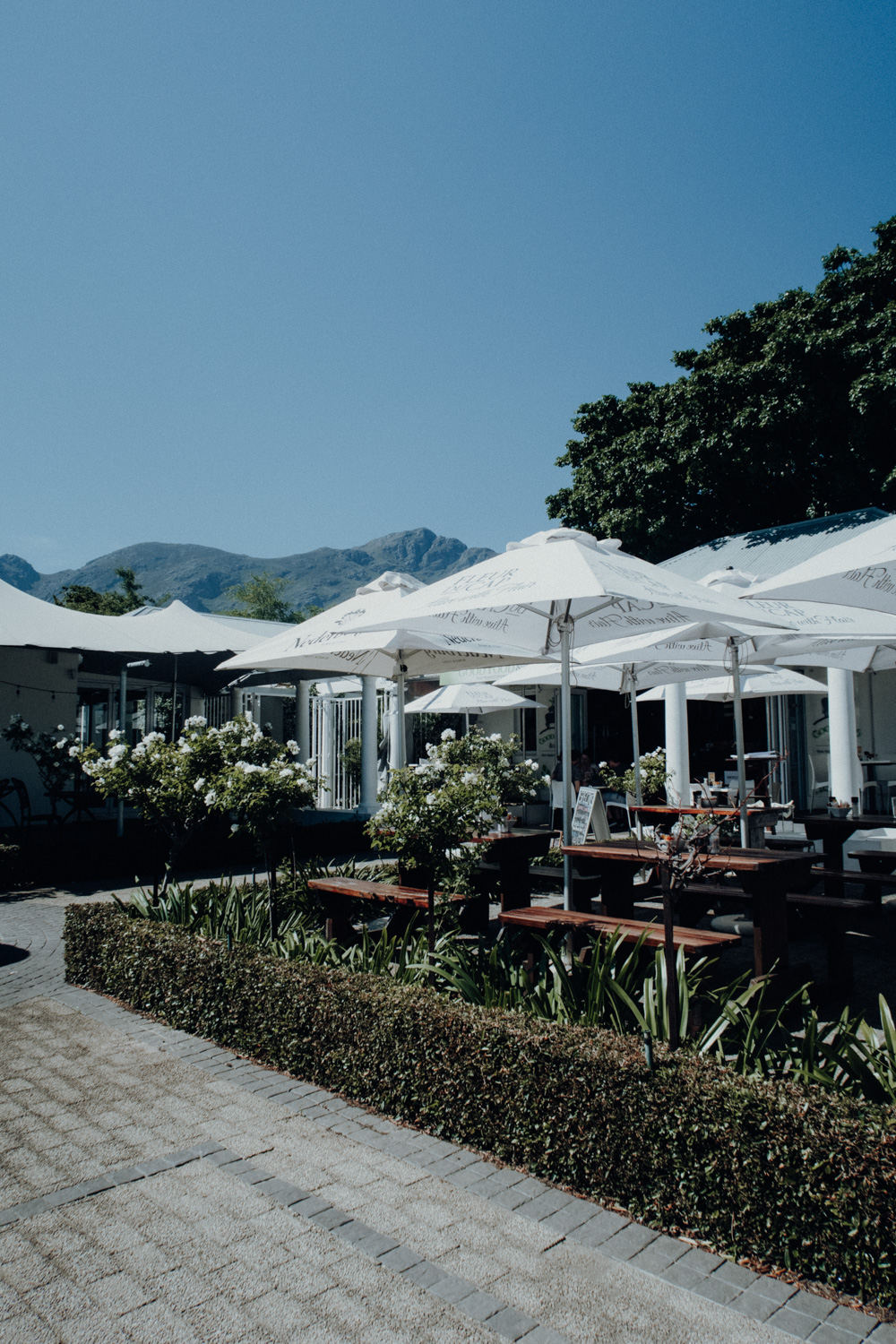 Marigold
Short shock moment for my father: having Indian food in South Africa? Oh yes, because the Marigold, an Indian restaurant was just fantastic! We were there in the evening, so I did not take pictures, but it was really fantastic Indian food and again proof that you can eat well anywhere in South Africa.
Roca
We spent our last evening in Cape Town at the Roca – and that was exactly the right decision. With breathtaking sunset over the vineyards, we enjoyed the great food (there are vegetarian and vegan options) and let the great holiday review again. Also no food pictures, because we just enjoyed our last meal in South Africa.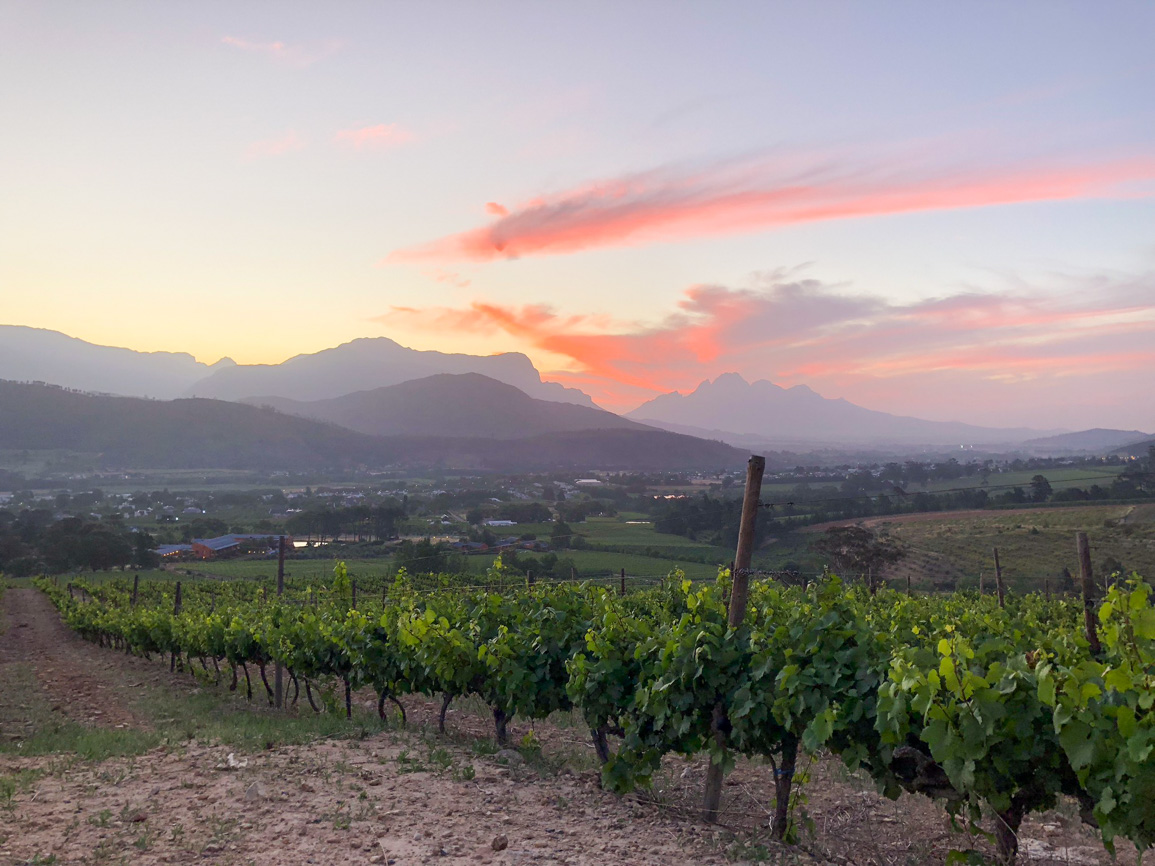 Stellenbosch
De Warenmarkt
This restaurant belongs to a friend of my sister's, which is why I am of course a little biased. But de Warenmarkt is really a great concept store and a kind of small food hall. There is a sweet little shop with South African specialties, buy the hibiscus vinegar, fantastic bread and a waffle and crepe station.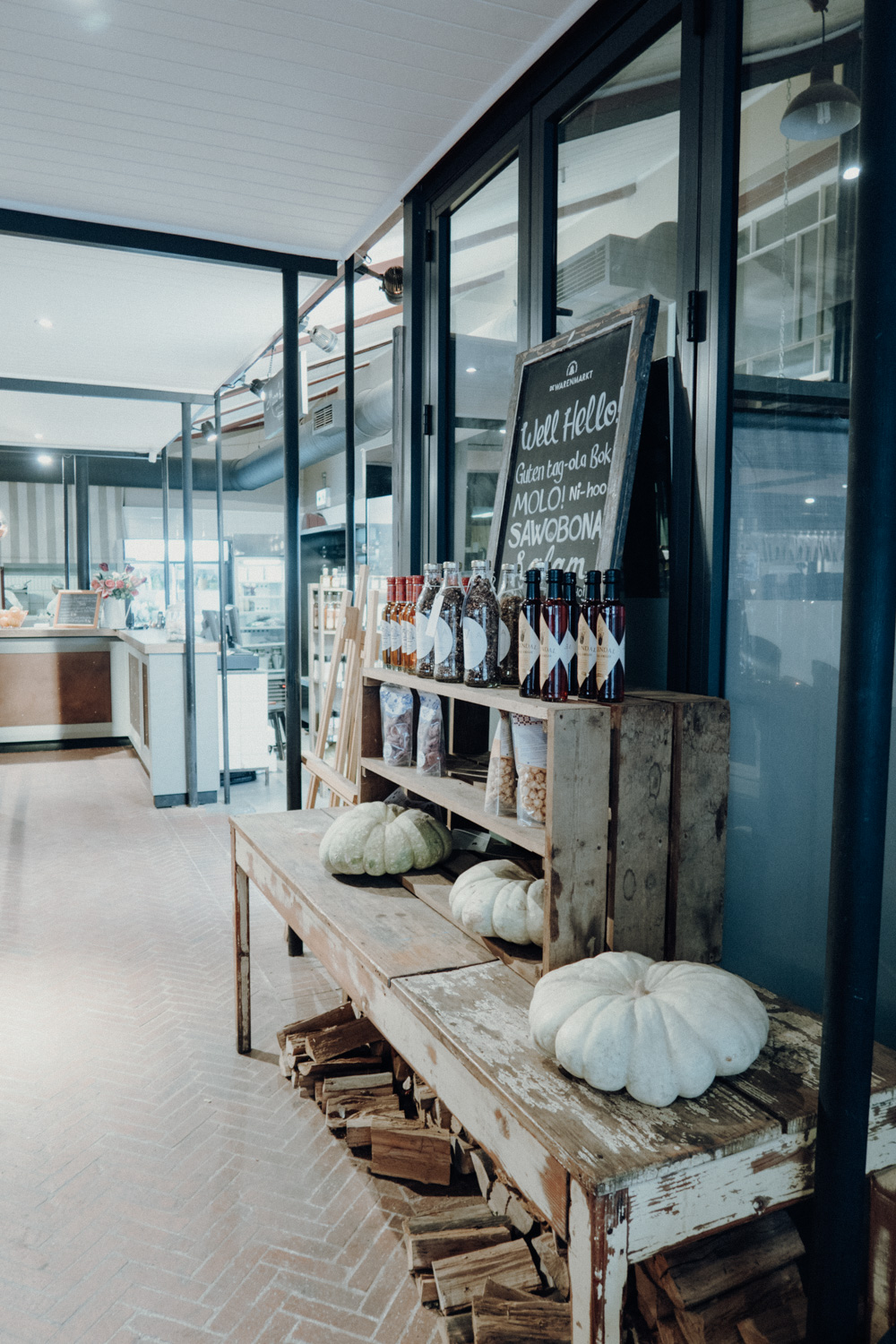 Highlights in Cape Town and the surrounding area
Free Walking Tour
On the first day, we joined a free walking tour in Cape Town. We had booked it in advance and were not disappointed! We had chosen the apartheid tour, which I can recommend to everyone! The tour really is for free, but of course everyone gives a tip at the end of the tour, which was not small in our case, because our tour guide was great.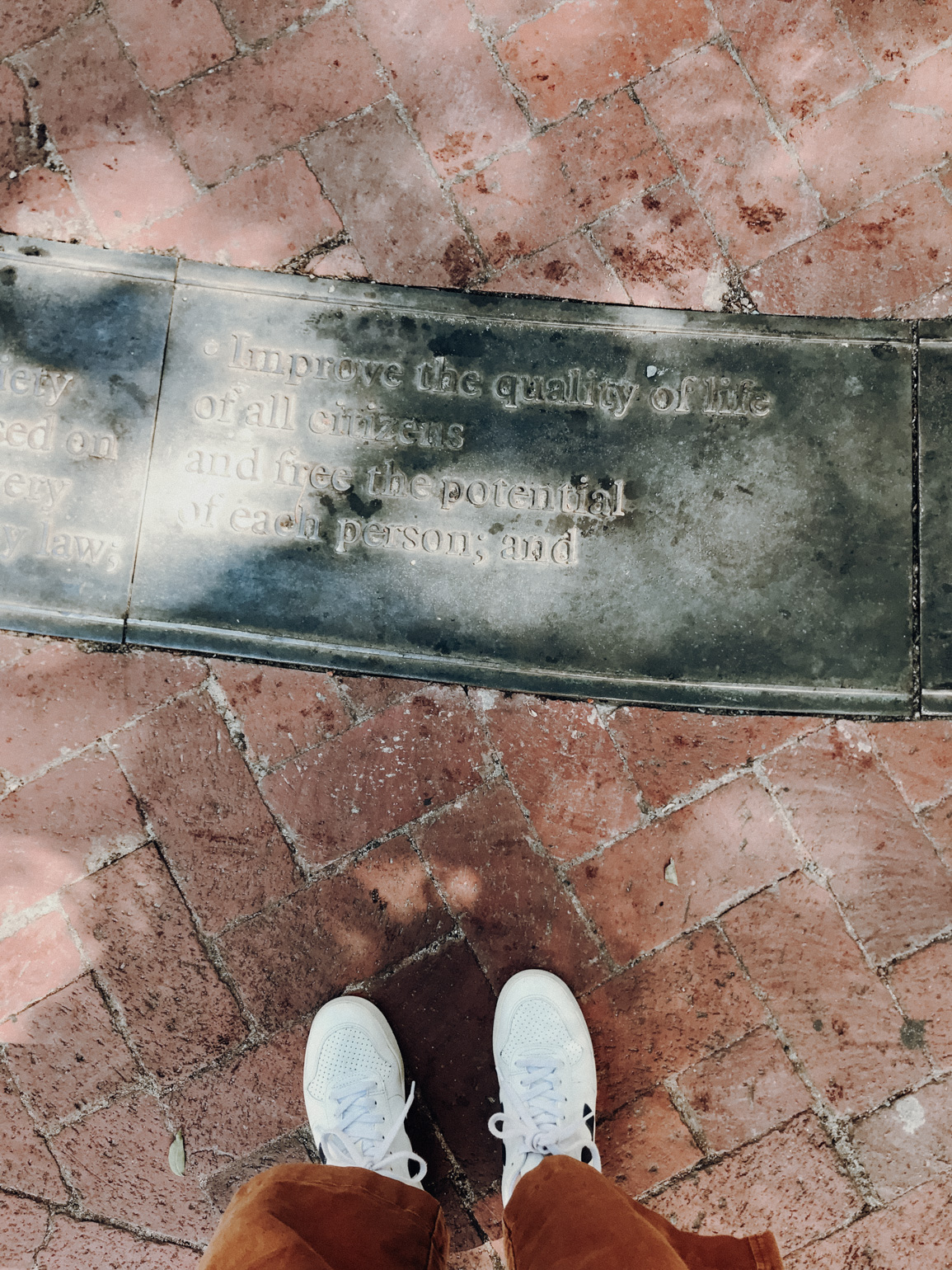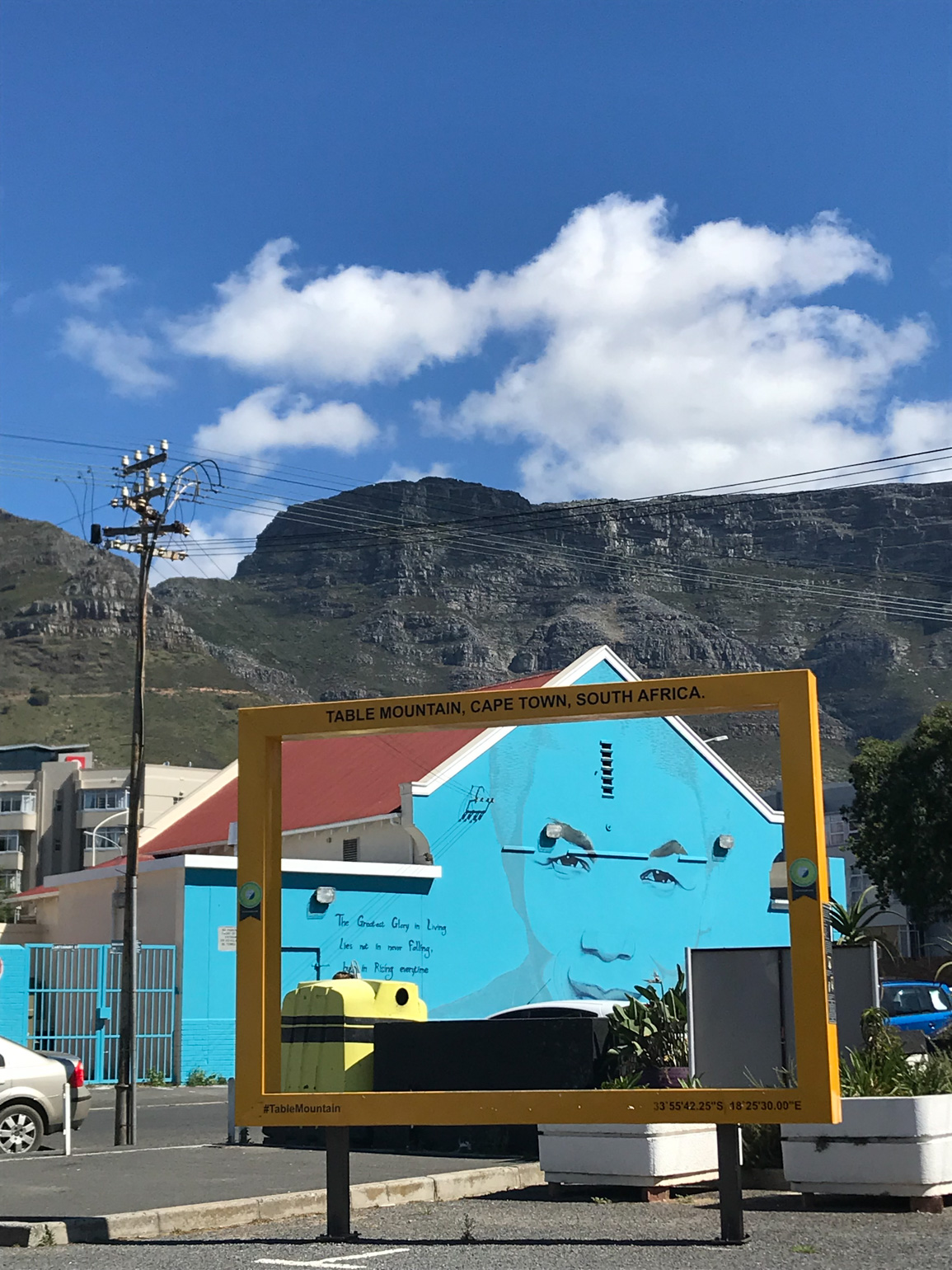 Lion's Head
Of course, you can not leave Cape Town without first visiting Lion's Head or Table Mountain. We deliberately chose the Lion's Head because the hike is more beautiful and according to my sister Lion's Head is less crowded than Table Mountain.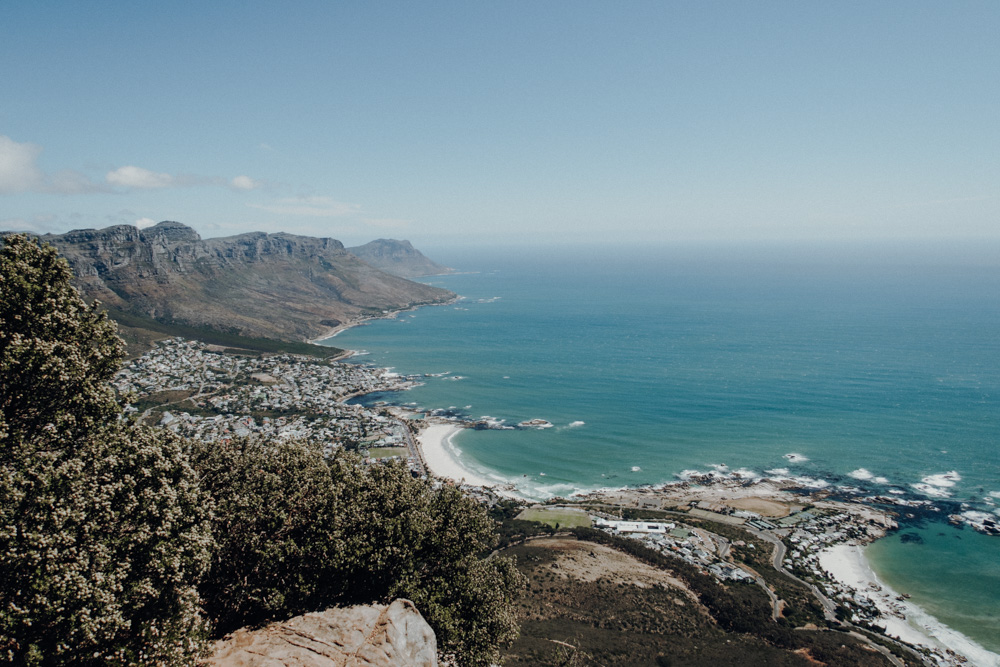 Bo-Kaap
The typical colorful houses attract tourists from all over the world. Incidentally, Harvest Café has this great view of the Bo-Kaap and Table Mountain and Lion's Head!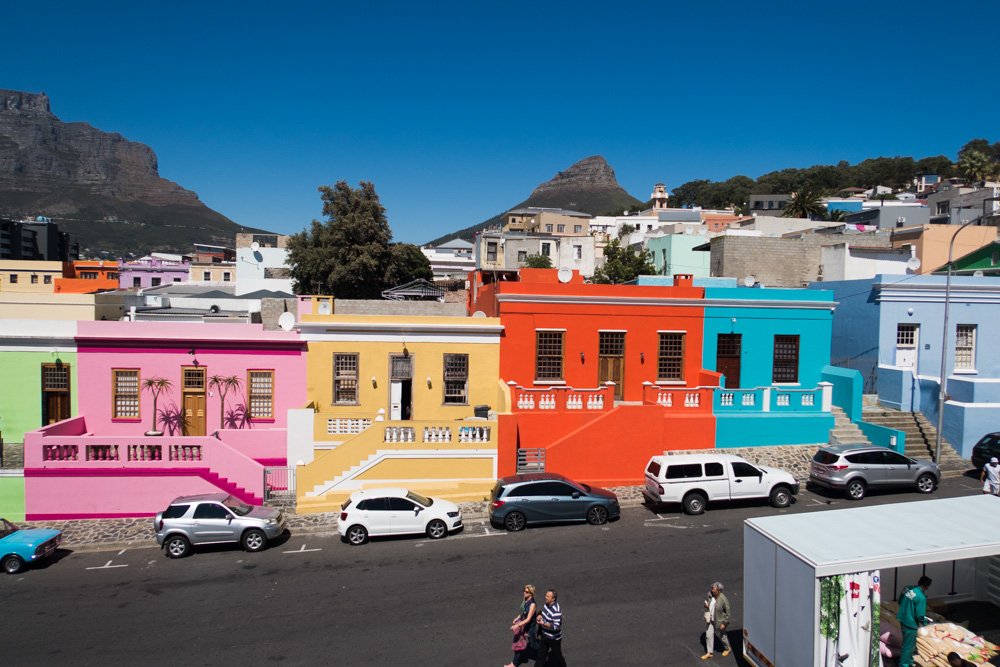 Day trip to the penguins
On Boulder's Beach you will find the famous South African penguin colony. Of course, this was also a highlight for us. My tip: go a little further south, to beat the crowds. On the southern end of the beach, you can even go swimming. And with a little luck, you might find a penguin swimming next to your.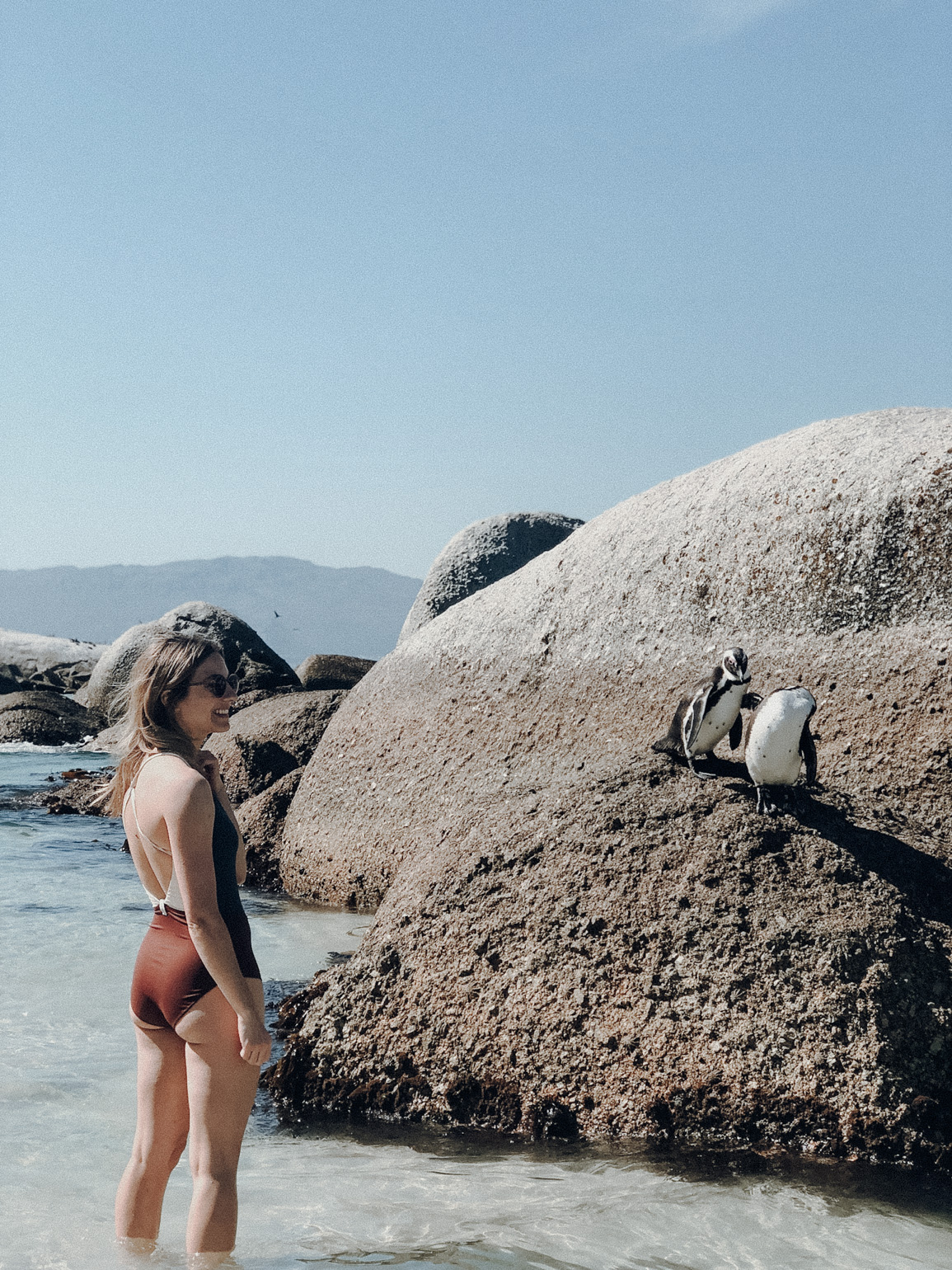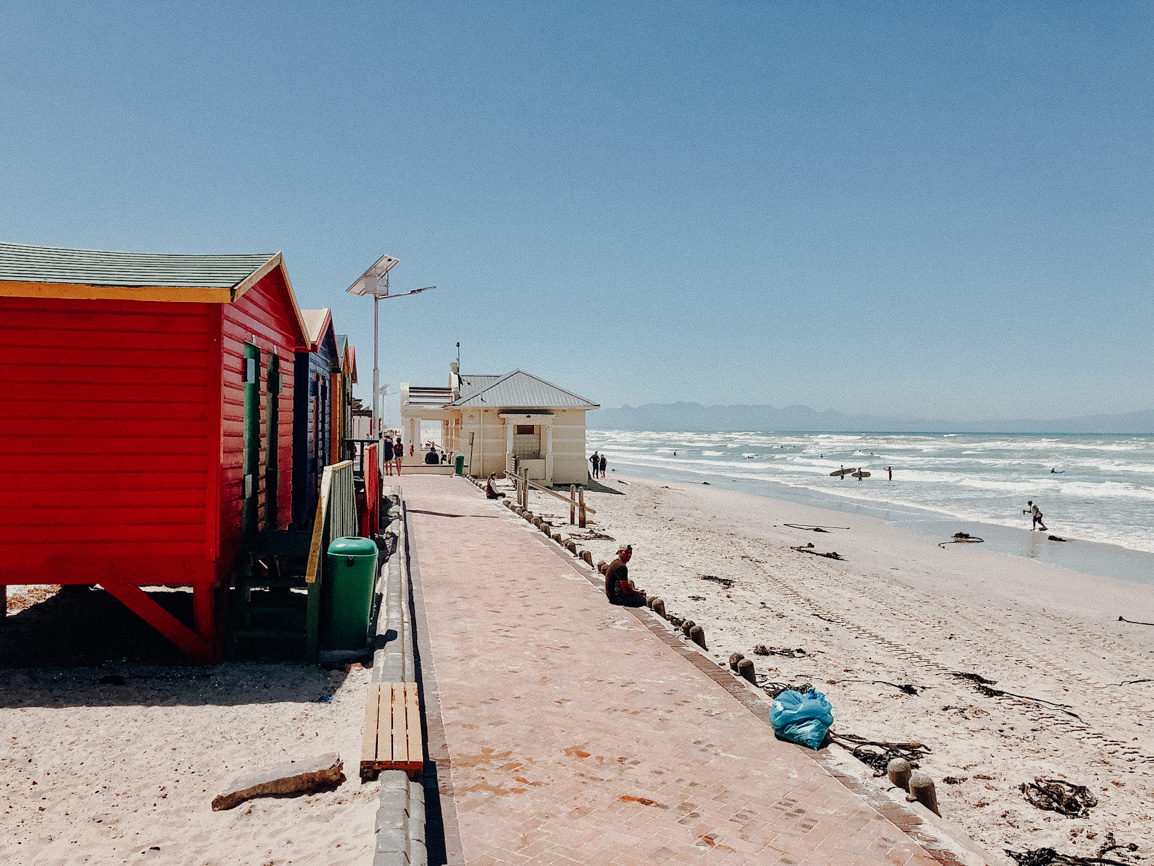 Shopping tips in Cape Town
The three markets I've listed above are already holding true treasures. Especially if you value regionalism and fair fashion, you will find it at Biscuit Mill Market. We did not really have much time for shopping, but we found what we were looking for in the markets and in the V & A Waterfront.
V & A Waterfront
V & A Waterfront is a very touristy area and right on the waterfront I'm not sure how the shops are there because we left them out completely. Although the waterfront is touristy, I found it fascinating. There is also a small food hall and behind the food hall a much larger hall with many small local shops. Here you can find great souvenirs and most of them are really made in South Africa.

Mungo & Jemima
The absolute favorite business of my sister and now also of me is the business Mungo & Jemima. Here you can find fashion of South African designers, which was mostly produced there.
This was part 1 of my healthy south africa travel guide. Part 2 will be all about the Garden Route, vineyards and safari!
If you have any capt town recommendations, please let me know in the comments below!
xx Lynn