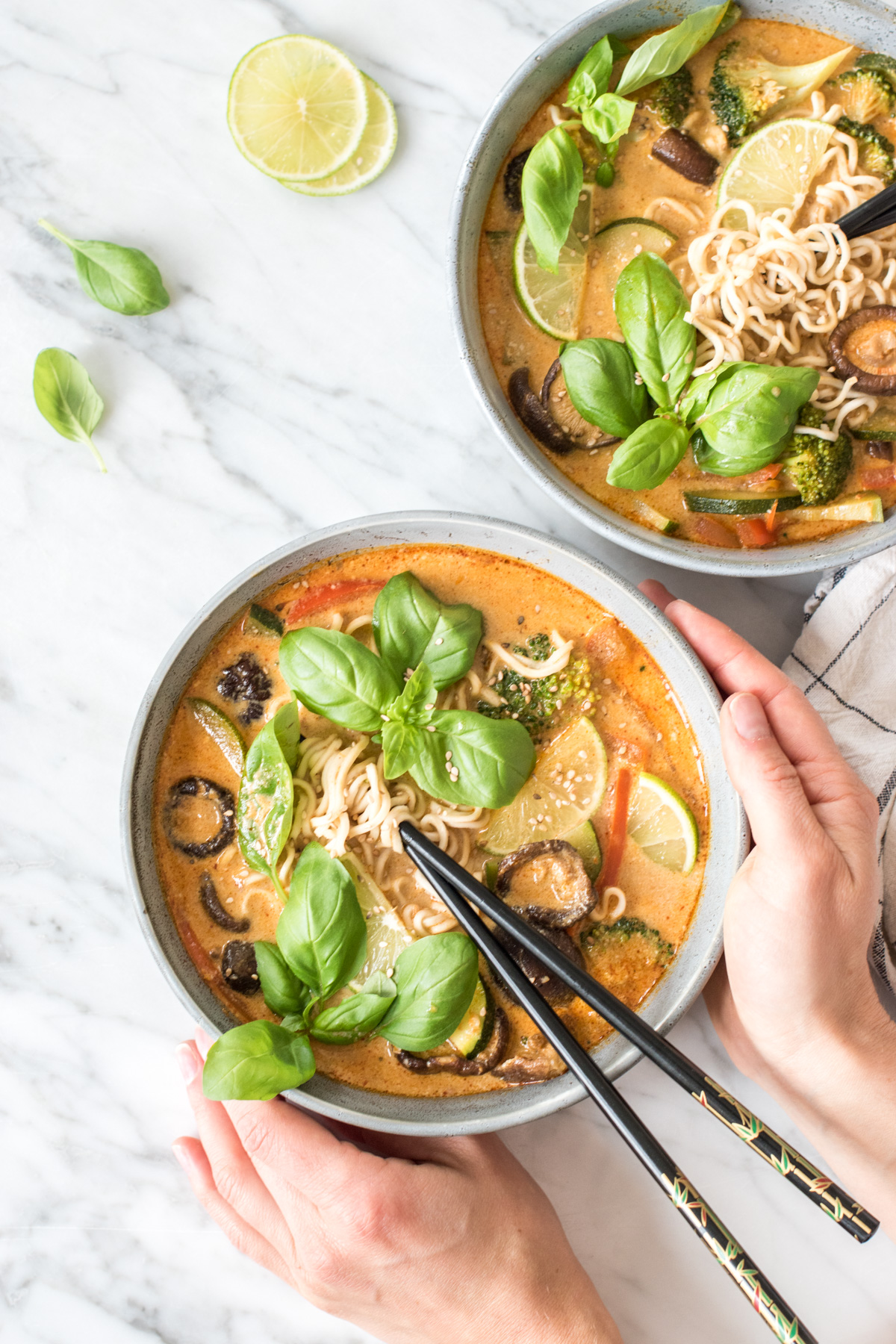 My love for Asian food goes so deep – so deep that I could literally have some sort of Thai cuisine, Indonesian, Japanese or Vietnamese food every single day. Now, I know that saying this is basically like saying "I could have European food ever single day". Obviously, each of the above mentioned countries has its own, unique way of making the most incredible dishes. For each of those dishes, I could move to all of those countries. Japan is definitely high up on my visit list, and I'm ashamed to admit that I have never been to Thailand either.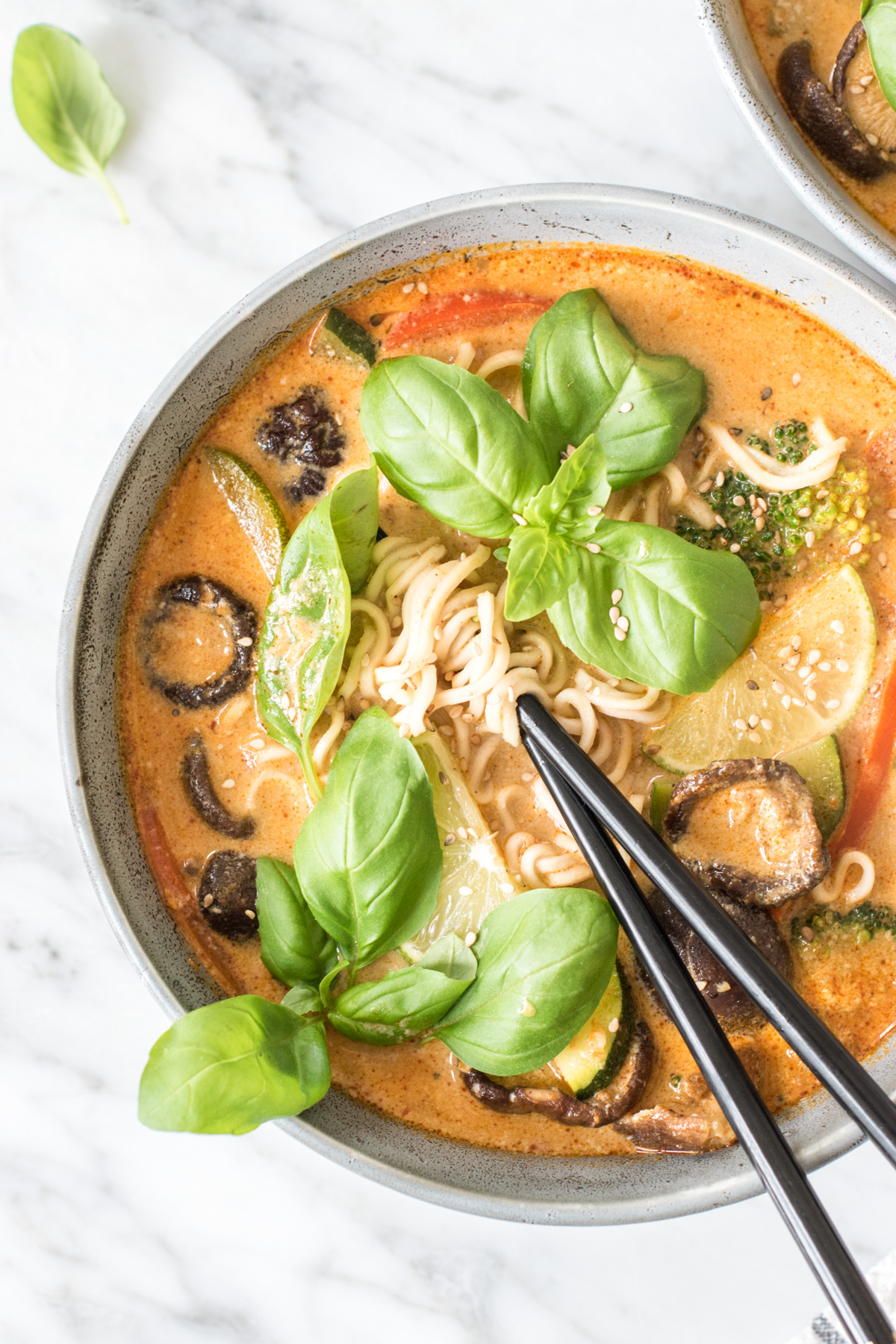 Now, since I live in a smaller town with a limited amount of Asian restaurants, I have to make my own Thai, Vietnamese or Japanese-style dishes. Of course, my recipes are nothing like the originals, mostly because I can't seem to find all the wonderful ingredients that make most of those dishes so incredibly tasty. However, I make due with what I got, and most of the time, I find that my soups taste way better than the non-existing takeout in my town.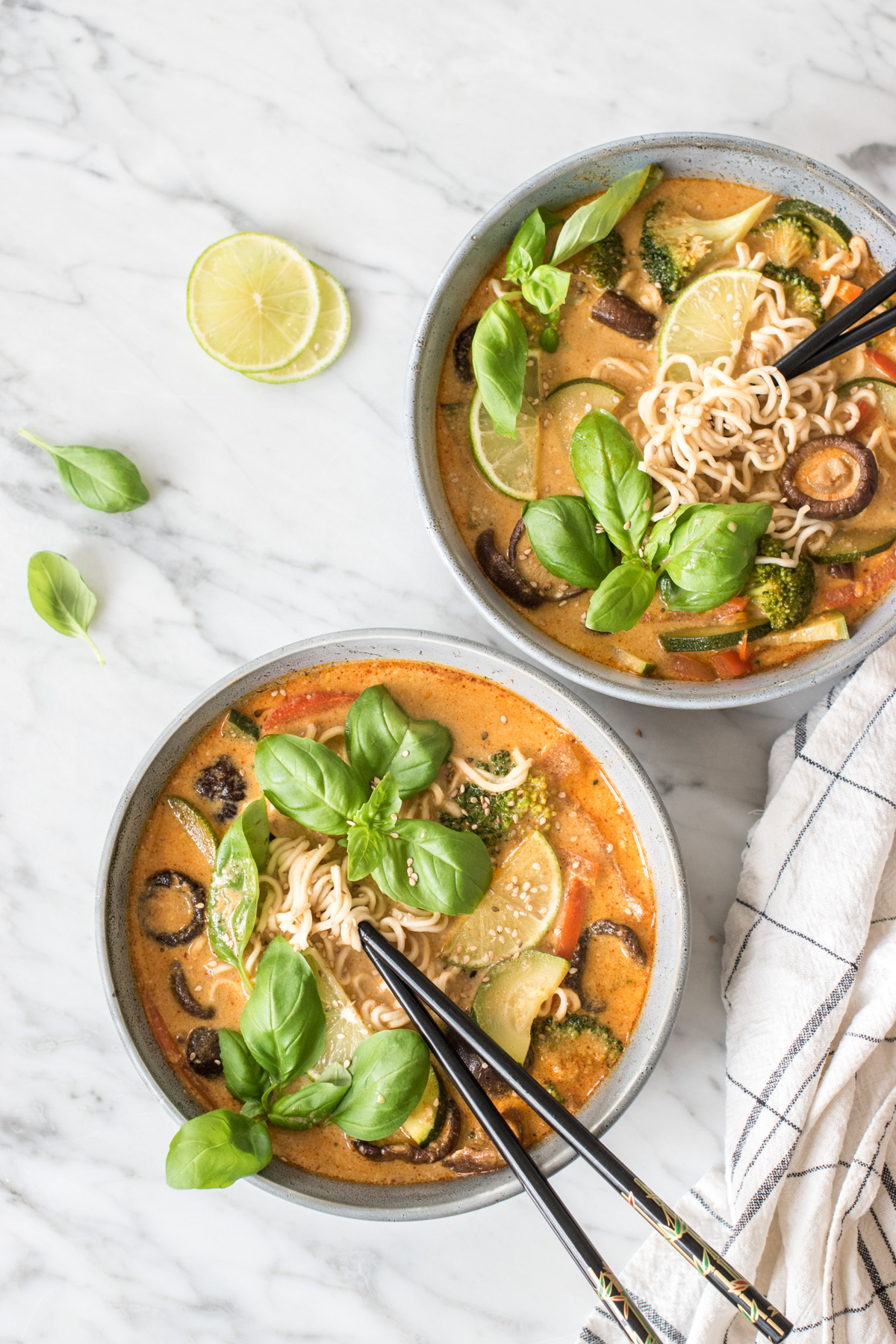 So if you happen to live in London or New York City, my better-than-takeout recipes are probably not better than takeout, just because you happen to live in two of the most culinary diverse places on Earth. BUT if you are amongst the bazillion of people not living in major cities with top Japanese, Thai or Vietnamese restaurants, then here you go: my favorite peanut ramen noodle soup.
P.S.: This recipe is not really a traditional Japanese Ramen soup. Not at all. Not even close. It's actually a mixture of Thai soup and Japanese Ramen Noodles. But I used buckwheat and spelt ramen, so, well – I'm as far away from Ramen Noodle soup as possible. I also could not find thai basil in the town I live in, so I used normal basil. So I'm well aware that this is a very freestyle-ish recipe.
Here are some reasons why this recipe is heavenly for body and soul:
… there are studies that have found an anti-cancer effect of shiitake mushrooms. A study from the University of Texas has investigated the effect of the active ingredient AHCC derived from shiitake mushrooms on cervical cancer. It turned out that AHCC was able to inhibit the cancer virus and thus curb its growth. It is therefore definitely advisable to incorporate shiitake mushrooms into the daily diet as part of a holistic diet.
… dried shiitake mushrooms are a wonderful source of antioxidants. According to some studies, dried mushrooms have an increased bioavailability, as the antioxidant content is increased through the drying process.

Better than takeout thai peanut noodle soup
Ingredients
40 g of dried shiitake mushrooms, or 150 g of fresh shiitake
1 clove of garlic
2 cm of fresh ginger
2 tablespoons of red Thai curry paste
1 red bell pepper
1 zucchini
½ brokkoli
1 tablespoon of virgin coconut oil
1 liter of water
2 tablespoons of vegetable broth paste
1 can of coconut milk
1 teaspoon of maple syrup, rice syrup or honey (I prefer honey in this soup)
2 tablespoons of no-fish-sauce
4 tablespoons of tamari or soy sauce (not gluten-free)
60 g peanut butter, no additives
3 squares of Mie noodles (I use the Spelled-Mie noodles from Albgold), use gluten-free rice noodles for a gluten-free option
1 lime
fresh thai basil to serve, or cilantro or normal basil if you don't have an Asian supermarkt near you
Instructions
If you use dried mushrooms, they must be soaked in water at least 1 hour before. If you are using fresh shiitake mushrooms, slice them.
Finely chop the garlic clove and ginger. Core the pepper and cut into strips. Cut the zucchini into pasta with a spiralizer or cut into thin strips with a peeler. Cut the brokkoli into bite-sized pieces. Put the Mie noodles in a large mixing bowl and pour boiling water over them. Let them soak for 5-8 minutes, drain the water and put the noodles aside.
Heat the coconut oil in a saucepan. Fry the garlic, ginger and add the Thai curry. Add the water, the vegetable stock paste (or 1 liter vegetable stock) and the coconut milk. Bring to a boil, reduce the heat and add the honey, no-fish sauce, tamari and peanut butter. Let it simmer for 10 minutes, then add the sliced vegetables and mushrooms and cook for about 5-7 minutes. Stir in the noodles right and warm them for about a minute or so.
Season the soup with the lime juice and possibly more tamari and serve with fresh herbs.
Enjoy!