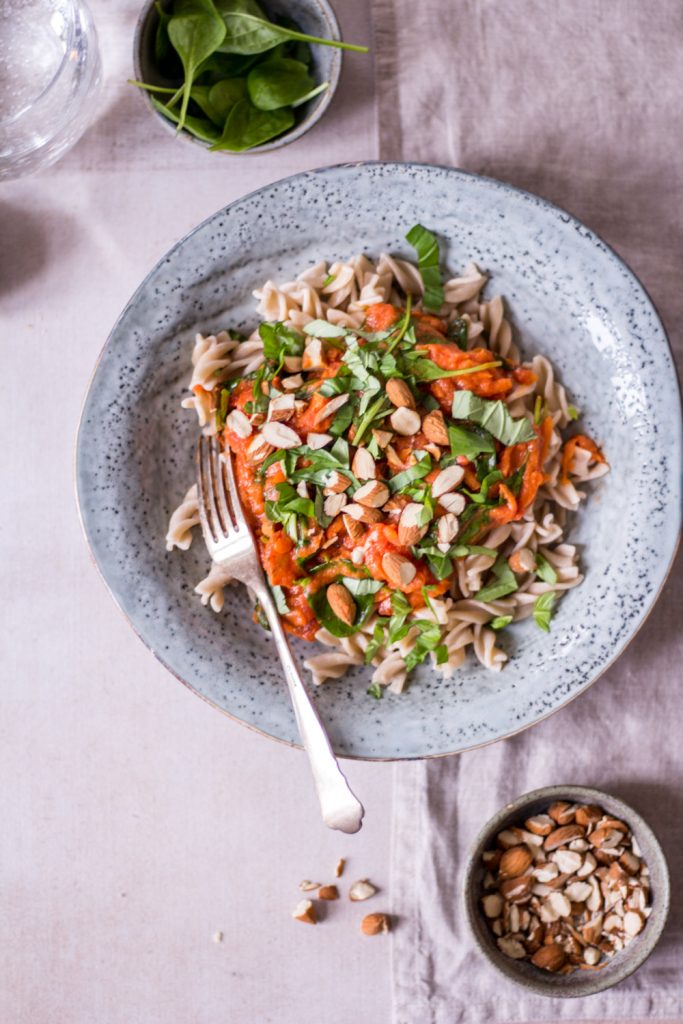 Let's celebrate spring with this super speedy quick and easy tomato spinach pasta! If you're just as sunburned and happy faced as the rest of us, then chances are you live in Germany. These past two weeks have been crazy (amazingly) warm. Not just warm. Summer-like temperatures reaching all the way up to 28 degrees celcius. If you live in the U.S.: I used to be super good at converting celcius to Fahrenheit, but now I'm even too lazy to convert it. Let's just say it was flip flop, shorts and stay out late while BBQ-ing weather.
It was amazing and I hope this wasn't the only week of 2018 where Germany will be blessed with summer weather. Yup. If you consider moving to Germany. Think twice, because giving up U.S., South American or Australian weather for German weather is mental. Full stop. Don't know what that has got to do with my quick and easy tomato spinach pasta, so let's head over to the actual recipe.
On a different note, especially now that the days are longer and you can actually spend time outside again, we are craving super easy, delicious yet nutritious meals. That's why I've come up with a new idea for the past couple of weeks: under 30 minute nutritious meals. Today marks the start, and I got an amazingly tasty yet super simple tomato and spinach pasta for you. I eat pasta probably two or three times a week for lunch or dinner, so I've got some great tips how to pimp your pasta and make it even more nutritious.
Here are my kitchen hacks for quick and nutritious pasta dishes:
Freeze pre-chopped onions and garlic. This saves you loads of time when you want to make the actual dish. I tend to peel a few onions every month, freeze them already chopped and then use them up within a month. Best thing ever.
Use tinned tomatoes. I know this isn't super sexy, but tinned tomatos are life-savers in my kitchen.
Use lentil, buckwheat, brown rice or quinoa pasta instead of pasta made from grains. They are richer in protein and fiber and taste delicious.
Up your Greens: Freeze your own baby spinach. It is the best addition to any meal. Also keep frozen peas in the freezer at all times. They are the easiest green energy booster.
Up your protein: always add a bit of nut butter or sunflower seed butter to your sauces. The protein and fat in the butter will keep you satisfied longer while adding well-needed nutrients.
Sprinkle some chopped nuts, seeds, hemp seeds or fresh herbs over your pasta. A quick way of adding more nutrients.
I hope you'll find these tips helpful. They safe me tons of time and sweat when I don't know what to cook. And I hope you will enjoy this quick and easy tomato spinach pasta!

Quick and easy tomato spinach pasta
Ingredients
3 cups (300g) of lentil pasta or pasta of choice
1 clove of garlic
1 red onion
1 carrot
2 tablespoons of extra virgin olive oil
2 cans of tinned tomatoes (400g each)
2 tablespoons of tomato puree
sea salt and pepper
coconut blossom sugar to taste (about 1 teaspoon)
3 handful of baby spinach
1 heaped tablespoon of sunflower butter (or almond butter)
¼ cup (30g) of almonds
a handful of basil to serve
Instructions
Cook the pasta according to instructions.
Finely chop the garlic and onion. Grate the carrot. Wash the spinach. Roughly chop the almonds and basil.
Heat the olive oil in a medium-sized pan. Sauté the garlic and onion in the olive oil, then add a splash of balsamic vinegar. Now add the tomato puree and tinned tomatoes and let it simmer for a few minutes. Season with sea salt, pepper and a bit of coconut blossom sugar or maple syrup.
Stir in the sunflower butter if using and stir well so it blends with the sauce.
Right before serving, add the spinach and stir until wilted.
Serve the pasta with the sauce and the chopped almonds and basil.
Enjoy!