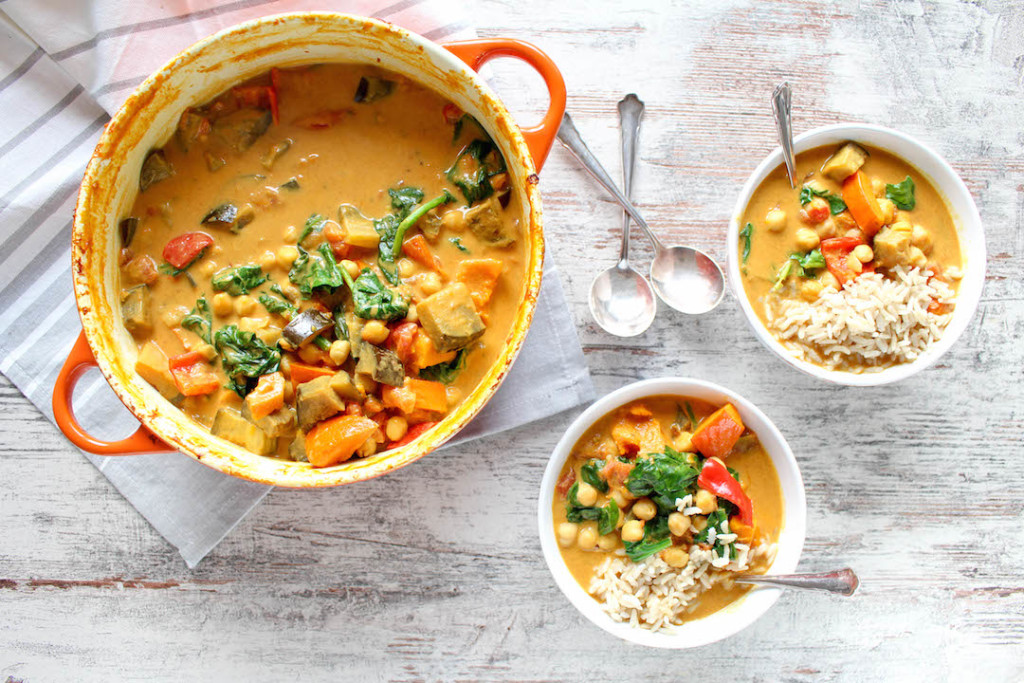 This one pot eggplant, pumpkin and chickpea curry recipe is really special to me, because it was recently shared by Wholefoods' Instagram account, which made me incredibly proud. I know there's a very thin line between bragging and telling, but let me just say that there is nothing better than seeing your work being recognized even across borders. Thank you Wholefoods, for featuring my curry. If you knew how much time my family spends in your markets whenever we're in the United States, you'd know how much this feature has meant to me.
As Christmas is just around the corner, I feel like I've been eating so many sweets and heavy German winter dishes recently, that I needed something lighter this week. I thought some of you would appreciate a dish that is not technically Christmas related, because there's only so many Christmas dishes that you can make in a week.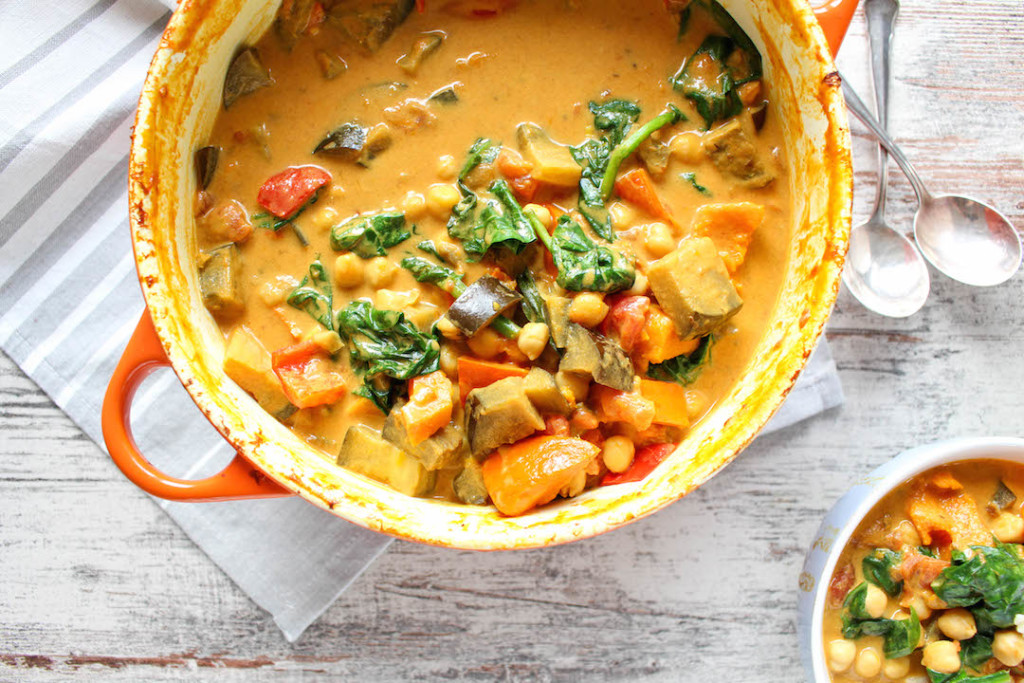 I've already shared two different types of curries before, but those were all Thai curries that needed Thai curry paste as a base. This curry, however, needs to Thai curry paste because it is more of an Indian curry. And it's amazing. Seriously, there is no easier way to make a healthy, wholesome meal than to make this curry. Curries are great weekday meals, because they require minimal chopping, and you can simply toss everything together and wait until its ready. Also, you absolutely don't have to stick to the recipe when it comes to curries, which I really like about them. It may not seem like it, but I am a big improviser in the kitchen, and before I started this blog I could never get my dishes to taste the same every time I made them. A little new flavor here, a little fresh herbs there and you have a whole new taste experience.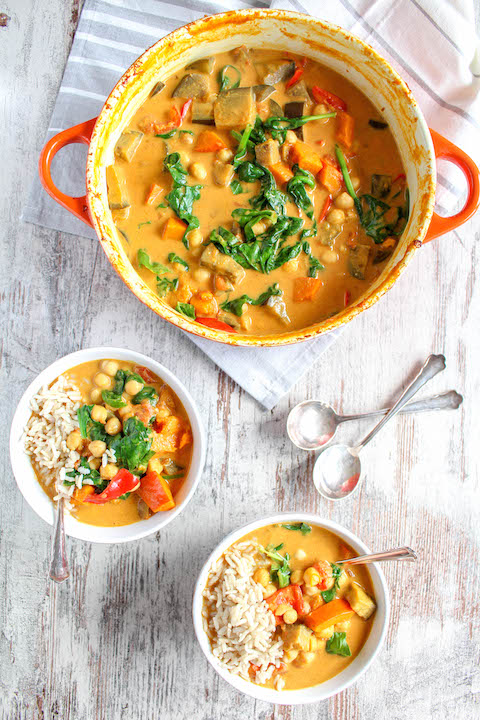 This eggplant, pumpkin and chickpea curry happened because those ingredients were literally all I had left in the kitchen. If you don't have all of the vegetables or legumes in the recipe below, then feel free to add whatever you still have in the fridge. I do love the pumpkin squash in this curry, so I would suggest that you use this to get the best results. You can also garnish this dish with some fresh mint or coriander leaves to make it even more special.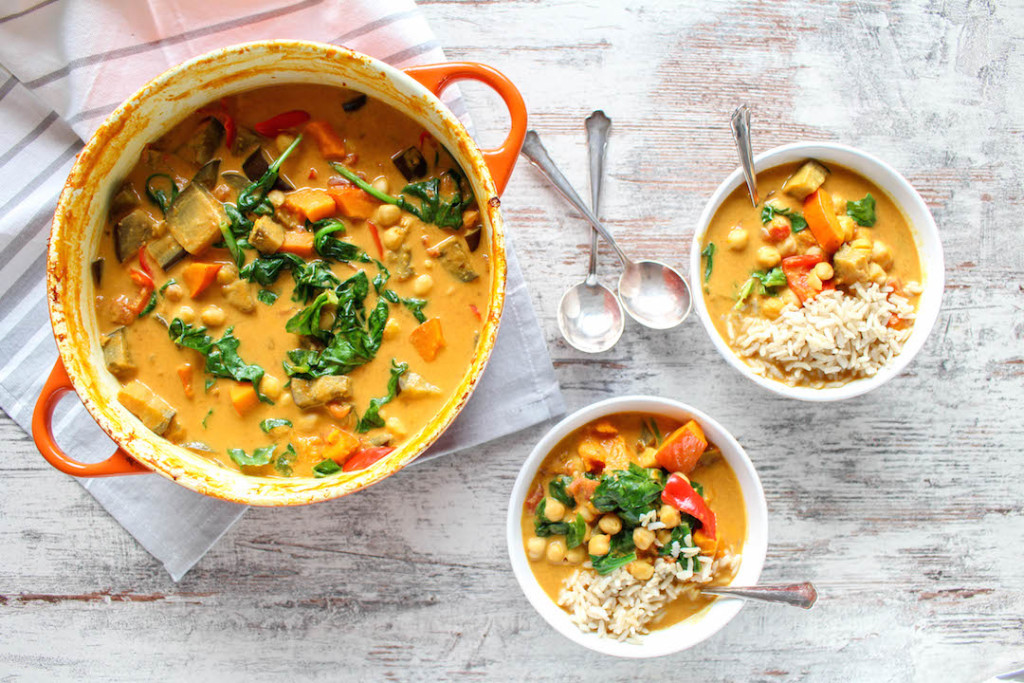 One-Pot Eggplant, Pumpkin and Chickpea Curry
Author:
Heavenlynn Healthy
Ingredients
1 small hokkaido pumpkin
1 eggplant
2 red bell peppers
3 large handful of fresh spinach
1 can of chickpeas
2 garlic cloves
1 thumb-sized piece of ginger
2 teaspoons of ground ginger
2 teaspoons of ground turmeric
2 teaspoons of cumin seeds or ground cumin
1 small chili
1 tablespoon of homemade or store-bought vegetable stock paste
3 tablespoons of extra-virgin olive oil
2 cans (800g) of diced tomatoes
2 cans (800ml) of coconut milk
2 tablespoons of tamari or soy sauce
brown rice to serve
Instructions
Wash eggplant and red bell peppers and chop them into bite-sized pieces. Cut the pumpkin in half, remove the seeds and cut into bite-sized pieces as well. Wash the chickpeas under running water. Place everything into a dutch oven or large saucepan.
Finely chop the garlic, or crush it with a garlic press. Finely chop the ginger. Remove the seeds from the chili (be sure to wear rubber gloves!) and cut it into small pieces.
Pre-heat the oven to 200 °C (390°F),
Heat two tablespoons of olive oil in a small frying pan over high heat. Add the garlic, ginger and chili and sauté it on medium heat for about 2 minutes. Add spices and another tablespoon of olive oil and sauté for another minute. Be sure not to let it burn. Add the dices tomatoes, vegetable stock paste, coconut milk and tamari, and bring to a boil.
Pour the coconut-tomato mix over the vegetables and place the dutch oven into the oven. Cook at 200°C (390°F) for about 30 minutes. If you don't have a dutch oven, you can place everything into a large saucepan and let the curry simmer at medium heat for about 30 minutes on the stove. The next steps are identical no matter if you are using a dutch oven or saucepan.
In the meantime cook the rice according to instructions on the package and wash and dry the spinach.
Once the curry is done, place the spinach into the dutch oven or saucepan and stir with a wooden spoon until it is wilted. This should not take more than 3 minutes.
Serve the curry with rice and add more spices or vegetables stock paste according to taste.
Enjoy!