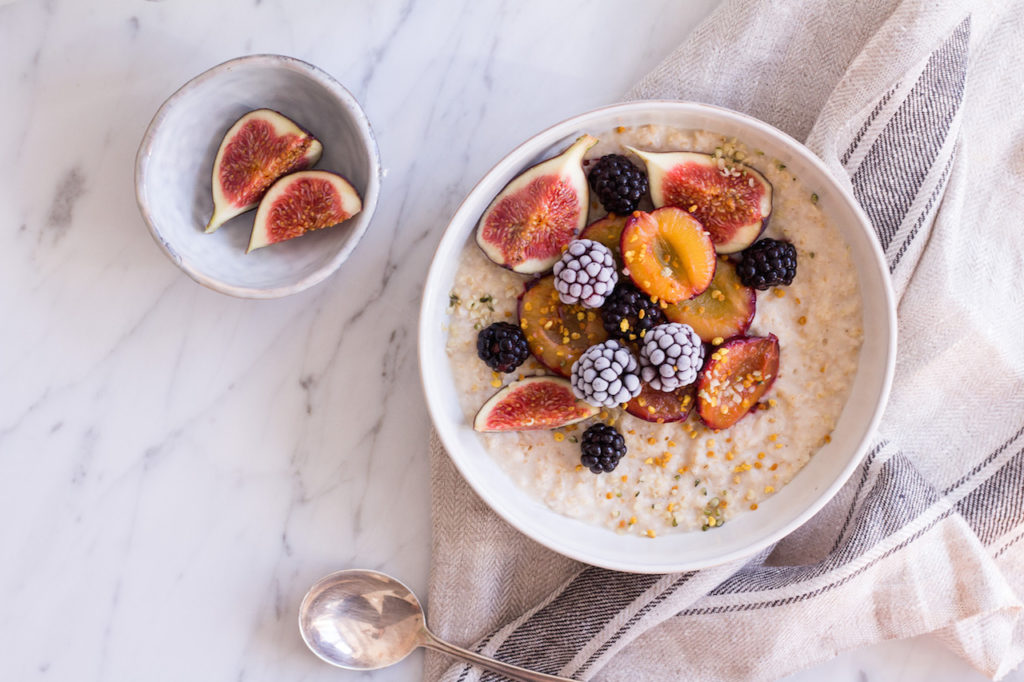 It's this time of the year again: as the leaves start falling, the days get shorter and the mornings colder, I have been craving spiced fall porridge again. I don't know why I have not posted it last fall, but I am glad I didn't because now I've had just about a year to perfectionate it. With every bite of this delicious spiced porridge, you can feel fall on your tongue. The flavors of this season are so warm, comforting and sensual that I can hardly wait for it to be completely and totally fall again. It's by far my favorite season and I am longing for it to never end at this moment of the year. As the days get shorter, I love eating healthy and fast breakfasts in the morning, because we all love healthy fast food right? That's why this is my entry for the lovely Janine from Nuts and Blueberries who is running a little blogger carnival with the motto #HealthyFastFood 4. On October 1st Janine will publish all the entries of her blogger carnival, so if you're looking for healthy but fast food inspiration, be sure to pay Janine's wonderful blog a visit.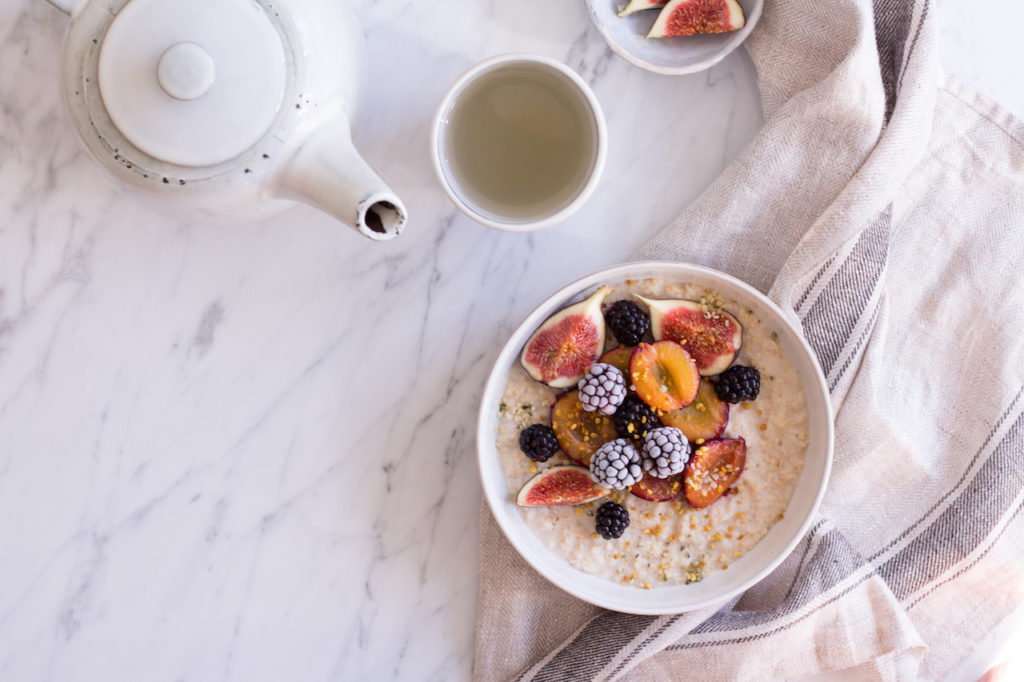 When I write about fall, I "fall" into a melancholic mood , a good mood, as I remember all the good memories that this season has provided me with during my lifetime. But there are also some unpleasant memories that I associate with fallen leaves, so I thought I'd do a little re-capturing of what fall meant to me as a child:
Here's what I loved about fall when I was a child:
making little animals with chestnuts
coming home in dirty rubber boots and jackets
lantern walks
kites flying in the brisk air
decorating windows with pressed leaves
coming home from ballet lessons and eating hot pumpkin soup
reading books while cuddled up in a blanket
oatmeal
Saturdays
Here's what I hated about fall as a child:
raking the leaves in my grandparent's backyard
riding my bike home from school in the rain
track & field practice outside (also in the rain)
Sundays
I used to be (or I still am) quite a sensitive person. So as a child, Sunday nights were the worst for me as they meant that the weekend was over and that I had to be back in school in just a few hours. It's not that I didn't like school, I loved it, but I was just so sad that the weekend was over. However, what I loved about fall was that my mom would get up extra early on school days to prep us a fresh orange juice and porridge so we would get in all the nutrients for an eventful school day. I remember that I did not instantly fall in love with porridge (I was more the chocolate granola kind of kid), but I ate it from time to time, and now I could not imagine starting my fall and winter days with anything else.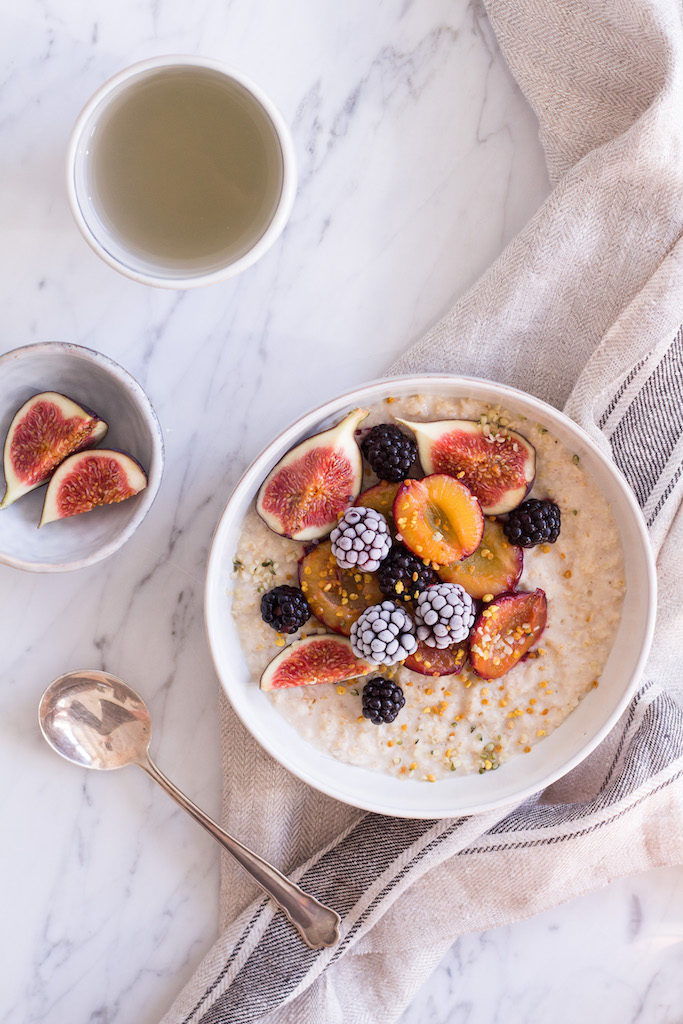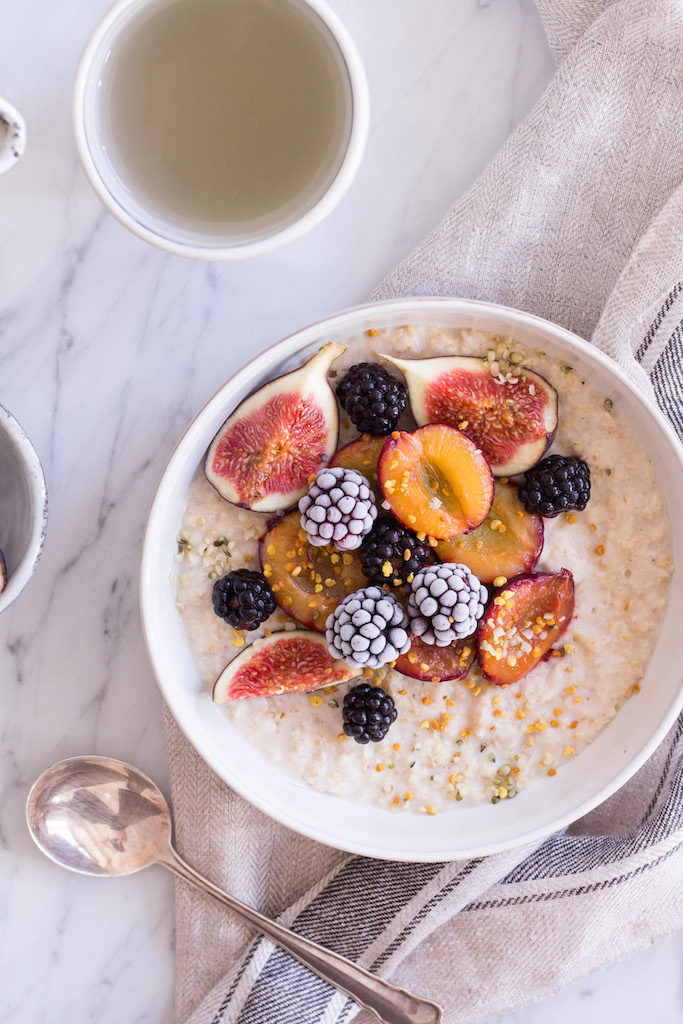 This spiced fall porridge is not only heavenly creamy, it's also loaded with goodness that will fill you up on cold mornings. The warm oats melt in your mouth and the spices such as ginger, nutmeg or allspice are so comforting and exactly what you need in the morning. Porridge really fills you up, too, so it's a great breakfast for blood sugar regulation as you won't get energy lows around mid-moring.
What's you favorite breakfast in the colder seasons? And what are your best and worst childhood fall memories?

Spiced Fall Porridge
Ingredients
1 cup (100g) of oats, use gluten-free if needed
1 cup (250ml) of water
½ cup (125ml) of almond milk
2 teaspoons of almond butter, or any other nut butter
1 teaspoon of extra-virgin coconut oil
2 teaspoons of organic raw honey
½ teaspoon of grated fresh ginger
1½ teaspoons of cinnamon
⅛ teaspoon of nutmeg
a pinch of allspice
a pinch of ground cloves
a small pinch of cardamon
Instructions
Start by adding the oats, water and almond milk to a saucepan and allow it to heat for about 5 minutes, or until bubbly.
Add the coconut oil, almond butter and spices and let it dissolve completely while frequently stirring. If it gets too dry, add more almond milk.
Finally add the honey or maple syrup for a final stir.
Once it's all mixed, pour into two bowls and garnish with your favorite toppings.
Enjoy!
---
DID YOU MAKE THIS RECIPE OR HAVE ANY SUGGESTIONS, QUESTIONS OR COMMENTS?
Feel free to leave a comment below, and don't forget to tag your creations on social media using #heavenlynnhealthy.
I'd love for this blog to be a dialogue.
---