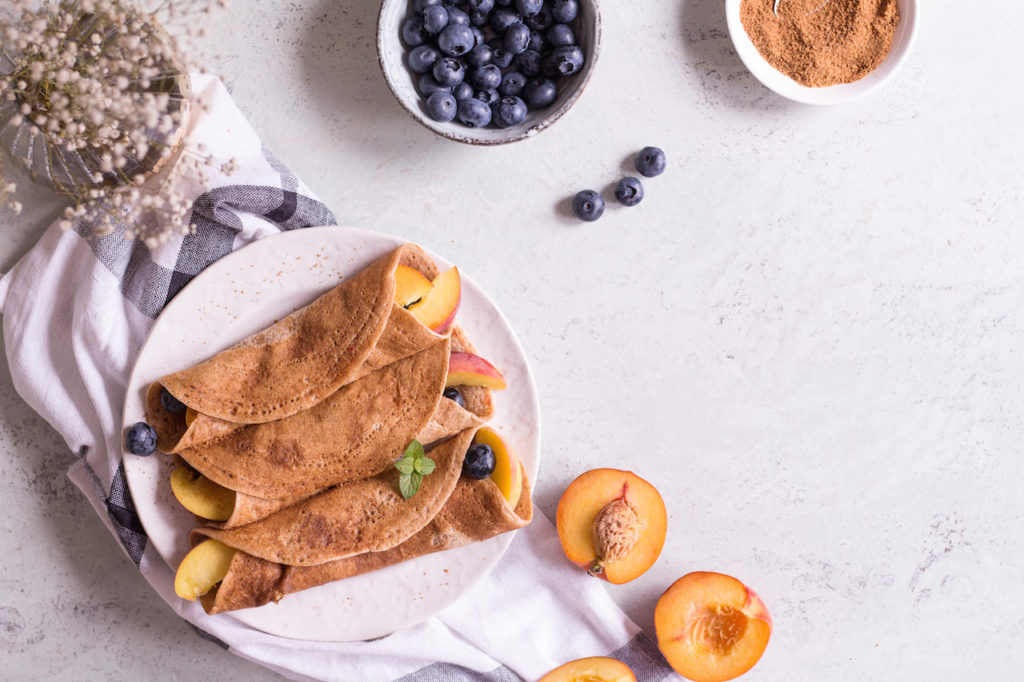 Just as every American blog needs a proper pancake recipe, I think that every German health blog needs at least one amazing healthy crepes recipe, don't you agree. Crepes bring back major childhood memories, because they were my favorite lunch dish when I was younger. Since I loved them so much, my mom quickly developed a way to make them healthier, and she was also the one that taught me to use sparkling water in crepes and pancake recipes as it makes the batter so much fluffier and lighter. Of course regular crepes contain eggs, so if you eat and like eggs, you may very well use an egg in this recipe. I, however, like them without eggs and I can confidently say that these healthy crepes can compete with regular crepes at many levels.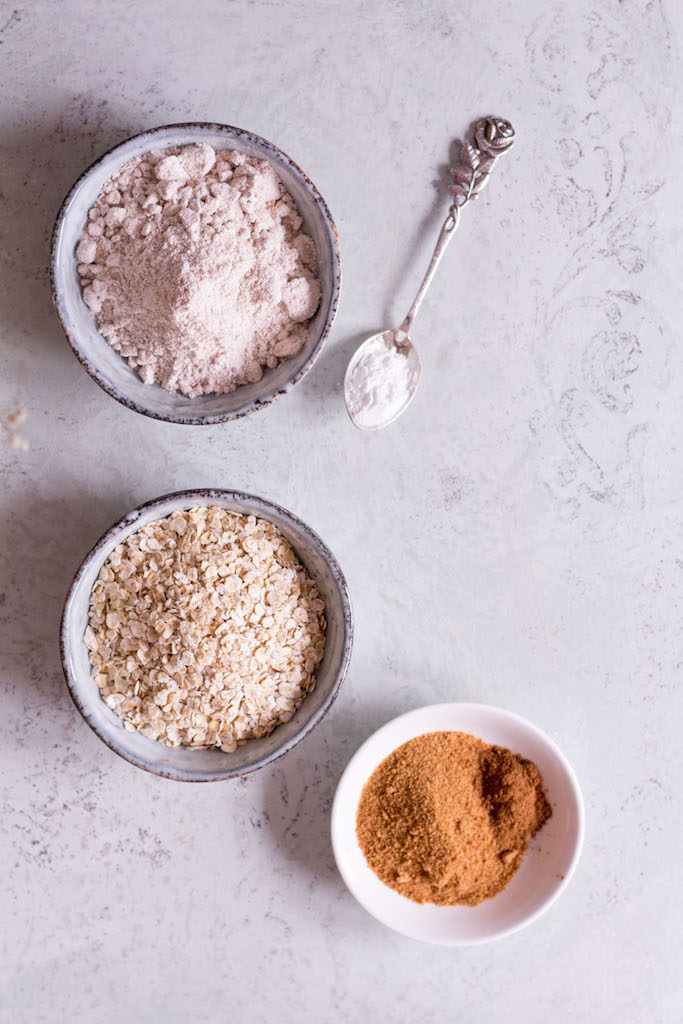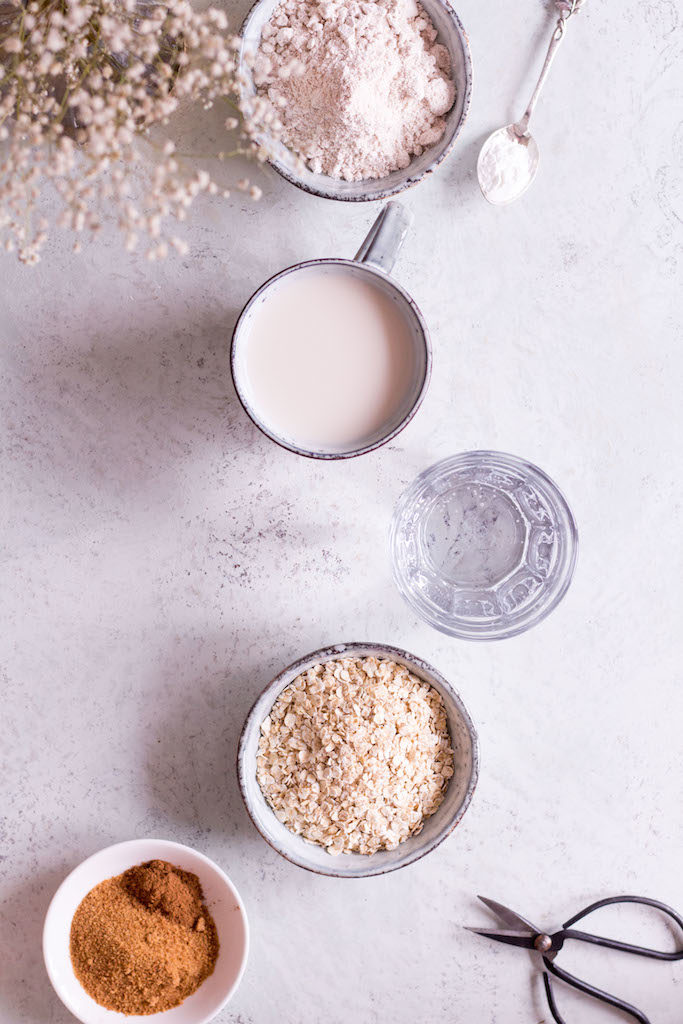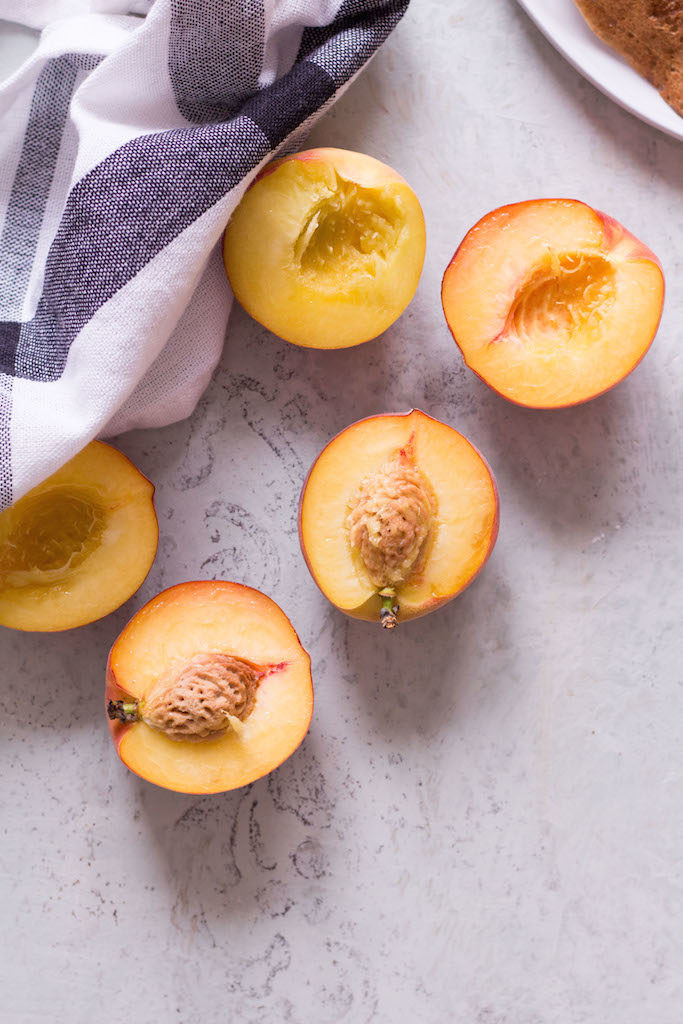 For the flour I used a mixture of buckwheat flour and ground oats, which is my favorite flour combination in sweet baked goods. Buckwheat is loaded with healthy protein, and the oats provide a good dose of fiber, which keeps us satisfied longer. Buckwheat and oats are favorable in the healthy kitchen as they don't actually taste healthy like other whole-wheat flours do. In fact, buckwheat is the typical flour used in French galettes, so if the French have been using it for ages, we better hop on that train, too.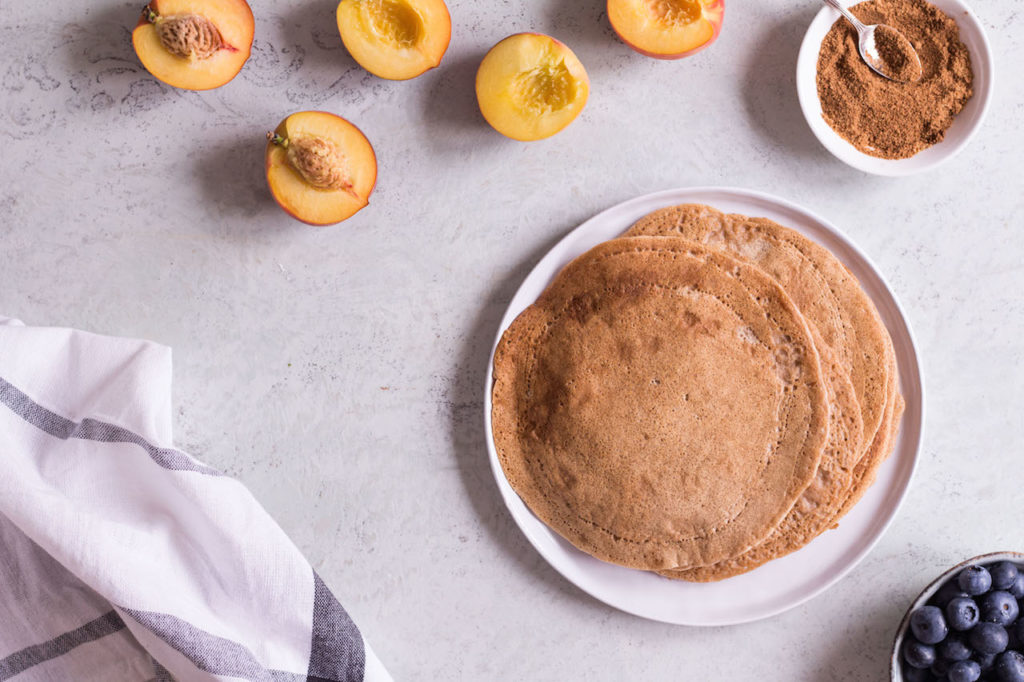 You can enjoy the crepes with your favorite toppings. Mine include:
Healthy Chia Jam
Healthy Nutella and banana
Berry Chia Pudding
fresh fruits like berries
applesauce and cinnamon
If you're like me, then you'll also love scooping some plain coconut sugar cinnamon mix (see recipe below) on top of them.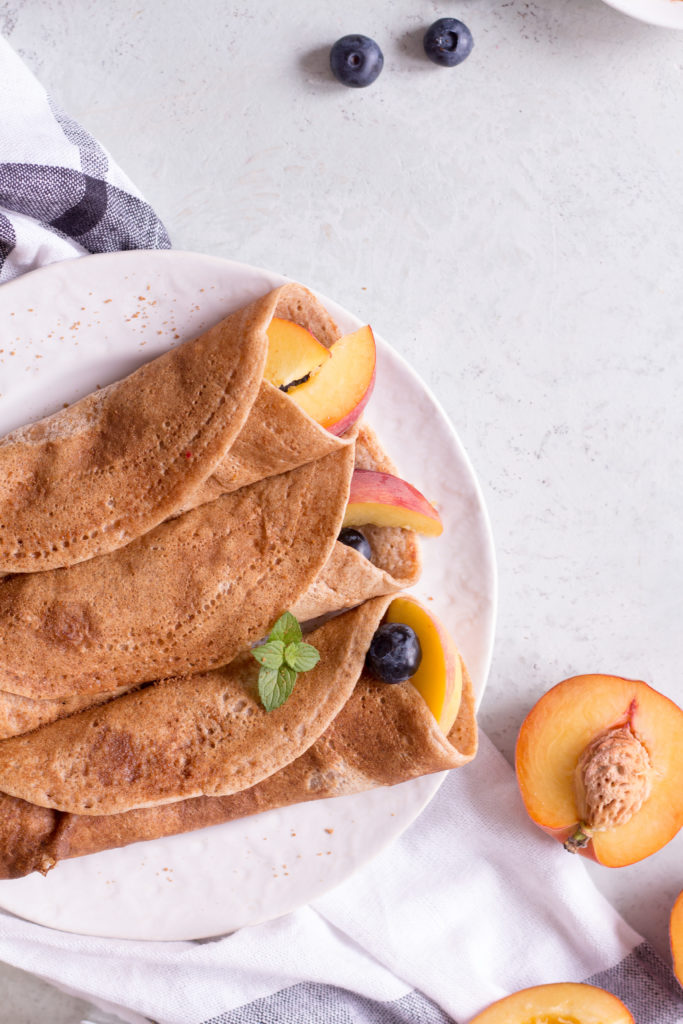 The best healthy crepes
Ingredients
For the best healthy crepes:
1 cup (250ml) of almond milk
½ cup (125ml) of sparkling water
1 cup (120g) of buckwheat flour
½ cup (45g) of (gluten-free) oats
1 teaspoon of aluminum-free baking powder
2 tablespoons of coconut sugar or rice syrup
1 tablespoon of extra-virign coconut oil
a pinch of salt
For the coconut cinnamon sugar:
3 tablespoons of coconut sugar
3 teaspoons of cinnamon
Instructions
In a strong blender or food processor, blend the oats to a flour. Combine the flour with all the other ingredients in a mixing bowl.
Gradually add the almond milk and stir well with a whisk. Then slowly and gradually add the sparkling water, and give it another stir.
Let the batter sit for 30 minutes.
In the meantime, mix the coconut sugar and cinnamon for your coconut cinnamon sugar mix.
Once the batter is ready, heat a skillet over medium to high heat and cover in a bit of coconut oil. Add about ¼ cup or three tablespoons of batter to the skillet and swirl to cover the bottom of the skillet. This needs to be done pretty quickly, it helps if you use a wet spoon, or even better, crepes spoon for this. Let it sit for 2 to three minutes.
Loosen the crepe with a spatula, quickly flip and heat for another minute.
Repeat this procedure with the rest of the batter.
Serve the crepes with fresh fruit, my healthy chia raspberry jam, coconut cinnamon sugar or however you feel like it.
Enjoy!
---
DID YOU MAKE THIS RECIPE OR HAVE ANY SUGGESTIONS, QUESTIONS OR COMMENTS?
Feel free to leave a comment below, and don't forget to tag your creations on social media using #heavenlynnhealthy.
I'd love for this blog to be a dialogue.
---