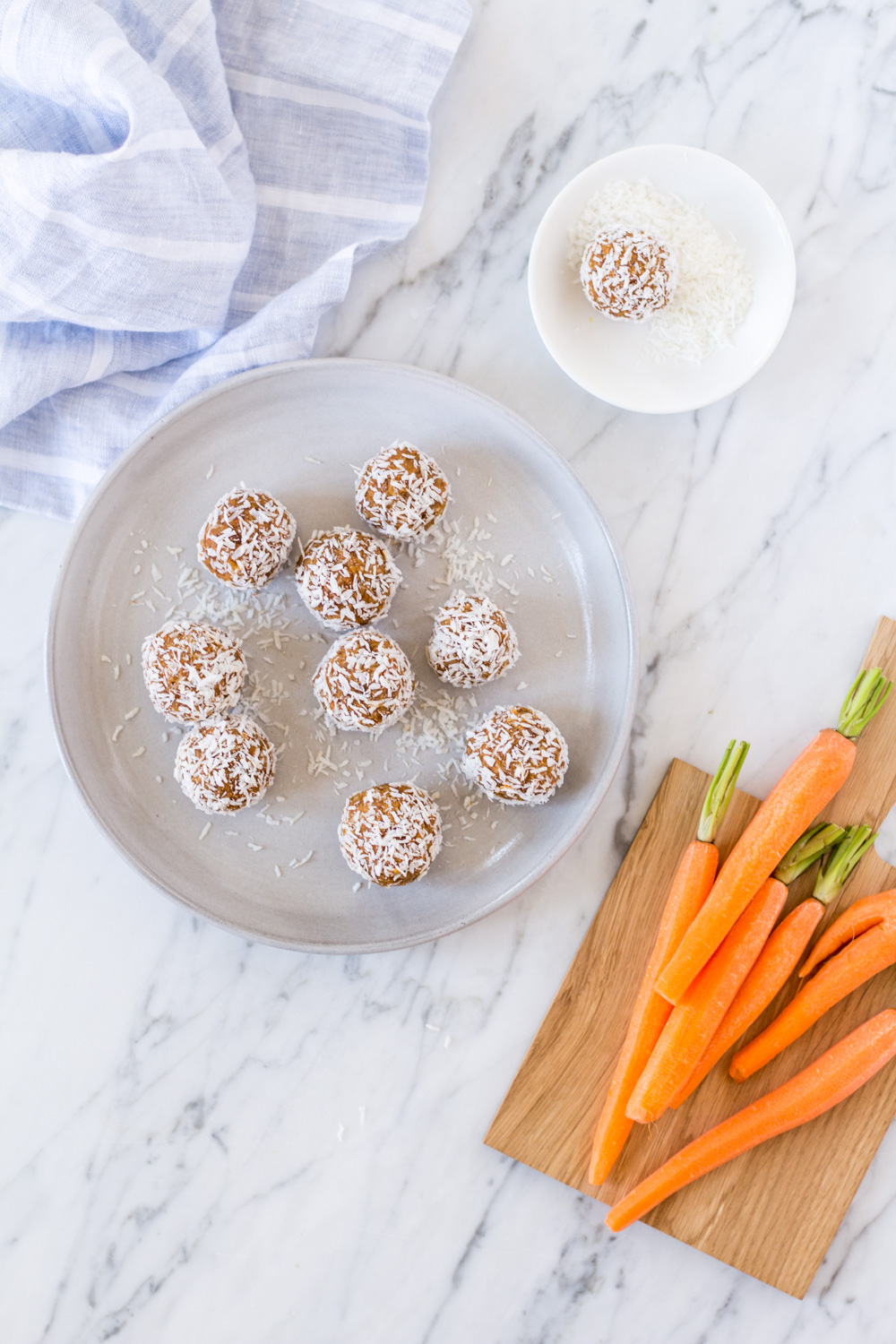 This post is also available in German. Diesen Beitrag gibt es auch auf deutsch.

Hello friends. I'm afraid my blog has been a bit more quiet these past weeks. But for good reason: after a long pause, I finally took on my masters thesis to finish my Master's in entrepreneurship. I had taken a break from studying to focus on my blog and book, but now I am finally writing that final piece, which will get me my diploma. Excitement level 1000.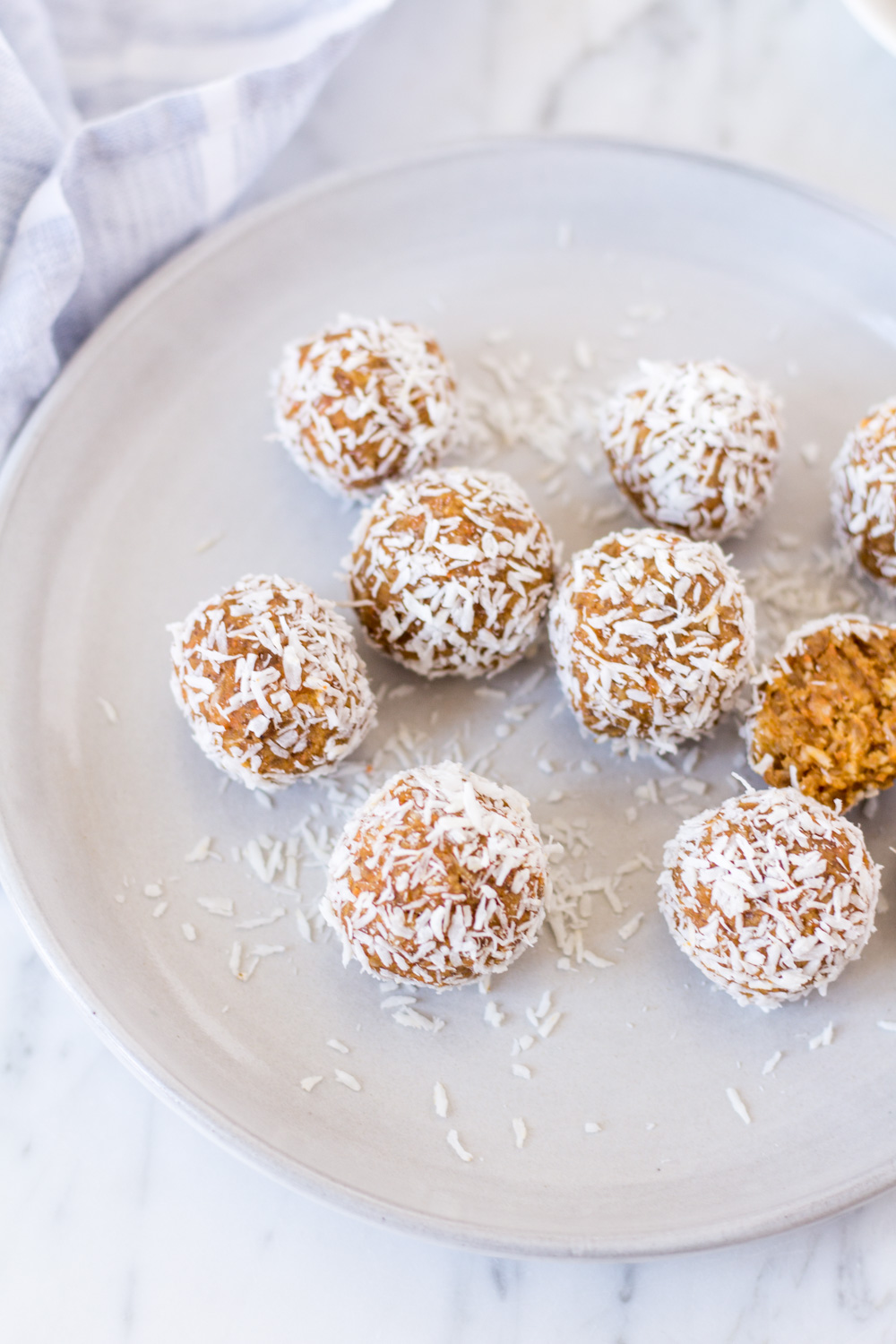 Since my fiancé is currently on a boys trip in Barcelona, I decided to take some time off my thesis and quickly share a recipe with you that has kept me going these past days: CARROT CAKE ENERGY BALLS. And yes, I'm writing this in all capital letters, because I want to scream it out into the world. You can now take carrot cake to go!!! It's really happening and I can't wait for you to taste this incredible piece of food.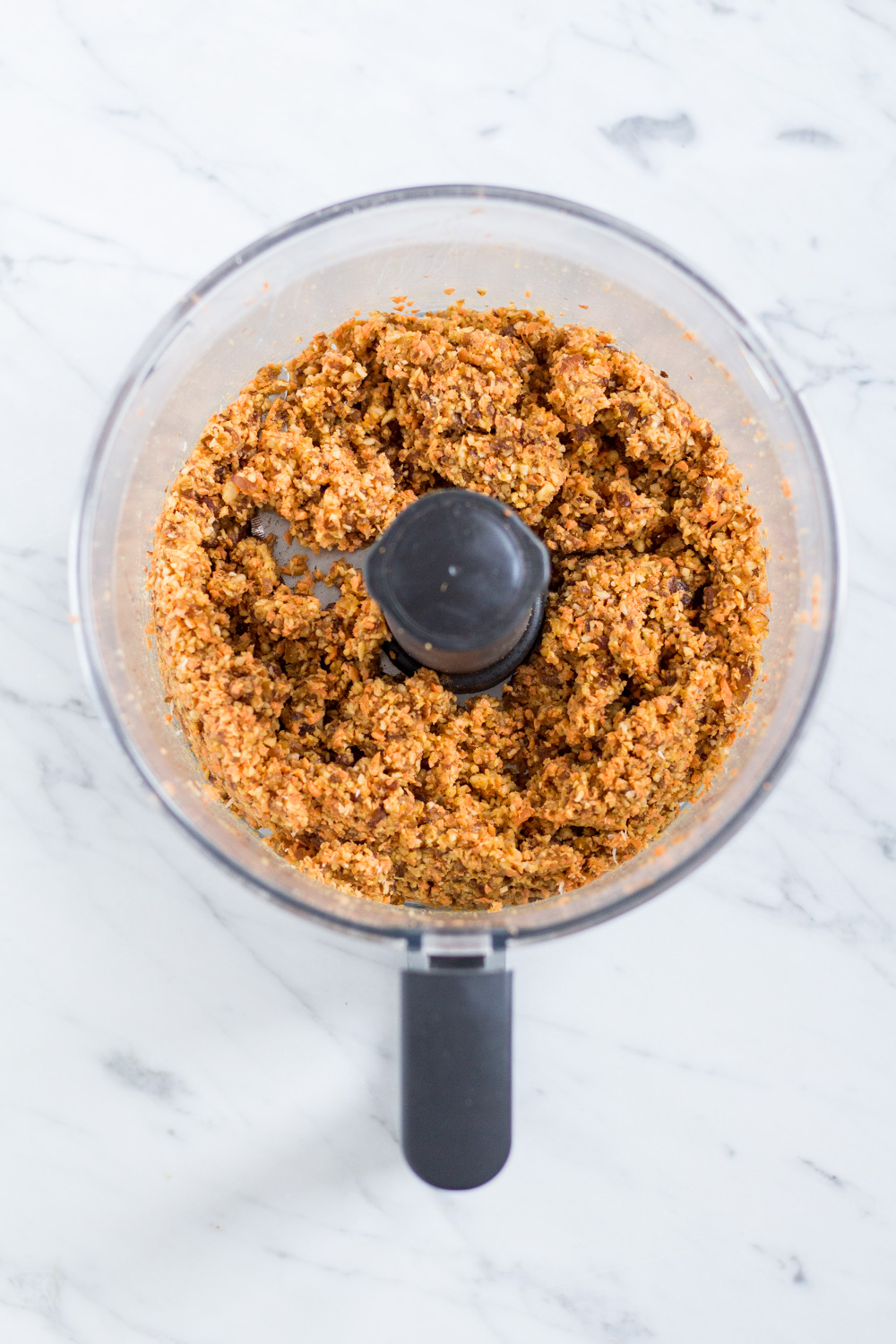 Also, did I mention that these were grain-free? Not that grains are bad (not at all!), but I know some people do not tolerate oats or grains well, so there you go: here's a carrot cake version that you can actually eat. How's that for a Friday treat? If you do tolerate and love grains, then check out my other carrot cake recipes. First we have my all-time favorite, best healthy carrot cake ever (go big or go home, right?) and these healthy carrot cake cupcakes. Oh, and did I mention, Carrot Cake Oatmeal? Now if that doesn't say Happy & Healthy Easter, then I don't know what does.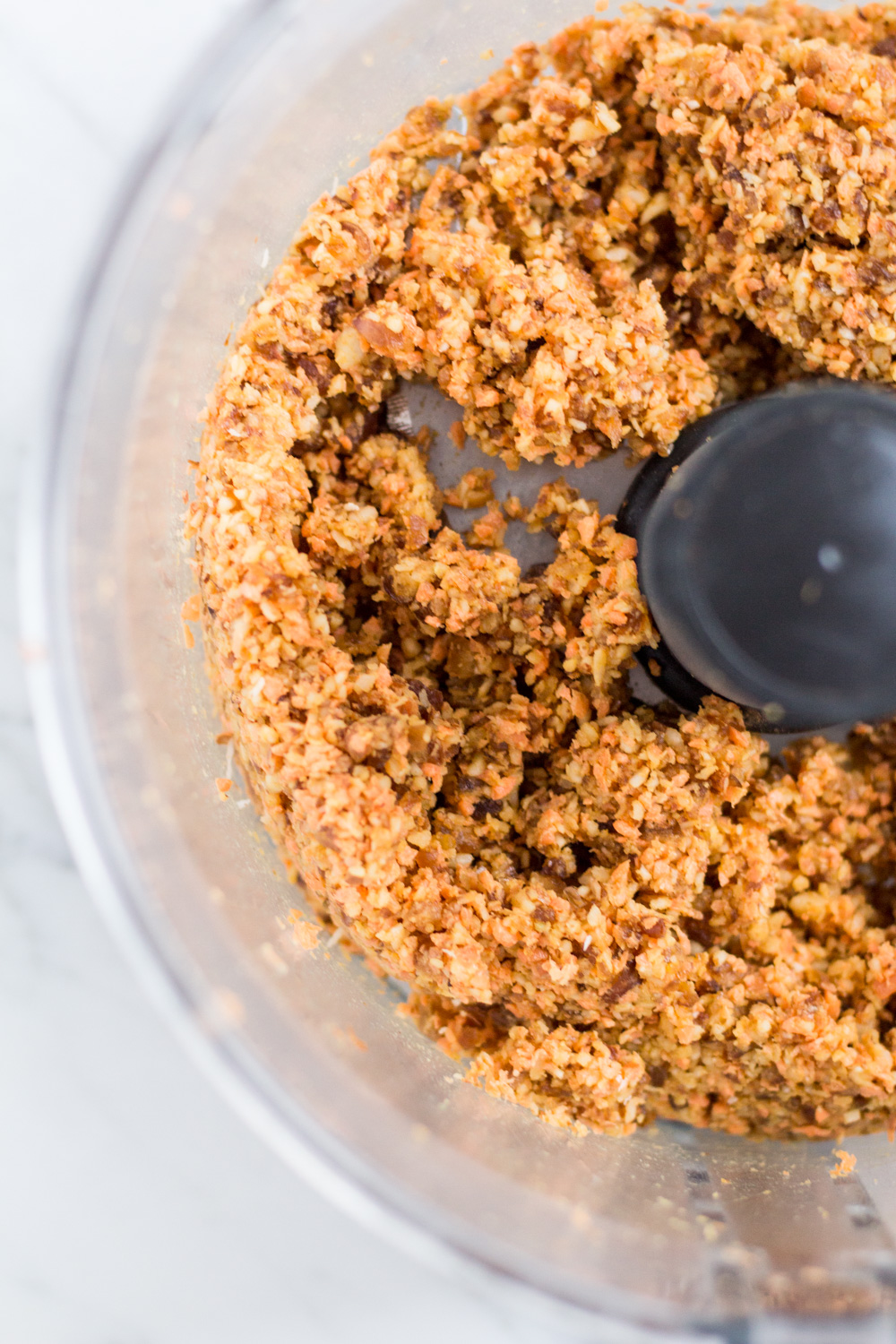 Heavenly healthy because …
… carrots are an incredible source of vitamin A. Or more accurately, beta-carotene, the pro-Vitamin A that is converted into Vitamin A in the body (that smart thing!). Beta-carotene, or vitamin A, are important for various functions. One is a healthy eye-function, but it is also necessary for an overall-functioning immune system and for the protective barrier of our skin.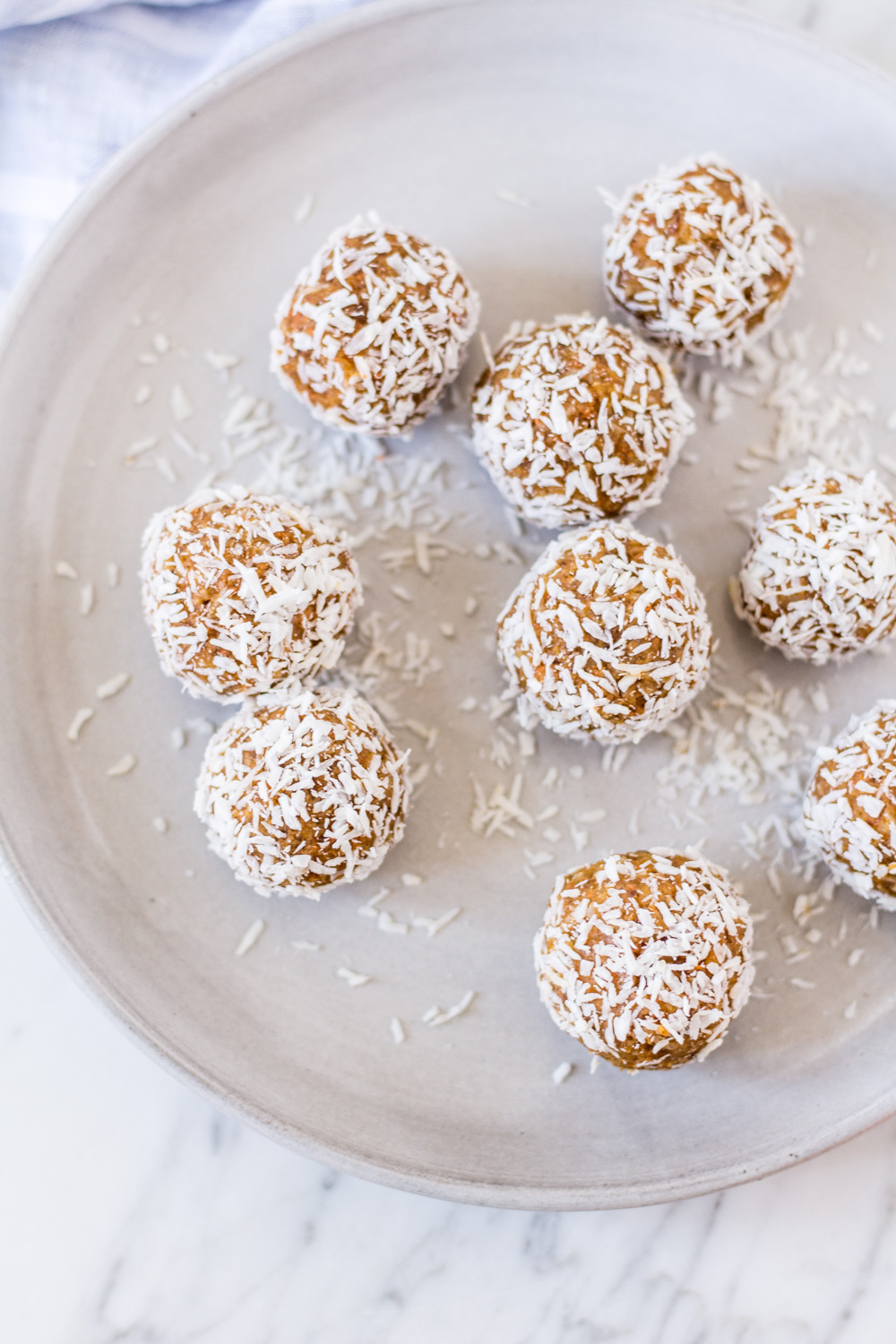 Healthy Carrot Cake Energy Balls
Ingredients
50 g of almonds (or nuts of your choice)
25g of walnuts
100 g of carrots
200 g of dates, pitted
40 g of grated coconut, more to sprinkle
¼ teaspoon of ground ginger
½ teaspoon of cinnamon
¼ teaspoon of sea salt
Instructions
To begin, roughly chop the nuts in a food processor. Place the nuts into a bowl.
Rougly cut the carrot into smaller pieces, then add them to the food processor and pulse until they are nice and flaky. Do not pulse them for too long, as you do not want carrot puree. Now add the dates, ground nuts, coconut flakes, spices and sea salt and pulse until the mixture combines and sticks together.
Take out about a tablespoon of the mixture, form it into round balls between the palms. Roll the ball in grated coconut to coat the outside and place in the fridge for at least 1 hour. These carrot cake energy balls last in the fridge for about 4-5 days.
Enjoy!
Did you make this recipe? Then take a phot and tag me on social media using #heavenlynnhealthy or leave me a comment. I love getting your feedback!