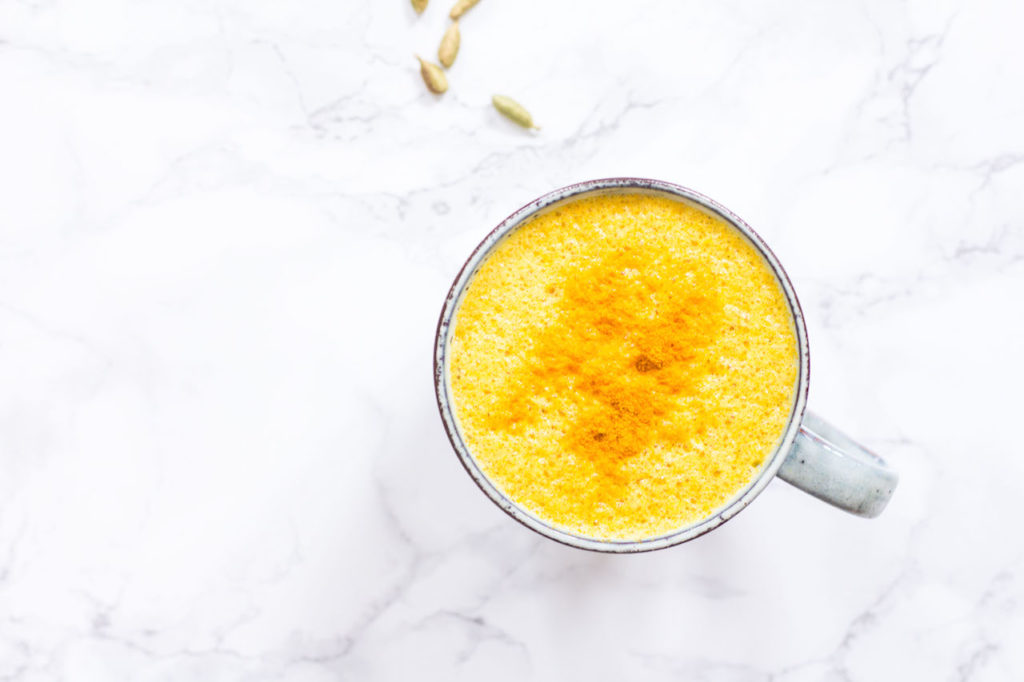 If you've never heard of turmeric latte, then get ready to be amazed, because your morning coffee is about to be challenged by a decaffeinated latte that works wonders. I've travelled quite to quite a few European cities in the past months, and turmeric latte has wormed its way into hip and healthy cafes in cities such as Paris or Amsterdam this year. In fact, the Guardian has named the turmeric latte as "your 2016 drink of choice", so there's no more getting around it, and if you haven't seen it in your city yet, it's only a matter of time before you'll see the golden milks offered everywhere. 
Turmeric latte has become my new favorite drink in the morning or at night, because I love how soothing it is for the body, and how good it makes me feel. The wellness-feeling of turmeric lattes derives from its nutritional benefits: it is full of nutrients, antioxidants, and delicious, warming flavors. I admit that it's not a cooling summer drink, but let's be honest – summer in Germany is not always sunny and hot, and nights can get pretty cold, too. So there's plenty of times during the summer when you don't feel like iced tea or fruit infused water. Turmeric lattes taste differently than anything you've ever tried before. It tastes warm, slightly earthy, sometimes sweet and savory at the same time. Combined with the flavors of cinnamon and cardamon, it is a match in heaven.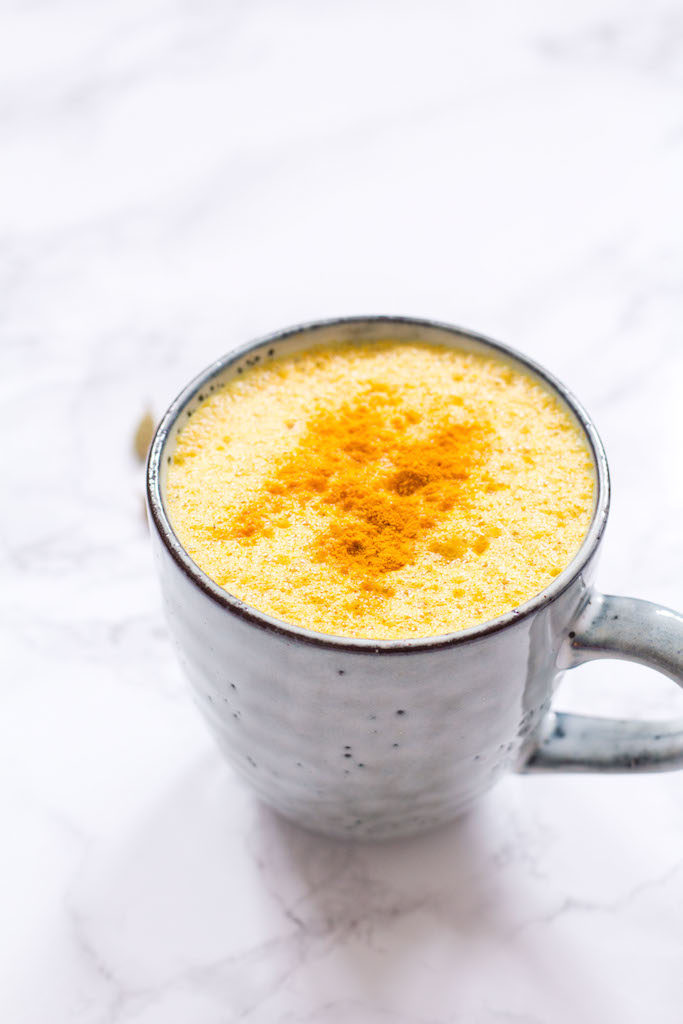 Turmeric is one of my all-time favorite spices. I use it mostly in curries, to spice up sauces, to season vegetables or rice (like in this amazing turmeric veggie paella) or even in salad dressings. This past winter, I've also used it as an alternative to ginger tea, which was a nice change, because I've been drinking liters of ginger tea all winter long. Turmeric has many health benefits, which is why it is the number one health spice used in the ayuvedic kitchen. It is commonly known for its anti-inflammatory properties, high antioxidant amount and phytonutrients. Historically it has been helping people with tooth aches, menstrual pains, bruises or colics. Most of the health benefits are traced back to the main compound, curcumin, which also gives turmeric the bright yelllow color. Several medical studies have reven related turmeric, and its compound curcumin, to cancer prevention of colon, skin or pancreatic cancer. Of course most of those studies have used large amounts of turmeric to achieve the desired results, which is unrealistic if you don't want to eat an entire turmeric root every day (trust me, it would almost be like eating an entire ginger root). So all we can do is start small, and increase our daily turmeric intake by adding it to teas, lattes, curries, sauces or dressings.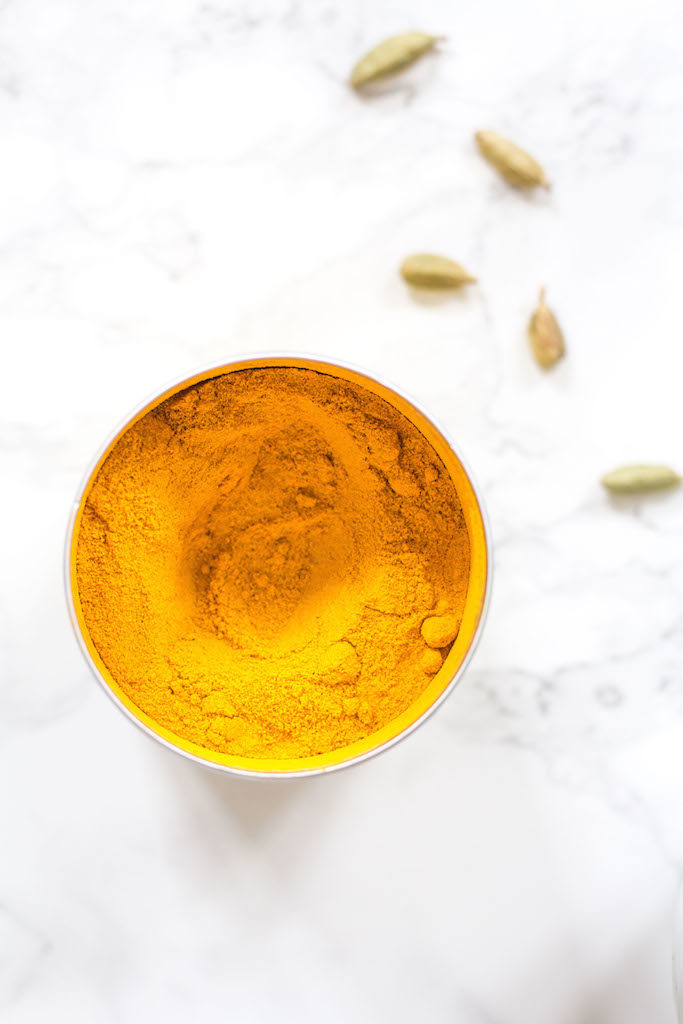 For all those who haven't tried turmeric lattes yet, I advice you to start small on the turmeric, and increase the amount in your lattes slowly and gradually. It does not help if you add a teaspoon of turmeric to a small pot of warm almond milk, and then be grossed out by its grainy texture. Just like ground cinnamon, ground turmeric does not completely resolve in lattes, so there will always be some particles left on the bottom of your mug. If you are new to the whole turmeric latte thing, try to avoid that last sip (although I think it's the best part), in order not to develop an aversion to this drink.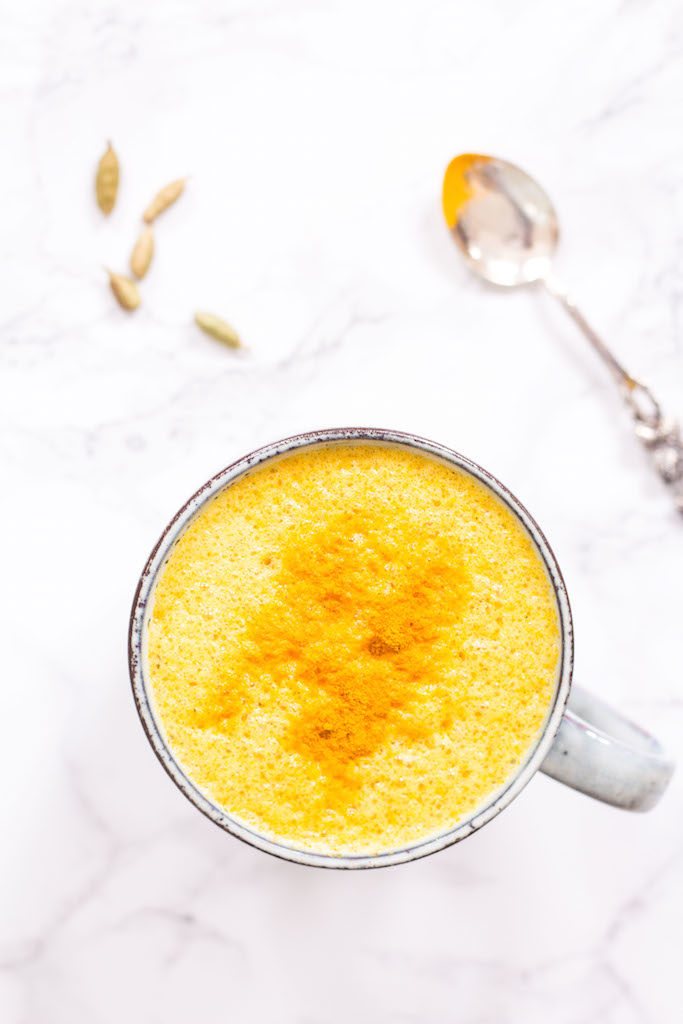 I love adding a pinch of pepper to turmeric dishes, as it is said to increase the absorption of curcumin. You can also play around with additional flavors. Vanilla, and coconut oil are great additions as well.

Turmeric Latte (Golden Milk)
Ingredients
2 cups of oat milk or unsweetened almond milk
1 teaspoon of turmeric
1 teaspoon of raw honey (or coconut syrup if vegan)
1 cinnamon stick or ½ teaspoon of ground cinnamon
3 cardamon pods
a small pinch of ground or fresh ginger
a small pinch of pepper
Instructions
Add the almond milk to a small pot and heat on low temperature.
Add the turmeric, cinnamon stick, cardamon pods, raw honey or coconut syrup, and pepper and stir frequently for about 3 minutes until the milk is warm, but not boiling.
Remove from heat and take out the cinnamon stick. You can reuse it a couple of time. Strain the milk either through a strainer or small colander.
Froth the top of the milk for a few seconds with a milk frother.
Add more raw honey or coconut syrup for taste.
VIDEO TURMERIC LATTE (GOLDEN MILK):
Enjoy!
---
Did you make this recipe or have any suggestions, questions or comments?
Feel free to leave a comment below, and don't forget to tag your creations on social media using #heavenlynnhealthy.
I'd love for this blog to be a dialogue.
---